FREE SHIPPING & RETURNS WORLDWIDE!

DUTIES & TAXES COVERED WORLDWIDE
Find your nearest boutique
Introducing Australia's preeminent destination for fashion-forward brides: Eternal Bridal. Located in Melbourne and Sydney —they've become a destination for brides who want a couture experience from start to finish. Here, learn all about the custom looks they've created and, of course, which special brides have visited Eternal Bridal themselves.
What does the Eternal Bridal experience offer that's unique to you & your brides?

We are a group of fashion fanatics, who provides not just a standard customer service. We love styling our brides and helping them visualize and realize their dreams.
What kind of customers come to your boutique?

We welcome brides from all ages and background who loves fashion, values quality, and appreciates a genuine and sincere customer service.
What's the most memorable appointment you've ever held? 

Too many to list! Each of our brides is unique, special, and beautiful in their own ways. Appointments with our brides can be so diverse and dynamic, and that's what we love about it. We must say that the moment we enjoy the most as a team, is when a bride finds 'THE' dress, and that she knew it was the one as soon as she puts it on, and when happy tears start streaming down.
What are the most impressive custom changes that you have done for a bride?

We have made a Red custom couture gown for a bride, which is absolutely stunning! The bride fell in love with two Galia Lahav gowns, and wanted her second gown to be in red. After multiple workshops with the Galia Lahav team, we found the perfect beadings and even had some lace customized to compliment the red fabrics she has chosen.

The end result was simply amazing, and our bride was over the moon.
When it comes to picking a dress with a corset, what are some fit details that are important to consider? 

Ensuring that your bust fits perfectly in the corset is important, and extra attention must be given to select the best cup size to fit. As part of the process of having a Galia Lahav couture gown made, we generally take anywhere between 3-5 measurements just on the bust area to ensure the perfect fit.
What tips do you have for matching a dress to a veil? 

We love love love veil as it certainly adds a certain drama of the look. There is something magical about seeing a bride walking down the aisle adorning a beautiful long veil that compliments her wedding dress. We would suggest to having the veil longer than your gown.
What are some embellishment trends that your brides can't get enough of?

Lots of sparkles and intricate hand beadings have always been a very popular request. Judging by how much our brides love them, we don't think this will be an ever ending trend.
What are some customer-favorite features that can only be found in Galia Lahav dresses? 

Where do we even begin! The Galia Lahav signature of ultra low back and wow factor is definitely a few features our brides are absolutely obsessed with. Putting on a Galia Lahav gown for the first time, brides are often captivated by how well the gown fits, and how comfortable they feel moving around freely.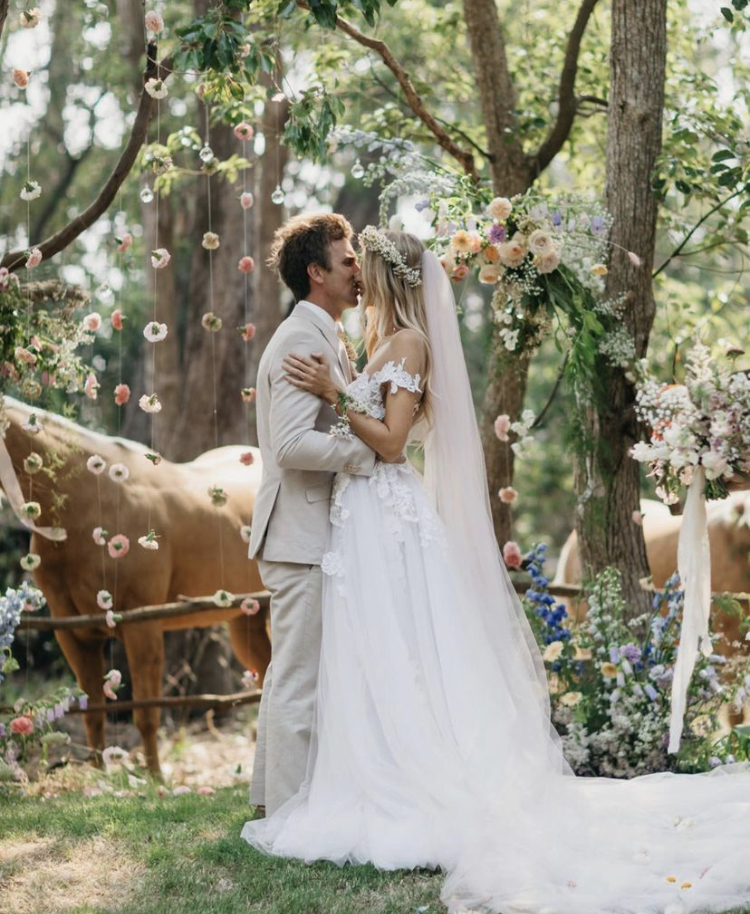 What was the most important thing when choosing the location for the store?

A location that is easy to get to is the key to choosing the location for our boutiques. Our Sydney boutique is located in Sydney CBD, within the prestigious Strand Arcade. The Strand Arcade has long been known as the shopping destination for many hi-end local and international designers, which makes the perfect home for Eternal Bridal.

The Melbourne boutique located on High Street Armadale, is nestled amongst many luxury fashion boutiques. High Street is not just known as the hi-end shopping strip in Melbourne, they are also known for having some of the best Cafes in town!
What are the best brunch places for brides to go before or after their appointments? 

We are lucky to be surrounded by so many amazing cafes and great food options around our boutiques. We love exploring and discovering new cafes, and usually they are the ones that really surprise us. Oh, did we mention that we love coffee!
What are some bars or restaurants where the EB team can be found after work? 

Some of our favorites in Sydney include Mr Wong, Baxter Inn, Lotus and many more.

In Melbourne we often find ourselves in Seven Seeds (for amazing coffees), and Cookie bar for a drink (or a few!) after work.
Finish your registration for {City} Trunk Show