FREE SHIPPING & RETURNS WORLDWIDE!

DUTIES & TAXES COVERED WORLDWIDE
Find your nearest boutique
Our #GLBride of the week is the stunning Christie Pearson, who wore our GALA 105 as she tied-the-knot with her fiance Tom. Surrounded by a serene lake and vibrant garden, the couple held their wedding at the Isola del Garda in the Province of Brescia Italy. In the following interview, Christie shares with us the details behind her lakeside wedding and how she fell in love with our GALA 105. As told by Christie:
How did you meet your husband? Tell us a little bit about your relationship.

Tom and I met almost 10 years ago now, in our second year of university. We were both working behind the bar in our Student's Union! Definitely not the most romantic place to meet, but after a few years of us living in different countries, we finally ended up living in London together!
How did he propose?

We were on a two-week-long holiday to Southeast Asia, starting in Laos. On our first morning, we went on a hike up a hill to catch the sunrise and that's where Tom popped the question. It was a cloudy morning so we didn't see the sunrise but it didn't matter! 
How did you start planning your wedding? What were the first steps?

I started planning straight away! Our first step was deciding on the location. Tom and I both live in London and Tom was born and raised here, but my parents live in Italy. Of course one of the first things I did was start to search for dresses! 
Did you do any beauty or fitness prep for your big day?

I'm a personal trainer and very active generally, so I didn't have to change anything there. I'm not great with elaborate routines beauty-wise, so I just tried to stay really consistent with my skincare, and drink plenty of water. 
What was your wedding theme?

The locations we chose were so beautiful so we didn't have a specific theme, I just wanted the natural beauty of the setting to shine through. 
How did you choose your location?

Once we decided we would get married in Italy, I knew exactly where I wanted the reception to be held- my parents live up in the hills of the lemon groves in Lake Garda, and just below their house is a huge lawn. You can see the lake, the mountains in the background and it's just stunning. We chose to do the ceremony on Isola del Garda, a private island in the middle of the lake. It was the first and only location I saw, I knew straight away I wanted to get married there!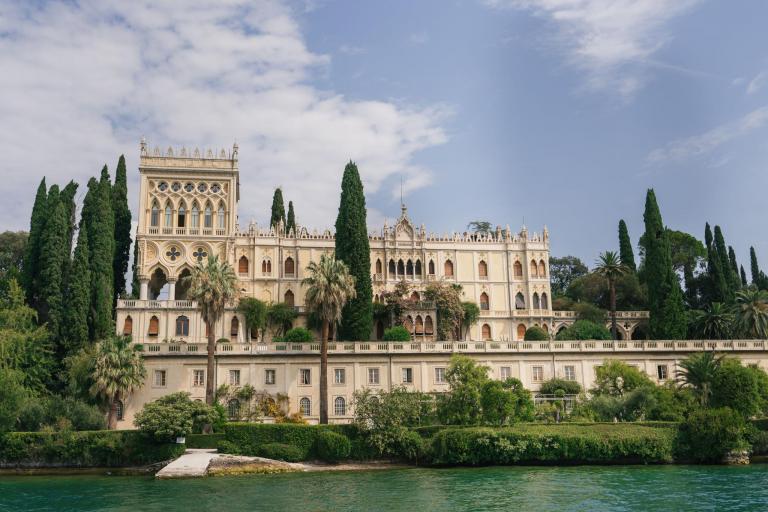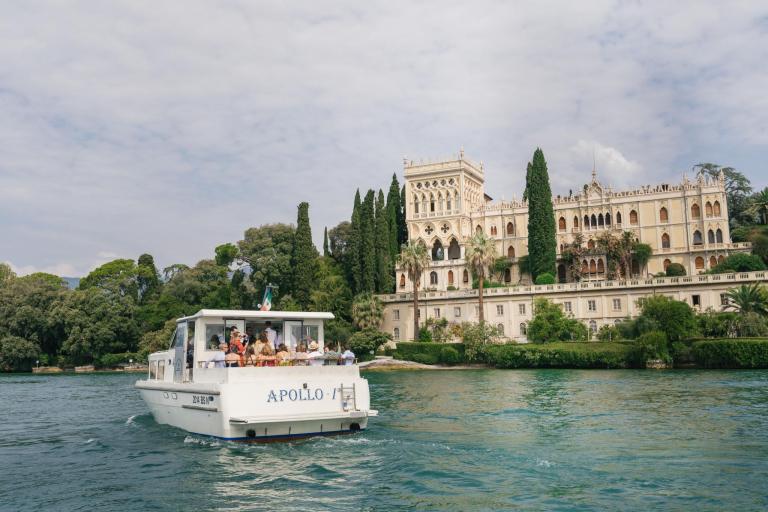 How did you decide on your bridesmaid style?

The most important thing to me was that the girls felt amazing on the day so I wanted to find a style they all loved but with lots of different shapes and sizes, it was hard at first. I first came across TwoBirds on Instagram and when the bridesmaids tried them on we loved them! I decided on a beautiful pewter colour and had the girls tie them all differently. One bridesmaid wore the jumpsuit version and another the slit version, so they were all different in the end. 
How did you find your perfect dress?

I did not have a good time trying on wedding dresses at first. In the first few shops I went to I just felt like I was playing dress-up. I was pretty fed up when I visited Browns Bride in London. I tried on a Galia Lahav dress there and fell in love – I came back for the trunk show a few weeks later where I found an amazing dress from the GALA collection. I met Sharon who was amazing and even took my measurements for the dress. 
How was your experience with the Galia Lahav brand?

Amazing! The dress I chose, in the end, had sheer panels down the side which was super sexy but I wanted to add an overskirt for the day time. The brand has an amazing range of overskirts too so I was able to find the most amazing blush skirt. My dress even arrived early which was a bonus! 
What was the most important thing for you and your husband when planning your wedding?

That we had all of our friends and family around us and that everyone had an amazing time! I'm pretty sure we nailed this one. 
What was your first wedding song?

Al Green- Let's Stay Together 
What did you enjoy the most about planning your wedding?

I loved getting all the final bits together, getting together with the girls and making the programs, confetti bags, table settings, etc. Then seeing it all come together on the day and look so beautiful was the best! 
What advice would you give to all our future brides?

Don't sweat the small stuff! I was so worried in the days leading up to the wedding I could barely eat- but I tried to remember that nothing could go wrong to ruin the day, and all the careful planning had already been done! So I just really enjoyed the day – it really does go so quickly.
What moment from your wedding will you never forget?

So many things but I have to choose two! Tom and I arrived to the reception on Riva speedboat where all our guests and our dog Milo were waiting, it was so good just to have 20 mins of time the two of us midst the craziness of the day!

The second amazing thing was the party. We found an incredible band who started the party, then our three good friends from university DJed for us. It was incredible, I didn't stop dancing for a moment. I even missed the desert, which is unheard of!
Finish your registration for {City} Trunk Show