FREE SHIPPING & RETURNS WORLDWIDE!

DUTIES & TAXES COVERED WORLDWIDE
Find your nearest boutique
For all of you who are planning Valentine's-themed celebrations for your wedding, we understand it can be a bit daunting to find the fine line between themed and kitsch. Figuring out the right kind of decor, what to wear, how to keep on theme, etc. can be quite overwhelming. If you're planning a bridal shower, bachelorette party, rehearsal dinner or another event, we've got you covered from the food to the outfit - here are our ideas for your Valentine's themed wedding celebrations.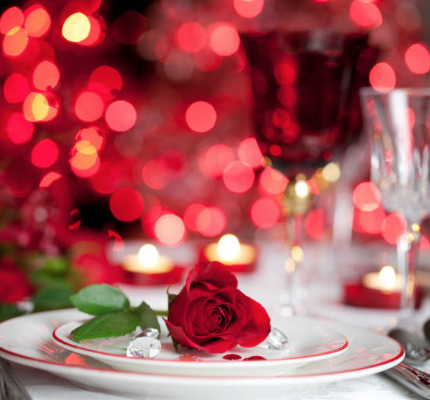 Décor

The spirit of Valentine's Day can be felt in the air – shop windows, bakeries, and florists are suddenly filled with stunning pinks and reds as far as the eye can see. In order to capture this feeling, it must be translated into decor. Like Valentine's Day itself, your guests should be transported to this special atmosphere. In order to accomplish this, we of course recommend some of the classics – heart shaped decorations and a significant amount of floral arrangements. We would also recommend a dress code – pick a Valentine's-themed color you want to wear, like red, for example, and have your guests dress in white and pinks. If you'd like to add a romantic atmosphere, we'd suggest colored candles lining the entrance and on the tables as center pieces!
Incorporate Roses

Adding touches of roses throughout your decoration will ensure that the Valentine's theme is spread throughout. We recommend small rose bouquets on the table, at the buffet, and if your fiancé is present, then he could even wear a rose boutonnière. If you are looking for a grand statement, a rose wall would also be the perfect decorative entrance!
Color Palette

To keep on theme, you'll want a directly related color palette – think whites, pinks, and reds. The atmosphere of Valentine's Day is sure to be in the air with you and your guests enveloped in the holiday's signature colors. We'd recommend details such as a light pink table cloth or a red table runner on a white table cloth, and invitations and place cards of the same palette!
The Outfits

What says "Valentine's Day" more than a red silk dress? To stay on theme and stand out at your special celebration, we suggest the Elise dress in red from our Pret-A-Porter Evening collection. The combination of deep red and dreamy silk makes this option absolutely perfect for a romantic, unique, and special Valentine's-themed event. 
The Food and Drink

I think we can all agree that on-theme food can be downright adorable and such a memorable detail for your guests. For drinks, we recommend serving pink champagne or rosé to keep with the color palette, or champagne in light pink glasses. For dessert, heart-shaped cookies, cakes, etc. are sure to steal the spotlight – it is such a sweet detail to add. Lastly, it's hard to go wrong with edible flowers – we suggest adding these throughout the meal as playful decoration or with dessert as a nice pop of color. 
Valentine's Card

Wish your guests a Happy Valentine's Day! Following in the tradition of Valentine's Day, giving your guests a personalized card is a wonderful way to show your appreciation. You could also lay them out nicely as a decorative element!
Giveaway

There's no other Valentine's Day present as classic as a box of chocolates. As giveaways to your guests, gift them a box of your favorite chocolates you would give as a Valentine's present. 
Finish your registration for {City} Trunk Show