FREE SHIPPING & RETURNS WORLDWIDE!

DUTIES & TAXES COVERED WORLDWIDE
Find your nearest boutique
Our #GLBride of the week is the gorgeous Nina Nguyen, who wore our Rhiannon gown on her special day. Despite the pandemic, Nina and her fiance were able to hold their simple "Let's get hitched" themed wedding at the Montsalvat Art Gallery in Eltham, Australia. In the following interview, Nina shares how she created an unforgettable wedding day regardless of the constant changes. As told by Nina;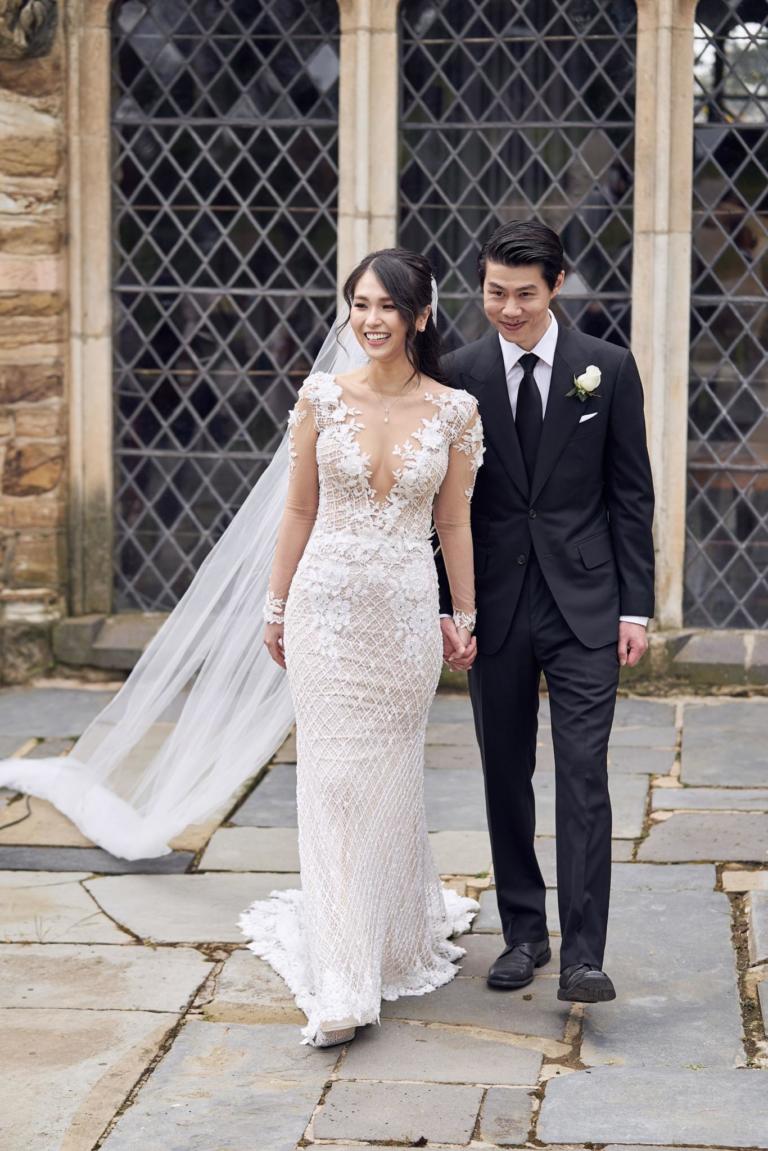 How did you meet your husband? Tell us a little bit about your relationship.

We are both dentists. My husband is a lot older than me. Back then when I was in dental school doing my placement, I bumped into his nurse who was working there part-time. She thought I was cute and asked for my phone number. I thought it was very odd as it was the first time I'd ever spoken to her but she insisted that her boss (my now husband) would be a perfect match. My husband and I then went on a blind date, organized by her.

It was very awkward at first as we knew nothing about each other, but there was something about him that just made my heart tingle. He called me straight after our first coffee meeting to set up another date and the rest is history. Fast forward three years, we closely escaped an earthquake in Japan back in 2018, a massive flood in Italy in 2019, and survived so many challenges this year due to Covid-19. We tied the knot on November 6th.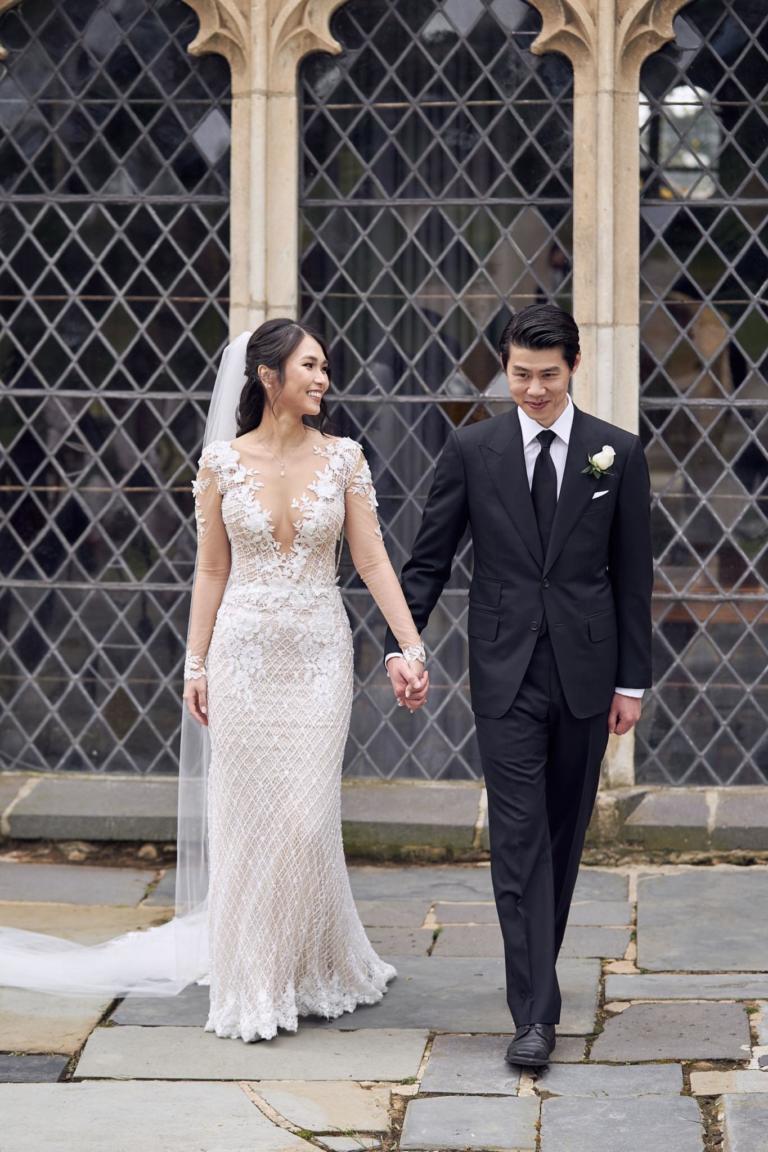 How did he propose?

Since we live together it was hard for him to plan things without me noticing. I also told him I didn't like cliche proposals on holidays, which made things even harder for him. On the day of the proposal, he told me to get ready for a dinner date at our favorite restaurant. He used that time to decorate the entire house while I was doing my make-up upstairs. There were so many balloons, so many rose petals. He then screamed as if he'd fallen downstairs, so I would rush down. I was speechless seeing all the decorations in the house and, of course, I said yes.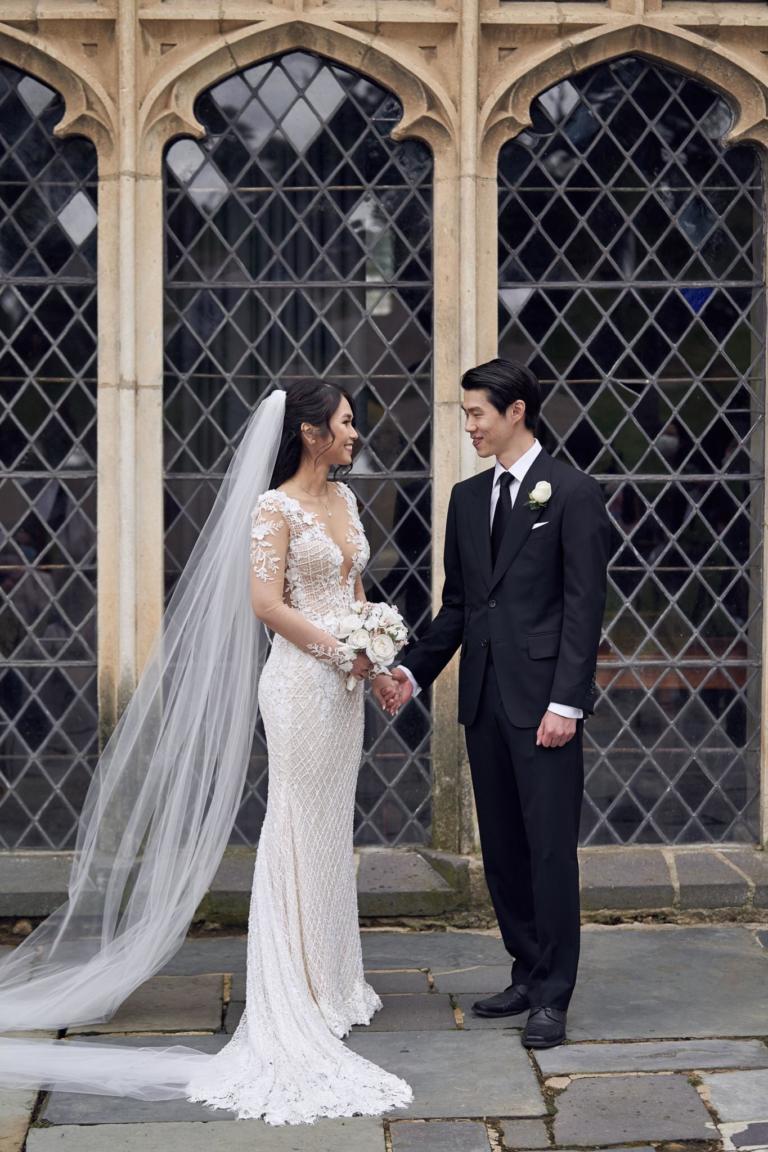 How did you start planning your wedding? What were the first steps?

We didn't start the wedding planning until December 2019 but I got my wedding dress very early on, pretty much the week after the proposal. I saw the trunk show date for Galia Lahav, signed up, tried on one dress and that was the one. I have always loved the brand and my love for Rhiannon started early on too. I insisted on trying Rhiannon at the trunk show and there was no other dress that could sway my love for it. I picked the venue then, sadly, COVID-19 happened. We had to postpone our wedding date three times. We lost a lot of our deposits on cake and invitations etc.

We didn't even know when we would be allowed to get married as Melbourne was in the midst of one of the strictest lockdowns in the world. It was very frustrating and we felt defeated many times. Finally, when the MP allowed weddings to happen again, under the ten people limit, we decided to get married. We pretty much planned the entire wedding, the fourth time around, in seven days. We contacted our venue to tell them about the date and lined up all the other vendors.

My wedding dress was picked up 6 days before the wedding since all retail shops were banned from opening. I then rushed my wedding dress to a seamstress for alterations and thank God she did everything in just 4 days. Despite not being able to have all our friends and family there, we felt happy to finally be husband and wife. Our initial guest list was 130 people but all we could have on our wedding day was ten guests. My father could not travel to Melbourne to walk me down the aisle but we were able to see him on Zoom.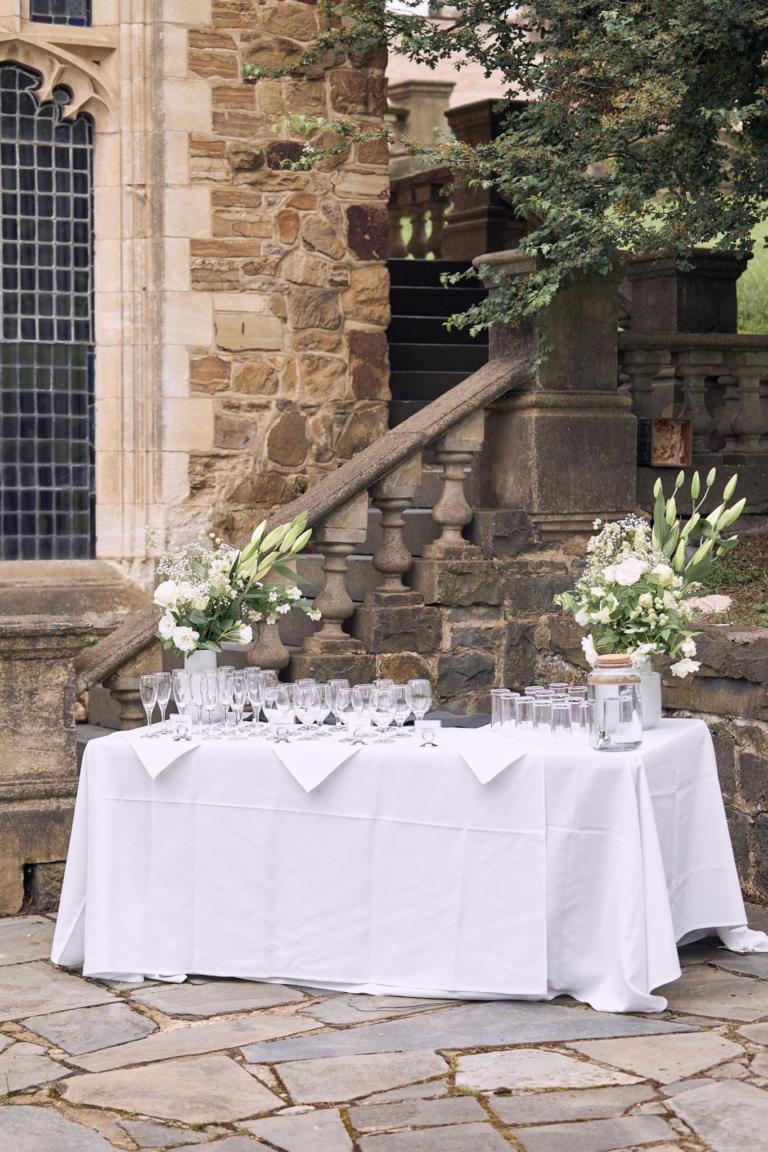 Did you do any beauty or fitness prep for your big day?

Hair and make-up artists were not allowed to work yet so I had to do my own make-up and hair on the day. It was super stressful but I was blessed that no break-out occurred on the day. I made sure I cleansed my face thoroughly and moisturized every night. All the stress-related pimples caught up to me after the wedding though haha!
What was your wedding theme?

Originally it was going to be rustic-romantic but after the fourth time planning, it was just a "let's get hitched" theme. I think I was more flexible knowing that there were not many options available to me, so the whole wedding ended up being very simple.
How did you choose your location?

Montsalvat is an Art Gallery but with a very European feel. My husband and I love traveling to Europe and as soon as we saw the venue it just felt right.
How did you decide on your bridesmaid style?

I organized a blush-gold theme for my bridesmaid to match our wedding cake. Unfortunately, no one from the bridal party was allowed to be at the wedding due to restrictions. It was so hard. Our wedding cake got changed last minute too as our original cake lady did not get back in contact with us and refused to offer any cake or refund so we had to find a wedding cake literally three days before the wedding. The cake on the wedding day was smaller. Everything was not what we had originally planned but it made us realize the true importance of the wedding day, i.e. being married.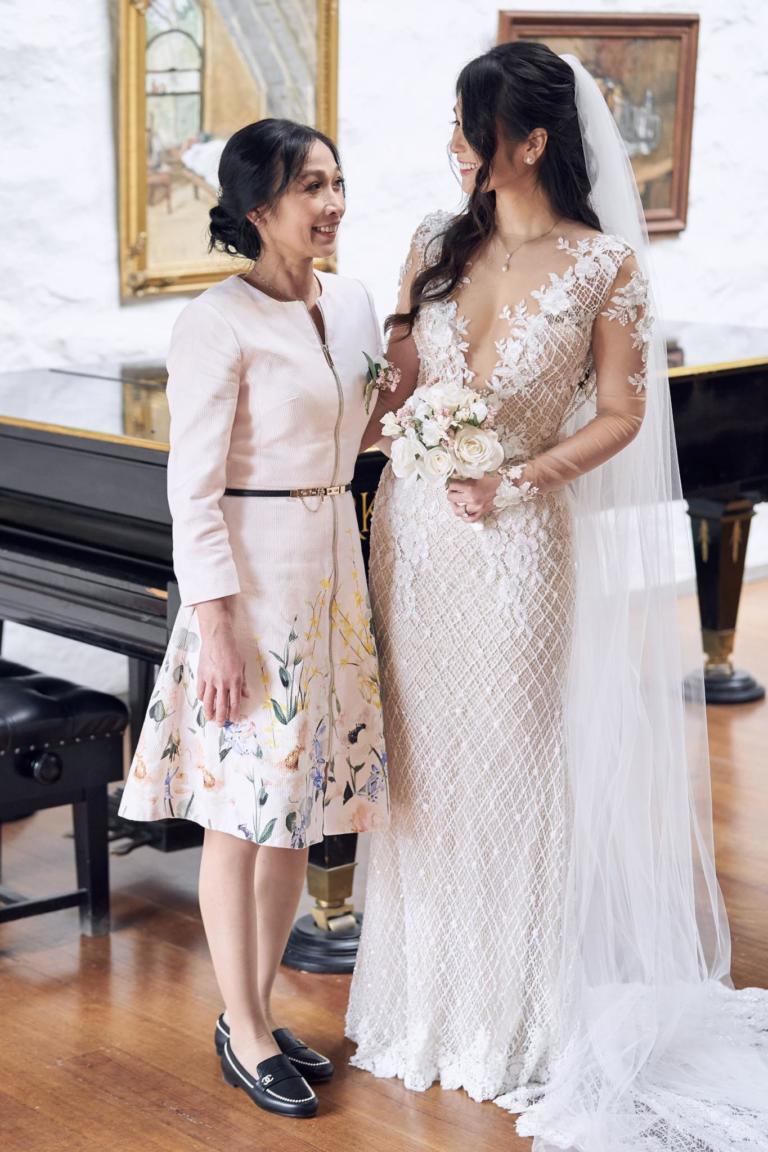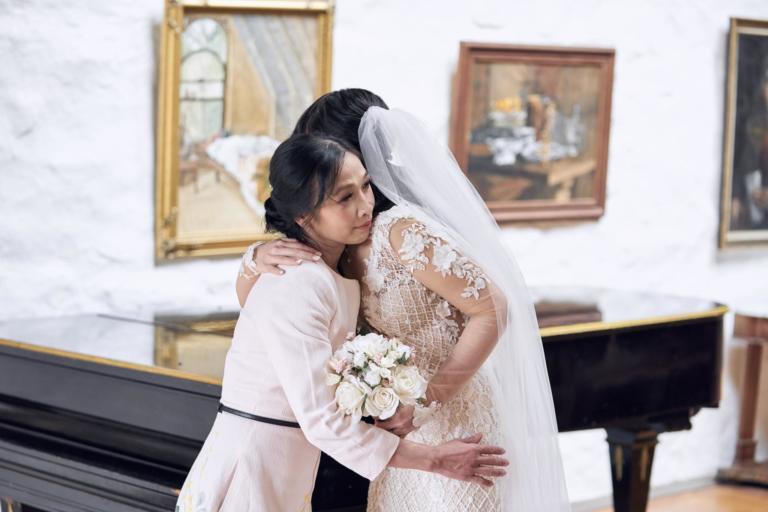 How did you find your perfect dress?

After I said yes I started looking for wedding dresses immediately. I have followed Galia Lahav for six years now and have always wanted to wear that particular dress. I however was not very confident about my body and never thought I would be able to pull off the signature silhouette like the models. I then found out Eternal bridal was hosting a Galia trunk show, so I quickly signed up. I was the very last bride that secured a spot at the trunk show. I have always been obsessed with Rhiannon ever since it was released. Seeing it at the trunk show was like love at first sight. I didn't even try on any other dress. It was the one for me. I got my dream dress at the first-ever wedding dress appointment I went to.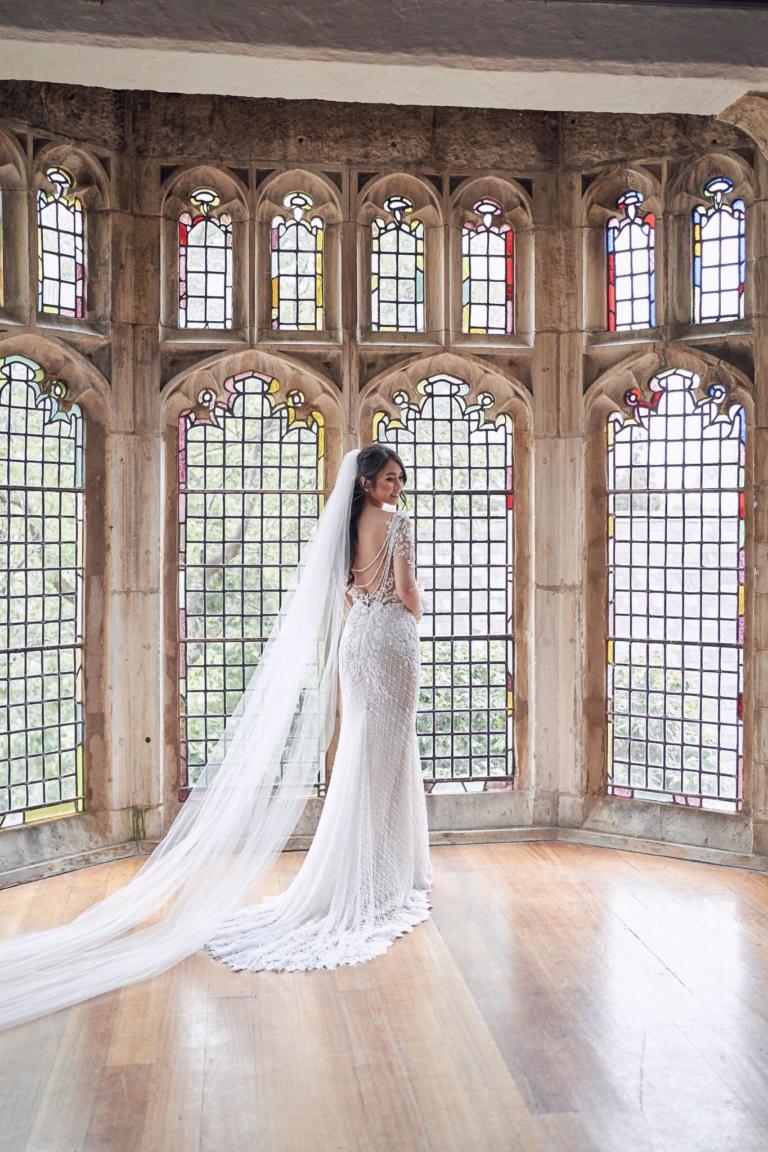 How was your experience with the Galia Lahav brand?

Everything was done to perfection. All the beadings and lace are so perfect. Rhiannon makes me feel very confident. The cut and the fabric just makes you feel like a superstar. I appreciate all the hard work and dedication Galia has put into making my dress.
What was the most important thing for you and your husband when planning your wedding?

I think it was the venue, the outfits on the day, and the photographers. We wanted to look our best, as a place that represents a part of us, and have beautiful photos.
What was your first wedding song?

Our first wedding song was 'La Vie en Rose'.
What did you enjoy the most about planning your wedding?

I think the whole journey was very stressful until I gave up the idea of having a perfect wedding and went with the flow. Looking back now I can understand why some couples want an intimate wedding. We could enjoy the essence of being married more, I think.
What advice would you give to all our future brides?

No one knows what will happen with the current situations but love will always win. Whether you are able to have a big celebration or just an intimate one, remember that the most important part of your wedding day is that you and your husband are united as one.
What moment from your wedding will you never forget?

When my mother forgot to bring the wedding cake. I was very calm on the wedding day as I was very happy to finally get married, but when my mother told me she forgot to bring the cake I absolutely lost it and went on full bridezilla mode. We did end up getting my brother to go home and fetch the cake and he was able to make it back in time. I can now laugh at how I reacted!
Photographers: Lost in Love Photography
Venue: Monsalvat
Suit: Tom Ford
Dress: Galia Lahav, purchased via Eternal Bridal
Finish your registration for {City} Trunk Show