FREE SHIPPING & RETURNS WORLDWIDE!

DUTIES & TAXES COVERED WORLDWIDE
Find your nearest boutique
Introducing our chic London stockist, Browns Bride. The Marylebone-based boutique first opened in 2004 with Creative Director Caroline Burstein at its helm. As the daughter of Joan and Sidney Burstein, founders of prestigious London store Browns Fashion, Caroline has always been immersed in the sartorial world, and it shows. Browns Bride hosts stunning collections by some of the world's best bridal designers and we're proud to work exclusively with its expert team in London. Read on to find out more about this beautiful London bridal boutique and the lovely team behind it.
Sharon Sever with Caroline Burstein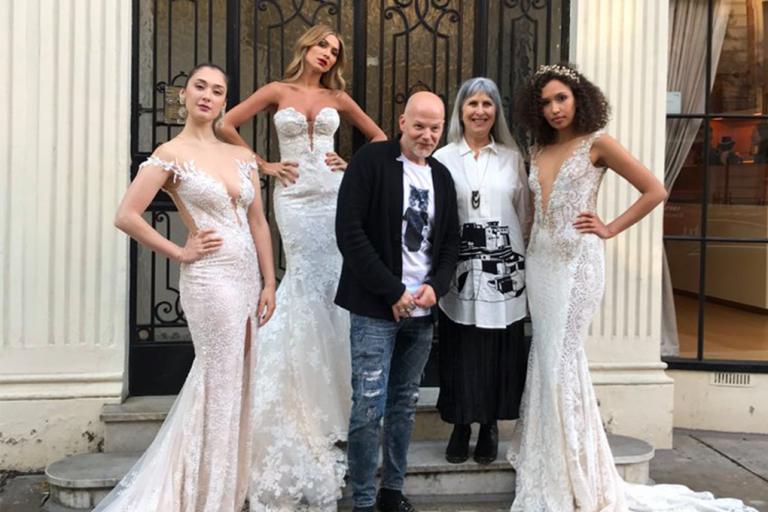 What's the Browns bride story? 
Since opening our doors 16 years ago, we've gone from strength to strength. Our Founder and Creative Director, Caroline Burstein, saw there was a huge gap in the market for a 'fashion-led' and truly contemporary bridal concept, so carefully went about curating a unique group of luxury bridal designers to work with and stock. To this day, Browns Bride still boasts one of the most exclusive and eclectic collections of couture wedding gowns in London.
The boutique is located in one of central London's loveliest areas – what are your favourite things to do in Marylebone?
The 17th-century townhouses that line the streets of Marylebone are like something straight out of a Charles Dickens novel. For us, the whole neighbourhood resembles a Victorian film set and it's a wonderful place to people watch from a café window. Around the corner from our boutique is a beautiful museum called The Wallace Collection; a hidden gem overlooking leafy Manchester Square. The museum hosts a world-class collection of art, sculpture and period furniture – plus, a wonderful tea room. It's a great place for brides to refresh and debrief with her bridal party, family and/or friends after a dress appointment with us. We're also just a five-minute walk from the luxurious Selfridges department store – a firm favourite with the Browns Bride team!
What bridal trends are you expecting to see in 2020?
We expect colourful wedding gowns to become more and more popular as we head into the warmer months, especially since our brides are bolder than ever before in their dress choices. Off-the-shoulder necklines and voluminous sleeves will certainly continue to be in demand.
We're also ushering in a new decade – do you have any trend predictions for the next ten years?
Our society is more aware than ever of the environmental impact its having on the planet. So, in the next 10 years we expect to see fabrics and design practices becoming more eco-friendly – ideal for brides who want to consider their carbon footprint when wedding planning.
https://www.instagram.com/p/B7I7IOdlmjR/
What do your clients love most about Galia Lahav gowns?
Many special features define each of Galia Lahav's collections, so it's near-impossible to choose a favourite aspect from any one of them. One overarching thing all #GLBrides do love is the gowns' perfect fit and the confidence that this gives them on their wedding day. Their structural design embraces the female figure so perfectly, thanks to engineered fabrics and expert measurements. 
Do London's #GLBrides have a favourite style? 
The beauty of any Galia Lahav collection is its diversity; each design has a unique character and fit. What binds them together, though, is their intricate details and the fabrics' consistently high quality. For its classic fairy-tale aesthetic, the Gia gown is one of the most-loved pieces in our boutique.
https://www.instagram.com/p/B5dkxx2FluQ/
Tell me a little about Browns Brides' expert in-store stylists. 
Lauren started working in bridal about 8 years ago and fell in love with the industry. So in 2015, she moved all the way to London from her home in Yorkshire to work with us. Lauren splits her time between styling brides and working across the Browns Bride social media platforms. Interestingly, though she is a big fan of the city she'd still wear a pair of muddy wellies any day, taking weekend trips to the countryside to be reunited with her family dogs and to go for long walks in the Yorkshire Dales. 
Favourite GL gown: Camilla
Ciara came to London to study at Rambert School of Ballet and Contemporary Dance, where she trained and became a professional dancer. But after suffering an injury she found a new interest in our industry and has loved working with brides-to-be ever since. As a naturally creative person, she spends a lot of time at the theatre and loves going to art exhibitions in her spare time.
Favourite GL gown: Luca
Gabriella has a degree in fashion design and textiles and has worked for many prestigious brands in the industry. She comes from a family whose background has always been connected to fashion and creativity. Gaby's got another amazing role beyond Browns Bride: supporting mums in pregnancy and teaching yoga. 
Favourite GL gown: GALA 306
Also after studying fashion and textiles, Laura began working in many of London's luxury retail stores, but she soon fell into bridal and has never looked back. She says her role at Browns Bride combines her love for meeting people, giving great customer service and working in a beautiful space (surrounded by stunning couture gowns!). Laura's hobbies include working out at the gym, painting, drawing with her young daughter and, of course, immersing herself in all things wedding dresses.
Favourite GL gown: Harper 
https://www.instagram.com/p/B37WbkeFufk/
What's the biggest piece of advice you all tend to give clients? 
To be themselves! It's so important for a bride to let her personality shine through her wedding gown and not lose her sight of her individual style. If something feels 'you' (it could be as simple as a neckline) you'll immediately feel more comfortable and therefore more confident. Aim to feel the best version of you – it shouldn't feel like dress-up. The minute you put on a gown and don't recognise the person staring back at you in the mirror, take it off!
What's been your most memorable bridal appointment to date?
It's hard to name a single one. Every day we welcome new clients to the store and each have memorable moments for different reasons. Some really special appointments have been when multiple generations come together to see their daughter/grand-daughter find her dream dress. We also love it when a relative living on the other side of the world has flown over to surprise the bride at our boutique! It's a pleasure for each of us to work alongside people from all cultures, backgrounds and religions, and witness how they come together in our boutique. We're touched by every tear, every laugh and every moment we get to share with our customers.
Do you have a top wedding-planning tip for all of our brides-to-be? 
Don't lose sight of what the day is all about. It goes without saying, really, but it's so easy to let stress get the better of you during the planning process. Brides too often worry about things that are beyond their control, i.e. the weather, the guest list or worst-case scenarios. If it all gets too much, take a few breaths and remind yourself that the reason you're getting married is ultimately to celebrate your love for your partner (and vice versa!) with your nearest and dearest there by your side.
https://www.instagram.com/p/BzkeZf1l8rv/
Finally, if you could choose three words to describe Browns Bride, what would they be and why?
UNIQUE. The experience is unique because we pride ourselves on being honest and grounded in our advice while offering an exclusive range of gowns by world-class designers.
PERSONAL. Each of our stylists starts an appointment by getting to know their clients and as much about their wedding as possible. This helps us give informed suggestions, tailoring our approach to each bride.
CURRENT. We're in touch with the current aspirations and lifestyle of women and work to ensure that our exclusive bridal selection reflects this. Our buying team keep our boutique fresh and fashion-forward while also searching for timeless styles.
Finish your registration for {City} Trunk Show