FREE SHIPPING & RETURNS WORLDWIDE!

DUTIES & TAXES COVERED WORLDWIDE
Find your nearest boutique
Our #GLBride of the week is Ilaria Rinaldi, who wore our GALA 902 as she wed her fiancé Hrvojes in Croatia. Blending both of their rich backgrounds, the couple held their colorful wedding at a beautiful restaurant overlooking the ocean. In the following interview, Ilaria shares with us her journey to find her dream dress and the moments she enjoyed most on her special day. As told by Ilaria: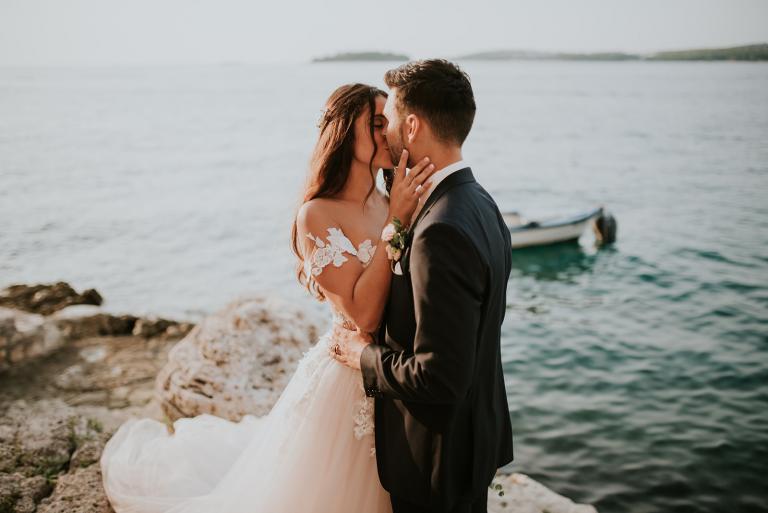 How did you meet your husband? Tell us a little bit about your relationship.

Hrvoje and I met at a friend's Party in a Club in Zurich (Switzerland) in February 2011. At first, we didn't chat at all and then we became friends on social media after the party. We met again at a fair in Zurich in September 2011 and there we chatted a lot and had a great time together. After this evening, we decided to organize a New Year's Eve party with all our friends. We chatted almost every day since then and had a few dates. However, we've officially been a couple when we kissed for the first time on February 17th, 2012. We decided this was the beginning of our relationship.

At first, the relationship wasn't easy. We only saw each other during weekends as I lived in Zurich and he lived one hour away. But we traveled a lot together – we even went to study abroad in America together for 4 months in 2015. As Hrvoje was studying, he couldn't afford to move in with me. At one point, somehow, all went really fast. He finished his master's degree in September 2017. We moved in together in February 2018 and he proposed in August 2018!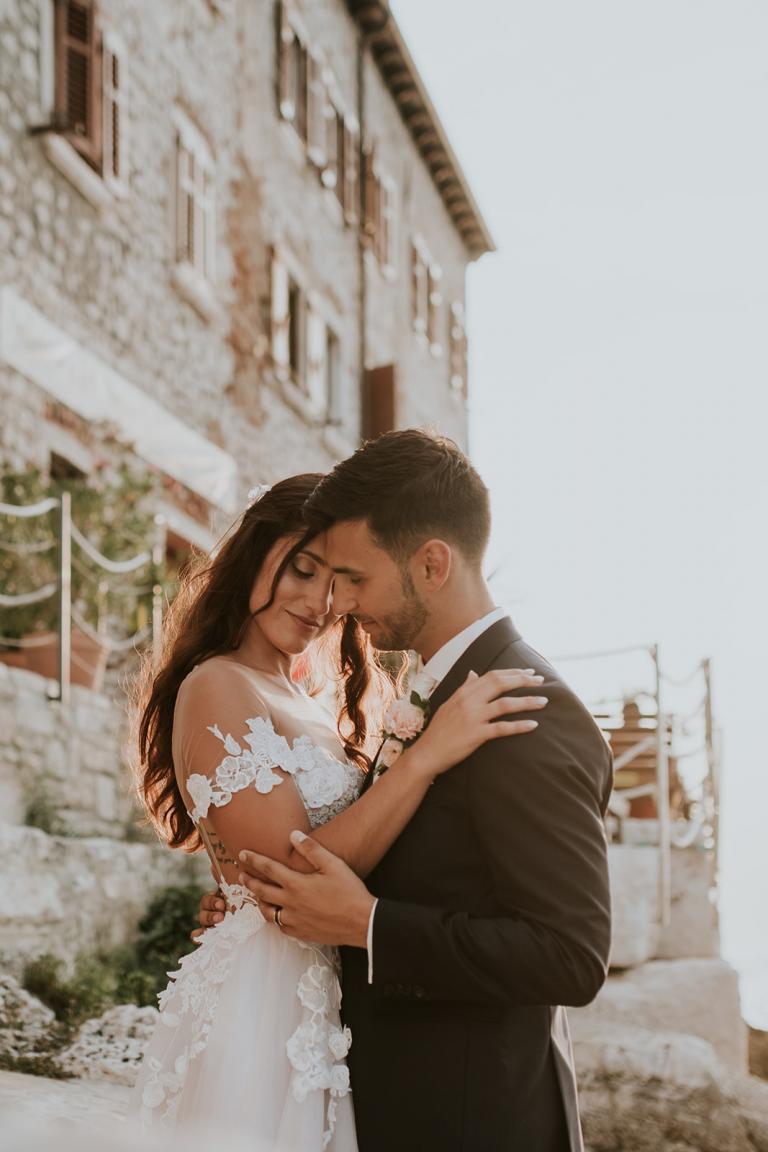 How did he propose?

We were on our annual summer-holiday on an Island called Pag (Croatia), where Hrvojes parents have a little apartment. We have been there for almost 5 days, so the holiday week was almost over. As nearly every evening during our holiday, we dressed-up to have dinner at a restaurant. It did not feel like a special night at first –  but it would be later!

You have to know that Hrvoje is a passionate photographer and videographer, so he takes his camera and tripod with him wherever he is going. Obviously, he took it that night. I still had no idea what could possibly happen! After we ate pasta, we went for a walk on the harbor of Novalja. We had a Gelato (ice cream) and then went back to the apartment. Hrvoje said that he wanted to shoot some astrological pictures of this evening's beautiful sky. So we went down to the beach.

Suddenly, Hrvoje asked me if I wanted to have a walk on the beach as he was not tired yet. After 15 minutes of walking, I saw candlelights. I instantly cried. I knew that IT WAS HAPPENING! There were candle-lights in heart shape and a table with champagne, music, and A RING! Hrvoje said some words to me that felt like an eternity. We cried together as I said YES! While I was still in shock, we sat at the table and talked about how he prepared all this. He told me that, while it was his idea, my sister and mother-in-law were the angels helping to set-up everything. It was all his idea. After the overwhelming evening, we went home and were welcomed by some family and friends waiting to celebrate with us.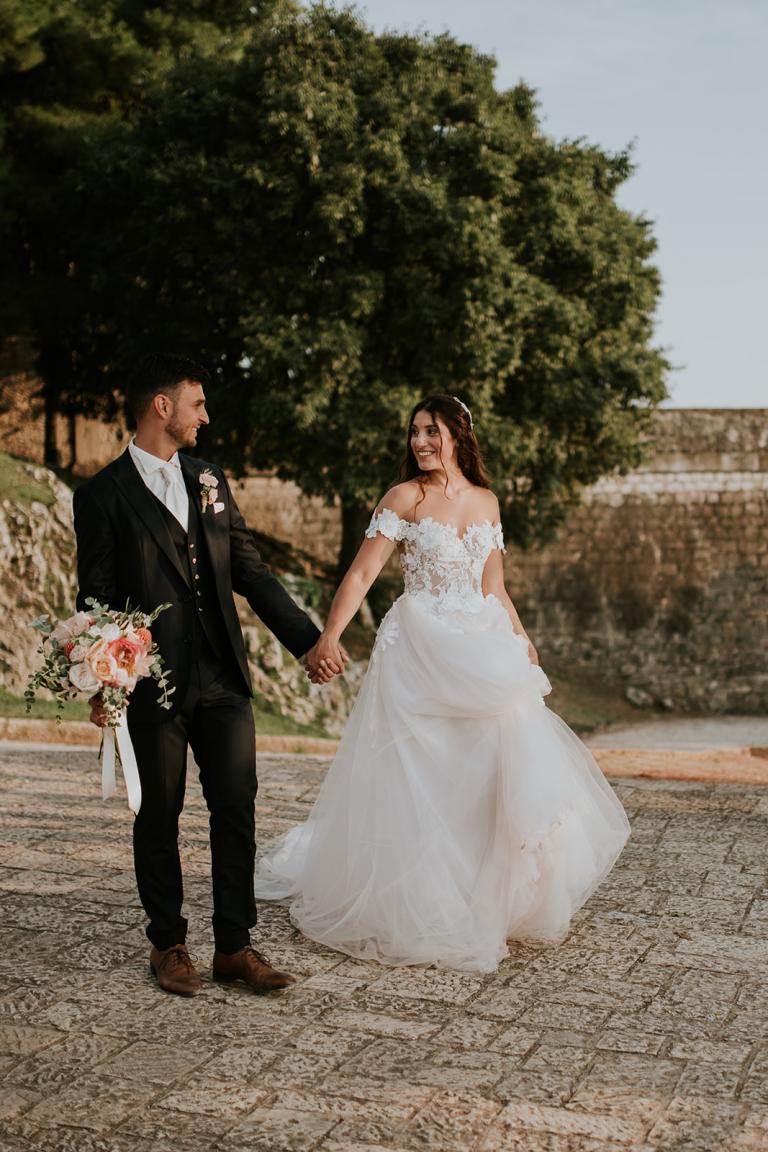 How did you start planning your wedding? What were the first steps?

I have to say, that I pictured my wedding since I was 16 years old, so it was pretty easy to start with all this wedding planning. I had my Pinterest Account filled with wedding-inspo!

When we returned to Switzerland I realized: "It's really happening now?!" and went through my Pinterest board. Hrvoje trusted me the whole way: "I trust your sense of taste, so let's do whatever you want". He even once said he would marry me on a farmyard – At this point, I knew he would let me do all the decoration. The first few steps have been venue hunting and finding inspiration for the wedding dress and decoration.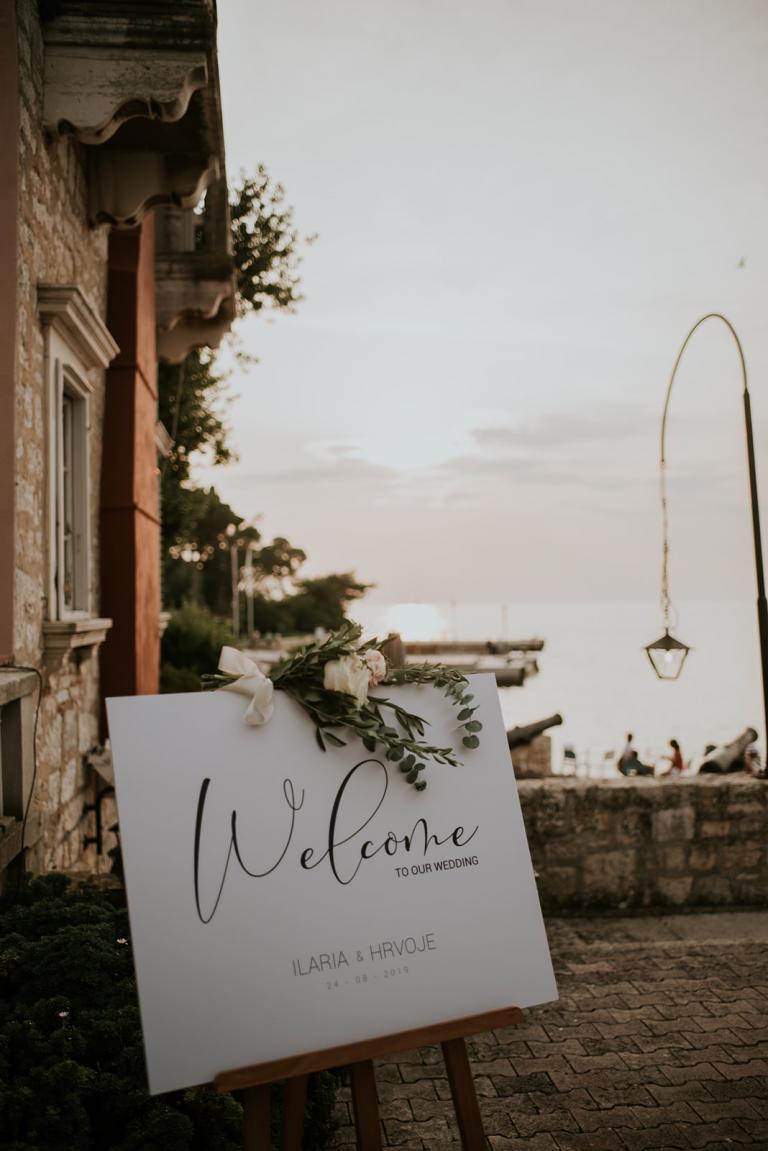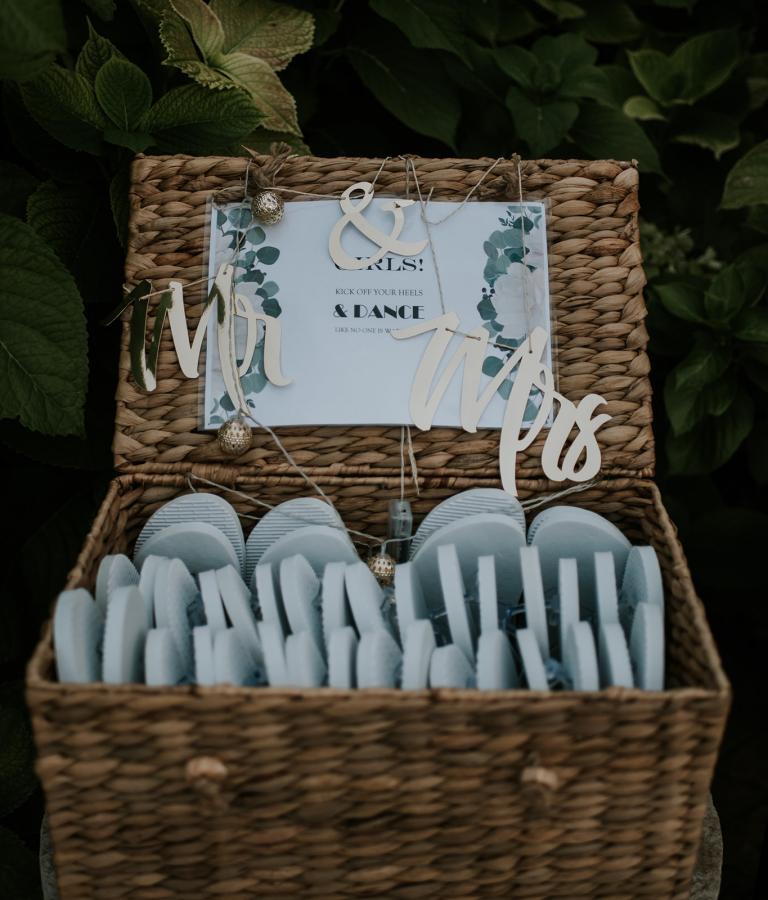 Did you do any beauty or fitness prep for your big day?

In the beginning, I wanted to lose weight But the beautiful side-effect of the wedding-planning-stress is that you will lose weight no matter what. At least this was my experience. I've lost like 6 kgs in total.

At the beginning of February 2019, I got "adult acne", also called "stress acne" because of the inner agitation and uncertainty about the year prior to the big day. At first, I really couldn't handle it but after I went to see a doctor that gave me some cream against it – I felt better and it worked very well on me.
What was your wedding theme?

We didn't have a theme, but since a wedding is a happy celebration, we wanted a colorful wedding. So we had a little dress code for our female guests, where we asked them not to wear white or black. The most worn colors at the wedding were rose gold and pastel shades.
How did you choose your location?

Since Hrvoje is Croatian and I am Italian, the options were remarkable. There are many beautiful venues around Italy and Croatia! After evenings and weekends of Google-Searches on potential venues, we found a beautiful sea-side Restaurant in a City called Rovinj in Croatia. The interesting fact about Rovinj was that it was part of Italy after the first world war which means they speak two languages there: Italian and Croatian – That's our place!
How did you decide on your bridesmaid style?

I created a Whatsapp group chat with my girls and sent them some ideas of colors and styles. I ordered a couple of dresses and organized a Brunch on a weekend in June. They all liked the same dress, so I was delighted!
How did you find your perfect dress?

I first saw your dresses on Pinterest, then I followed Galia Lahav on Instagram. After that, I could never imagine not wearing one of your dresses! But the decision has not been easy, as all Galia Lahav dresses are simply perfect! I first went to Paris with my mother and maid of honor – it was a surprise.

Back in Zurich, I was looking for a vendor with Galia Lahav gowns. I found one in the city center but I could only try 5 dresses and I wanted more options. So I looked for another vendor and found the Bridal Boutique Badan Baden in Germany. Ten gowns later I had my dress: the #GALA_902! At this point, I want to thank lovely Constanze for her help in finding my dream dress!
How was your experience with the Galia Lahav brand?

The Galia Lahav brand is simply fantastic! I got so many compliments on the dress. And these compliments go to all of you guys! Thank you for making my dreams come true and for all these beautiful brides out there!
What was the most important thing for you and your husband when planning your wedding?

We had guests from Switzerland, Germany, Italy, and Croatia, that's why we planned to have a little something for every nation, so we went with international music. On the menu, we tried to choose dishes that every guest would like and included a vegetarian option.
What was your first wedding song?
What did you enjoy the most about planning your wedding?

I like to organize events in general, so I just loved everything about it! I loved to design the invitation card and printed tons of pictures to pin on my wedding-whiteboard. I also really enjoyed the calls with our wedding planner.
What advice would you give to all our future brides?

Always go for your first idea, don't listen to others!
Never say: "there's still time". Time goes so fast!
 I know it might be common advice but: ENJOY THIS DAY and be AWARE of every second on your wedding day! Laugh as much as you can, cry as much as you can and, most importantly, be happy!
What moment from your wedding will you never forget?

Entering the church with my father and seeing Hrvoje waiting at the altar was such a special moment for me. I will treasure this feeling forever.
Finish your registration for {City} Trunk Show