FREE SHIPPING & RETURNS WORLDWIDE!

DUTIES & TAXES COVERED WORLDWIDE
Find your nearest boutique
Our #GLBride of the week is Allie Bailey, who tied-the-knot with her fiancé Daniel in our Arabella gown. Complete with sun, sand and an ocean view, the couple held their island-inspired wedding at the quaint Cala Gracioneta venue in Spain. In the following interview, Allie shares with us the details of her breathtaking destination wedding and how she found the dream dress to match. As told by Allie: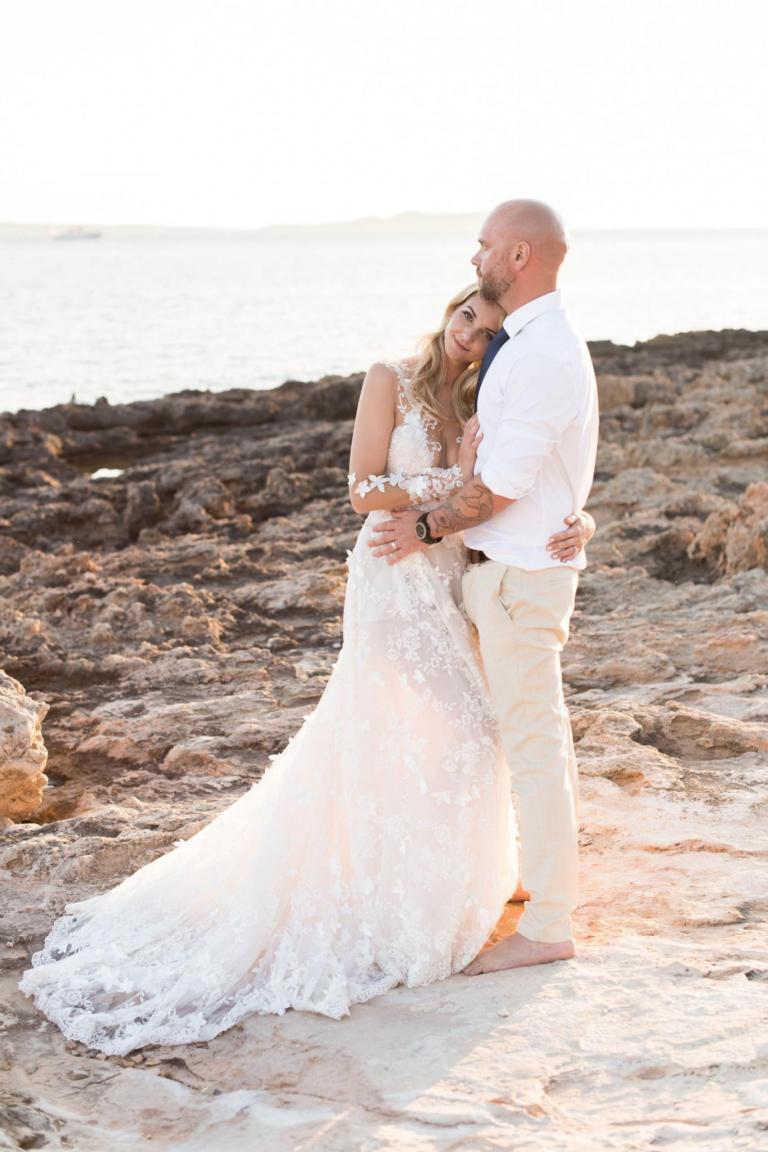 How did you meet your husband? Tell us a little bit about your relationship.

Daniel and I were introduced to our mutual friend, Pasquale Rotella's ugly sweater holiday party in Los Angeles in December of 2015. We both found ourselves instantly attracted to one another. Although the interaction was brief, I was determined to find out more about him after the night was over. A couple of weeks later, we came across each other's Instagram profiles and started chatting. By mid-January, we had agreed to a first date – on which my face hurt from continuously smiling and laughing. I knew he was the one. From that first date forward, we were absolutely inseparable. We both work in the entertainment industry – he owns a radio production company, NoiseHouse, and I recently ventured to form my own PR firm, PressHouse – and share a lot of common interests, including a passion for music, fitness, the beach, travel, and great food. We have a beautiful little boy named Basil, who was born in April 2018.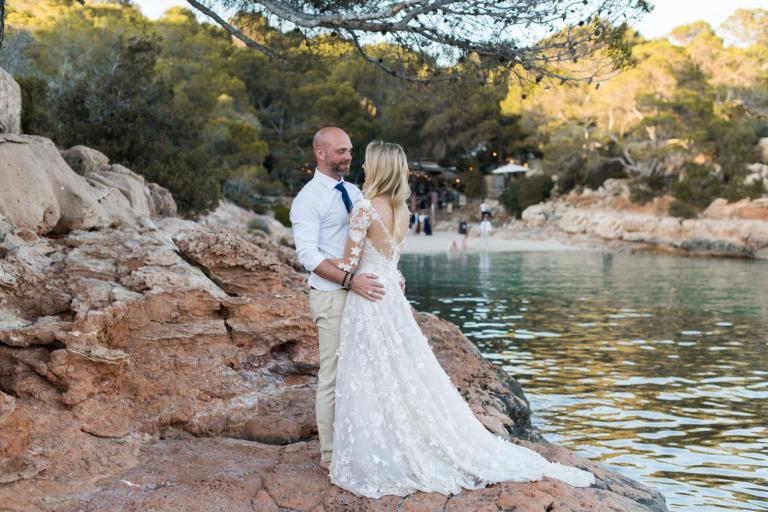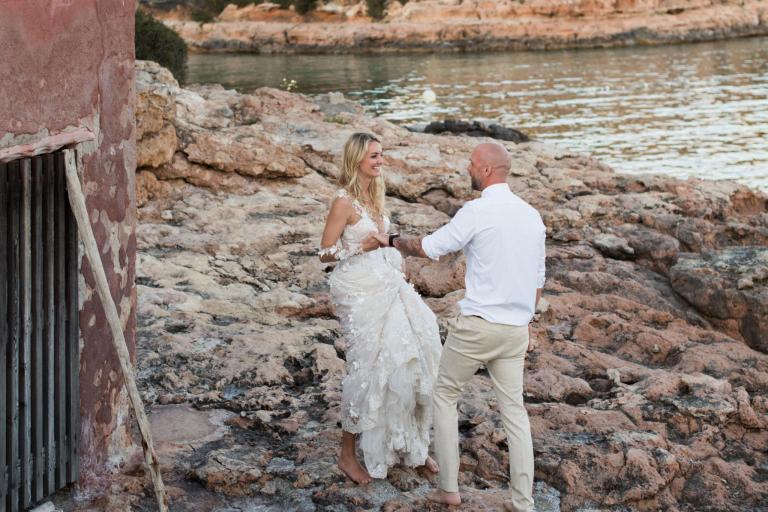 How did he propose?

When I was 12 weeks pregnant, Daniel planned a "gender reveal" dinner party for our closest friends and family on the rooftop at Petit Ermitage in West Hollywood. He orchestrated a balloon for us to pop together, which would burst with pink or blue confetti revealing the baby's gender. As we stood under twinkle lights at the head of the table preparing for the balloon pop, he gave a short speech thanking everyone for coming. Daniel handed me the popping pin to hold and unexpectedly got down on one knee. With tears in his eyes, he popped the question and I excitedly replied "Yes!!!" It was an emotional, beautiful surprise. As far as I knew, he didn't know what kind of ring I liked, but somehow had designed it perfectly! So, when I thought back on the week preceding our gender reveal dinner party for clues, I realized that "ring browsing" trip to Tiffany's with my soon-to-be-engaged best friends was actually to pick out a ring for me!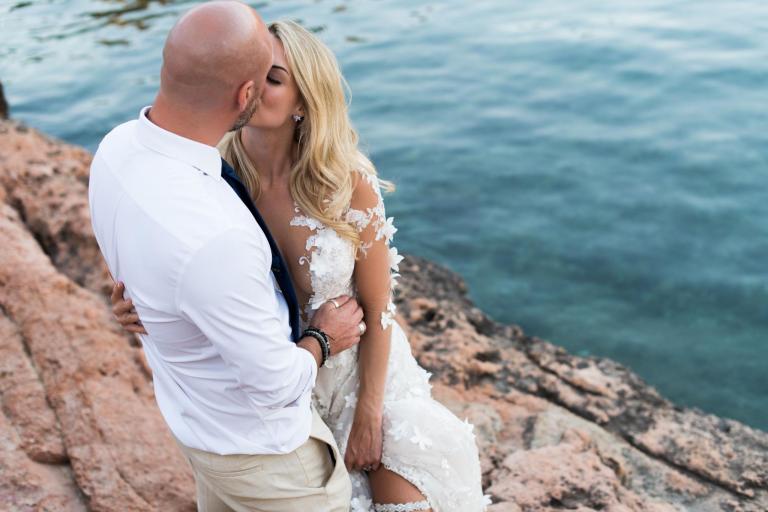 How did you start planning your wedding? What were the first steps?

We set a meeting with our lovely wedding planner, Lucy Dyer of Mambo Weddings, to get the ball rolling. Given we were planning a destination wedding in Ibiza, Spain (with Daniel's friends and family being from the U.K. and mine from the U.S., for the most part), we knew we had to work on our guest list ASAP. That said, we were quick to get the "Save the Date" invitations out soon after our visit to give our guests ample time to plan and prepare. This period also included reaching out to our best friends and asking them to stand by us on our wedding day as our bridesmaids and groomsmen.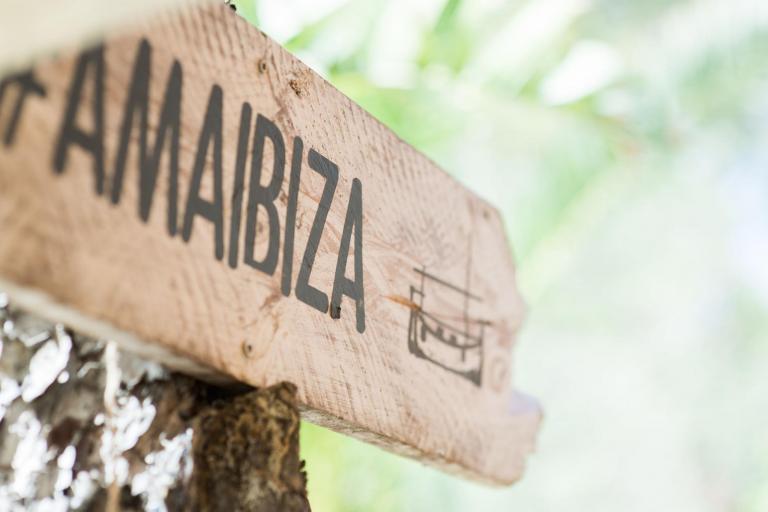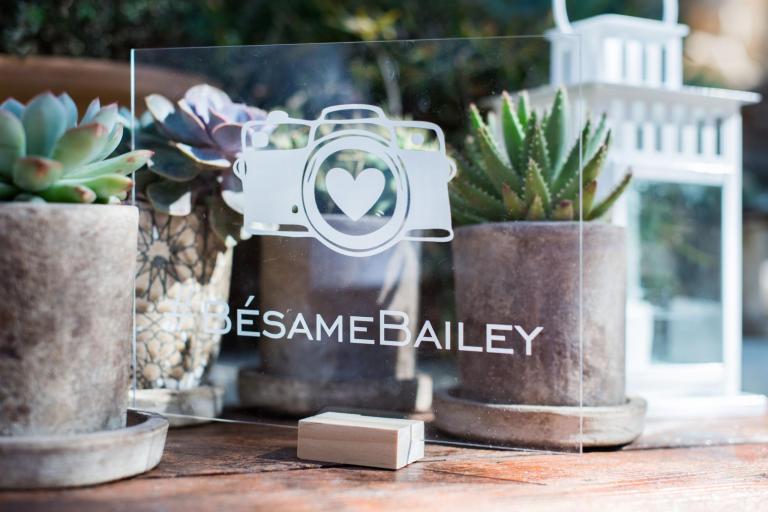 Did you do any beauty or fitness prep for your big day?

Having had a baby just about a year before the big day, I really wanted to get back in shape for a couple of reasons. Of course, the big day was on the horizon, but I also looked to fitness training for increased energy and strength to be able to keep up with my toddler. I began a strict gym routine 3 months from the wedding day, and saw a personal trainer 1-2x per week over the month leading up to our departure date. Having this routine also helped me relieve wedding planning stress!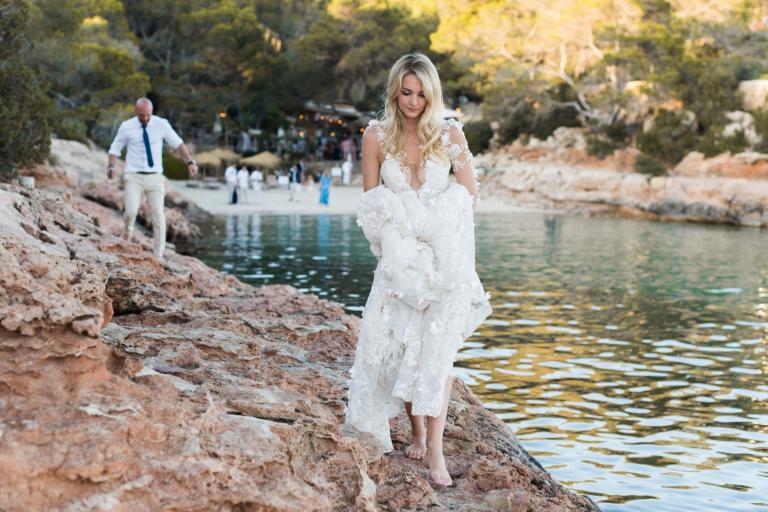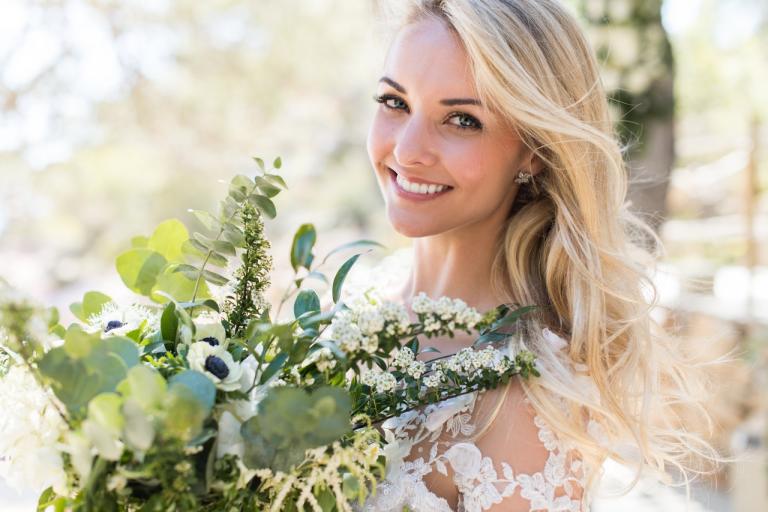 What was your wedding theme?

We went for a relaxed island wedding vibe. Situated atop the sand in an exclusive cove, we sought only to compliment the venue's already gorgeous, natural elements and earthy tones. Our wonderful florist at Marbin Flowers used olive and eucalyptus as greenery, along with gypsophila, white lisianthus, and wisteria for flowers throughout the venue, including a beautiful garland around the ceremony tree. We also had silky white ribbons tied to the guest's chairs during the ceremony which danced in the breeze. The bridal party bouquets featured greenery with white ranunculus, anemone, Helleborus, waxflower, and lisianthus. To add a touch of color and femininity, the bridesmaids wore blush gowns – which also complimented the blush layer of my wedding dress. The groom and groomsmen donned light khaki trousers, white collared shirts, as well as navy blue blazers and matching ties as a nod to the stunning sea surrounding us.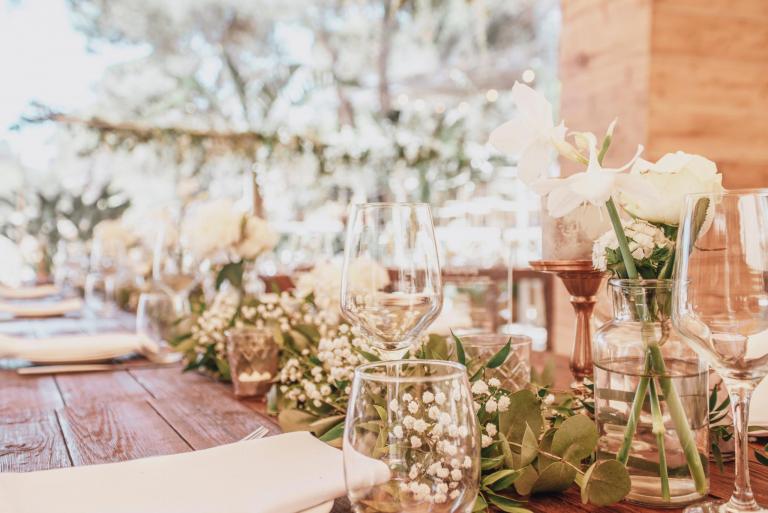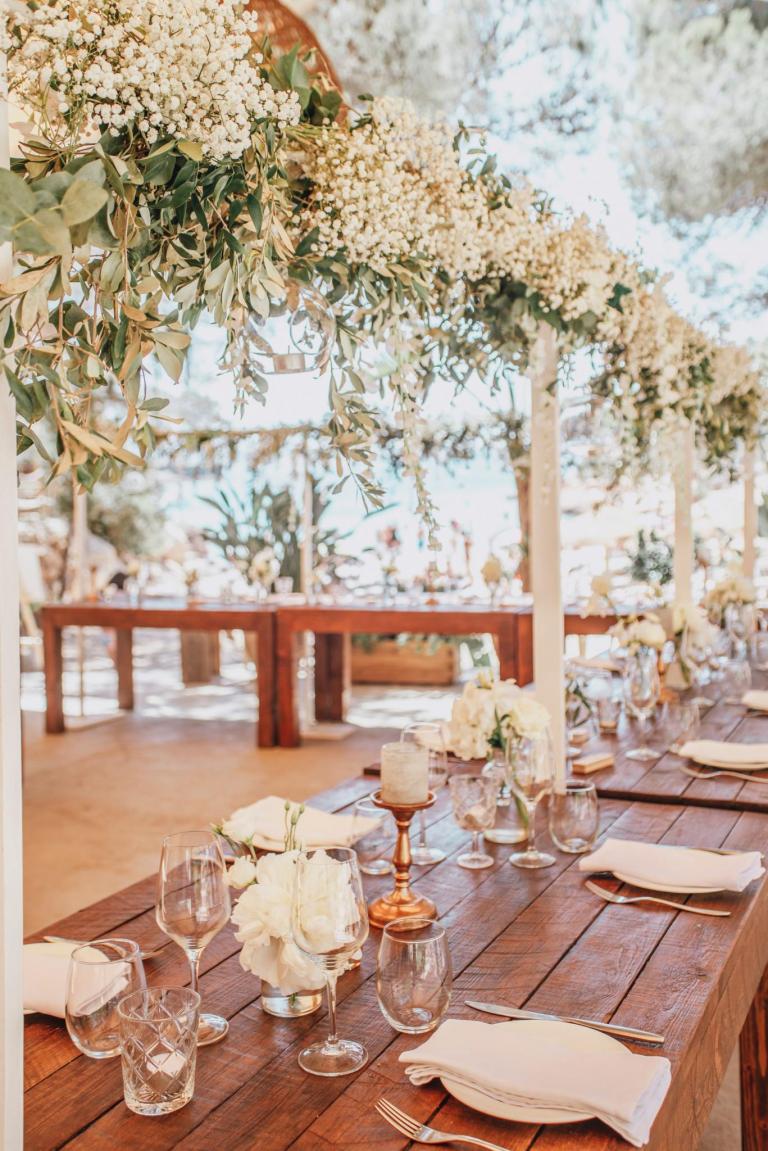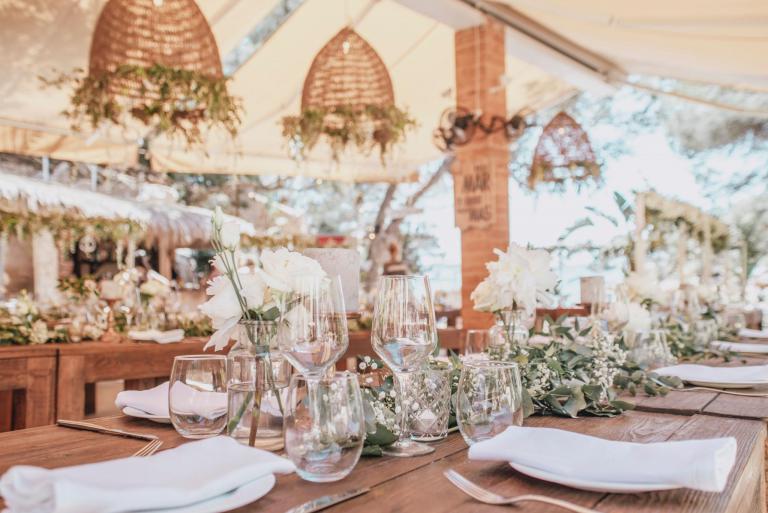 How did you choose your location?

We took a trip to Ibiza, Spain together in the summer of 2017 and visited Cala Gracioneta for a day at the beach under the Spanish sun. It was my first time there, and I was absolutely blown away by not only the venue's stunning beauty but also by the incredible food and outstanding service. That day, we set our hearts on exchanging our vows at the idyllic beach venue.
How did you decide on your bridesmaid style?

My bridesmaids were able to choose their own dresses in their own style – so long as they were blush in color. It was important to me that they felt like themselves, and I didn't want to push them to wear a particular style they might not find flattering. I wanted them to feel beautiful and comfortable.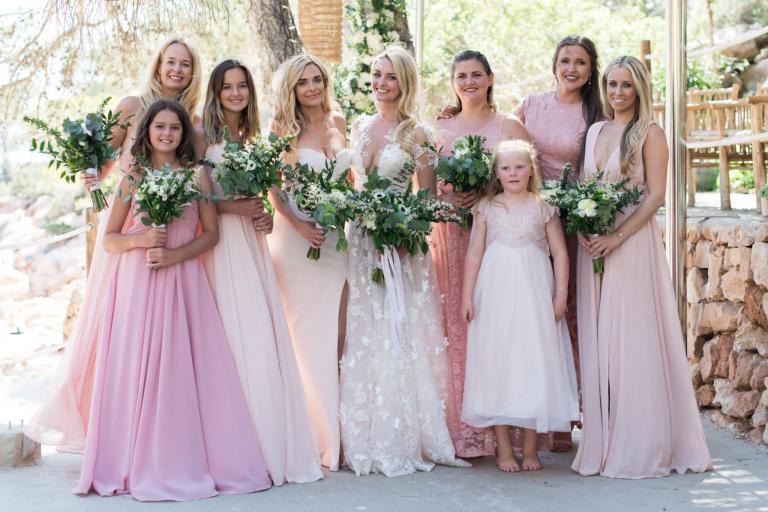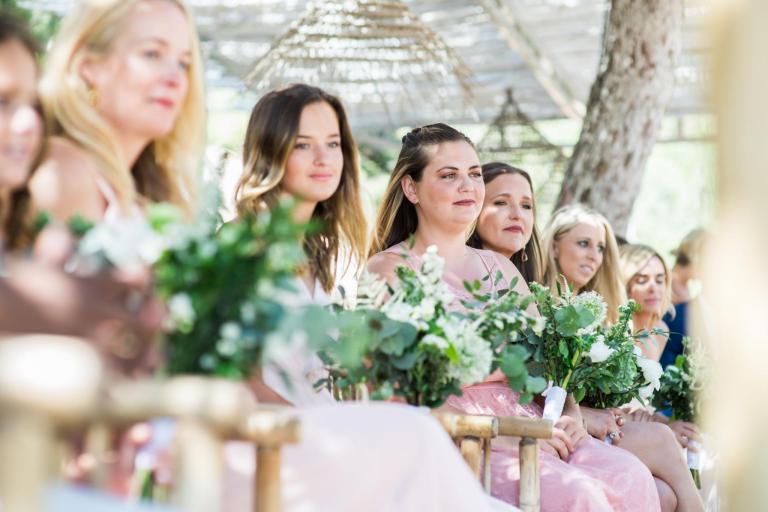 How did you find your perfect dress?

From the moment I walked into the Galia Lahav flagship store in Los Angeles, I fell head over heels for the brand. I had originally set out to find a form-fitting mermaid dress with illusion flower detail – but beyond that, I hadn't a clue. The lovely associate I met with that day brought me an assortment of dresses in different styles to try on, along with a sip of champagne, of course! She told me many women enter the salon with a particular style in mind but leave with something they hadn't even considered. She was right! As soon as I tried on the Arabella gown, I knew it was the one for me. Featuring an A-line silhouette, the layered pink and ivory silk tulle dress is embellished with dainty flowers, sparkling crystals, and pearlescent beads. It's romantic, feminine, and with its plunging neckline, even a bit sexy. Plus, it had the gorgeous illusion floral sleeves I had been dreaming of. The dress was a fairytale. I felt like a princess.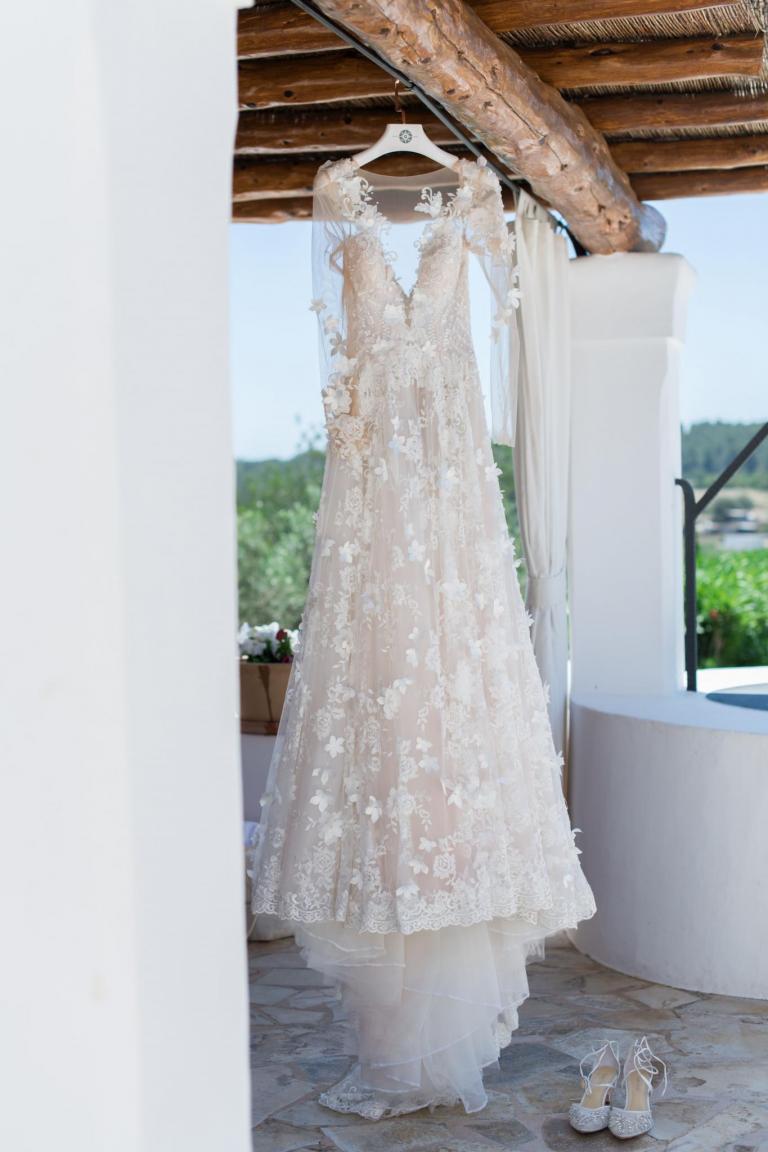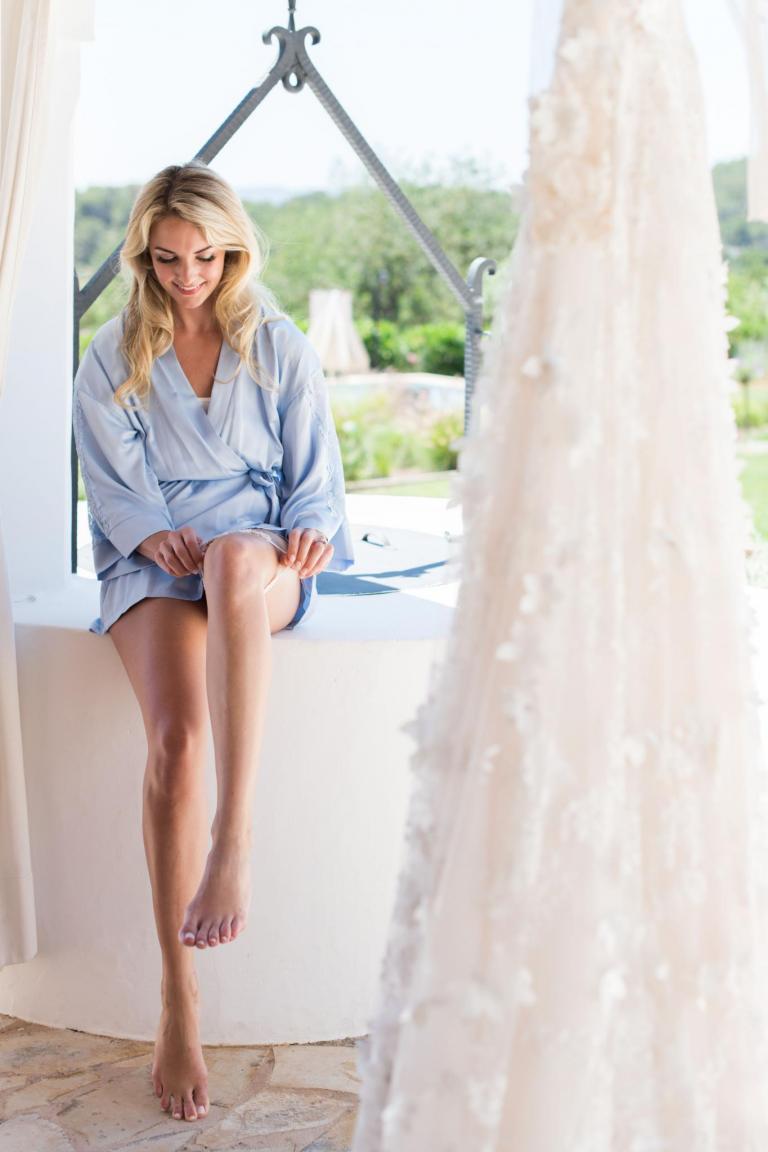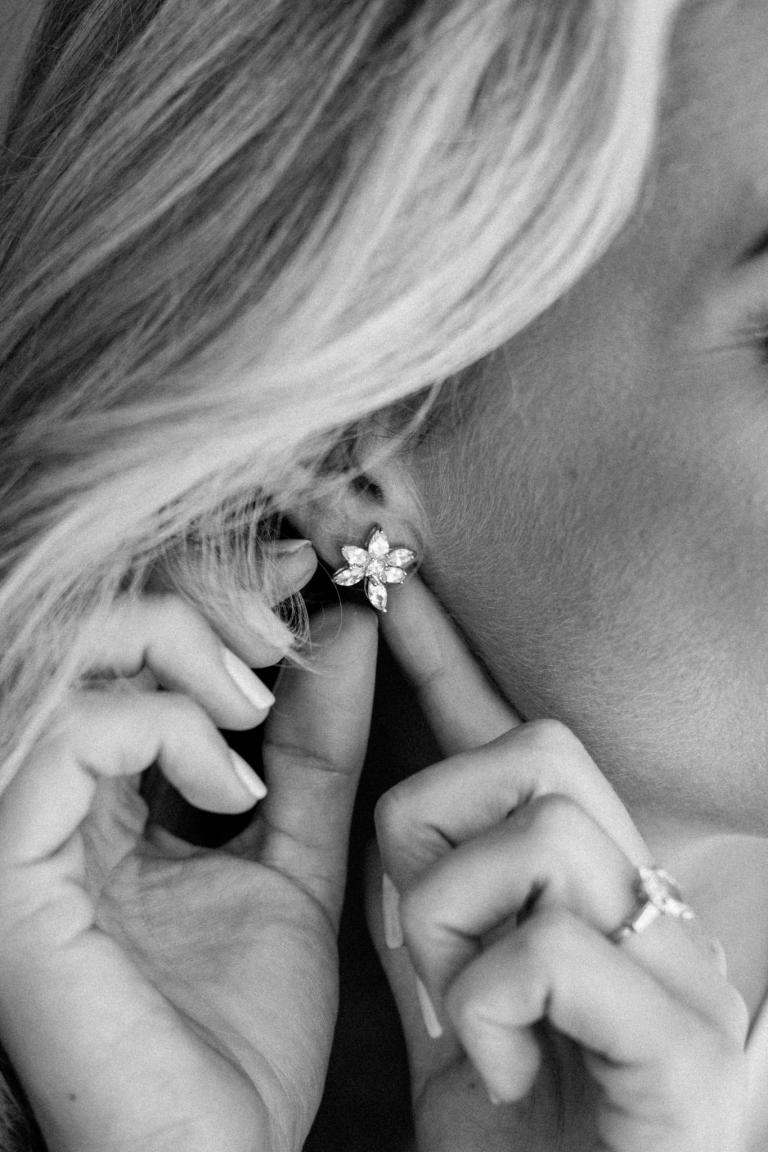 How was your experience with the Galia Lahav brand?

The associates at the flagship store exuded warmth and professionalism. They were there to make sure I was comfortable every step of the way and worked with me at every fitting to ensure the dress hugged my every curve just as I wanted. Their care and attention to detail were essential to my entire experience.
What was the most important thing for you and your husband when planning your wedding?

Planning our wedding was equally exciting as it was stressful, but we knew the day would turn out exactly as it was supposed to. That said, the most important thing for us was to remember to relax and enjoy the process. There were days that I would wish the planning and stress away, but now, I look back and wish I could do it all over again. It's such a special time, and one you will remember your entire life.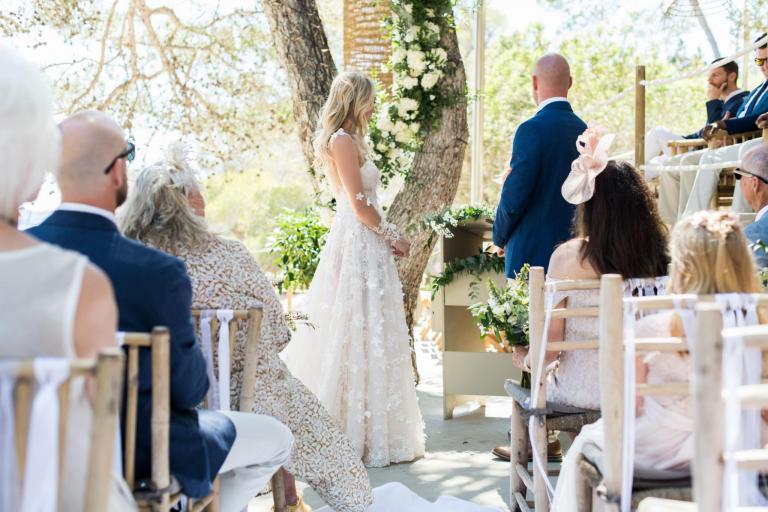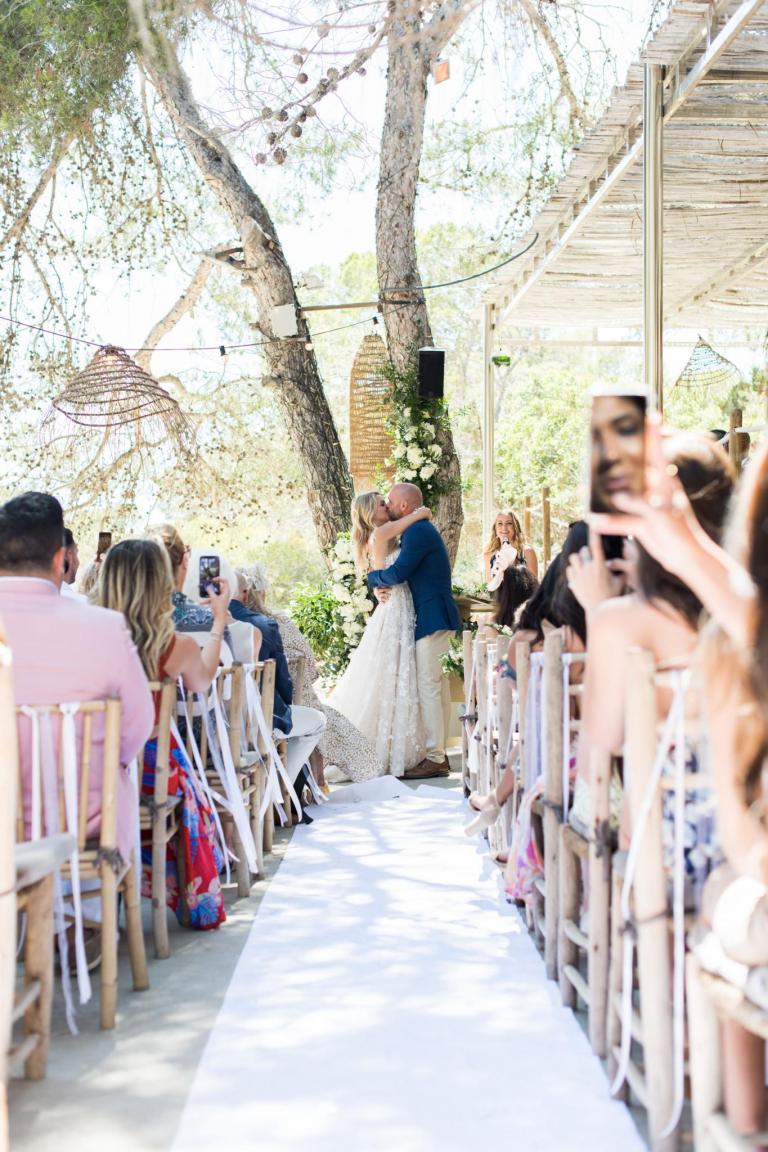 What was your first wedding song?

Daniel cut a special mash-up of three versions of "Can't Take My Eyes Off You." Our first dance began with a slow groove to Frankie Valli & the Four Seasons. We turned things up a notch with Lauryn Hill and finally invited our guests to join the dancefloor as the mash upshifted to a remix by Stonebridge. But, I can't answer this question without sharing the transcendent tune I walked down the aisle to at Daniel's recommendation, which was absolutely magical and stirred major buzz amongst our guests. La Ritournelle by Sebastien Tellier. And I can't forget our ceremony exit song – 1996 pop classic "I Love You Always Forever" by Donna Lewis.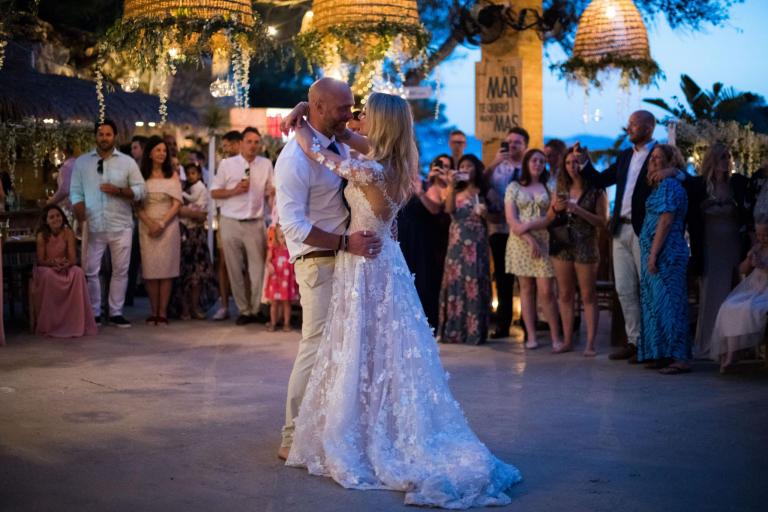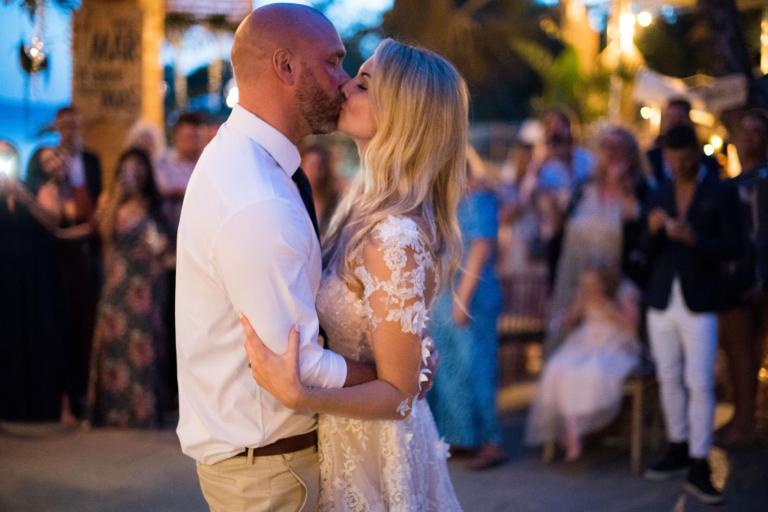 What did you enjoy the most about planning your wedding?

Although weddings are to be about the bride and groom, I really enjoyed planning our wedding for our guests – many of whom had never traveled to Ibiza. I couldn't wait to share my love for this special island and the incredibly beautiful venue with them. We planned the wedding with their entire experience top of mind every step of the way and wanted to offer our guests a taste of the island as though it were their only day to enjoy it.

The gourmet menu was curated to feature delicious Spanish dishes, including tapas and family-style bbq platters. We served cream of melon shots with Iberian ham, Padron peppers with spicy mayo, Cala Gracioneta's famed pork ribs, mouth-watering salmon, chorizo, king prawns and more. Our guests enjoyed the bride and groom's signature cocktails – "Marry Me, Margarita," technically Javier's Margarita, made with tequila, orange & rosemary sherbet and fresh lime, and the "Sweetheart Sangria," made with Spanish cava. Fresh fruits, including figs, blackberries, and mandarins, decorated the tiers of our semi-nude, passionfruit curd and buttercream frosting cake, baked to perfection by Cupcake Collection Ibiza. During dessert, we also offered made-to-order, cold plate artisanal ice cream, thanks to Vovi Ibiza.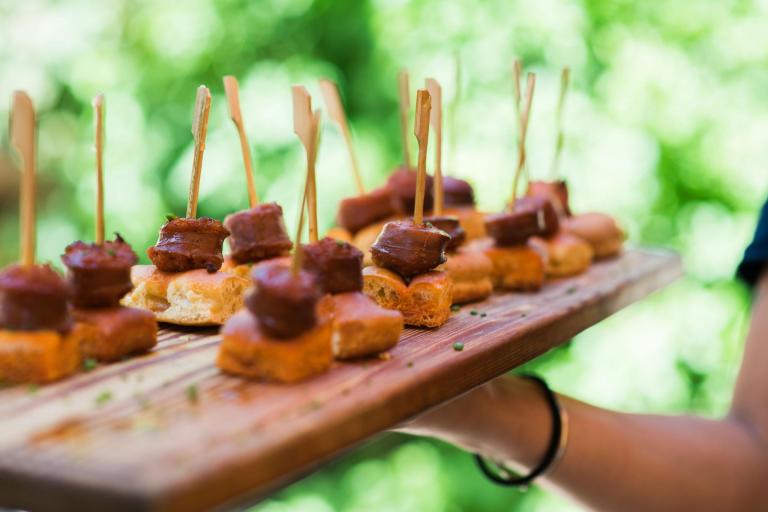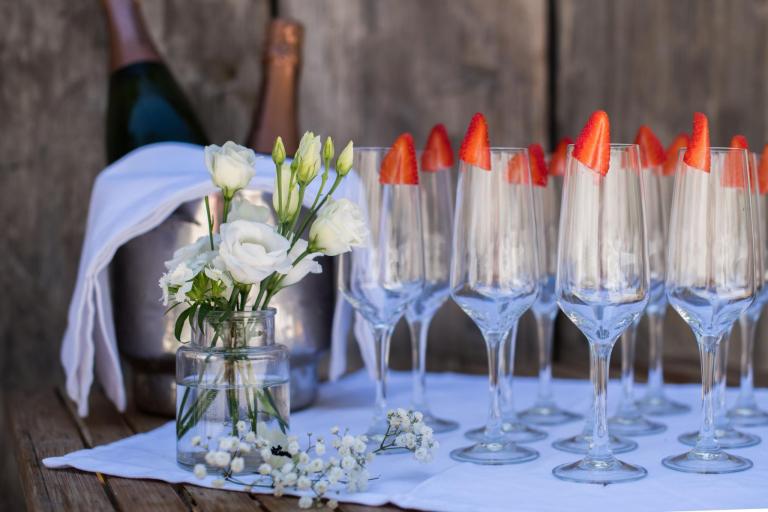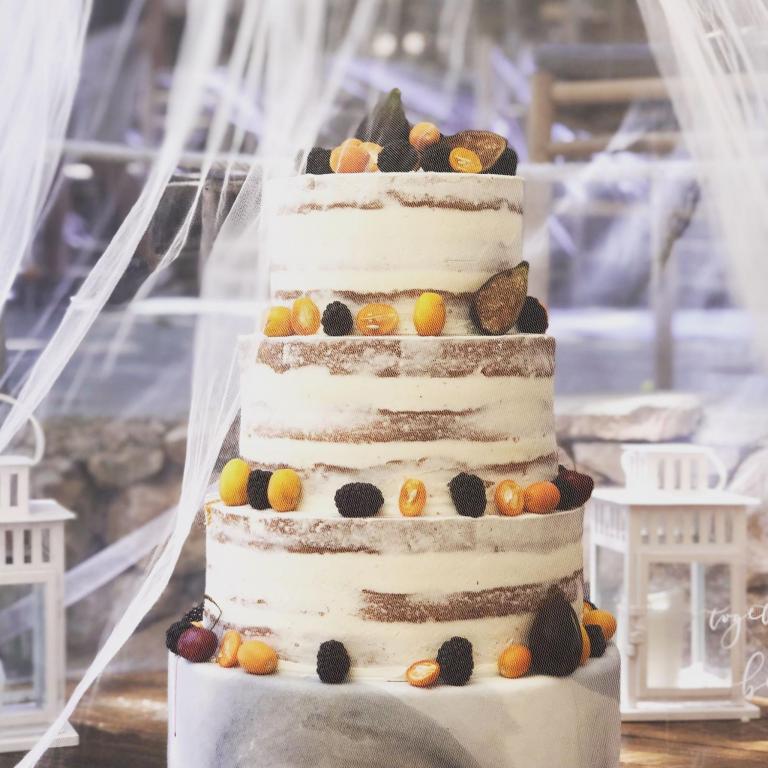 What advice would you give to all our future brides?

Stay present and enjoy the process. That goes for your wedding day too! Everything happens so quickly, and before you know it, the day is done. Relish in every moment.

For those planning a destination wedding, my best advice is to begin planning early. Allow extra time for communication with vendors – especially if they are in an entirely different time zone – and remain patient. Make sure you have a plan B for any items essential to your wedding day. For example, our seating chart was held up in customs and never delivered, but our amazing wedding planner stepped in and saved the day 24 hours before showtime. Also, our bridal hairdresser became ill, and our wonderful friend Josefin stepped up at the very last minute to throw some curls in for us girls. No matter what happens, trust your special day will be nothing short of just that.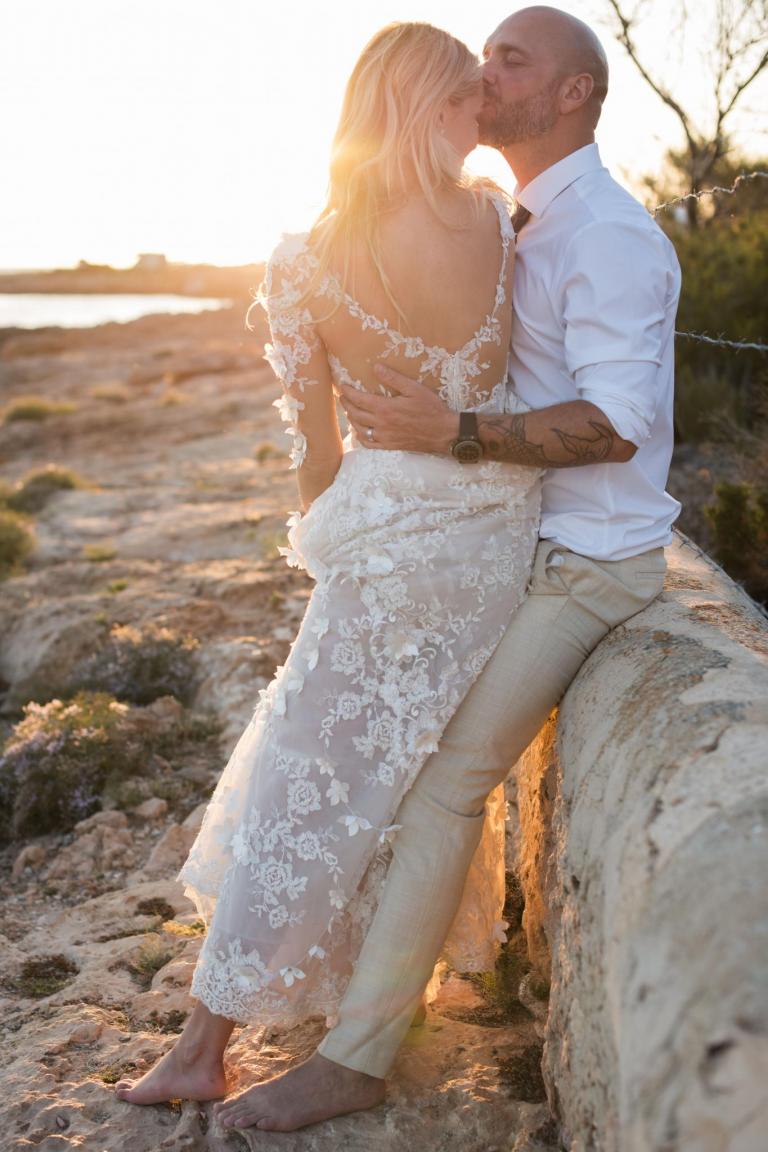 What moment from your wedding will you never forget?

This is a tough one. There were so many wonderful moments that I will forever hold dear to my heart. Though, an absolute stand-out moment for me on our wedding day was our first dance. It was the first time the busyness of the day finally felt at ease. Nerves had settled. A break from greeting our amazing guests. It was just the two of us, holding each other closely, singing to one another. Soaking in everything over the past 3.5 years – pregnancy, engagement, a beautiful and healthy baby boy, his 1st birthday – that brought us to this place in time. The love I felt for my incredible husband at this moment is indescribable.
Finish your registration for {City} Trunk Show