FREE SHIPPING & RETURNS WORLDWIDE!

DUTIES & TAXES COVERED WORLDWIDE
Find your nearest boutique
Detail-oriented, incredibly creative and attentive to the feelings of, well, everyone: these are the three main qualities that every wedding planner should have. And that's certainly on the calling card of Lauren Grech, the founder of LLG Events. To say Lauren understands romance is a total understatement, considering the idea for her company was born out of her own wedding (and that her husband is her co-founder!!). Now after six insanely successful years in business, LLG Events has an A-List clientele and has designed the most dreamy weddings around the world, from the island of Bora Bora to a castle in Italy. Here, Lauren tells us all about it.
1. Hi Lauren! Tell us a bit about yourself and your background.

LLG Events was born unconventionally. Thinking I would pursue a career in biology/pre-med, I went to undergrad at Binghamton University and then went on to earn my Masters of Science in Forensic Science at Pace University. Post-graduation, I became a research and development Scientist where I determined cause of death, ran toxicology reports and researched new drug testing technology for pain management clinics. I was working at the medical examiner's office in New York City when my now-husband, Paul, proposed! 
2. Wait, so when did you know you wanted to be a wedding planner?

I began planning my own wedding and learning about the world of events. It felt like going to the circus for the first time , but in the best way possible. Like when you see all these different acts, and everyone's talent and coordination to pull it off. How could you not get enamored by that? 

I began planning my exit strategy from research and development and started LLG Events one month after I married my husband. He wanted to be part of my plan, so we agreed to become business partners. We sat at my mom's kitchen table thinking of a name and creating a business strategy. We agreed that our first step was to go back to the place where we got married and ask to shadow the maître d'.

And so we went, working 40 hours a week at our "normal" jobs, and volunteering every Thursday and Friday evening when they had corporate or social events, and every Saturday and Sunday when they had weddings. Paul and I would be there for 32 hours most weekends, and learned everything we could. We worked every job — from barback, waiting tables, valet parking, bathroom attending, we did it all. I knew that if we were going to be successful and respected, we needed to have exposure to every position.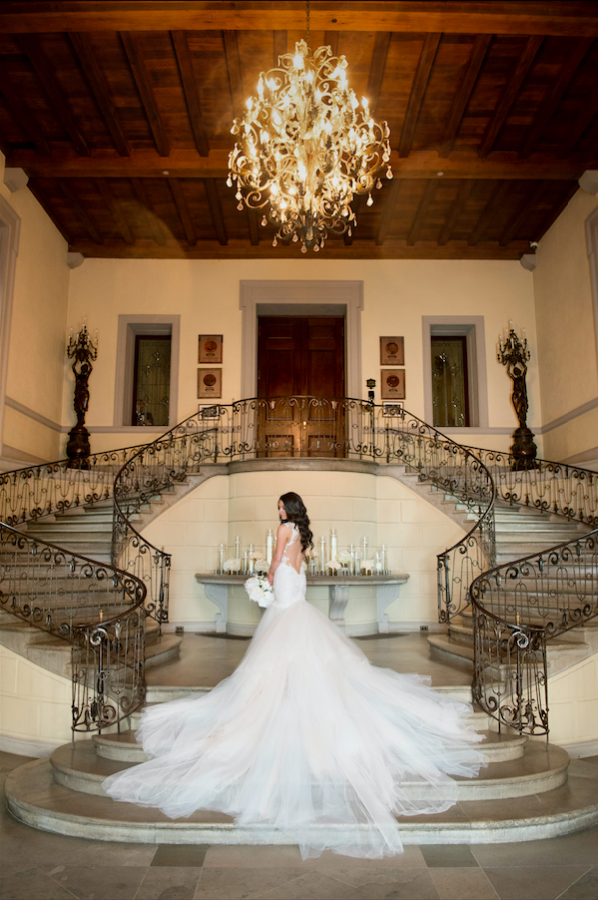 3. Over the years, what's become the hardest part of your job? And what's the best part of your job?

The hardest part about the job is that there is a hard deadline with no do-overs. This is the biggest day of most couple's lives and it only happens once, so the pressure to make it perfect can definitely become overwhelming.

The best part about the job is that you're always learning. Every single time something doesn't go as planned on event day (and there's always at least one thing), you learn something from it. I think that's so important in this industry, because it will keep you hyper-focused and make sure you stay ahead. If you're not always learning, then you're falling behind.
4. What's the best advice can you give to couples who are feeling overwhelmed with the process of wedding planning?

Invest in the right team of professionals. If you are feeling overwhelmed and out of control with your wedding planning process then either you have not hired the right people or you are not allowing the people you've hired to do their jobs. Each vendor should take a little something off your plate and you should allow them to! This is what they do year after year, by relinquishing planning control to your vendors you are enabling them to do their job and to help you through this process.
5. What was the most difficult task a bride has asked you to complete?

Finding a veil less than 24 hours before her wedding, just as all of the stores were closing…in Los Angeles traffic, no less! It was a destination wedding and she told us at her rehearsal dinner that she had shipped her custom veil, but it never showed up. We had multiple members of our team start calling ateliers and salons, and ask them to stay open later so we could find the perfect replacement. Fortunately, we did!
6. What are the biggest wedding trends for 2020?

Custom linens:

As couples are personalizing their wedding day more and more, they're focusing more on the small details that can create one cohesive look and aesthetic. Using custom linens, and not the in-house linens from your venue, will create uniformity between your table decor, lighting and florals.

Soft, white lighting:

Purple, green and other stark colors will appear less in wedding lighting. Couples want the best photographs possible from their wedding day to share on social media and with their guests, and this colored lighting often makes their guests' faces appear that color in the photographs. To enhance the natural beauty of your decor and your guests, couples will return to traditional, soft, white uplighting.

Unique floral choices:

The lemon trend was just the beginning, you're going to see more citrus, symmetrical fruits and even grapes in decor. We're opening up and taking chances by using other decor elements beyond flowers—like the cacti we recently used.

Sustainability:

Whether it's using local sources and suppliers to avoid shipping costs and gas emissions, eliminating paper goods with digital e-vites and wedding websites, or repurposing wedding dresses and florals, couples getting married in 2020 have a higher consideration for sustainability.

Mirrored everything:

The incorporation of mirrors and reflective decor just recently started, and we'll see more of that in 2020 as it creates such a rich ambiance, in addition to making the flowers, candles and overall decor feel fuller with all of that reflection. 
7. What has it been like to work with Galia Lahav previously?

Galia Lahav goes out of their way to make our brides' feel special and to make their wedding dress dreams come true. Wearing Galia Lahav has become a lifestyle; the name and couture designs have become a status symbol in our industry and we anxiously await for the newest collection to come out each year.
8. How have you seen Galia Lahav dresses help bring your brides' dreams of their big day come true?

Our brides rave about their Galia Lahav dresses and can't say enough about how perfect their wedding dress was for their big day. The dress becomes such a big part of the decor and provides inspiration for the wedding invitations, the cake design, the color of the linens, etc. Galia Lahav designs are not just on the wedding gown, they've transcended to other areas within the wedding.
9. You worked with GL bride Erica Kim Juma on her wedding at Pelican Hill—what was it like to work with her?

We got to know Erica very well and loved having the ability to plan her destination wedding! We had many planning dates together and would make it a point to try different coffee shops everytime. We even had the chance to explore Rockefeller Center during Christmas and we became great friends! She was a bride who used her Galia Lahav gown as inspiration for other areas of her wedding. She literally chose that dress because she loved how it shimmered and would mimic her theme of twinkling lights and stars! She walked down an eight-foot wide mirrored aisle by herself, (since her dress was that wide!) and she truly was a vision, carrying herself in that gown with grace and love.
10. What are some of the most creative details that you and your team have introduced to a wedding, in order to add a sense of surprise for your clients and their guests?

We're always trying to get creative for our couples and make their wedding one-of-a-kind. For example, we were the first to come up with the famed 'Donut Wall' (probably our most-pinned photo on Pinterest ever!). For one of the designs at Castello Banfi, we incorporated fresh lemons into the design. We built lemon trees on the tables, used fresh, local lemons as the favors, and more. This trend was then recreated for many more weddings, including Maria Menounos' celebrity wedding!
11. What is the most memorable/touching moment you've witnessed while working a wedding?

Each year, we donate our time and services to create an 'LLG Gifted Wedding' for a couple in need who is putting a cause or community above themselves. For 2019, we gifted a dream wedding to Jillian, a 27-year-old breast cancer survivor, and her fiancé Max, who proposed on her last day of chemotherapy. Jillian and Max had been putting off their wedding, as she was focusing on helping other young women battle breast cancer as the New York Ambassador for The Breasties nonprofit. We had actually hosted a charitable brunch before, where we donated to The Breasties and got to meet the founders and other members. They were the ones who nominated Jillian!

On Jillian and Max's wedding day, they took to the dance floor for their first dance and were surrounded by so many friends and family members, including The Breasties founders and members they had impacted through their journey. Their love for one another and how that had gotten them through such a trying time was palpable. There wasn't a dry eye in this room full of survivors and thrivers!
12. What's the most unique venue you've ever worked with?

Castello Banfi Il Borgo was an incredibly unique venue. It's a medieval Tuscan village transformed by Italian fashion designer turned home decorator, Federico Forquet, where we planned and designed an immersive three-day wedding in this space designed to showcase Forquet's work. 

Castello Banfi now encompasses a 7,100-acre property boasting vineyards, olive groves, and hotel suites that lie in the medieval Banfi Castle, with each room named after one of Banfi's wines and complete with the vineyard's special brand of vinotherapy products created from their Sangiovese Brunello grapes. Attention to detail is apparent everywhere; at breakfast on the private terrace overlooking the countryside, there's even a separate bowl of Parma ham set out to lure any flies away from the served pastries and jam.
Finish your registration for {City} Trunk Show