FREE SHIPPING & RETURNS WORLDWIDE!

DUTIES & TAXES COVERED WORLDWIDE
Find your nearest boutique
Our #GLBride of the week is the beautiful Erica Kim Juma, who married the love of her life in our Aelin gown. The two celebrated their nuptials with a modern, yet elegant ceremony complete with white roses, baby's breath, and geranium flowers. In the following interview, Erica shares with us memories she'll never forget and her experience finding the GL gown of her dreams. As told by Erica:

How did you meet your husband? Tell us a little bit about your relationship.

We have a mutual friend who introduced us over the phone when I was in Korea and Mike was in New York. She thought we would be a good match, and surely we wound up speaking on the phone day and night for many months before finally being able to meet in person.

Mike invited me to Los Angeles on his birthday and asked me to be his girlfriend. That's how this story started. Every year over his birthday, we celebrate our anniversary too. We dated for five years before finally getting married!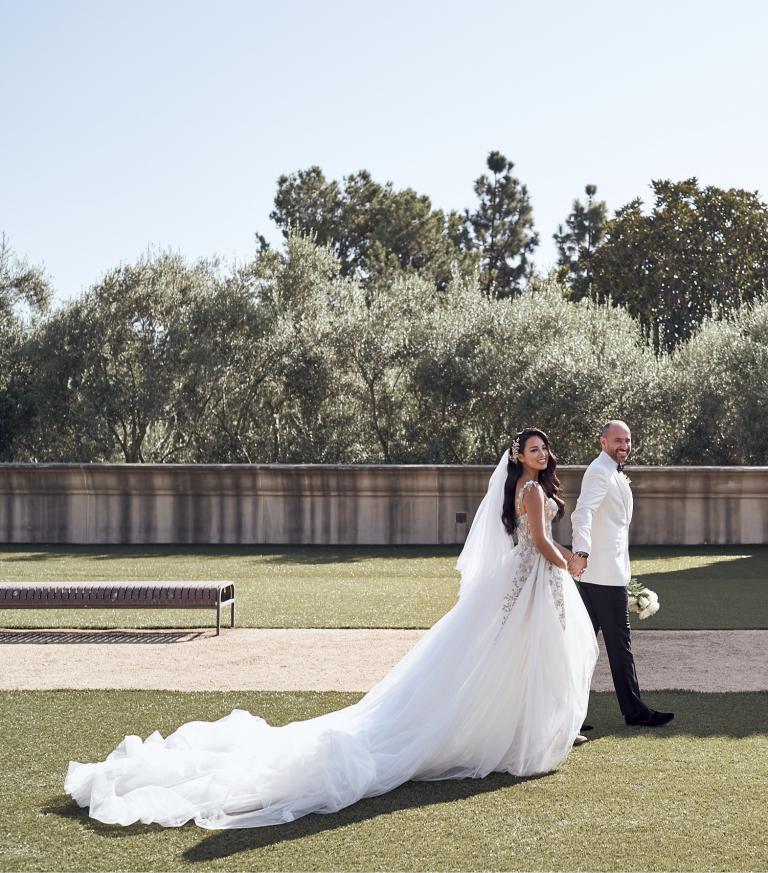 How did he propose?

Mike's proposal was as sweet and thoughtful as him. He came to Seoul, Korea for the proposal because he wanted me to be able to celebrate with our friends and family there. He prepared a reception at the Signiel Seoul hotel in the Lotte World Tower, the tallest building in Korea. So after he proposed in private with rose petals on the floor and a blooming flower bouquet, which was so like him – very quiet and intimate, we celebrated 101 floors high in the sky with an amazing nighttime view of the city.
How did you start planning your wedding? What were the first steps?

Looking forward to the day, I knew I didn't want to miss any of it because it would be the best moments of my life. I wanted to take in every second and focus on the day. We prepared for over one year, so we were ready and knew everything would go well. We also wanted all of our guests to enjoy themselves as much as we knew we were going to.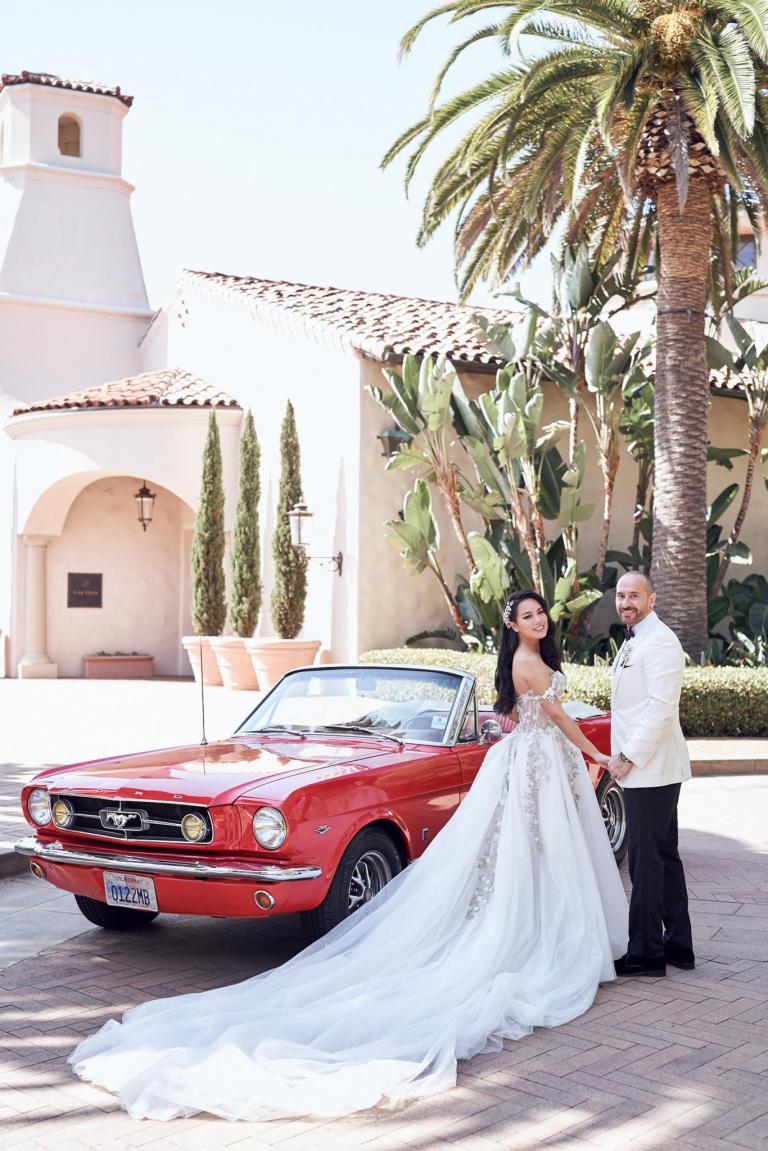 What was your wedding theme?

Decoration wise, I knew I wanted the day to be glittery, shiny, full of sparkles and a special nighttime glow.

I picked white roses for my bouquet because they are traditional and the most romantic flowers in my opinion. I also used white roses and geranium flowers to line the mirrored aisle at the ceremony, which created such a dramatic effect. For the table arrangements, I chose baby's breath to extend the white color theme, yet also match the feel of our starry night reception. Our lighting was like stars with tons of little twinkling lights, so the baby's breath matched that perfectly.

My favorite design element of the wedding was the reception lighting—we fell in love with it from the first moment we saw it. We wanted the reception to be outside to capture the amazing sunset of Newport Beach; however, we needed the area to stay lit once the sun went down so we added hundreds of small, twinkling lights that looked like stars in the nighttime sky.

I also loved the mirrored aisle at the ceremony. It's a reflection of the flowers and blue sky made me feel like I was floating on water. In addition, I was crazy in love with my grey and gold color theme. I think it's very modern, elegant and classy. I love gold, so I focused many elements on that such as the tables, chairs, invitations, and menus; however, adding in the grey instead of white made it more unique.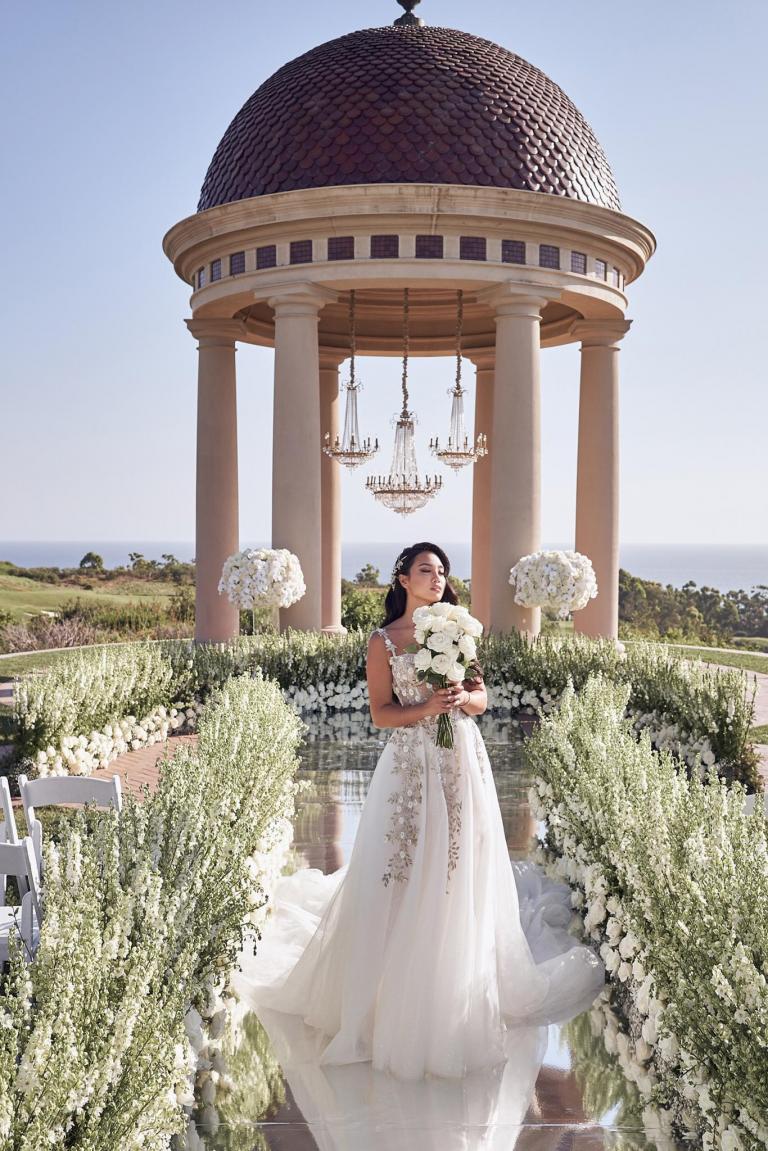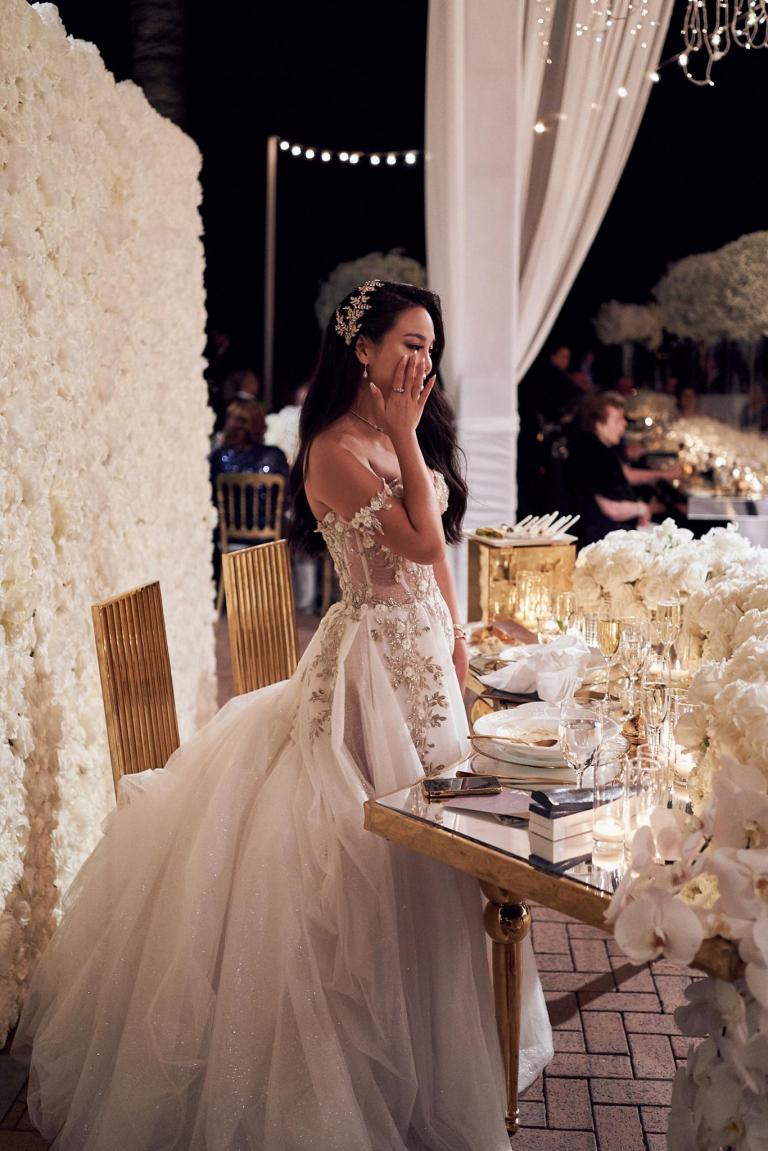 How did you choose your location?

We considered so many beautiful venues, so it took a long time to choose because though they were all beautiful, we wanted something that really caught our eye. And even better, Pelican Hill caught our hearts.

With the beautiful ocean views, Italian architecture, Rotunda ceremony dome…we knew it was the perfect spot. We visited the venue a few months before our wedding and fell even more in love—the food was great, the dessert was phenomenal, and the staff was so friendly.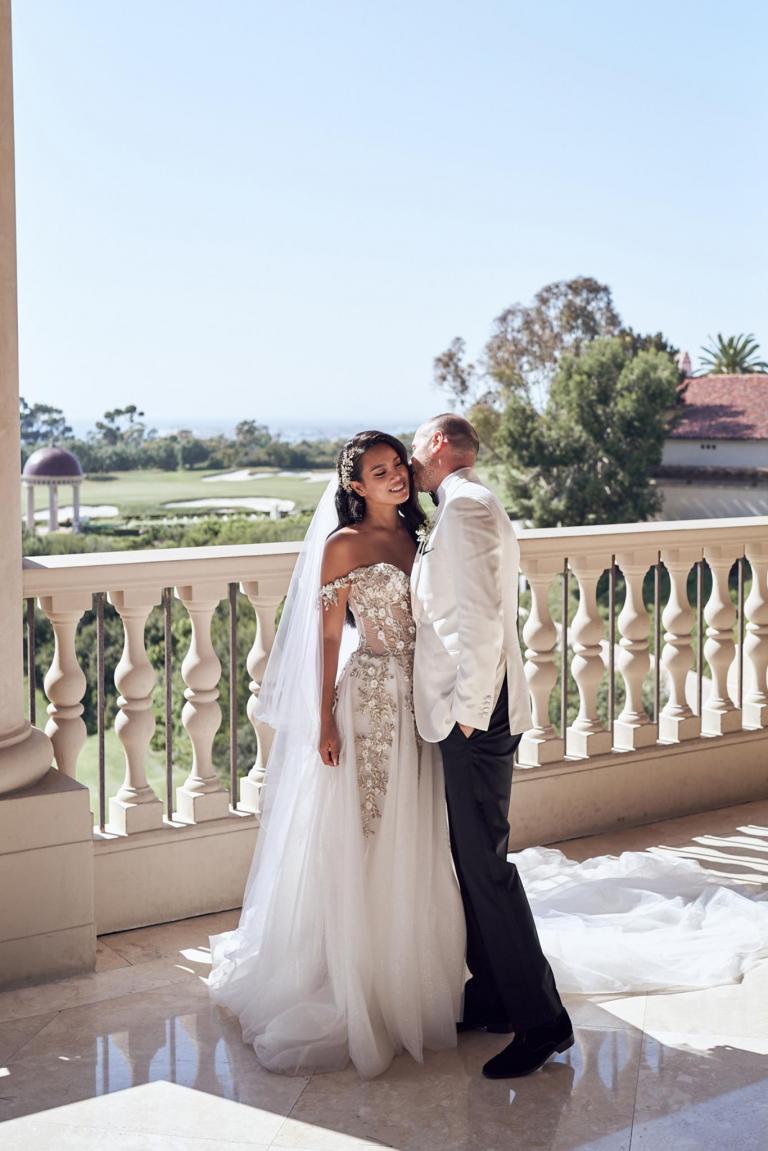 How did you find your perfect dress?

I went on a long search for my dress, to 10 bridal salons and tried on at least 80 dresses. However, I was on a time crunch because I had flown my mom from Korea to New York to be there with me during the search.

I was originally looking for a mermaid or fitted style, but after trying on so many, I knew this "Aelin" Galia Lahav gown with an 8-foot wide train, crystal embroidery, and embellishment of gold leaves and vines was the one. It also had a glitter powder all over the dress, so it tied in perfectly with my wedding theme because I wanted the whole day to be glowing and sparkling.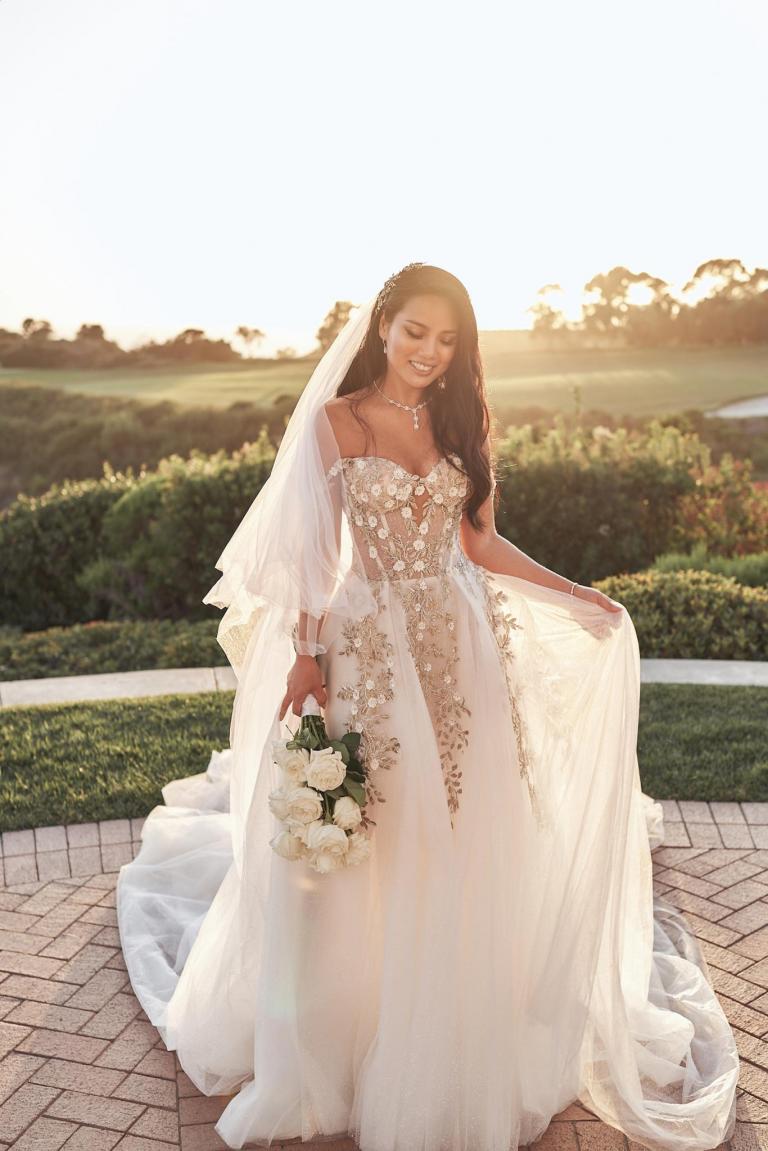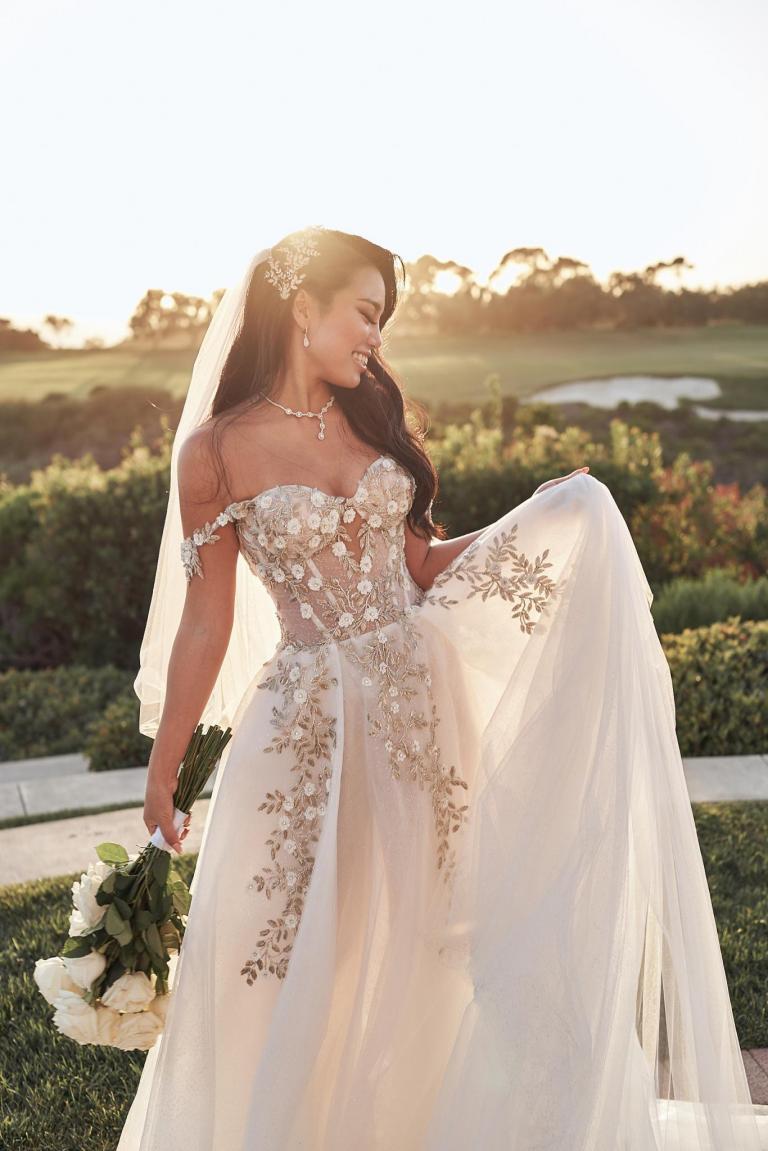 How was your experience with the Galia Lahav brand?

Every little girl dreams of wearing a big, long gown, and that's exactly what this was. It was definitely a statement piece. Inspired by Dior's bustier dresses, I also custom-ordered straps to make an off-the-shoulder look. I didn't even consider a dress change because I wanted to keep my Galia Lahav dress on for as long as possible!
What was the most important thing for you and your husband when planning your wedding?

Mike was always focusing on how comfortable our guests would be, as he really wanted everyone to enjoy themselves. He didn't want there to be too much sitting, so he worked incredibly hard on the music list and selected all the choices for the reception and after-party to make sure everyone would be up, dancing, and having a great time!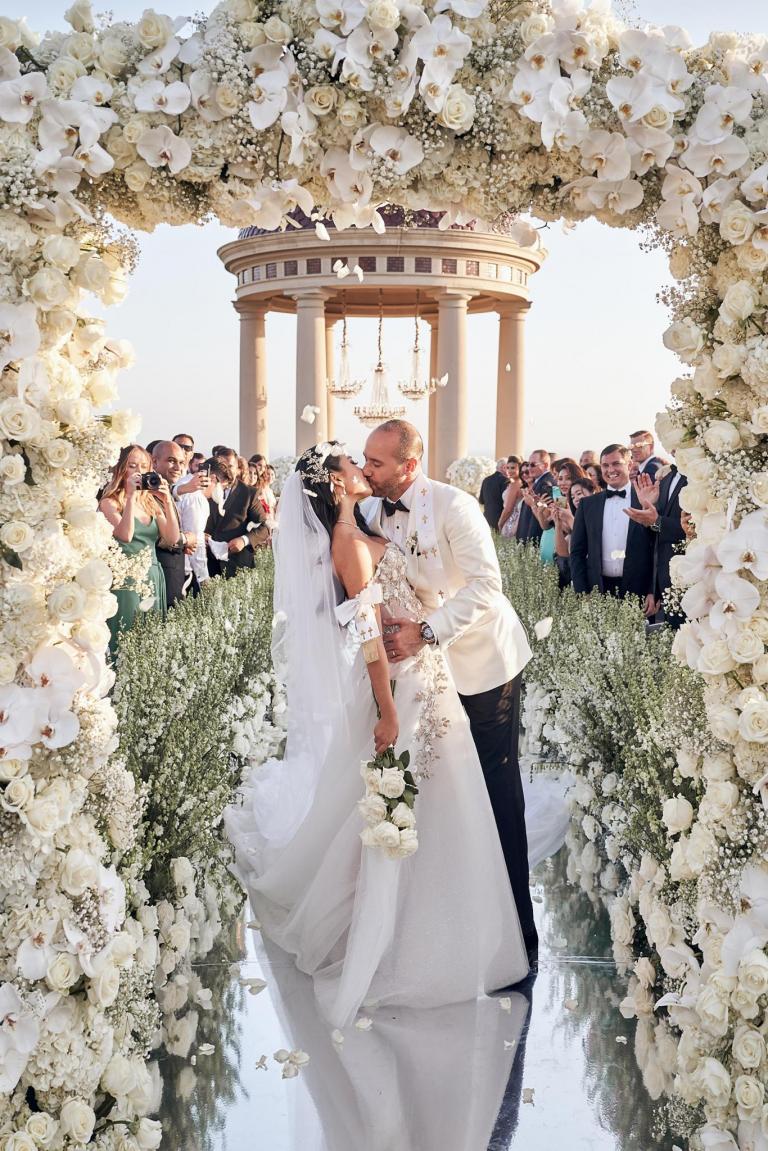 What was your first wedding song?

Mike's family tradition is for every wedding party to enter with Arabic music. To make it even more special, we added a solo electric violinist. She started off on her own, and then played along with the Arabic music as our wedding party was introduced. We came in last and entered with a very exciting, high-energy dance before slowing it down for our first dance together.

The biggest highlight of the day was our first dance. I always loved watching a couple's first dance at weddings and would wonder how they felt because they were always looking at each other, just entirely in their own world. Getting to finally feel that myself was literally a magical moment. When Mike looked at me, nothing else mattered and I just felt so grateful and thankful to everything and everyone who helped make this day so special.

We danced to 'You Are The Reason' by Calum Scott and Leona Lewis. It has beautiful lyrics, and we loved that it is a duet song, so you feel like it's sung from both the bride and groom's perspective. West Coast Music sang it so beautifully; all of our guests kept mentioning that it was the most memorable and touching song of the day.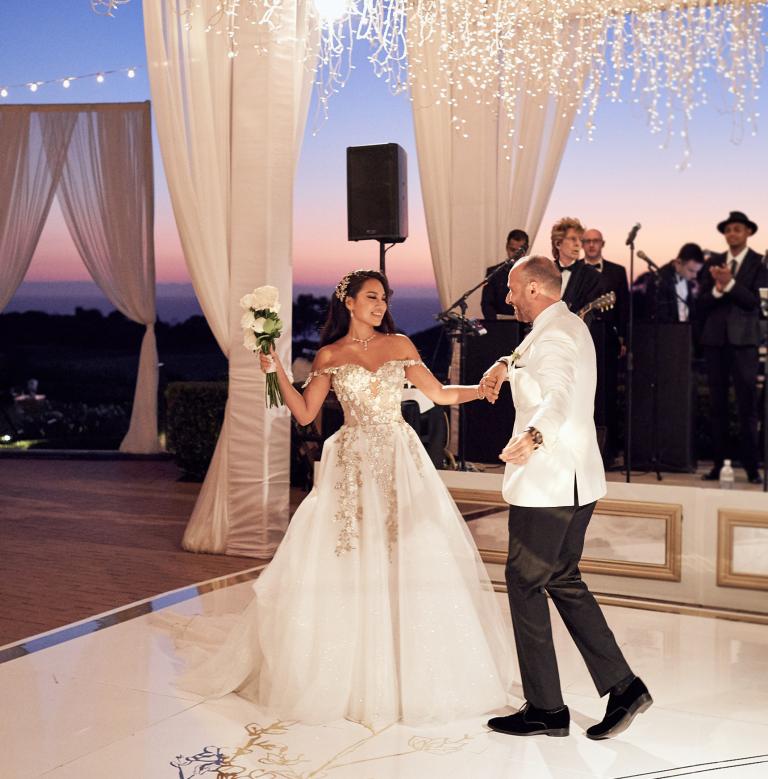 What did you enjoy the most about planning your wedding?

Working on the design /theme.
What advice would you give to all our future brides?

Just like many brides say, enjoy every moment. Enjoy yourself throughout the whole planning process and how you want the celebration to be. Listen to your heart and how happy and lucky you are on the wedding day; nothing else really matters, not the way the napkins are folded or the size of your flowers. Know that with your beloved next to you, everything will be a dream no matter what.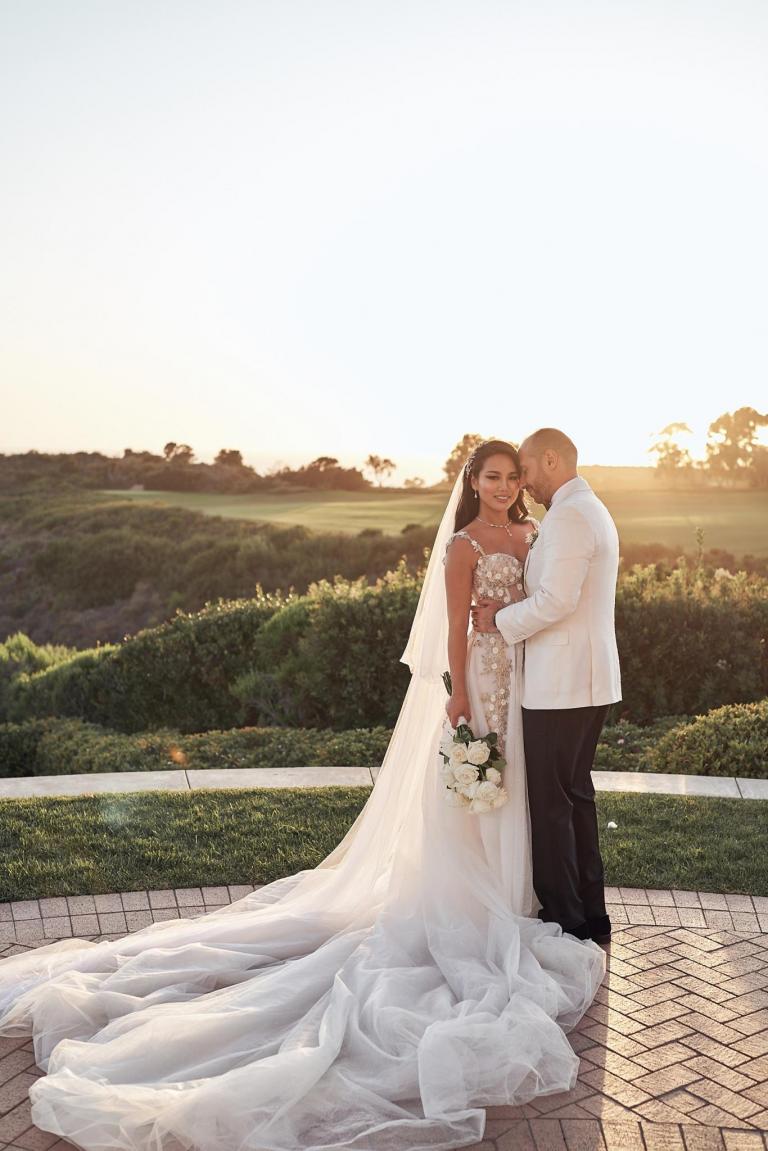 What moment from your wedding will you never forget?

The most unexpected moment of the day was when I was walking down the aisle and saw one of the priests that had baptized me a few months ago. He had told me he couldn't make it to the wedding due to health issues, but he showed! When I saw him, I felt so blessed that he made it and so lucky to have him be a part of our wedding ceremony.

The most memorable moment was before I walked down the aisle to an instrumental version of 'Beauty And The Beast.' That was the first movie I saw when I was little, and I can still remember going to the theater for the first time. I loved Belle so much because she wasn't a traditional princess, but she still looked so beautiful and was also smart and educated. I always wanted to be that girl growing up, so I think that's why that song always makes me tear up. It's always been so special to me when dreaming of my own fairytale.
• Event planning and design execution: LLG Events, @LLGevents
• Bride: Erica Kim, @PradaSize37
• Photography: Lost In Love Photography, @LostInLove_Photography
• Floral design, linens, and furniture rentals: Celio's Design, @CeliosDesign
• Venue, catering, and cake: Pelican Hill Resort, @PelicanHillResort
• Videography: Moon and Back, @MoonAndBackCo
• Flower wall: OC Flower Walls, @OCFlowerWalls
• Entertainment: West Coast Music, @WestCoastMusic
• DJ: DJ Karam, @DJprinzo
• Hair stylist and makeup artist: Kelly Zhang Studio, @KellyZhangStudio
• Lighting and draping: Amber Event Production, @AmberEventProd
• Photobooth: Hashtag Photo Booth, @HashtagPhotoBooth
• Bride's attire: Galia Lahav, @GaliaLahav, and Bridal Reflections, @BridalReflectionsNY
• Bride's shoes: Christian Louboutin, @LouboutinWorld
• Groom's attire: Alton Lane, @AltonLane
• Groom's shoes: Salvatore Ferragamo, @Ferragamo
• Stationery: Kelsey Malie Calligraphy, @KelseyMalieCalligraphy
• Wedding favours: Fusion Gourmet Food, @FusionGourmetFood
• Bridal robe: Le Rose, @LeRose_Online
Finish your registration for {City} Trunk Show