FREE SHIPPING & RETURNS WORLDWIDE!

DUTIES & TAXES COVERED WORLDWIDE
Find your nearest boutique
Our GL Bride of the week is Olivia Li, who looked absolutely stunning in our Alma gown as she wed her fiance Kevin. The couple chose a beautiful West meets East theme for their nuptials at the Mandarin Oriental in New York City. In the following interview, Olivia shares with us how she made the Alma her own and how her romantic NYC wedding was everything she dreamed of.
How did you meet your husband? Tell us a little bit about your relationship.

Kevin and I met through a friend when he came to visit NYC from Indiana. He went to Purdue University and his roommate moved to NYC after graduation, he made a trip to the big apple to visit him. The 3rd day after we've met, he had expressed to our mutual friend that he was interested in getting to know me more and we started chatting and the connection was immediate. We talked for 2 months and eventually decided to meet up for New year's eve in Taipei Taiwan, where Kevin is from. (This was our first date!) We went to YANGMING mountain for dinner and to see the city views. This was 8 years ago and the night ended with a New Year's Eve kiss!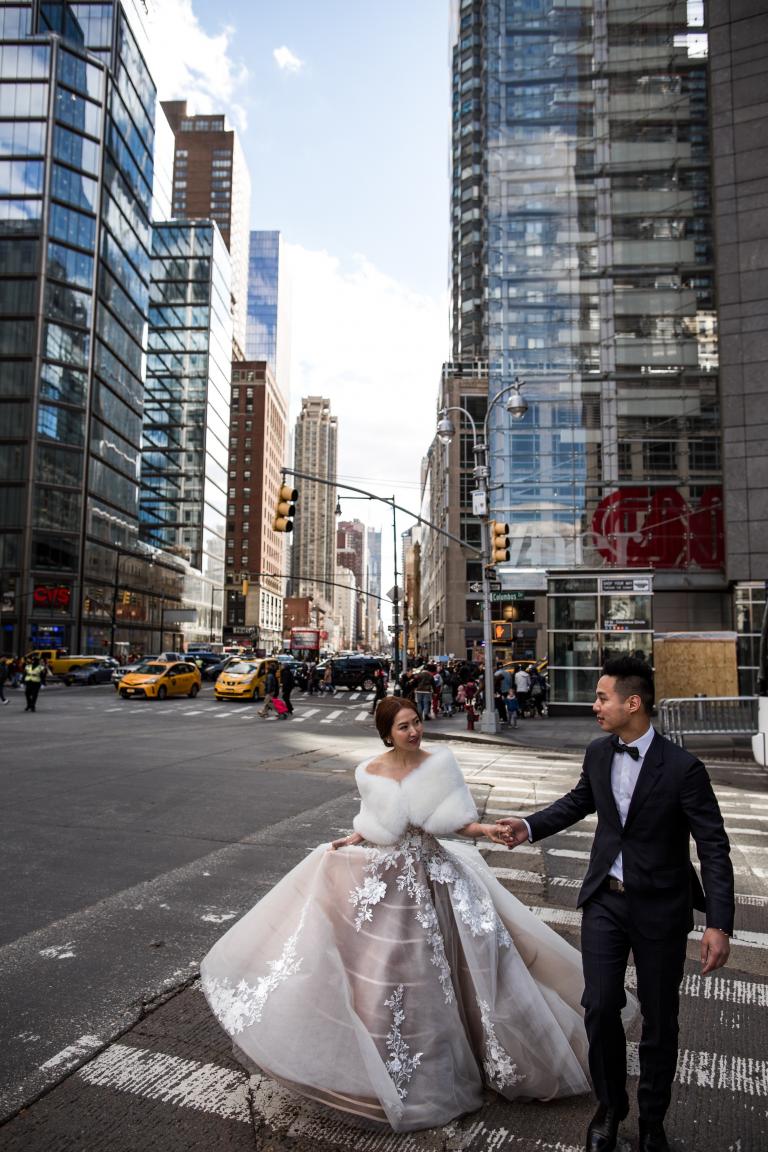 How did he propose?

Kevin proposed last July in Venice, Italy, on our last night of vacation at our beautiful hotel balcony overlooking the grand canal. We were enjoying a glass of wine looking at the beautiful sunset, and he got down on his knee and proposed with the commitment to make me the happiest girl.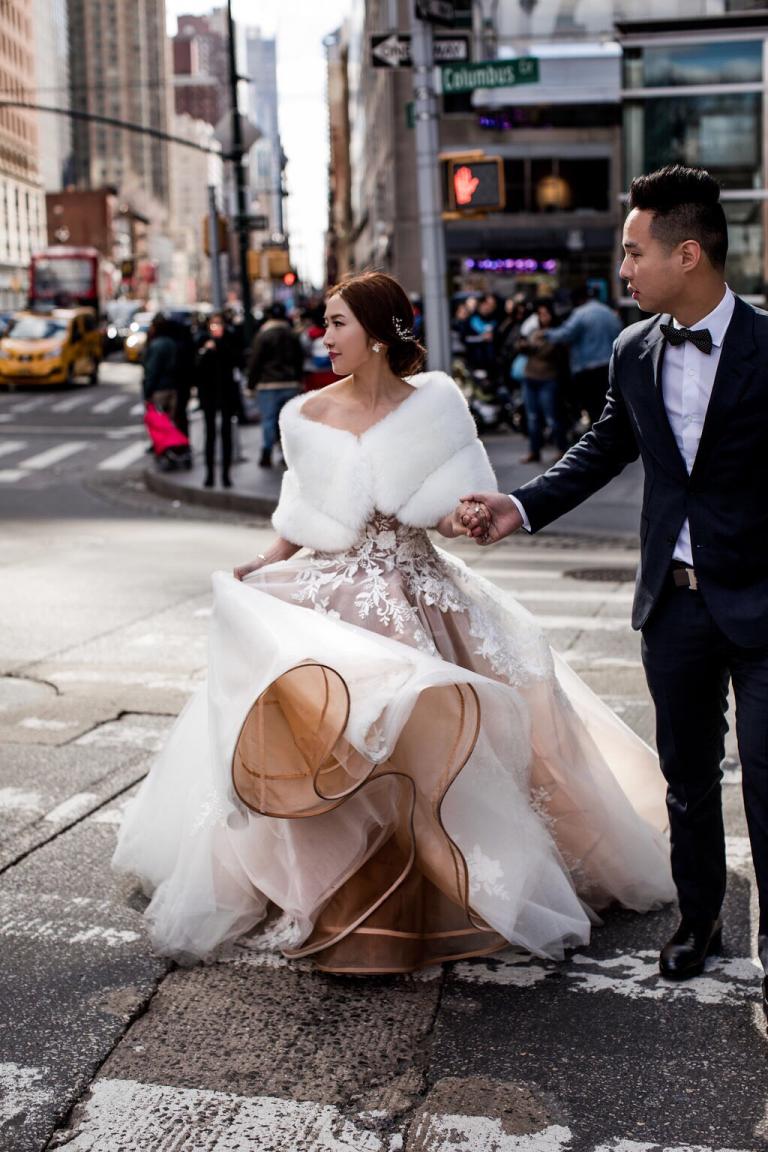 How did you find your perfect dress? And how did you decide to buy it?

I've always been a new yorker who's a fan of fashion. I've also always loved the brand Galia Lahav. Everything looks so chic romantic and dreamy. I went to bridal reflections in Manhattan who's got the biggest showroom of Galia collection and tried on so many dresses. On my second appointment, my consultant brought me the Alma gown and I was blown away by the intricate romantic details, yet how chic it looked with a modern touch blush undertone. I immediately fell in love. I played with the two pieces and went creative with how I can customize my look. I want to have pockets and wear it with a chic effortless look. Once that was approved by our amazing designer and that was a done deal.
Where was your wedding?

We held our wedding at Mandarin Oriental in New York City.
What was the theme? Did it require special planning? Share with us.

I wanted to have an elegant romantic vibe with a little organic and rustic feel type of theme. I had the pleasure to work with tantawan bloom to design the beautiful tree for the escort card table and also an organic vine garden theme /tree backdrop for my ceremony. It was so dreamy. Definitely, a dream come true for me.

Both of us are Asian Americans and we want to merge the West with the East.  We did a tea ceremony which is a Chinese tradition that dates back to the TANG dynasty over 1200 years ago. I wore a red and gold dress that had dragons and Phoenix on it to symbolize good luck and prosperity. The ceremony shows respect and gratitude to the parents for all of their years of love and care. We feel grateful to have a loving family and friends.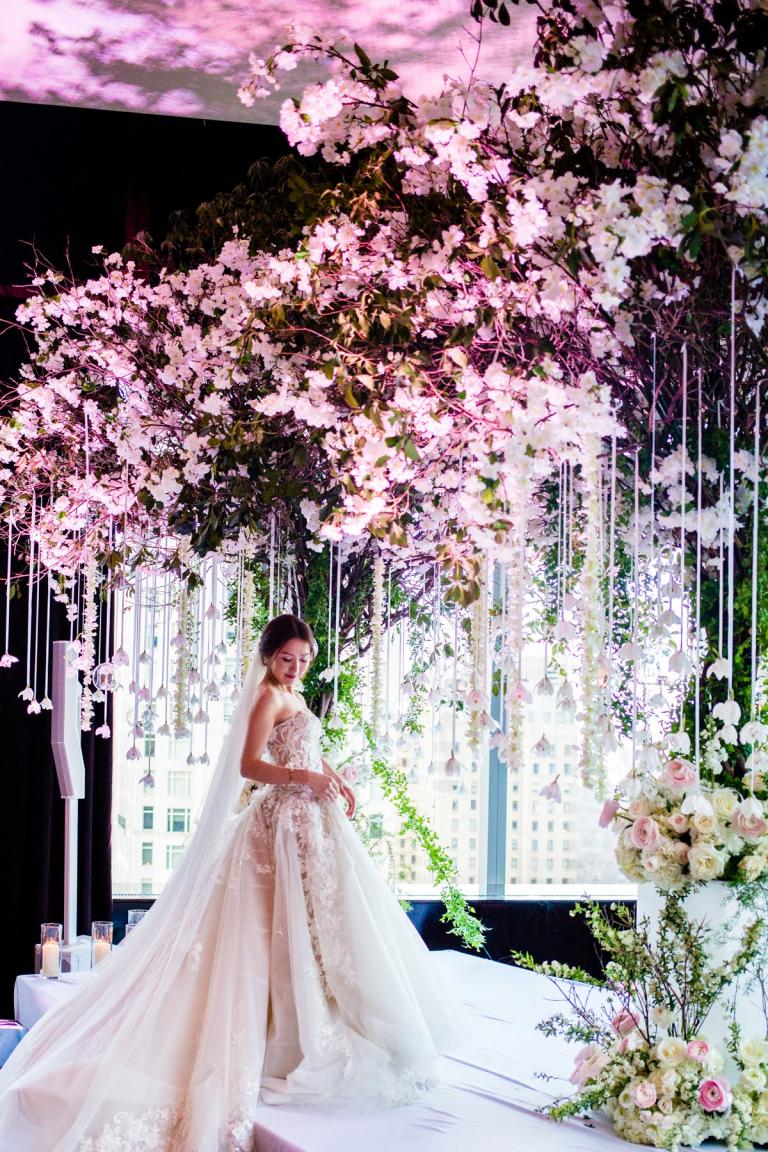 How was your experience with the Galia Lahav brand?

The design is amazing and the brand is so willing to work with my needs. I wanted to have custom made pockets for my dress and was tight on schedule too. The brand made it happen seamlessly.
Where did you purchase the dress?

Bridal Reflections in NYC
What did you enjoy the most about planning your wedding?

Dress shopping and fitting for sure. It is every girl's dream. Also coming up with design ideas for the wedding and seeing it come to fruition.
What advice would you give to all our future GL brides?

Dress fitting is meant to be enjoyable. When you see the right dress, you will KNOW. I was told that before I started and I had experienced it. Know your budget, and choose the dress that compliments you, represents your personality, not to worry about the norm or what others think. It's your wedding and your time to shine.
Was your wedding the way you dreamed it?

Absolutely. It is a dream come true.
Finish your registration for {City} Trunk Show