Find your nearest boutique
Our GL Bride of the week is Diane Galea-Hall, who wore our Lydia gown as she wed her fiance Mike. The couple had a very English springtime wedding at the Babington House in Somerset, UK. In the following interview, Diane shared with us her proposal story and how she customized the Lydia to make it her own.

How did you meet your husband? Tell us a little bit about your relationship.

Mike and I met through work about nine years ago  Three years later we were sitting next to each other at a sporting event and he offered me his scarf as it was really cold.  Since that day we have never looked back.
How did he propose?

28th of April 2018 on the beach he used to play on when he was a child, one cold Saturday morning. After a long walk we stopped on the beach to look at the view as it was early in the morning, Mike said he wanted to tell me something.  Straight away I assumed something was wrong with the children then he got down on one knee and asked me to marry him. I was totally surprised, never saw it coming. He had even hid champagne in a backpack. The children's response to the proposal was the part that made it the most special.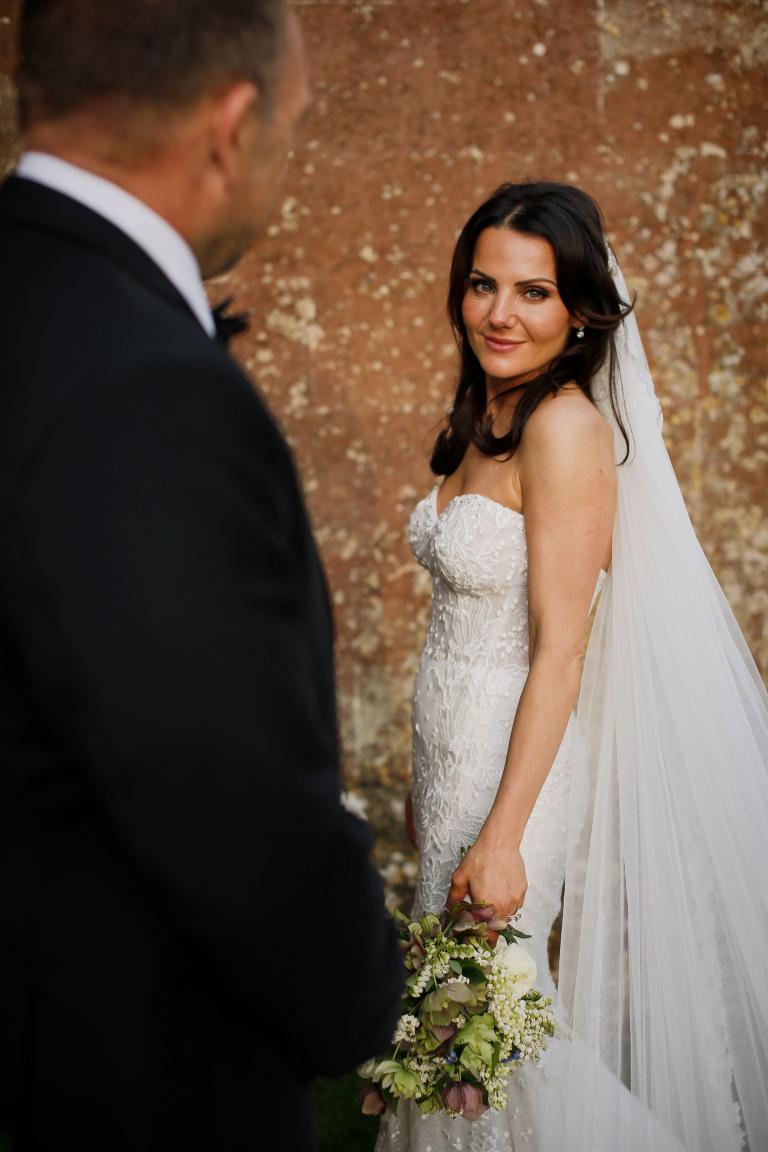 How did you find your perfect dress? And how did you decide to buy it?

I only visited one store in London that stocked Galia Lahav and took me two minutes to realise that Galia Lahav was the designer I wanted to wear.   I searched for the closest flag ship store and booked an appointment with Alicia at Galia Lahav. My maid of honor Jo came with me to choose the dress.  When I put the Lydia dress on, I knew straight away. We decided to customise the dress and added a glitter layer under the ivory lace and added crystals on the bust area.  We also customised the veil and added the appliques to match the dress. We were also able to purchase some extra material of my dress to make the flower girl dresses to match my dress.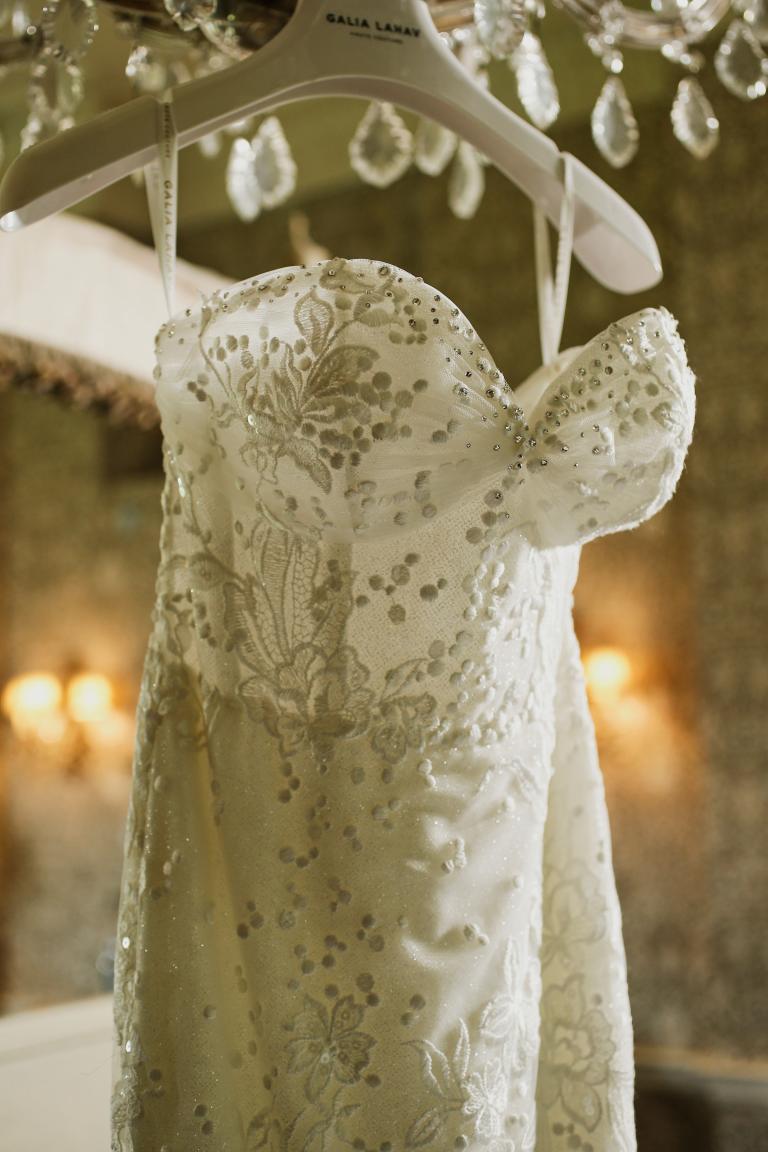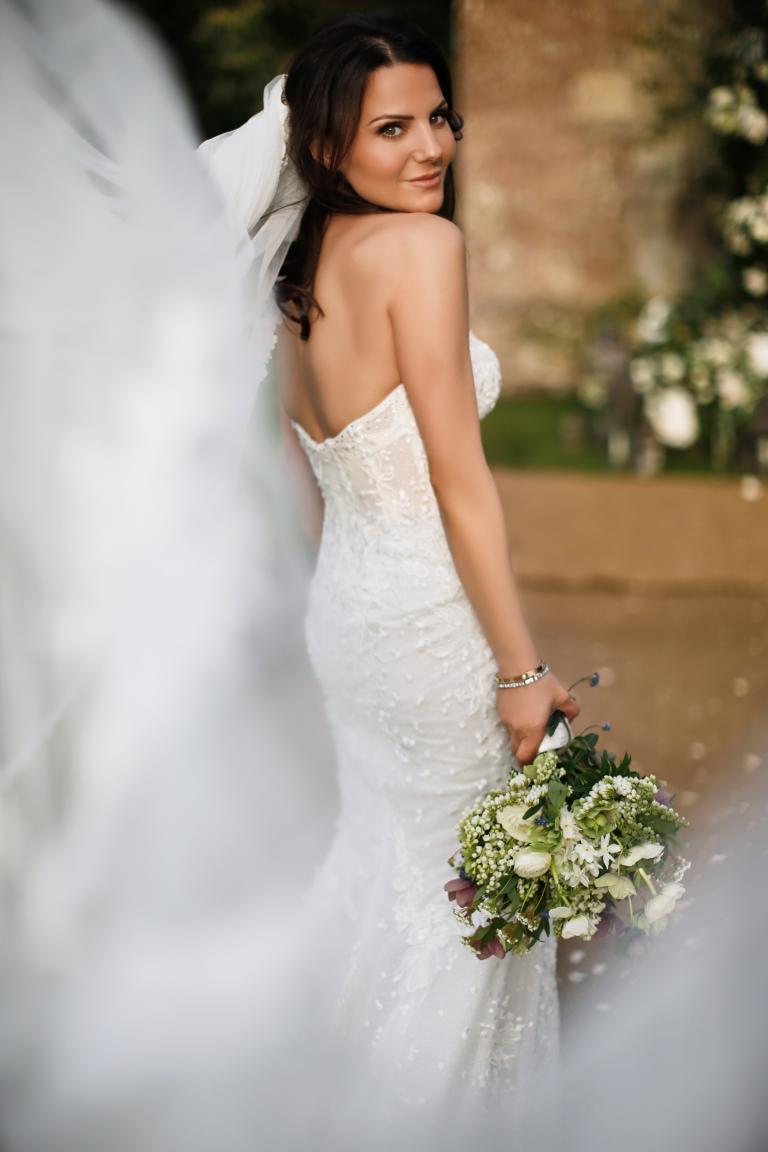 Where was your wedding?

We got married in Babington House in Somerset, UK on the 18th of April 2019.  Mike is Welsh and I am Maltese and a lot of our guests were coming from abroad so we wanted somewhere that could accommodate all the guests for the three days and Babington also has a chapel on the grounds.
What was the theme? Did it require special planning? Share with us.

English springtime country-chic. Our wedding was in early spring and the florist projected an explosion of spring with the flower displays and the tree lighting. We absolutely loved it.
How was your experience with the Galia Lahav brand?

Alicia was very helpful and extremely professional, she knew exactly what I wanted.  When the dress arrived I couldn't stop touching it. The dress was so beautifully made and so delicate.
Where did you purchase the dress?

Galia Lahav flagship store in Hamburg.
What did you enjoy the most about planning your wedding?

The dress by far was the most exciting part of the planning.  I loved the fittings and then watching any alterations come to life on the next fitting.  And the way my husband looked at me on the wedding day, I know I got it right.
What advice would you give to all our future GL brides?

Enjoy finding your Galia Lahav dress, and be in no doubt that you will absolutely love it when it arrives.
Was your wedding the way you dreamed it?