FREE SHIPPING & RETURNS WORLDWIDE!

DUTIES & TAXES COVERED WORLDWIDE
Find your nearest boutique
Introducing California's preeminent destination for fashion-forward brides: Kinsley James. Located in Walnut Creek—they've become a destination for brides who want a couture experience from start to finish. Founders Amber Silva and Dawn Silva spent ten years honing their skills as wedding planners before opening their bridal boutique in the Bay Area in 2013. Here, learn all about the custom frocks they've created for #KJBrides and, of course, which celebrities have walked through the doors at Kinsley James.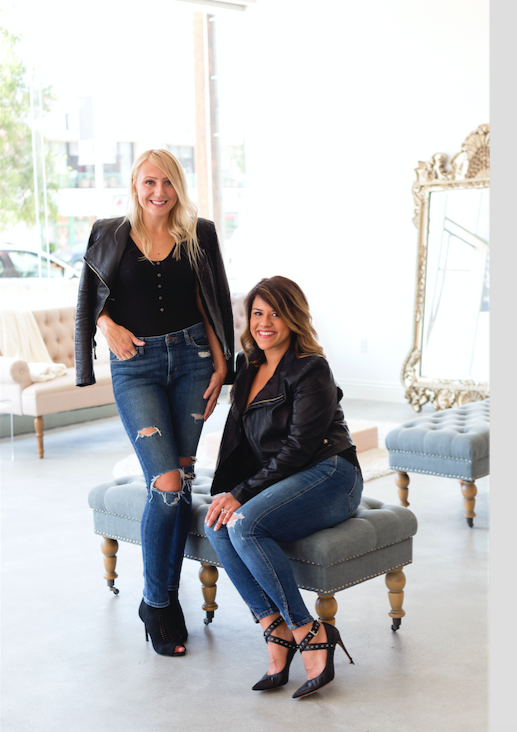 1. How does your background as wedding planners help you anticipate the needs of the brides who come into Kinsley James looking for a dress?

We observed during the planning process that there wasn't a boutique in San Francisco that was providing couture gowns and excellent service. It seemed to be one or the other. As planners, we worked with brides one-on-one from start to finish, oftentimes for more than a year. We really saw their ups and downs, their joys and stressors. We were able to tweak the experience at Kinsley James to alleviate any stressful moments, and we've been able to fully understand and relate to our brides. 
2. What does the Kinsely James experience offer that's unique to you & your brides?

We really pride ourselves on our customer service. It seems basic, but we train our staff not to pass judgment based on budgets, looks or initial first impressions. We treat everyone who walks through our doors the same, with a happy and positive attitude. We just want our brides to have a joyful and memorable experience; we love what we do and it shows through our interactions with our customers.
3. What kind of customers come to your boutique?

Our brand draws what we call the #KJBride. Our brides are not afraid to be daring and bold, and they are usually very fashion-forward. They understand couture designs and appreciate both details and fit. We usually say the #KJBride is down-to-earth, extremely confident and has amazing style.  They love wide open backs and deep plunging necklines, as seen in the Galia Lahav gowns. It's no wonder Galia Lahav is our best-seller! 
4. The Kinsley James team has helped plenty of celebrity brides find their dream dress. How does the process of working with A-Listers differ from working with all other brides?

Our A-listers receive the same treatment as our everyday bride. Most of our celebrity brides do opt to book a VIP appointment where the store is closed down to them for their privacy and guest enjoyment. However, this is also an option for any bride. So really, anyone is welcome to the exact same experience! 
5. What's the most memorable VIP appointment you've ever held?

The most memorable VIP appointment we have had was Brittany Cartwright from Vanderpump Rules. We had never filmed for such a well-known TV show before and we absolutely loved being a part of her wedding. We also loved reliving it all on the show! Brittany is such a sweetheart and she deserves every ounce of happiness that comes her way.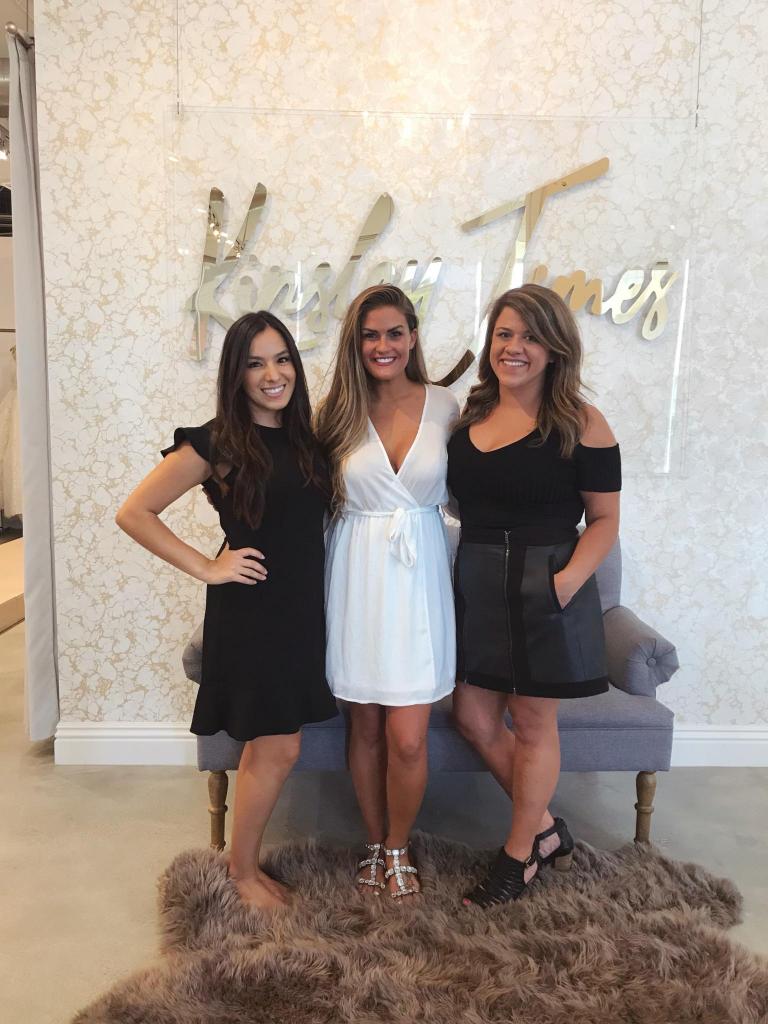 6. What are some of the most impressive alterations that your seamstresses have made to dresses?

Our seamstresses are amazing and love working on Galia Lahav dresses. They partner with the brides to help personalize their look, whether it's perfecting the fit, adding applique or lace detail, or working through the intricate hems and bustles. One bride ordered the Rayne Gown with a custom detachable mermaid skirt and the Sterling Cape. She wanted a very tight fit through the hip, some adjustments made to the victorian embroideries and crystal strands on the back, as well as a custom appliqué. She also requested a custom detachable mermaid skirt and the cape altered down to the perfect fit. Overall, it was an amazing look and our seamstress knocked it out of the park! 
7. When it comes to picking a dress with a corset, what are some fit details that are important to consider?

We feel a good corset should be custom and with Galia Lahav, we take custom measurements for every bride. With a corset, you want the cup to fit perfectly (even better than your bra!) and the boning inside the gown should be made to the right length so your torso is perfectly accented and drawn in. If the boning doesn't hit right—whether it's too long or too short—the magic will be lost.
8. What tips do you have for matching a dress to a veil?

Don't be afraid to put detail with detail. Sometimes brides (and their crew) feel that if the dress is very detailed, then the veil must be very simple. This is not always the case! Sometimes a detailed veil on a detailed gown can elevate the look dramatically. We just recommend matching the tulle color to your gown so that the hue looks correct; our veils come in lots of different shades of ivory so they're easily customizable. We also recommend working with your stylist to ensure the length is appropriate for your gown. You will want the veil to extend about 18 inches past your train.
9. What are some embellishment trends that your brides can't get enough of?

Our bride are really loving the 3D embroidered lace applique like in the Maya Gown. Our brides have also been eyeing the capes lately! 
10. What are some customer-favorite features that can only be found in Galia Lahav dresses?

Honestly, the fabrics and embroideries are out of this world! Galia Lahav uses fabrics that you won't find on any other gown from any other designer. Pair that with impeccable fit and design…you just can't find anything better. Once you try on a Galia Lahav gown, you will be left with an impression that nothing will even come close.
11. What are the best brunch places for brides to go before or after their appointments?
12. What are some bars or restaurants where the Kinsley James teams can be found at after work?

Ooh, this question seems like it was meant for us! We love to celebrate and enjoy meals together as a team. Some of our favorite places in Walnut Creek are The Rooftop and Va de Vi.  
Kinsley James Bridal Couture
WALNUT CREEK
1623 MOUNT DIABLO BOULEVARD
WALNUT CREEK, CA 94596
(925) 330-9228
Finish your registration for {City} Trunk Show