FREE SHIPPING & RETURNS WORLDWIDE!

DUTIES & TAXES COVERED WORLDWIDE
Find your nearest boutique
Our #GLBride of the week is the beautiful Sydney Hafen, who wore our customed Gia gown as she wed her fiancé Dexter. Surrounded by cascading orchids and dreamy details, the couple tied-the-knot at a special lakefront home filled with sentimental memories in Napa California. In the following interview, Sydney shares with us how she made our Gia gown her own and the wedding day moments she will never forget. As told by Sydney: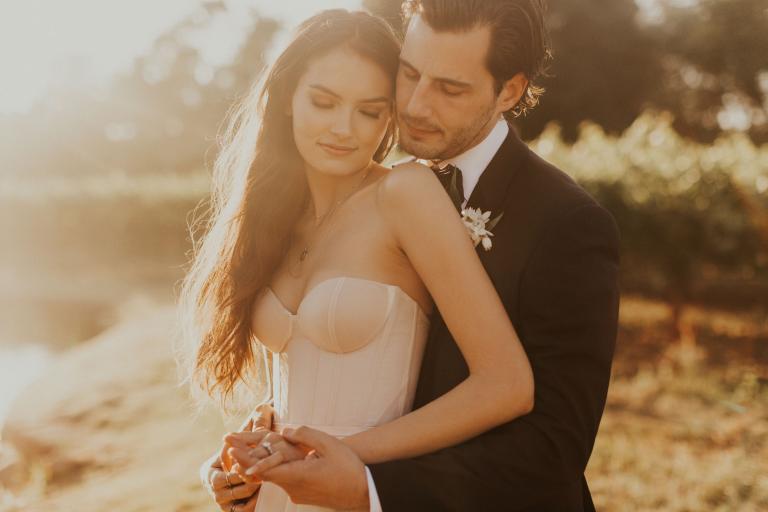 How did you meet your husband? Tell us a little bit about your relationship.

Dexter and I met at a college bar, with a mechanical bull and all, in Dallas, Texas. I was in school, and he had moved there from Louisiana for work. As cheesy as it sounds, we were crazy for each other from the first moment we locked eyes. We talked for 5 hours that night, and never really stopped. 

Two months later we adopted a dog together, out sweet Sadie-Mae, and six months later Dex got my name tattooed on his chest. My friends thought we were crazy and my parents almost killed him, but when you know, you know.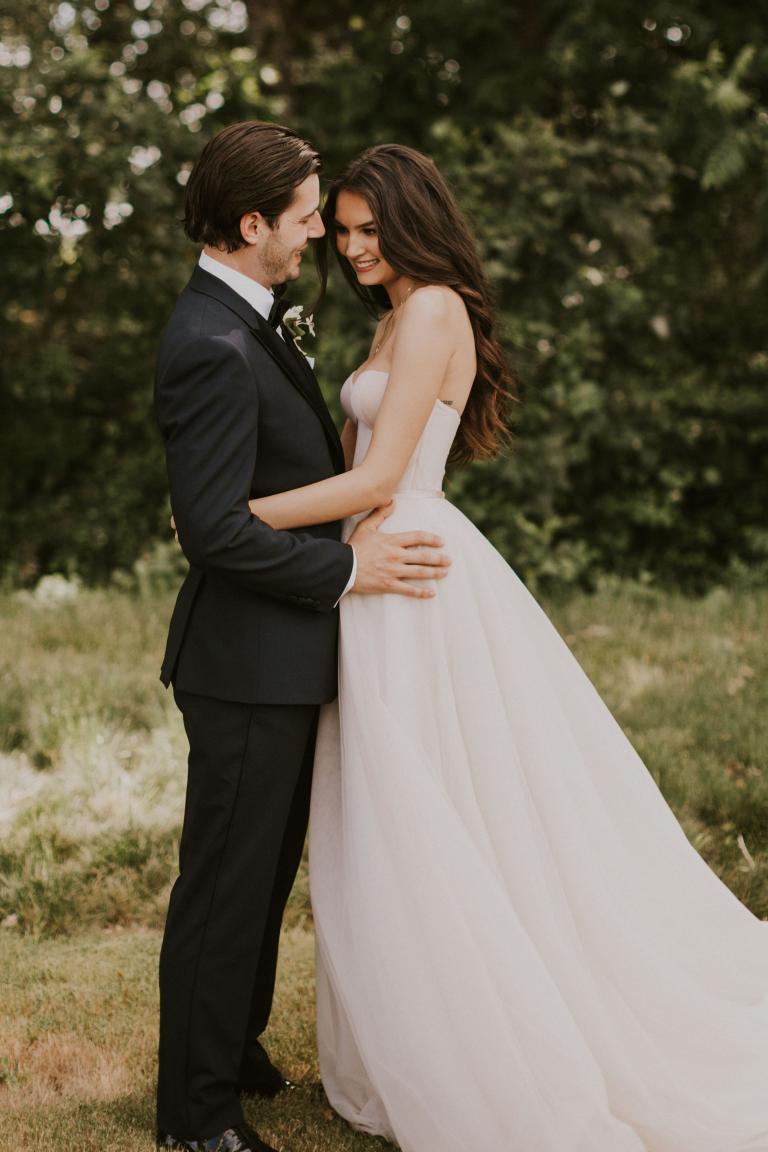 How did he propose?

We moved from Dallas to San Francisco 2.5 years later, and our friends took us to a hidden beach in Marin. The sand was dark and warm, and it was our favorite, quiet city retreat. On an unsuspecting Saturday after an afternoon Target run, Dex woke up from a nap and said we should take Sadie to the beach some play time, and when we got to our favorite spot, he got on one knee. It was perfect, but I still can't believe he took a nap right before he proposed- I guess it was a good tactic to throw me off?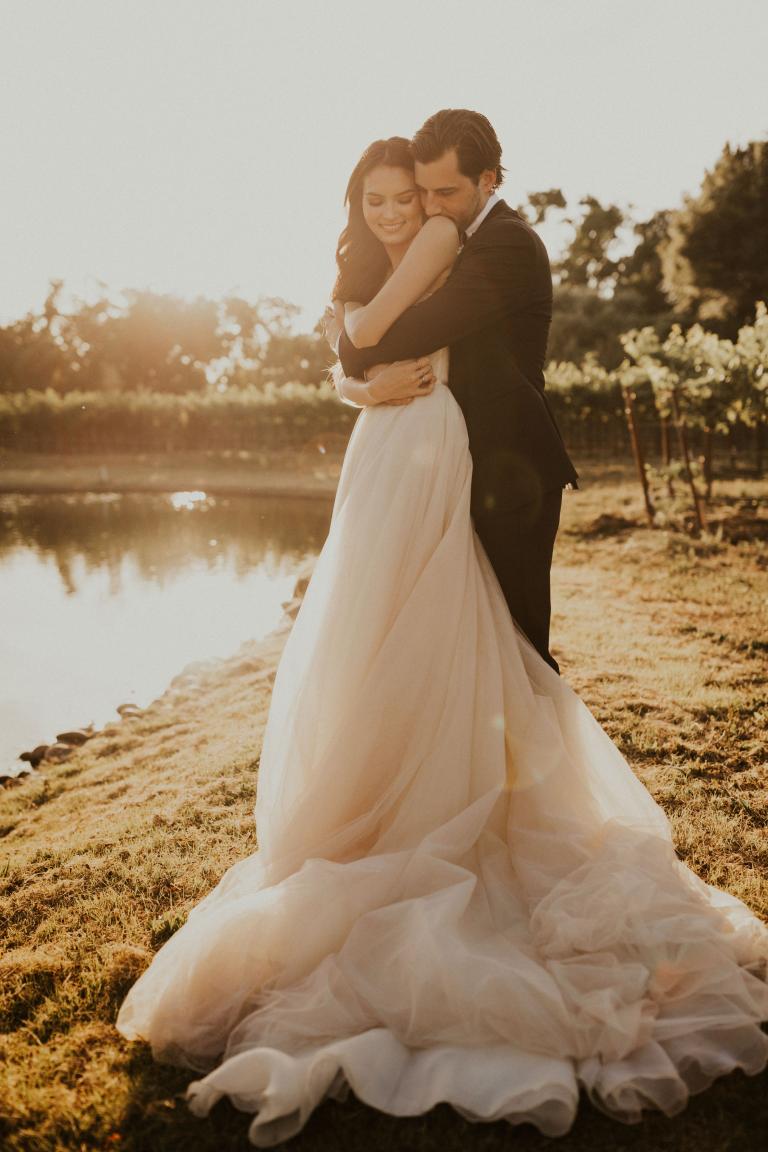 How did you start planning your wedding? What were the first steps?

We immediately knew we wanted to get married in Napa Valley, where I spent weekends with my dads (I'm lucky enough to have two dads)! My family is always over planning and preparing for events, so what I wanted more than anything was for everyone to enjoy the day without worrying about any logistics. So we found our amazing wedding planner, Traci of Napa Valley Celebrations and designer extraordinaire Meredith Law, and they brought everything to life without a hitch. 
Did you do any beauty or fitness prep for your big day?

I work in the beauty industry, so I used the wedding as a total excuse for (possibly excessive) beauty treatments, mainly facials. I wanted my skin to be clear and glowing, so I made sure to stick to my Retin-A, Vitamin C, and sunscreen, and drank lots of water. I'm embarrassed to admit, but I did the bare minimum on the fitness front. As long as the dress fit, I was happy. 
What was your wedding theme?

I'm really attracted to the aesthetic contrast between soft organic shapes and edgier structures. There wasn't really a theme, but I wanted Dex and I both to be represented. Elements like the alter with rectangular brass columns filled with cascading orchids, and the texture and complexity of ethereal layers in the dress echoed through the use of vellum and silk ribbon details brought it all together in a dreamy, unique way.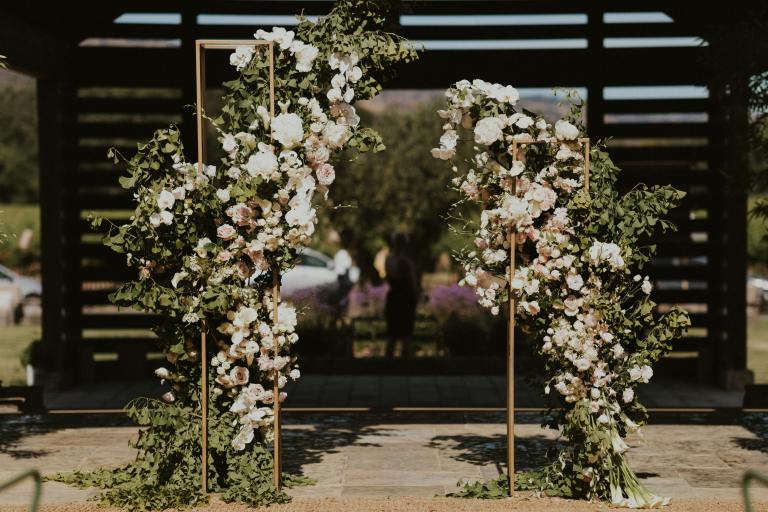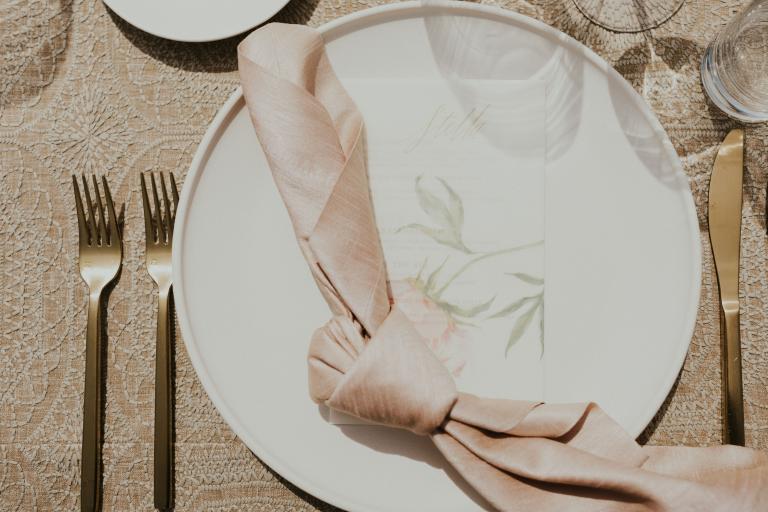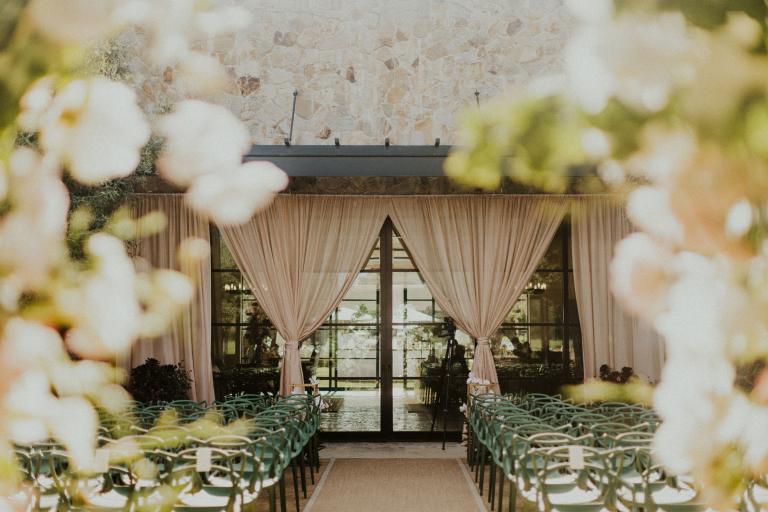 How did you choose your location?

My dads are designers and developers in Napa, and when we first moved to California, they hired Dex to help with some of their projects. They were building this gorgeous home with a lake, surrounded by vineyards, and Dex spent the summer hauling slabs of rock and lacquering the floors. They ended up selling the house to the most lovely couple, Dan and Katy, who so graciously offered to let us get married in their new home. It was a hard offer to refuse, and we are so happy we got to get married somewhere so sentimental to us. (Thank you again Dan and Katy!!!) 
How did you decide on your bridesmaid style?

I wanted everyone in the bridal party and at the wedding to feel sexy and confident, so it was really important to me that the girls picked their own dresses. I chose the neutral, yet sophisticated champagne shade and silk fabric, and they chose their own styles so they all had their own unique look that highlighted their beauty.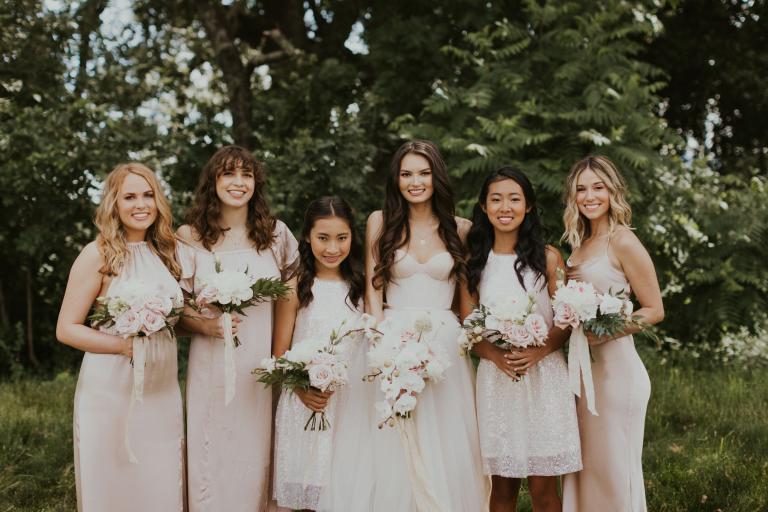 How did you find your perfect dress?

I went into the process thinking it would be easy, but quickly realized that I am picker than I thought, and an atypical bride in the sense that I don't like to be catered to too much, and can't stand the "princess" and "your special day" talk. So as kind and attentive everyone in the wedding industry is, it was surprisingly hard to find what I was looking for. When I tried on the Gia dress though, I got that "this is the one" feeling. I loved the corset detail, and the cascading skirt that moved in the wind. But I wanted a more minimal style where the structure of the dress could be appreciated, so I asked for the dress to be sent with the embellishment sent separately (in case I changed my mind) but ended up loving it stripped down.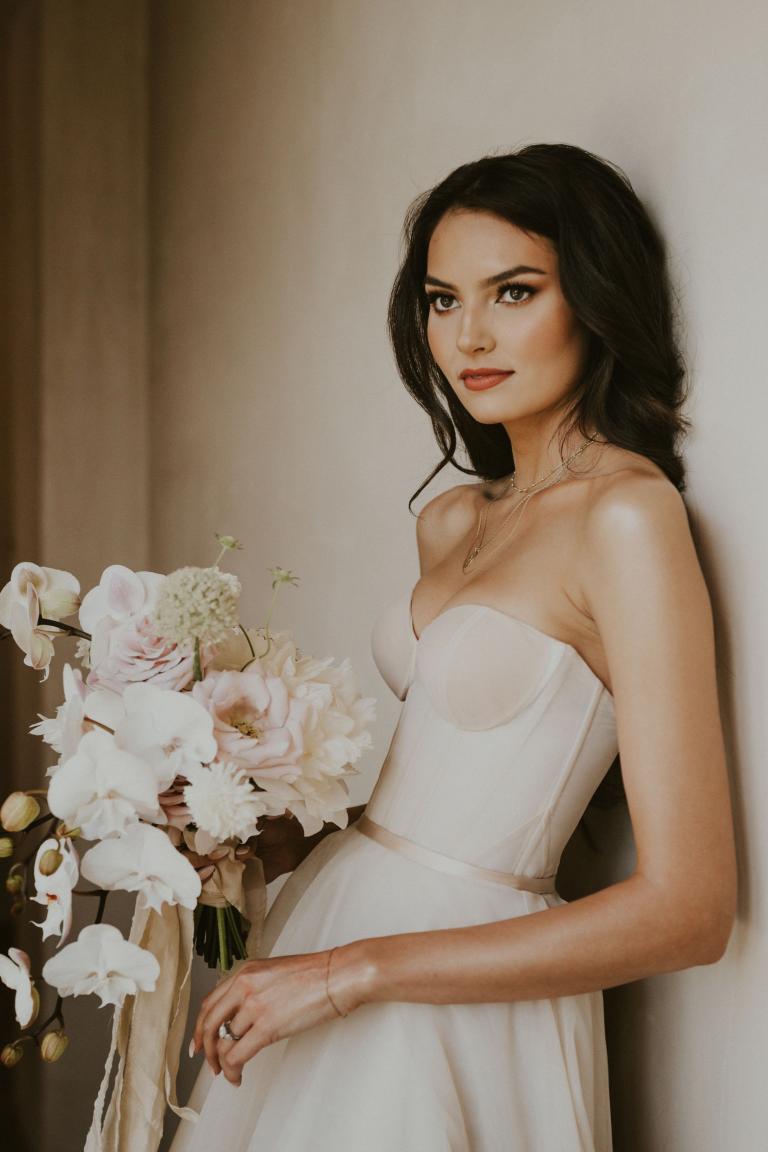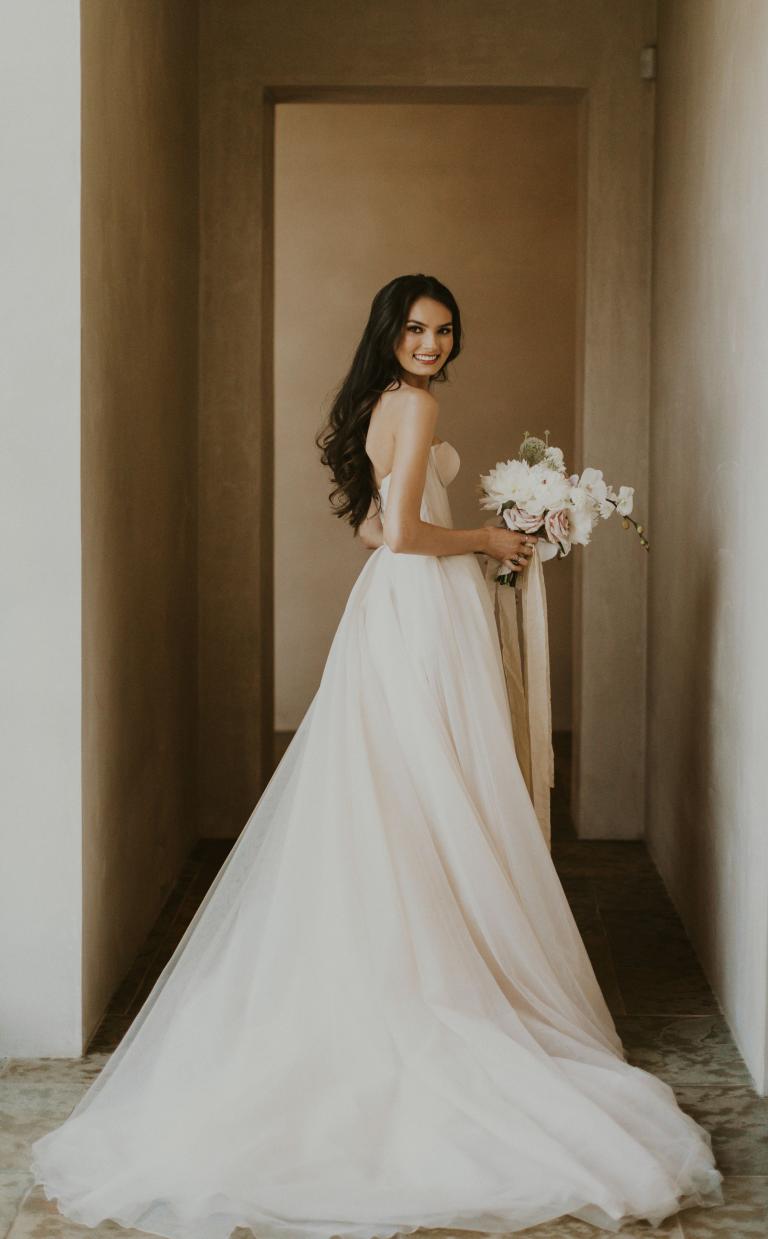 How was your experience with the Galia Lahav brand?

It was fantastic, they were extremely accommodating and open to my (albeit strange) request for a totally stripped down version of an already perfect and beautiful dress. 
What was the most important thing for you and your husband when planning your wedding?

We wanted everyone to be happy and stress free. We both knew that even if everything went wrong, it would still be the best day of our lives. We also wanted everyone at the wedding to feel like they were experiencing a memorable day of their own. Lots of people flew in from all over the country, and we wanted them to feel like they were on a romantic date with their partner, or a fun night out with their friends. 
What was your first wedding song?

We chose a cheesy country song, Then by Brad Paisley, because it's a song that Dex played for me early on when we were dating, and to this day it makes us tear up when we listen to it in the car. 
What did you enjoy the most about planning your wedding?

I enjoyed working with such an awesome team of passionate and talented women, including our photographer Anni Grahm who has become a dear friend to us as well. We met so many amazing people throughout the process who are now part of our story, and we are so grateful for that. 
What advice would you give to all our future brides?

Just enjoy it- every little second from arguing over the caterer to repetitive dress shopping to sending invites- you'll miss it, and remember it fondly when it's over. 
What moment from your wedding will you never forget?

I'll never forget the feeling of unconditional love on that day. I remember sitting at dinner and looking at Dex, at my little sister, at my aunts and uncles, my grandparents, my parents in law, friends from all over the world, and seeing how happy they looked. It meant so much to me, and I wish I could do it all over again. 
Finish your registration for {City} Trunk Show