FREE SHIPPING & RETURNS WORLDWIDE!

DUTIES & TAXES COVERED WORLDWIDE
Find your nearest boutique
Our #GLBride of the week is Alexandra Nassar, who said 'I Do' in our GALA 104 gown. Alexandra and her fiancé Issa held their nuptials at the Palm Event Center in Pleasanton with a sultry, classic and romantic theme. In the following interview, Alexandra shares with us the details surrounding her special day and the moment she knew our GALA 104 was made for her. As told by Alexandra:
How did you meet your husband? Tell us a little bit about your relationship.

Funny thing is that our parents went to college together. We've known each other but never looked at each other that way! We were on our own paths, dating other people. Fast forward and not really keeping in touch, we bumped into each other randomly after not seeing each other for years on NYE in San Francisco minutes before midnight! Cosmically, our stars aligned and we crossed paths, both single and definitely caught each other's eyes in a different way. We've been together ever since.
How did he propose?

He proposed in the most perfect way that is so us. No bells and whistles, just us, eating sandwiches at the beach–he tells me he had been carrying the ring for two weeks waiting for a moment that felt right and unplanned. He used his words magically and swooned my soul– it was the easiest decision I ever had to make!
How did you start planning your wedding? What were the first steps?

Step 1– Find a venue & a dress that goes with the vibe! 

Issa is a city guy and he knew he wanted something completely opposite, so we headed to wine country! We found the perfect venue that suited our romantic and classy vision. I knew I wanted a dress that was just that– romantic and classy with 3D floral vibes to match the winery. Galia Lahav had so many options– it was a tough decision!
Did you do any beauty or fitness prep for your big day?

Being a curvy girl comes with a good amount of maintenance! I had been working out for a year prior to my engagement and continue to do so throughout the wedding and after! It's part of my weekly routine and definitely helped flush out any anxiety along the planning process.
What was your wedding theme?

Soultry, romantic & classic. 
How did you choose your location?

My husband picked out the venue! He loved it and I was just so happy he was enthusiastic, I wouldn't say no! I am so glad we went with the Palm Event Center in Pleasanton. 
How did you decide on your bridesmaid style?

You know, we all have different body types, things we love and dislike. I wanted my bridesmaids to feel beautiful on my wedding day and shine with me– they are my tribe after all! So I chose a color palette to stick with and we sourced different dresses with unique silhouettes for each! It came together so well– they looked fire!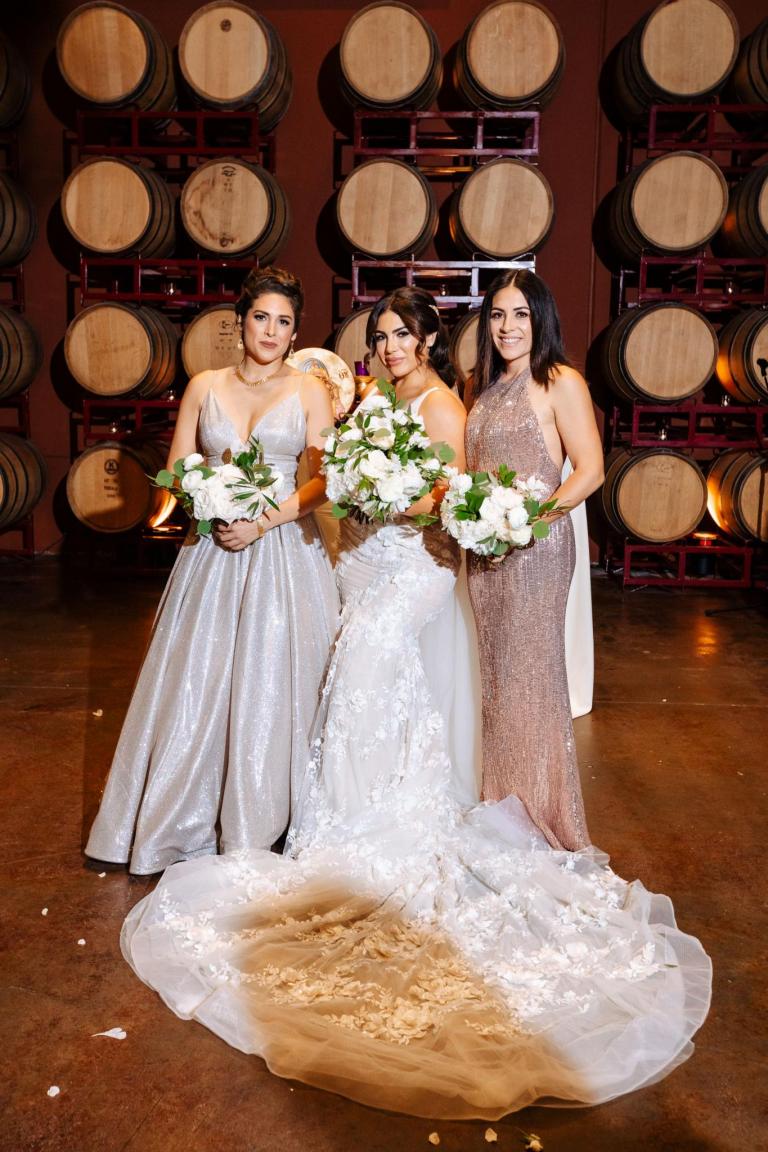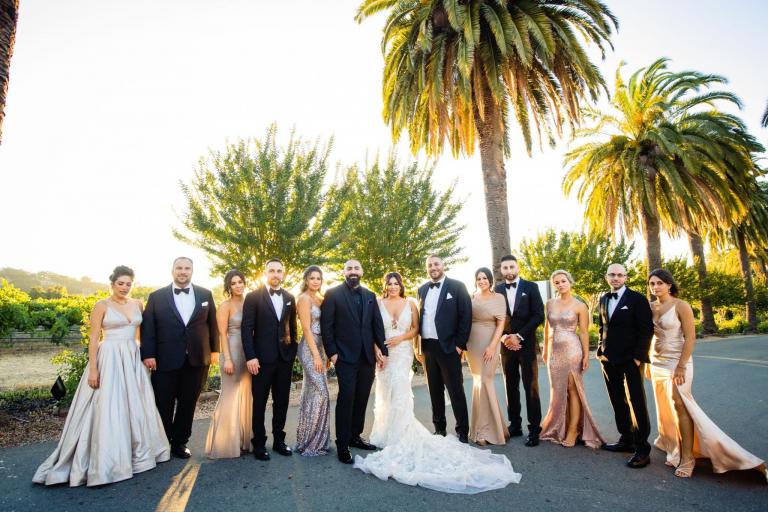 How did you find your perfect dress?

Gala #104 was actually one of the first dresses I tried in a trunk show. After that weekend, the dress flew to another location around the world and I needed to try it on again. So I flew to LA to find it and try it on again! When in LA I went to a bunch of other bridal boutiques just to try on dresses and make sure I was confident–and believe me it is hard to find a dress that compliments your body when you have a curvy frame. It was actually awful, lots of boutiques threw me in a plus size corner with old-style dresses– ugh I wanted to cry! So my first experience at Kinsley James in Walnut Creek was nothing like I experienced out there! So glad it was my first and last. 
How was your experience with the Galia Lahav brand?

In general, because of my measurements, they were very helpful in customizing the dress for my figure and I felt comfortable with the team executing. I am happy with the flexibility of the Galia Lahav– I didn't hear a 'no' ever!
What was the most important thing for you and your husband when planning your wedding?

They say planning a wedding causes a lot of arguments, and I don't know because we didn't experience that. It's definitely a balance and compromise with some things over others. I think going into this, being on the same page and realistic of our expectations was more important than anything. Then everything else just kind of fell in place!
What was your first wedding song?

My father walked me down the aisle to our song, La vie en rose <3 I always envisioned walking down the aisle would be like a stroll in a park in Paris with him, and it felt just like that. 
What did you enjoy the most about planning your wedding?

Bringing my vision to life! To this day, all our guests still tell me how it was one of their favorite weddings they have been to– from design to vibe, it reflected our personalities so well! I really wanted our guests to feel the love, and they did.
What advice would you give to all our future brides?

Do what makes *you* happy inside. Listen to others' advice, but don't let any else's vision change yours. 

There are dresses for every body type – don't get discouraged! There are so many alterations and adjustments you can make to address any need you have. Luckily, Galia Lahav dresses come in a wide array of sizes and they can customize pretty much anything.

Oh, & trunk shows are the best! Make sure you go to one!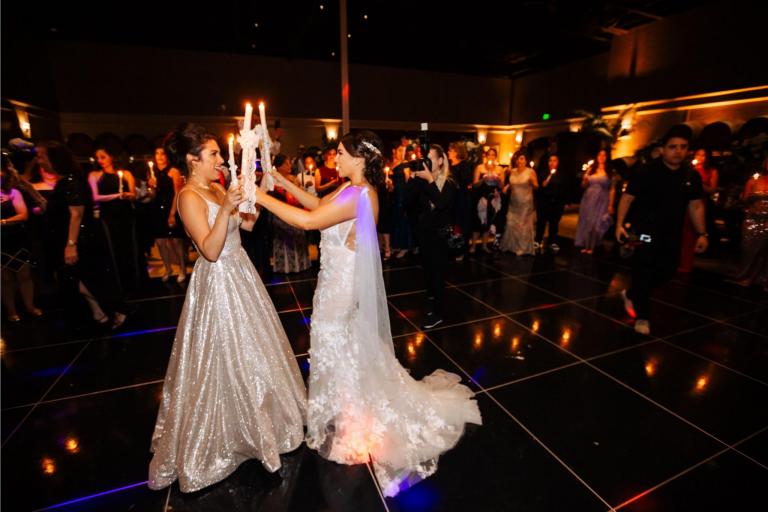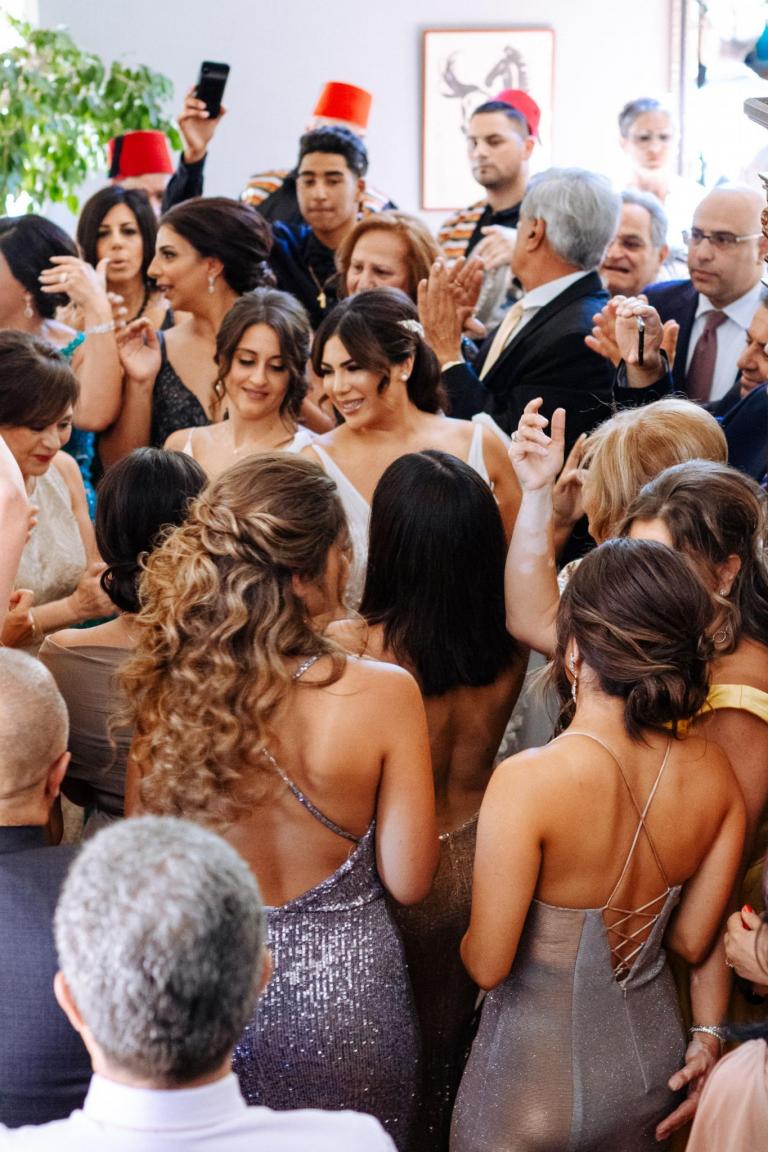 What moment from your wedding will you never forget?

You know that moment when my bridesmaids, sisters and mom and I were all getting ready together at my mom's house– that was so memorable and fun. We were a team, my tribe was helping me look my best. We had the music going, our hair and makeup team on deck – it was calming knowing I had a support system and we were about to do this big thing! The moment it was time to go downstairs and greet all our guests at the house before we went to the ceremony, all my girls held a piece of my veil and walked behind me down the stairs, at that moment I felt so complete – looking back and seeing them help me towards my "I Do's" was symbolic, empowering and perfect. 
Finish your registration for {City} Trunk Show