FREE SHIPPING & RETURNS WORLDWIDE!

DUTIES & TAXES COVERED WORLDWIDE
Find your nearest boutique
Our #GLBride of the week is the stunning Cheryl Anne Gensigner, who wore our Gala 104 gown on her special day. Cheryl and her fiancé tied the knot at the historic NYC landmark, Cipriani 25 venue with a classic black tie wedding. In the following interview, Cheryl shares with us her favorite wedding moments and how dress shopping turned into a tear-jerking experience. As told by Cheryl:
How did you meet your husband? Tell us a little bit about your relationship.

We met briefly in college but never got to exchange information and went to colleges in different states. Until one summer 4 years later, my future husband found me on social media and we reconnected. We began speaking all day everyday and formed a special bond. We couldn't focus on anything but each other and it was from there that our relationship began.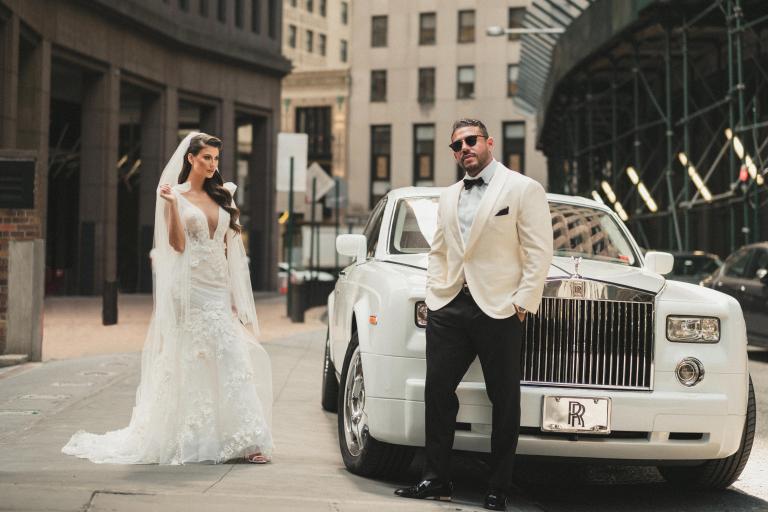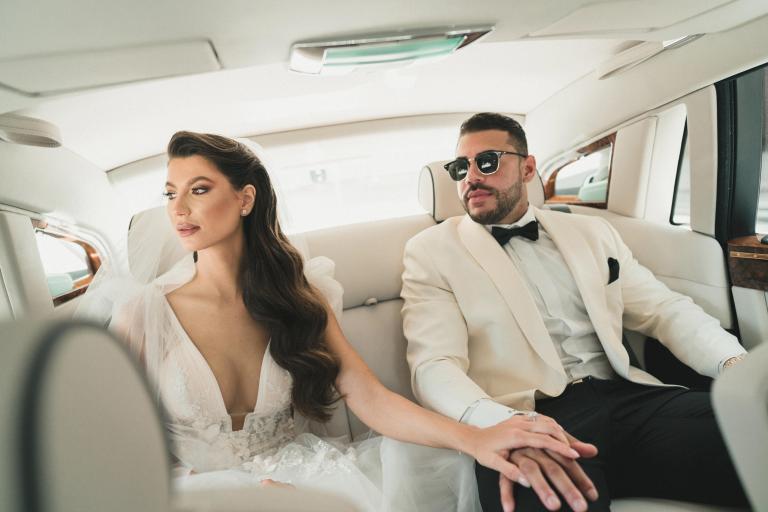 How did he propose?

It was the weekend before this past Thanksgiving and he told me we had his friend's birthday party whom he hasn't seen in years at our favorite restaurant in New York City, Tao Downtown. He said it was a big event in the private room and we had to look our best. That should have raised a red flag for me but it didn't! As I opened the door to the private room I saw a trail of flower petals lit with candles leading to a table with a lit sign that said MARRY ME! I was so caught off guard that I said: "we have the wrong room we are walking in on someone's engagement!!" And as I turned around he was on one knee on the flower petals holding up the ring. I immediately starting crying saying YES!!!! It was a beautiful moment and a beautiful night.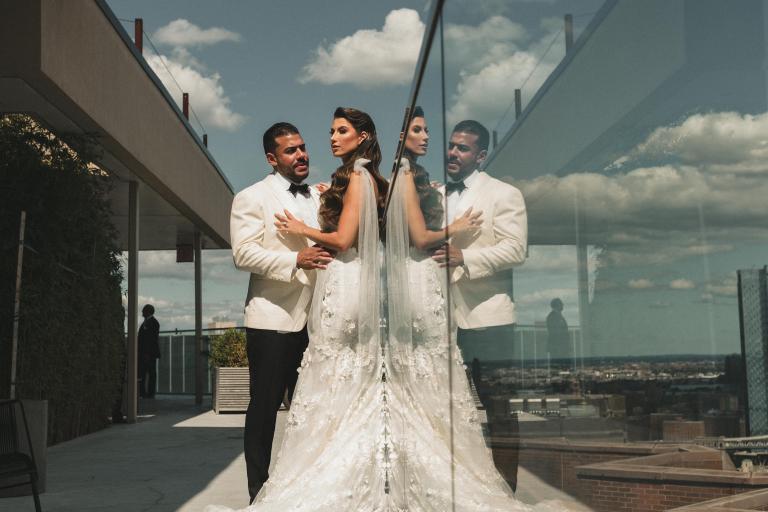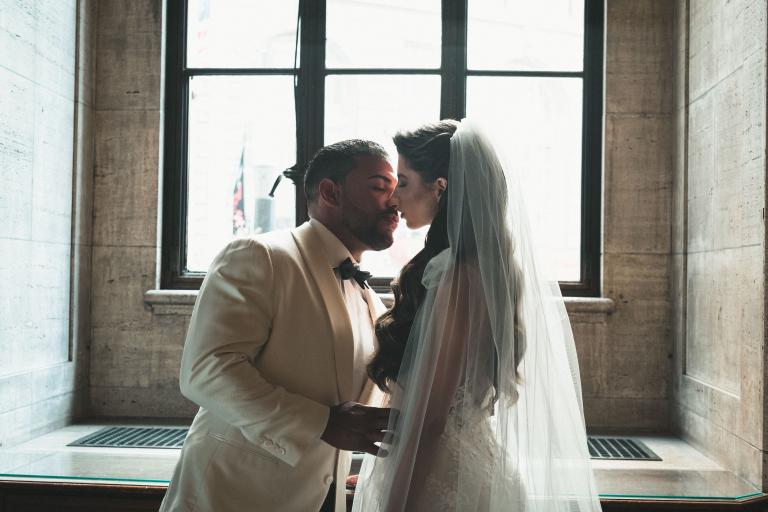 How did you start planning your wedding? What were the first steps?

Our first step was booking our venue, Cipriani 25 in New York City. We had known we wanted to be wed there even before the engagement. It was the only venue we saw and we booked it that day for only 8 months later! August 24th, 2019. Our wedding planning was a breeze for us we truly enjoyed every second of it. My husband was a gigantic help which made things so much easier! He even found and booked my makeup artist from LA as a surprise to me!
Did you do any beauty or fitness prep for your big day?

I'm a vegan and my husband eats very clean. For the last 3 years, we spent 6 days a week in the gym so we carried that through to the wedding! It was great to have to not make any major changes in prep for our big day, just maintaining!
What was your wedding theme?

Our wedding theme was white, black, and gold. We wanted a classic sleek look that would never go out of style! All the bridesmaids wore the same strapless satin gown and all the groomsmen were in completely black tux's!
How did you choose your location?

We knew we had always wanted Cipriani and we fell in love with the incredibly high ceilings of Cipriani 25 and the architecture! We saw ourselves getting married there the instant we stepped foot inside! They were also offering 3D mapping at the time of our wedding which meant we could light up the walls like Disneyland with whatever design we chose!
How did you decide on your bridesmaid style?

I knew I wanted them all in the same dress and I wanted them all in black, everyone looks GREAT in black and it's a color that never goes out of style. It set such a classy tone for our black tie event.
How did you find your perfect dress?

I knew I would never get married in anything but a GALIA LAHAV gown that was my dream. I went to Bridal Reflections on 5th ave in NYC and it was my first time trying on gowns and I only picked 5 Galia gowns to try on. My dress was the 3rd one I had tried and when I walked out of the dressing room, my parents and my in-laws both starting hysterically crying and I knew that was my dress. It was a very easy experience for me picking my gown!
How was your experience with the Galia Lahav brand?

My Galia Lahav gown made my wedding. I wouldn't trade it for the world! I would advise any future bride to go with a Galia, you won't be disappointed. The detail was out of this world. And comfortable at that! I've never gotten so many compliments in my life!
What was the most important thing for you and your husband when planning your wedding?

We wanted to ensure that every guest had the time of their life. We went with a DJ that we knew would set a party-style atmosphere and the dance floor was never empty the entire night! That was our main goal.
What was your first wedding song?

We aren't the type of couple to dance to an entire slow song. We are a goofy silly couple and we wanted our first dance to reflect that. We started our first dance-off to SafetySuit –  Never Stop (wedding version) and at the 1-minute break in the song we had the DJ cut into Cardi B – Bodak Yellow and I whipped out a money gun and made it rain on my husband while he twerked. Everyone went crazy and rushed the dance floor and the party never stopped from that point on! And everyone told us, that dance "was so you guys!!!"
What did you enjoy the most about planning your wedding?

We enjoyed each other most. We loved making decisions together and finding vendors together. It really was fun for us and we felt so bored after it was over! The planning brought us closer together for sure!
What advice would you give to all our future brides?

Relax, and just dance. I am a big worrier I stress about everything. That day I made a vow to my husband that I would just relax. We had some hiccups with some details but I let it roll right off of me. My hair and makeup artists said I had been one of the most calm brides they had seen! I realized how important it was not to stress the small stuff and just enjoy your day because boy does it fly by! We danced the entire night, we truly enjoyed our wedding day down to the very last second and I would advise other brides to do the same!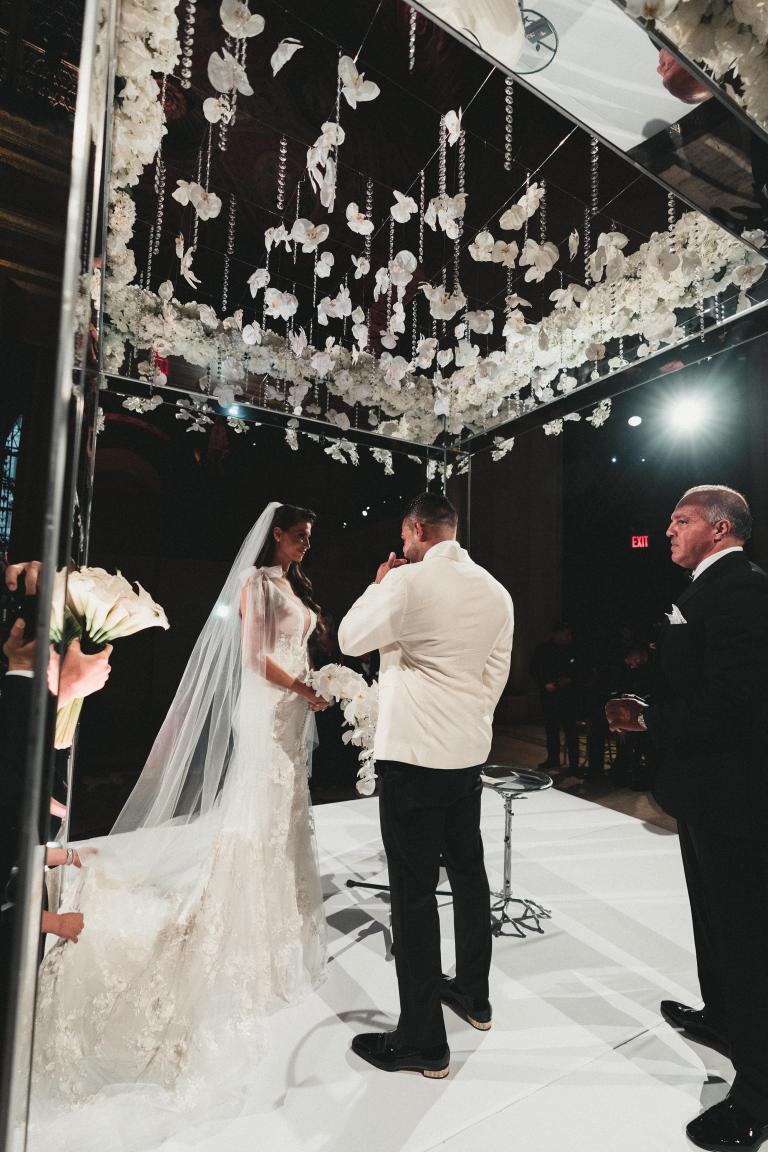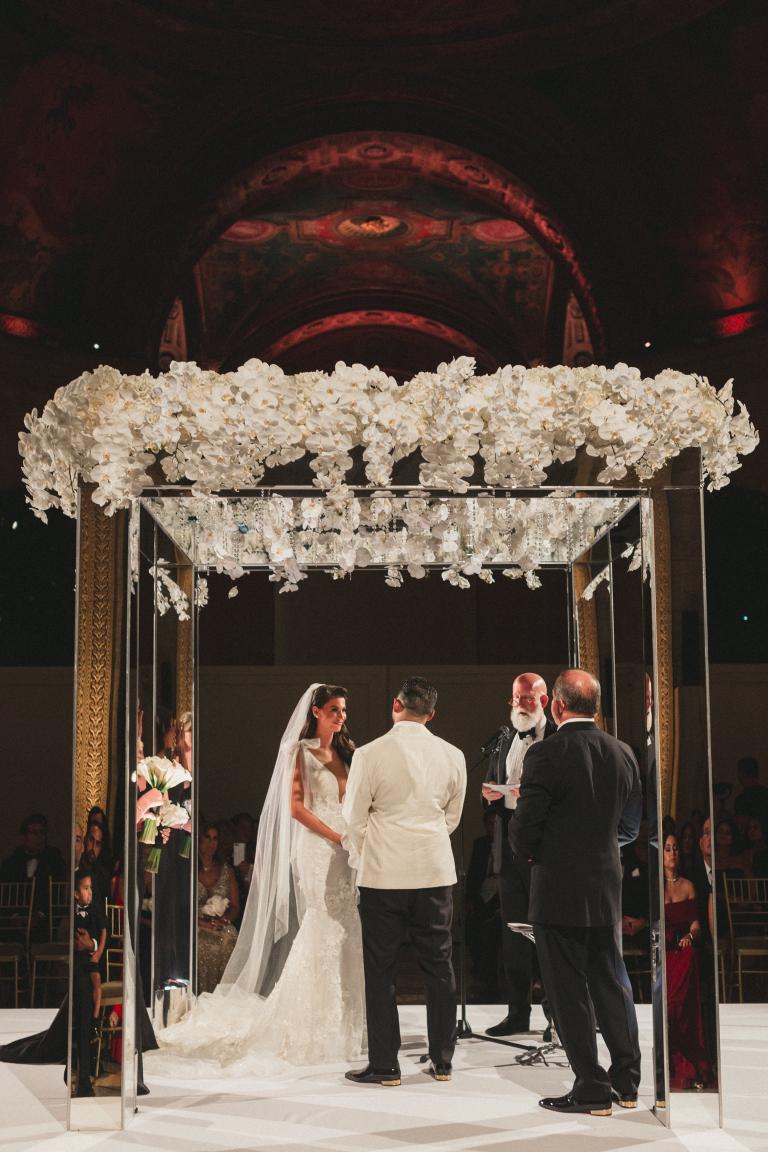 What moment from your wedding will you never forget?

His reaction when he saw me in my dress!!!! It was priceless! But also our 3D mapping light show. Cipriani partnered with Moment Factory and before we were announced they lit up the entire venue with a New York theme and showed a giant gold ball burst through the doors of Cipriani with a giant explosion and that's what we came out to! Our guests definitely won't forget it! =)
Venue: @cipriani – Cipriani 25
Dress: @galialahav via @bridalreflectionsny
Photography: @jaylimstudio – Jay Lim Studio
Videography: @lifestyle_production_group
DJ: @Poshdjs @andrewgangi
Decor: @davidbeahm
Brides Hair: @senadakxo
Brides makeup: @evilyn_mua
Cake: @rbicakes
Vegan cake: @sweetavenuebakeshop
Rolls Royce: @luxury_ride_ny
Bridesmaids dresses: @studiosuite201
Bridesmaids makeup: @meghanbellabeauty
Bridesmaids hair: @vilma_vavavoom @coffeethenhair @avi_pinhasov
Lightshow: @momentfactory
Finish your registration for {City} Trunk Show