FREE SHIPPING & RETURNS WORLDWIDE!

DUTIES & TAXES COVERED WORLDWIDE
Find your nearest boutique
Ah, the whirlwind of wedding dress excitement....

With so much buzz and chatter around these enchanting gowns, it's no wonder that the task of selecting 'the one' can feel like navigating a maze. The choices, the styles, the endless possibilities – they can all add up to an overwhelming sensation.

But let's sprinkle some stardust on this experience and turn it into a journey of joy and anticipation! Yes, you read that right – wedding dress shopping can actually be fun and exhilarating, all in your hands. Imagine immersing yourself in a world of tulle, lace, and satin with a grin on your face, and the worry lines melting away.

And to guide you through this transformation from daunting to delightful, we've got a magical set of tips from none other than the esteemed stylist Ayoka Lucas. With her expert insights, you'll discover the secrets to crafting an experience that's not only stress-free but positively enjoyable.

So, dear bride-to-be, if you're ready to swap the wedding dress frenzy for a fabulous adventure, come along! Let's dive into Ayoka Lucas' treasure trove of wisdom and make your dress shopping journey one to remember. Your dream dress is waiting – and it's all about making the journey as radiant as the destination
1. Start six to nine months in advance.

Getting a wedding dress is a long and involved process, and you want to make sure you have time to fix any problems that rear their heads. Lucas recommends starting nine months before your wedding if you can, or at least six.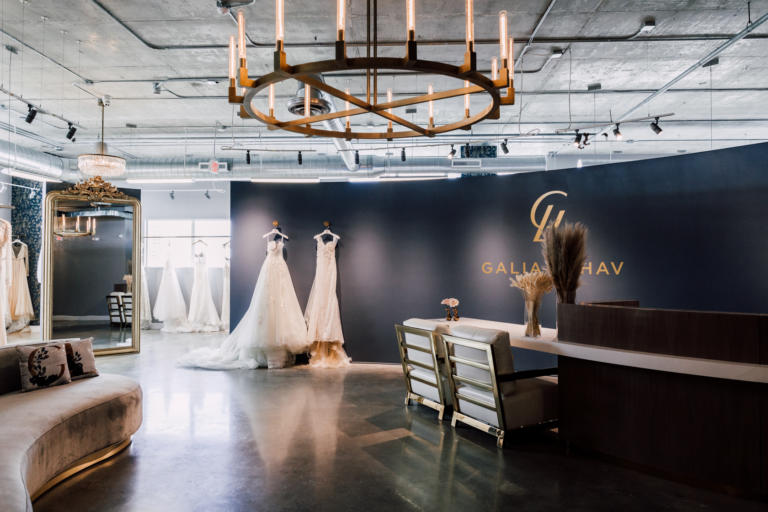 2. Decide on your wedding aesthetic first.

Imagine your wedding day – a canvas painted with your dreams and love. Amongst all the elements that shape this beautiful moment, one stands out: your wedding dress. It's not just a garment; it's a reflection of your style, your personality, and your love story.

Here's the thrilling part: your dress can harmonize perfectly with your wedding's vibe. If your celebration leans towards classic elegance, a timeless dress becomes more than just an option – it's a tribute to tradition and grace. On the other hand, for a bold and vibrant affair, your dress can be a statement of self-expression, embracing the unique love story you're celebrating.

And that's where stylist Ayoka Lucas lends her expertise. She guides you to a dress that not only fits your body but also aligns seamlessly with your chosen atmosphere. "Once a bride decides on her wedding aesthetic, then she can start looking for the perfect dress for that setting," shares Lucas.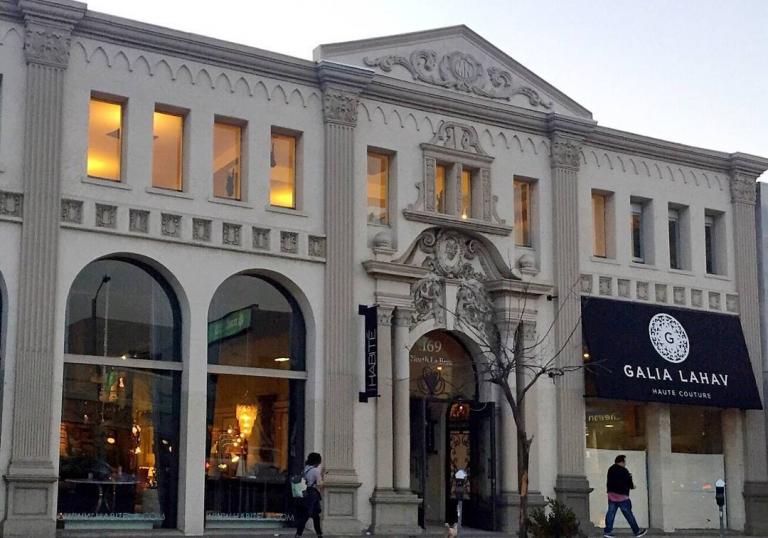 3. Choose what type of dress you want.

Lucas breaks down wedding dresses into seven common types, allowing you to navigate this exciting journey with ease. From the fairytale allure of the Princess (ball gown) to the elegant simplicity of the Sheath, each style speaks to a different facet of your personality and vision. There's the timeless grace of the A-line, the captivating allure of the Trumpet, the sultry charm of the Mermaid, the playful elegance of the Tea length, and the flirtatious energy of the Mini. With Lucas as your guide, discovering your perfect fit becomes a thrilling adventure.
4. Pay attention to detail.

Another way to narrow down your options is to figure out what details are important to you. Some details you'll find in our gowns, for example, are embroidered flowers and beaded straps. The details can make or break the gown, after all.
5. Come at it from all angles — literally.

When you look in the mirror, you typically look at the front of your body. But your wedding guests — and those viewing your wedding photos — will be seeing you from every angle. Lucas recommends taking photos to see what you look like in your dress from different angles. "Looking in the mirror doesn't capture everything in detail like a photo," she says.
6. Show your friends the finalists.

Lucas recommends visiting stores by yourself first, then coming back with two or three trusted friends once you've found a few favorites. Their honest opinions may help you make the final choice, though you should put your own preferences above anyone else's.
7. Get it custom-made for your body.

Once you've picked a dress, you'll ask the store to get it in your specific dimensions, then come back for a fitting to see if it needs to be adjusted further. You should aim to get your first fitting three months before your wedding, your second a month later, and your third three months before your big day.
8. Enlist someone to take care of your dress.

On the day of your wedding, you'll want to make sure your dress is properly taken care of. Since you'll be busy with a million other things, Lucas suggests getting a friend or family member to make sure it's clean, wrinkle-free, and intact. "That person should know how to steam, sew (in the case of an emergency), and understand fabric care," she says. "Think of them as your gown's 911 on-call person. In essence, your gown is another member of your bridal party. It needs to be handled with careful preparation and much care before going down the aisle."
Finish your registration for {City} Trunk Show