FREE SHIPPING & RETURNS WORLDWIDE!

DUTIES & TAXES COVERED WORLDWIDE
Find your nearest boutique
Your Dress Is a Carry-On
Let's start off with a non-negotiable: Your dress is a carry-on. Even a dress as full as the Emilia gown needs to be by your side as you fly. This will ensure your precious gown is carefully handled throughout every step of your travel day—and that it definitely won't get lost in transit. You might even want to consider carrying on all of the accessories for your big day, including coordinating shimmering stockings, shapewear, jewelry, and shoes. It'll give you peace of mind that everything you need is exactly where you need it, when you need it.
Confirm Your Dress' Travel Plans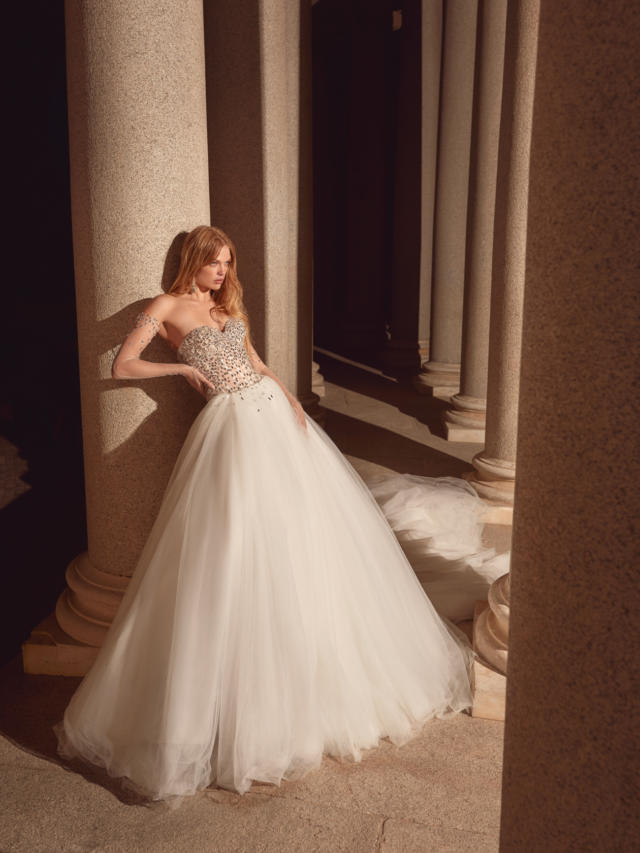 Confirm Your Dress' Travel Plans

Confirm Your Dress' Travel Plans

Most airlines recommend reaching out ahead of time to secure some VIP treatment for your wedding dress. Call your airline to ask if there will be hanging space on your flight and be sure to ask if you can secure an additional carry-on allowance. Don't be shy about sharing why you need a little extra room, because airlines might be willing to help you out a bit more knowing you're trusting them to transport you to your dream wedding destination.

Don't stress if the airline says there's no hanging room, you still have options. If your dress is really voluminous (hello, Diamond gown) or particularly delicate (that beads and sequins on Monroe), you can book a seat for it. This is not as uncommon as you might think – and this splurge could make your travels ever so slightly more enjoyable.

The overhead bin is still a safe space for gowns that have a slim profile. Just plan to place it up there after everyone else has already situated their suitcases. This might require sitting with your dress on your lap for a few minutes while everyone boards and the bins get loaded, but it'll be well worth the wait.
Your Garment Bag Is Your BFF

Every Galia Lahav dress comes with a garment bag – and we highly recommend using it during your travels, with a sturdy hanger supporting your dress inside. For bigger, bulkier dresses like Utopia, and those with very delicate embroidery ( Zendaya), appliques or pieces with volume, you're going to want to transport the garment bag by tucking it carefully over your arm.

If you opted for a simple dress with details that won't be ruined after being folded for a few hours, go ahead and maneuver your garment bag into your wheeled bag. We suggest opting for a tri-fold packing method, where you place the middle of the garment bag in first, then fold the bottom in, followed by the top. If the top of your hanger is visible, and the suitcase can easily zip closed, you're ready to jet out. 

Not sure which camp your dress fits into? Speak to your dress designer and take their professional opinion to heart. They'll be able to let you know what's safe and what's not when it comes to packing your dress.
Now, Strategically Prepare That Garment Bag

You can request for your dress from Galia Lahav to be carefully packed in a garment bag, ready for travel, with all the necessary wrapping. If you can, try to keep the dress wrapped up and untouched.

If you already unwrapped your gown, there are a few ways to get your look travel-ready. Starting with the straps. Make sure the actual straps of your dress are securely on the hanger, along with the hanger straps (FYI, these are the silky straps that are sewn into the dress from the interior). Reinforce the top of the dress by looping the hanger straps around the hanger a few times, so that most of the tension is on the hanger straps.

Dresses with a train, including Denise, should be left bustled, so the extra fabric is easily packed. If the train has a loop, slip that over the hanger for extra support. Once the hanger is fully situated, use tissue paper to add custom support to areas of the dress that need it—including the bust—to help maintain its shape. 

Finally, it's time to wrap your gown. Yes, it may seem like the garment bag is enough protection but there's no such thing as being too safe when traveling with your wedding dress. We suggest delicately enveloping the entire gown in a layer of colorless tissue paper. If your dress has any embroidery, be extra sure to cover that with ample tissue paper to protect it in transit. Then, grab a thin plastic bag you get from the dry cleaner and slip it over your dress. It's now very protected against any sort of spillage.

And, just like that, you're ready to place your dress in the garment bag! Once it's securely in there, drag a finger along the inside of your zipper while closing it, ensuring you don't snag any fabric or embroidery along the way. Once the garment bag is fully zipped, you're ready to travel.
Steam Or Iron Out Imperfections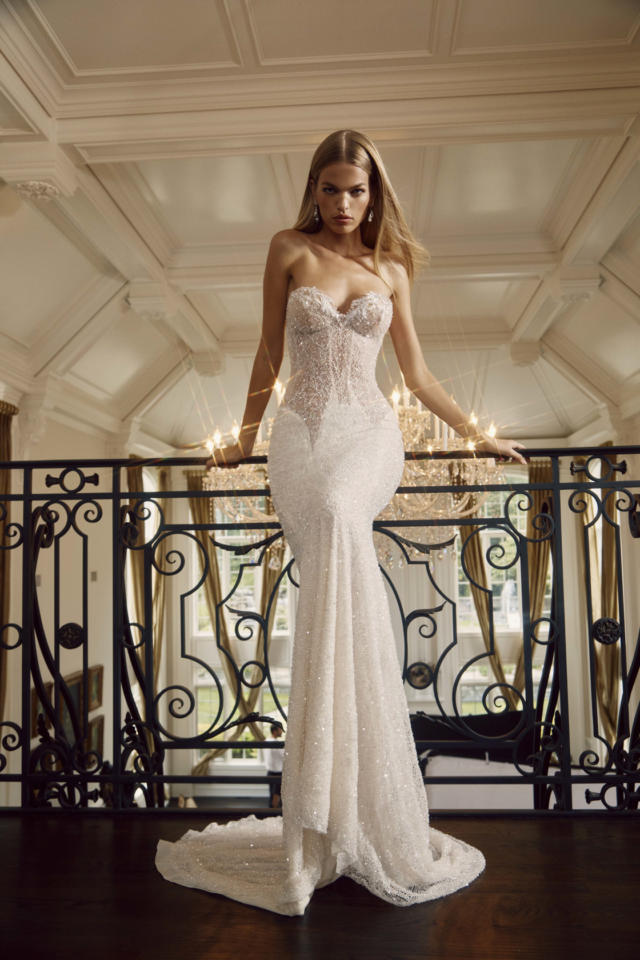 Unpack Immediately!

The type of fabric and the details on your dress will dictate if you can steam your dress. When in doubt, check with your dress designer on the best way to prep your look for the big day.

Even if you're not used to unpacking the second you arrive at a destination, plan to treat your dress to a warm welcome. Upon arrival, be sure to immediately hang the dress up and remove it from the garment bag, plastic bag and tissue paper. This will give your dress time to breathe after being cooped up for hours, naturally releasing some of the creases that may have happened during your travels. 
Steam Or Iron Out Imperfections

For the perfect finish with a steamer, plan to use bottled water and cover the steamer head with a thick paper towel to avoid water splatters. International travelers might want to do a bit of research ahead of time to buy a local steamer, to avoid any potential meltdowns. Plan to do all of the steaming and prep well ahead of your wedding day, ideally the day before, as this leaves time for any water spots to dry and any remaining wrinkles to relax.

It might require a lot of extra planning and a bit of work, but being confident your dress looks absolutely perfect at your destination wedding is priceless.
Finish your registration for {City} Trunk Show