FREE SHIPPING & RETURNS WORLDWIDE!

DUTIES & TAXES COVERED WORLDWIDE
Find your nearest boutique
Our #GLBride of the week is the beautiful Dana Miller, who married the love of her life in our Gia gown. The couple decided to tie the knot at home with a romantic beachy themed ceremony in their backyard. In the following interview, Dana shares the details of her whimsical nuptials and how she found her dream gown with us. As told by Dana: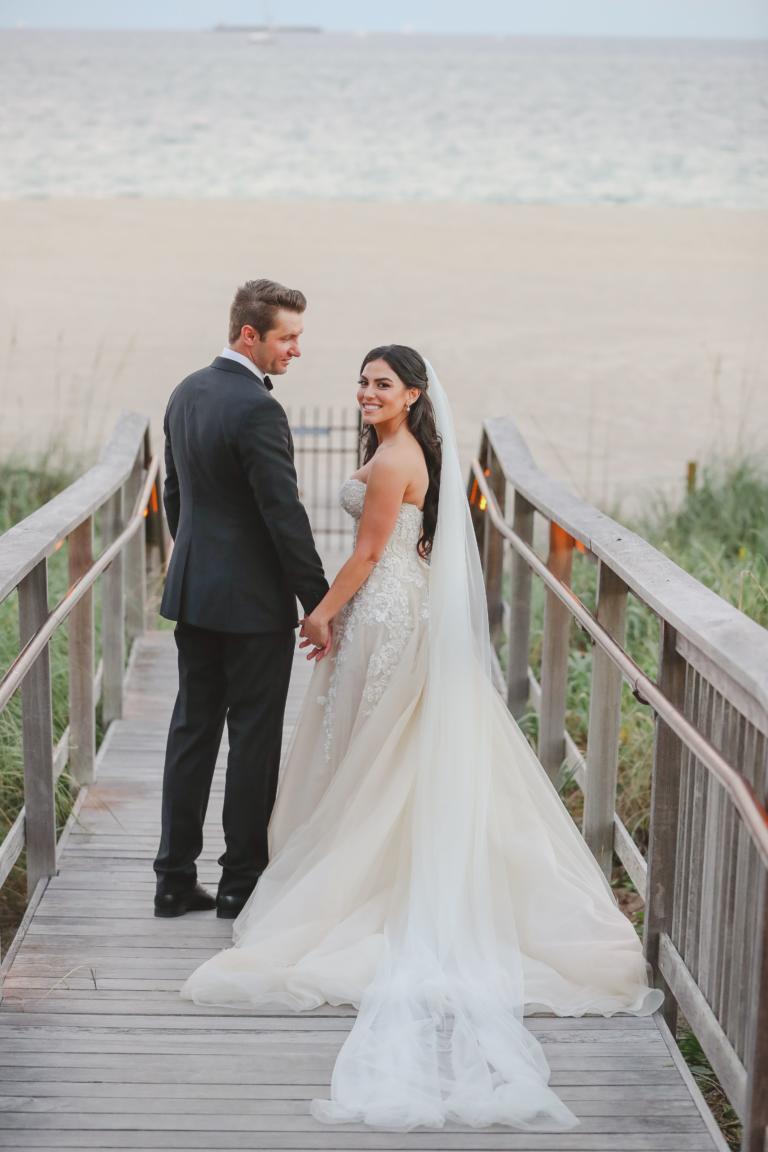 How did you meet your husband? Tell us a little bit about your relationship.

We met on an app called Bumble. We both had french bulldogs which intrigued me to swipe right. He was also incredibly handsome and seemed like a fun guy. I was living in Fort Lauderdale and Christopher in Miami. Christopher was in Fort Lauderdale one night while I was out bar hopping with a few friends. He mentioned he was at a bar called Tarpon Bend, and I mistakenly thought this was an invitation to meet him. So, I showed up. To this day Christopher will tell you that I stalked him! It was not love at first sight because he also thought my friendliness towards the bartender was flirty. After only 5 short minutes of chatting, he said see ya! The next day he texted me and we decided to have a do-over date. He took me to a hockey game and we hit it off from there! After that, we were inseparable and have spoken every single day since the day we got together. Christopher and I always had so much fun and things were just so natural and organic between us. He always has me on the floor laughing and he's everything I could've asked for and more. He's truly my best friend, lover, and home. We now have the most amazingly sweet baby boy and a third french bulldog.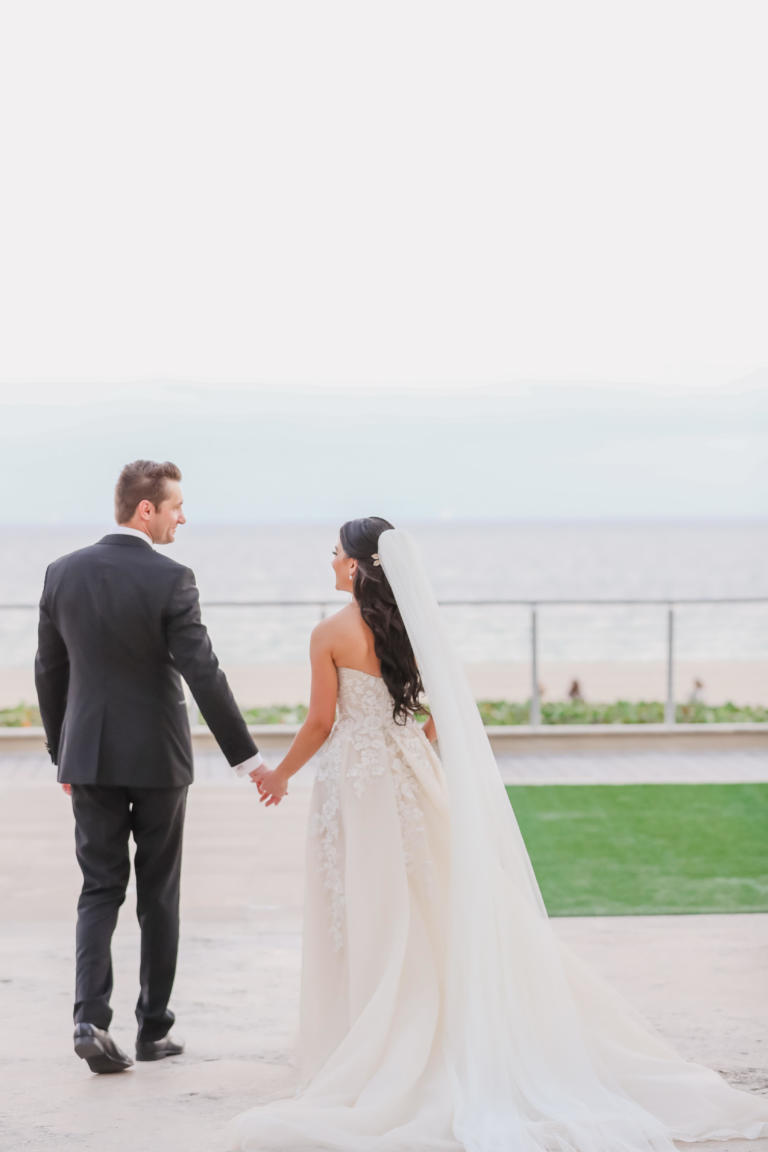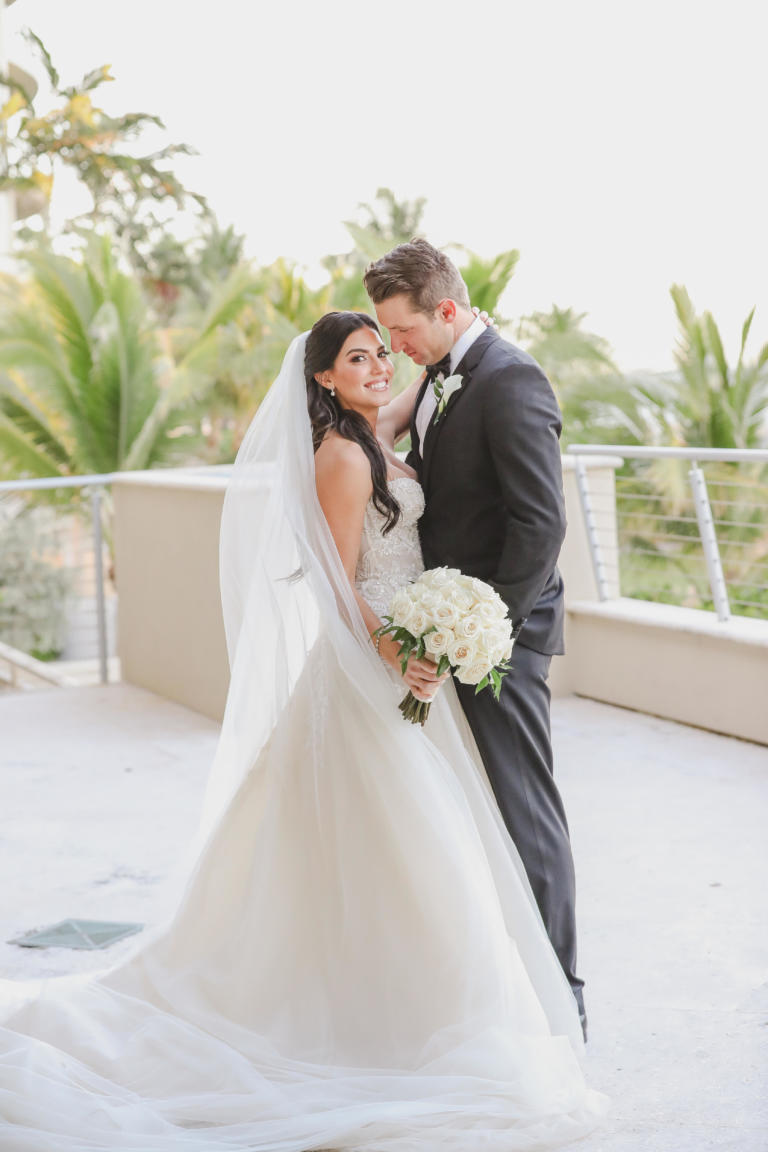 How did he propose?

Everyone who knows me knows that I love Taylor Swift. Christopher surprised me with front row tickets to her Miami concert on August 18th, 2018. He went all out and even got a tee shirt for himself that said "Are You Ready For It" and surprised me with Taylor's VIP concert box. A few minutes before Taylor was about to go on we took some pictures. There was an awesome backdrop of Taylor's Reputation album cover which made for a great photo! Christopher asked a security guard to take our photo. The next thing I knew, Christopher was down on one knee and he asked me to marry him. I was incredibly shocked and over the moon! Tears of joy came streaming down my face and I could hardly catch my breath. Thankfully, Christopher asked the security guard to flip the camera to video mode, and we have the proposal saved forever. It was an amazing night and Christopher put so much thought and love into the whole proposal. He absolutely exceeded my wildest dreams!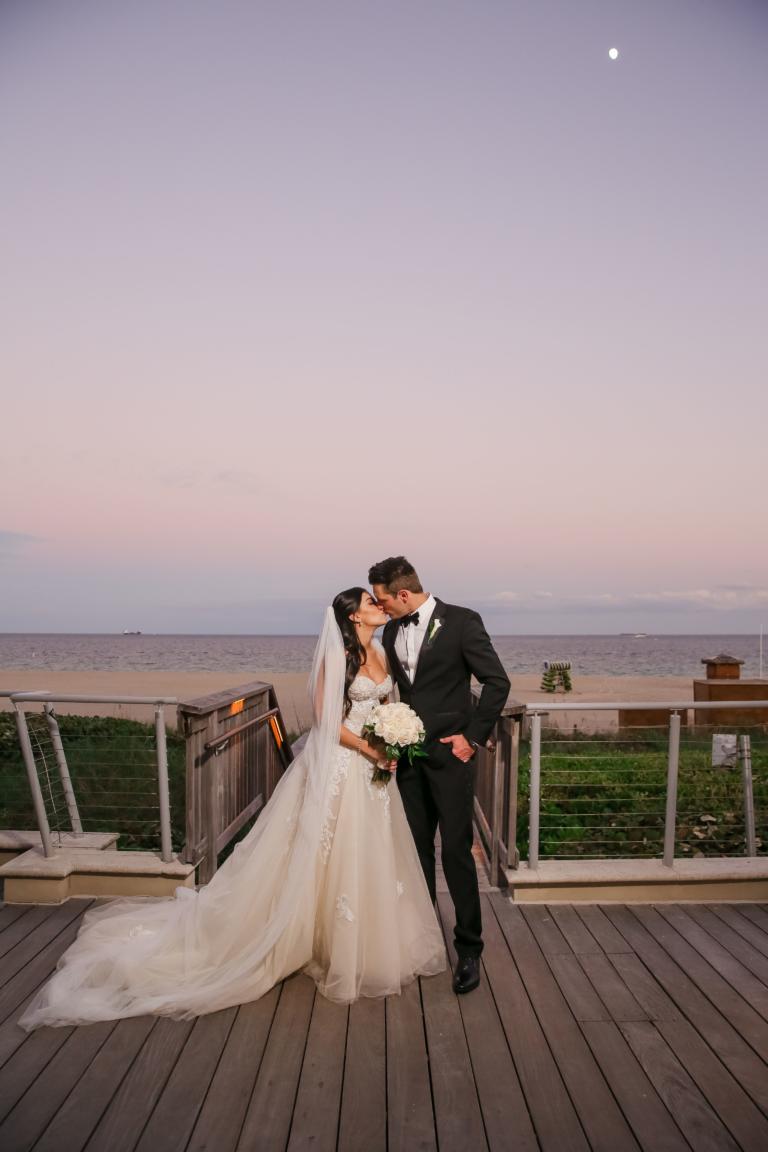 How did you start planning your wedding? What were the first steps?

We knew we were going to have roughly 200 guests so we needed to find a venue that could accommodate. While living in Fort Lauderdale at the time, I found the Fort Lauderdale Marriott Harbor Beach Resort and Spa. Being that the venue was just a 10-minute drive for us made it so easy and convenient for planning.

The ceremony and reception were equally as important to me and I fell in love with their outdoor terrace overlooking the ocean. Our ceremony took place on one half of the lawn with the most gorgeous sherbert-colored sunset. Our cocktail hour was on the other side of the lawn, followed by our reception which was just a few feet away inside the oceanview ballroom. It was absolute perfection!

About half of our guests were traveling from out of town and we wanted to ensure that our guests were in a great vacation destination. After booking the venue, we booked our photographer. Then came THE Dress! I didn't have a wedding planner and I'm so glad I did it all myself. A few people told me I was crazy, but I thought how hard can this really be? I'm so glad I went with my gut because everything was exactly how I wanted! I made it my own! For anyone worried, you can absolutely do this on your own too! You just need to be very organized and committed.

After the dress, everything else just came together. The dress was a huge inspiration for my flowers, invitations, and bridesmaids' dresses. I had so much fun with it all!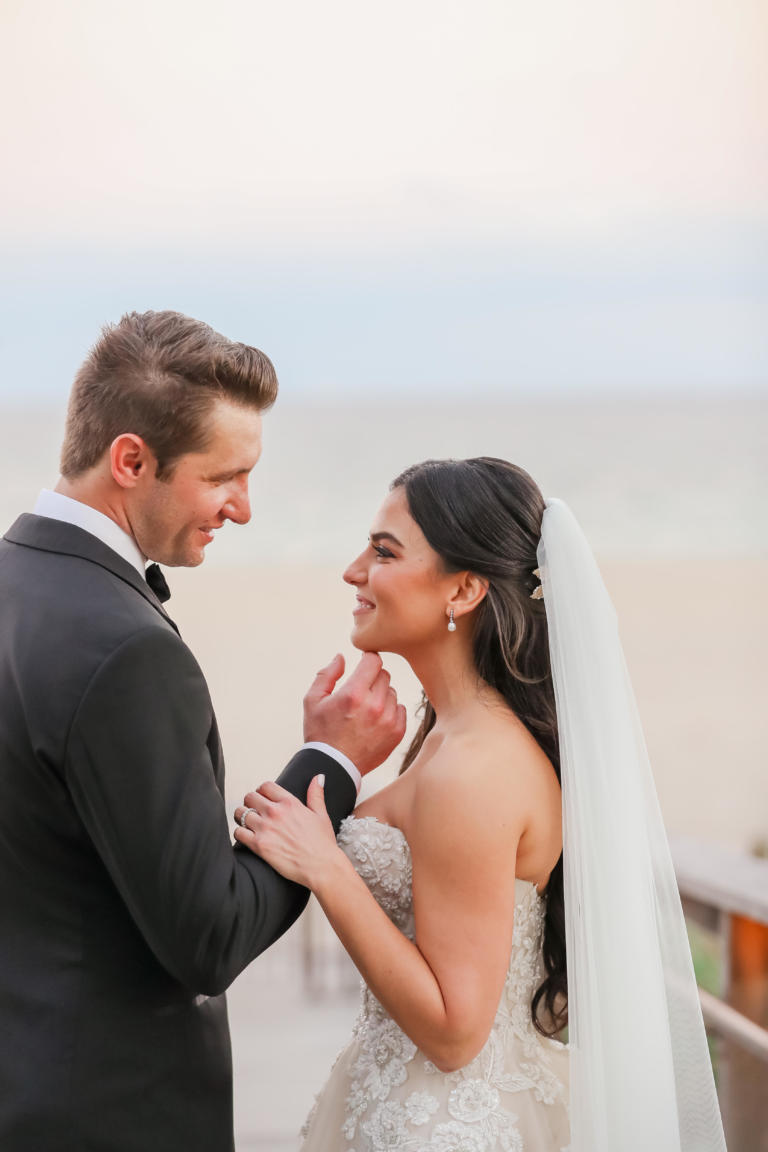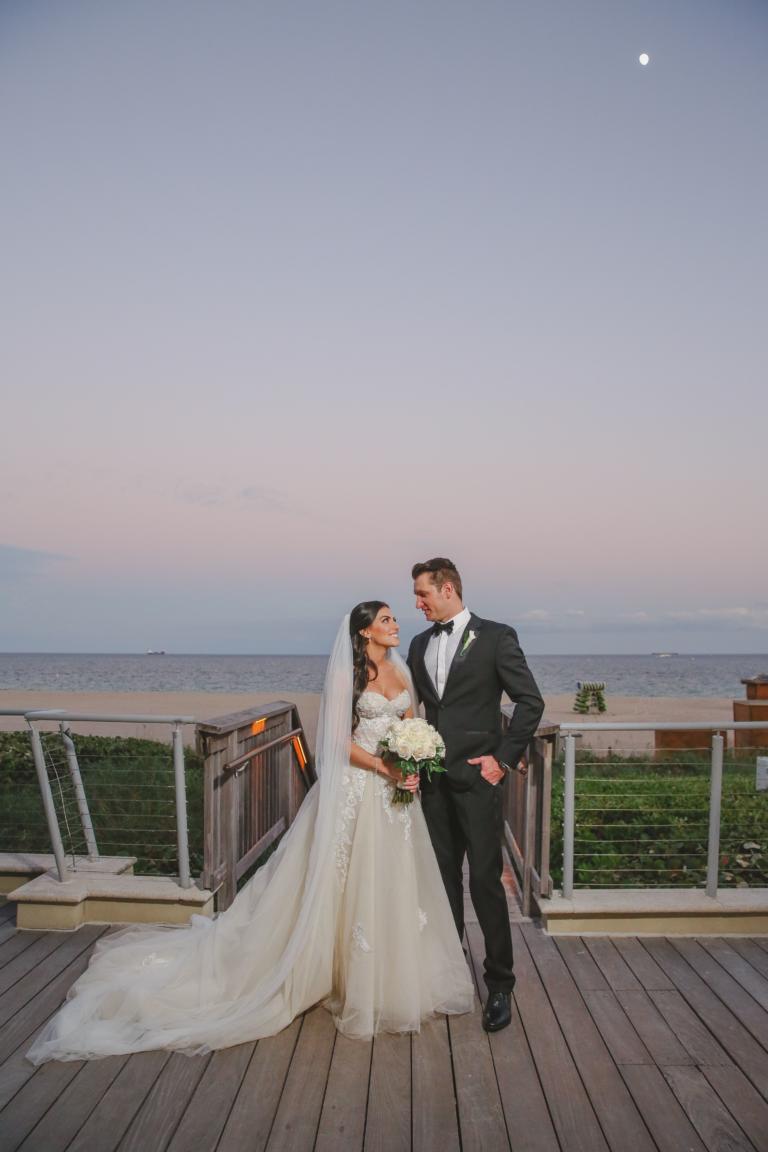 What was your wedding theme?

I wanted a sophisticated, elegant, romantic, soft, whimsical and fluid beach vibe. Our wedding was black tie and I loved how everyone looked so classic and timeless! I love color so we had a beautiful flower arch for our ceremony and our centerpieces were giant flower arrangements with tons of color. Attention to detail makes such an impact and I added in lots of little elements scattered throughout to contribute to our theme.
How did you choose your location?

The venue honestly spoke to me and was just in our backyard. It was so convenient and easy. It made for the perfect vacation spot for our guests too!
How did you decide on your bridesmaid style?

Black is always elegant, timeless and everyone looks good in black!
How did you find your perfect dress?

I actually found my dress online on Galia Lahav's IG page. I saw the Gia dress and thought WOW! I saw they were having a trunk show at Boca Raton Bridal so I scheduled an appointment. My mom, grandma, and sister-in-law accompanied me to the store. I put on the dress and it took my breath away. I tried on a second Galia Lahav dress and that one was equally as stunning. However, Gia spoke to me more. I love the softness of the champagne color and the tulle is absolutely gorgeous and flowy. I've never seen a more stunning dress. I had so much fun at all my fittings because I was so in love! I wish I could wear my wedding dress every single day because it is so magical!
How was your experience with the Galia Lahav brand?
What was the most important thing for you and your husband when planning your wedding?

I wanted to make sure we never lost our sense of self and the wedding was always ours! Our ceremony was a huge part of our wedding and I wanted it to be special and unique to us. We had our two french bulldogs, Norman and Jean Claude, walk down the aisle. I loved that I could see their squishy little faces as we said "I do"! It was all so surreal and our hearts were so full of love and joy!

We also wanted to make sure everyone had as much fun as possible and that the food was superb!
What did you enjoy the most about planning your wedding?

I honestly loved it all! Fantasizing and dreaming about your wedding is a huge undertaking. Seeing it all come together is a true art. I loved everything about our wedding. I have to say though my dress fittings were probably the most fun. I was just so in love with my dress that I couldn't get enough of it!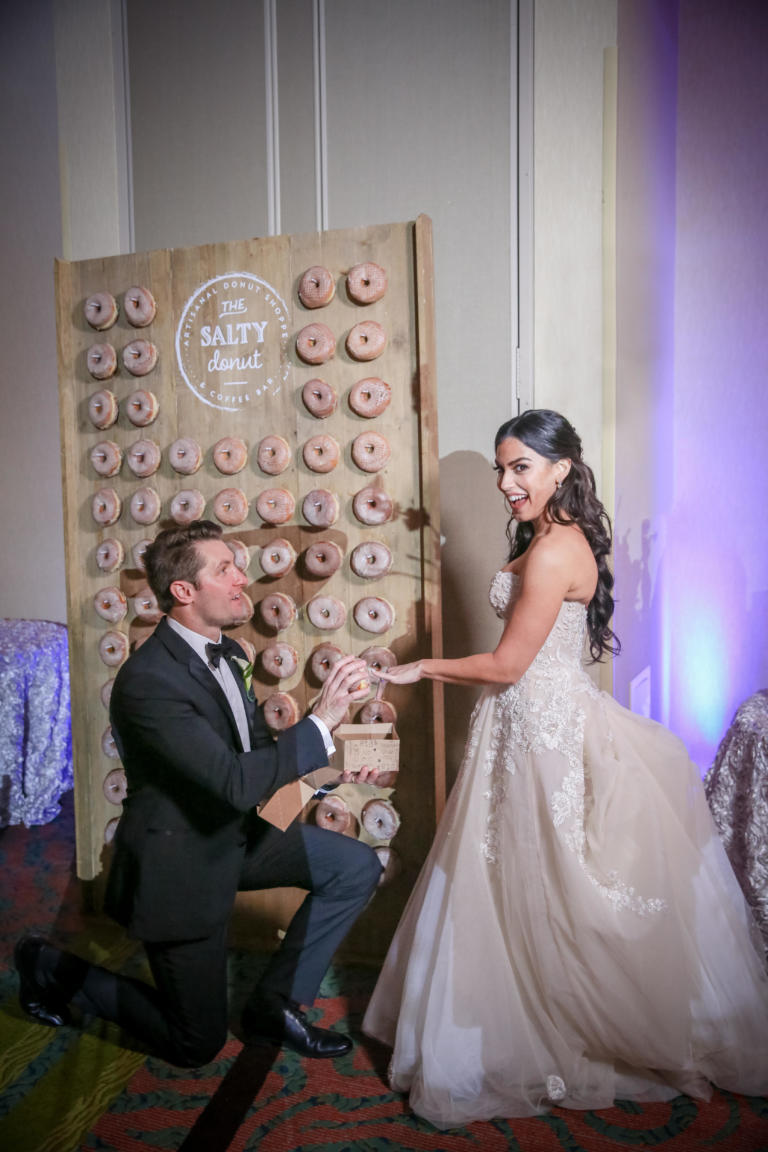 What advice would you give to all our future brides?

It's so important to not lose your sense of self throughout the process. It's obviously very easy to get swept away in the process. Make time for yourself to do non-wedding-related things. Make time for you and your fiance! Try to remember that this is just the beginning and you have the rest of your lives together. Being engaged is such a fun time that you will only get once!

Organization and attention to detail are key! If there's ever a time to overthink and hypothesize about what might happen, this is the time! Make sure you print out a list of contact information with all your vendors and important phone numbers. On the big day, you will be a little busy…. So, make sure you appoint small tasks to a couple of people. Don't forget to eat and stay hydrated! On the day of, just enjoy the fruits of your labor and marry the man of your dreams!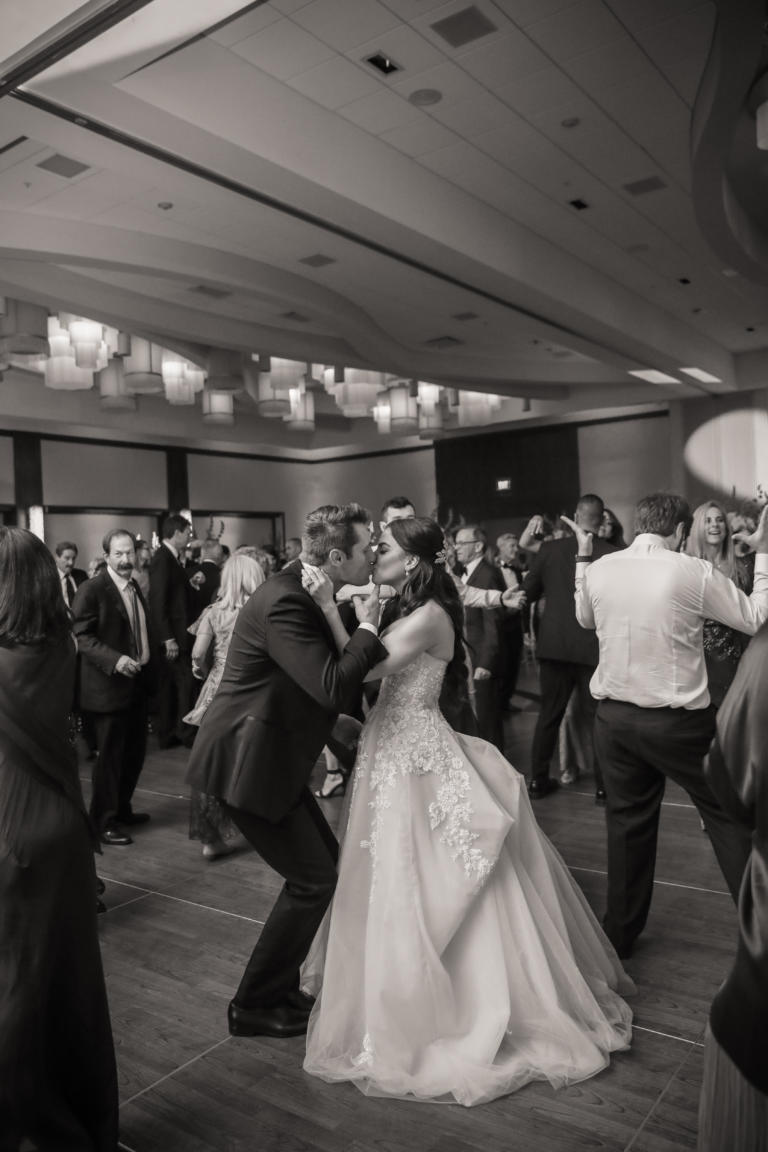 What moment from your wedding will you never forget?

I will never forget the butterflies I felt in my stomach as I approached my husband for our first look. I tapped him on the shoulder and I was so excited and eager to see him, and for him to finally see me in my dress. When his eyes met mine and I saw how choked up he was I nearly lost it. I would've completely lost it except I told myself, Dana, you cannot ruin your makeup hold it together! I am so glad we did the first look because I don't think I would've made it through our ceremony with overwhelming emotions.

I also loved that our french bulldogs were at our wedding! They were our loves before we were in love.
Finish your registration for {City} Trunk Show