FREE SHIPPING & RETURNS WORLDWIDE!

DUTIES & TAXES COVERED WORLDWIDE
Find your nearest boutique
Our #GLBride of the Week is Charlotte Morby, who enjoyed her whimsical English wedding in our Rhiannon gown. Charlotte and her fiancé Jack tied-the-knot at the fun and stylish country house Aynhoe Park in Northamptonshire, England. In the following interview, Charlotte shares with us the moments leading up to her big day as well as her unique experience of becoming a GL Bride.
How They Met

Charlotte and Jack met on the location-based matchmaking app called Happn, and as luck would have it, they both lived in the same area of London. The pair had their first date at the Columbia Road Flower Market in London, followed by dinner at a beautiful rooftop restaurant and cocktails afterward.  

Jack later revealed during his wedding day speech that he showed up to their first date 1 hour and 43 minutes early to check the route they would walk from venue to venue, and make sure he wouldn't make any mistakes during the date. 
The Proposal

The proposal took place on the morning of Good Friday, 2018. As Charlotte told us, she thought she was going to have a quiet long weekend at home. The two had just purchased their first flat and planned on going shopping for furnishings over the weekend. They also planned to start the weekend off with CrossFit in the morning (something Jack previously always refused). 

At 8 am, Charlotte was woken up by Jack hovering at the end of the bed; he couldn't wait for her to wake up as he'd been up waiting since 4 am. He then told Charlotte how much he loved her and got down on one knee. Charlotte said it was such a surprise that she didn't know what was happening until she saw the ring.   

The two then went to Claridge's, where Jack had planned a celebratory champagne toast with family and friends, followed by dinner at the Mandarin Oriental by Henston Blumenthal.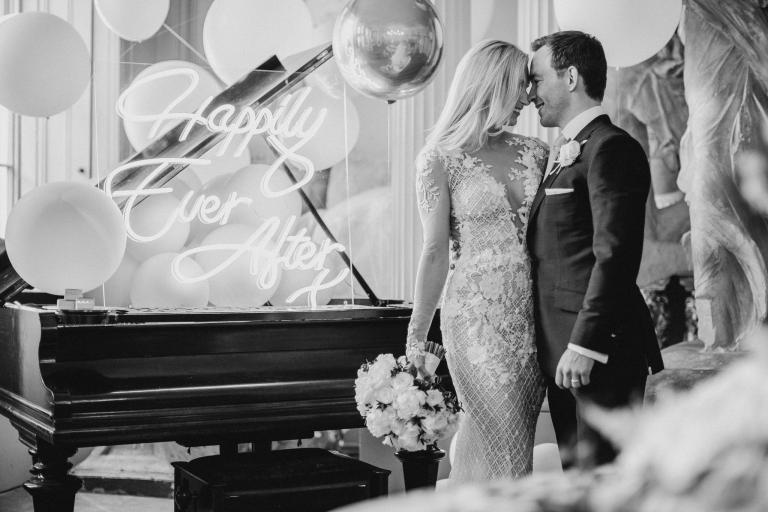 The Wedding Plans

Charlotte knew her first step to planning her wedding would be to find a venue. She knew it would, to some extent, influence the wedding theme, and that in turn would influence what she wanted in a wedding dress. 
Prepping For The Big Day

Skincare was crucial for Charlotte, as she always struggled with her skin. She decided to embark on a celery juice journey, which involved her drinking a pint of pure celery juice every morning. The results made her skin look amazing for her big day. Charlotte and Jack also worked with a joint personal trainer to work out together and spend time with each other.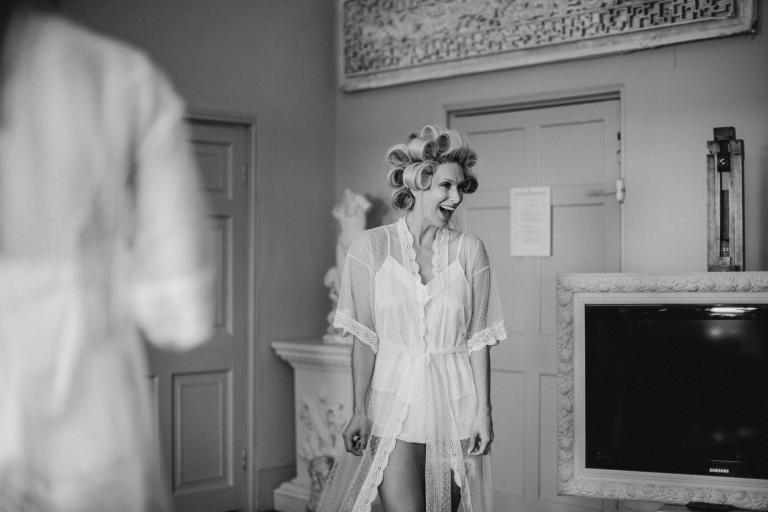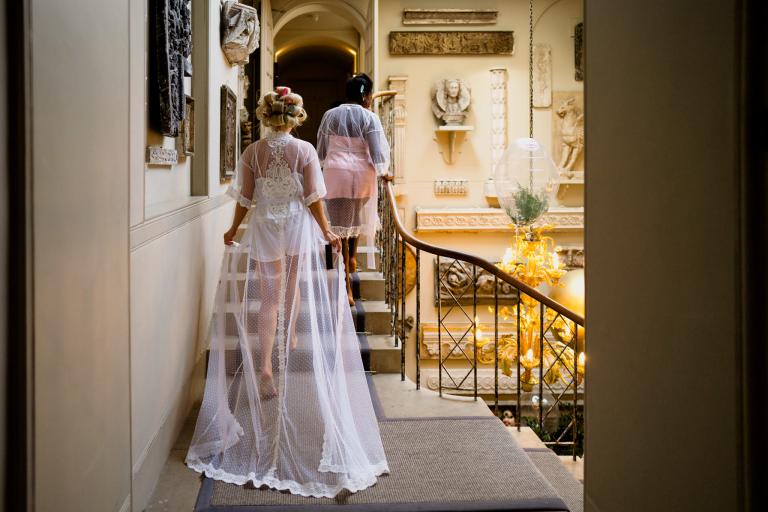 The Wedding Theme

Charlotte and Jack both love flowers; their first date was even at the Columbia Road Flower Market. Charlotte told us Jack would buy roses for her on birthdays and Valentine's Day, and they would always keep a vase of fresh roses in the hallway. Roses for them not only represented romance but their home together.

The couple knew right away that flowers would be at the center of their wedding, and roses would be the perfect choice to compliment all the decorations. Since they were getting married in May, peonies, along with larger installments of hydrangeas, pink stocks, and pale pink astilbes, were featured.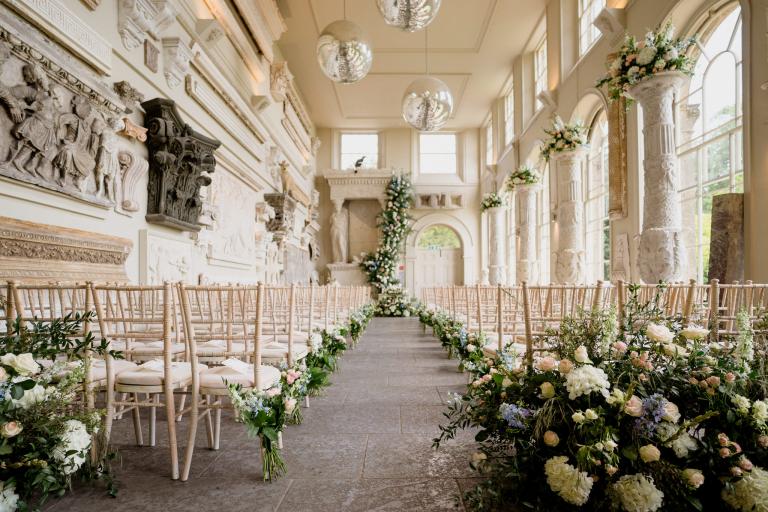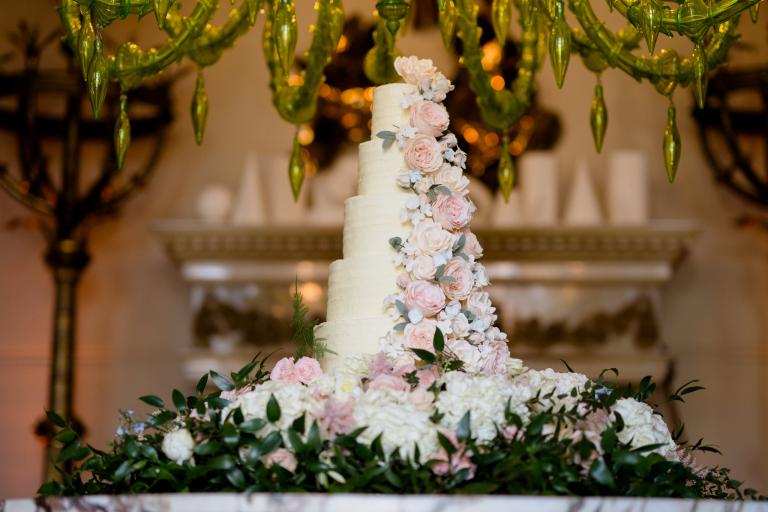 The Location

During her search for a venue location, one of Charlotte's bridesmaids had sent her a picture of Aynhoe Park. That's when she instantly knew it was the venue for their big day. When the couple visited the venue, they fell in love with everything from the suspended giraffes to the white stags in the lush fields. Finding a place that was both fun and stylish, and would be a stunning backdrop for an English wedding was important for the two, and Aynhoe was like no other place they had seen. 
The Bridesmaids

As the wedding theme was romantic in style, Charlotte felt it was only natural for the dresses to be blush.  She chose more classic and long styles that would match the British vibe of the venue. Charlotte also gave her bridesmaids the option to select different necklines, but when they tried them on, they ended up liking the same one. 
The Perfect Dress

Charlotte started her search online and found two designers she liked, which were both stocked at boutiques in London. She decided to try on Galia Lahav first as it was her number one choice. Charlotte said once she saw the designs in person, there was no competition, the designs were stunning, and the beading and appliqué were exquisite. She knew at that moment that she was going to be a Galia Lahav Bride.
The Galia Lahav Experience

Charlotte attended our Trunk Show, where she met our designer Sharon. She noted that the variety of dresses she was able to try on was exceptional, and she felt fortunate to have such a selection to choose from. Once she had chosen her dress, Charlotte decided she wanted the back altered.  She praised Sharon for being so accommodating and devoted to making sure we achieved the perfect dress for her. She felt reassured knowing she was in the hands of a professional who also cared that she would have her dream dress. 
The Most Important Part When It Comes To Wedding Planning

The couple agreed that taking little breaks from planning every once in a while was the most important part. Since it would get very stressful at times, the two would take a break for a weekend every now and then to spend some quality time with each other. 
The First Song

Charlotte and Jack selected Ain't no Mountain High Enough – Marvin Gaye & Tammi Terrell as they wanted a song everyone would know and want to get up and dance to.

The two also attended dancing lessons before the big day at the Pineapple Studios in Covent Garden to make sure they had a decent routine down.
Moments She Enjoyed Most

Charlotte shared that she loved the smaller events leading up to the wedding, including seeing their family and friends at the engagement party, food and wine tasting with the parents, overindulging during cake tasting, and visiting the venue for the first time.
Advice for Future Brides

Charlotte's advice to future brides is to plan to go on one wedding dress appointment alone. She felt she had ended up trying on too many dresses because she was trying to please everyone rather than focusing on what she wanted. If she had made it to one appointment alone, she would have made up her mind on what she wanted from a dress much easier.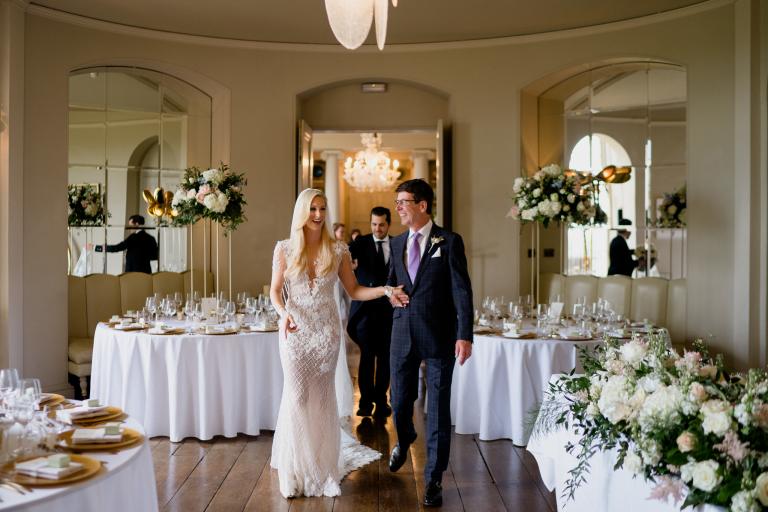 The Moment She'll Never Forget

Charlotte shared with us that she loved every second of her wedding day. Her father's speech was incredible, the orangery lit up for the evening reception was breathtaking, and having a friend surprise them with a helicopter to depart in was phenomenal.

Charlotte said she was also completely overwhelmed in the most beautiful way when the doors to the ceremony opened. Everyone turned around to look at her, and she finally saw Jack standing there at the end of the aisle.

She couldn't believe she was about to marry her Prince Charming, surrounded by their friends and family wearing her dream dress and with a unicorn in tow. It was beyond anything she could have dreamt of as a little girl, and beyond what she could have imagined as a woman.
Finish your registration for {City} Trunk Show