FREE SHIPPING & RETURNS WORLDWIDE!

DUTIES & TAXES COVERED WORLDWIDE
Find your nearest boutique
Members of the Aquarius sign are eclectic, forward-thinking and creative! You're a visionary in every sense of the word and won't be limited by any boundaries, be it regarding your style or your passions. So let your zodiac sign, and Galia Lahav, guide you.
REVOLUTIONARY & BOUNDARY PUSHING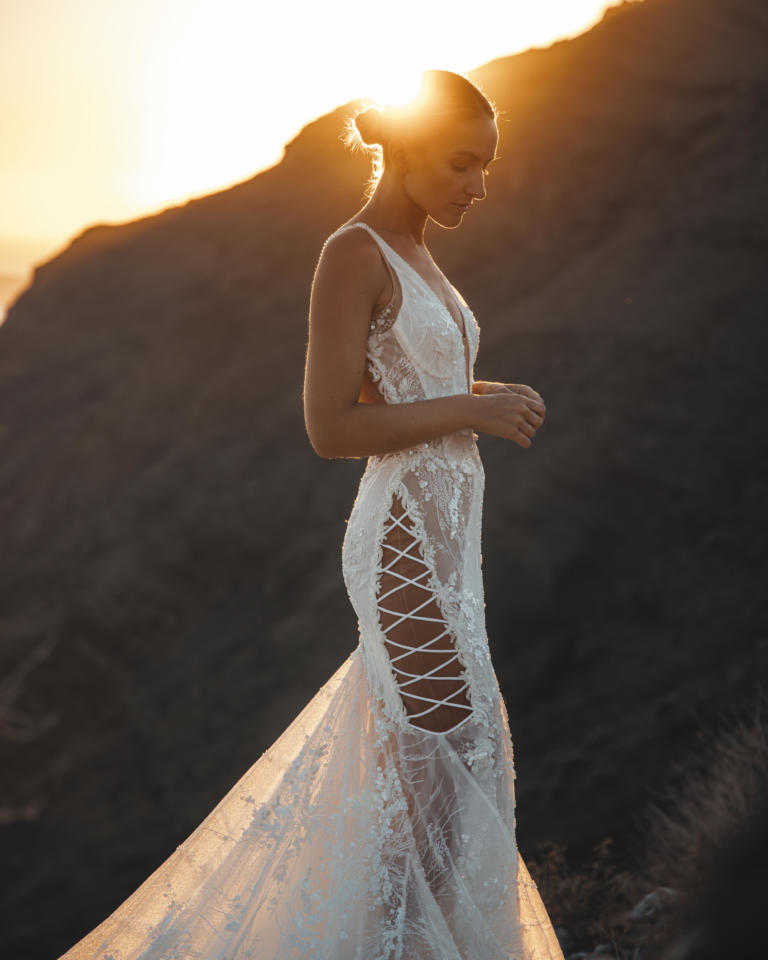 RIDER

"Rebel Rebel…" That David Bowie glam rock classic could be about you. You're a revolutionary at heart and bristle at any attempts to try and keep you in a box. So, you love to give us a shock here and there and always keep us guessing — kind of like this dress. Intricate beading and delicate lace illuminating a trumpet silhouette and a majestic cathedral train celebrate tradition and elegance. But then jaw-dropping cut-outs, saucy lace-up details and ultimate body-sculpting drop the ultimate bombshell.
DELL

You have big ideas and are constantly driven to make an impact in your community and beyond. Like to your life partner, you're dedicated to your beliefs and values and that's how you present yourself to the world, especially on your big day. A sleek, clean silhouette telegraphs your steadfast commitments and perseverance, while straightforward bow-embellishments make a clear and direct statement. A clean, distinct line across the bodice projects strength to showcase your literal and figurative powerful strides down the aisle — and through life.
NOUVELLE

Yes, you're starting a new chapter with your life partner, but you still pride yourself in your independence and self-determination, which, of course, your soul mate also cherishes. You're a free spirit and your dress should embody your liberated nature. Dreamy, ethereal silk tulle layers flow with an unrestrained vibe. While, off-the-shoulder puff sleeves feel whimsical and romantic to roam free with your imagination and ambitions. Look closely, as the delicately ruched detailing on the sweetheart neckline, and the detachable sleeves, offer the unexpected (and more than one look!).
LADY G

You're never one to follow the crowd or bother to even try and fit in. How boring is that? Your non-conformist nature runs the gamut, from your eclectic and adventurous interests (birding, skateboarding and crochet, anyone?) to your singular and fun sense of style. So push the envelope — and the definition of ballgown — with rich satin, detachable puff sleeves, and a chic peplum. Then, turn runway inspiration on its head by combining a touch of '90s grunge and a square neckline with a voluminous gathered skirt paying homage to Old Hollywood. But careful, you'll probably set a whole new trend for others to follow.
Finish your registration for {City} Trunk Show