FREE SHIPPING & RETURNS WORLDWIDE!

DUTIES & TAXES COVERED WORLDWIDE
Find your nearest boutique
Before that walk down the aisle comes the rehearsal dinner; a fashion preview of sorts where you can nod to your wedding dress—or do something completely different. You can factor in the venue and the formality level, but what matters most is your own personal style; the look you choose for the night before the big day is really totally up to you. This is your fantasy moment—so go for it. One way to choose your rehearsal dinner outfit? Use your wedding dress as a jumping off point.
Your pre-wedding look can act as a prelude to the big reveal, hinting at your bridal gown with similar shapes, fabrics, or embellishments. It can also be a fun way to venture to the other end of the fashion spectrum: By opting for a rehearsal dress that starkly contrasts with your wedding gown, you get to show off a totally different side of your personality and style. Whichever direction you choose to go, there's a Galia Lahav creation that can get you there. For inspiration, check out these stunning rehearsal dinner look/couture wedding dress combos; each pairing is a match made in heaven.
Querida + Gala 605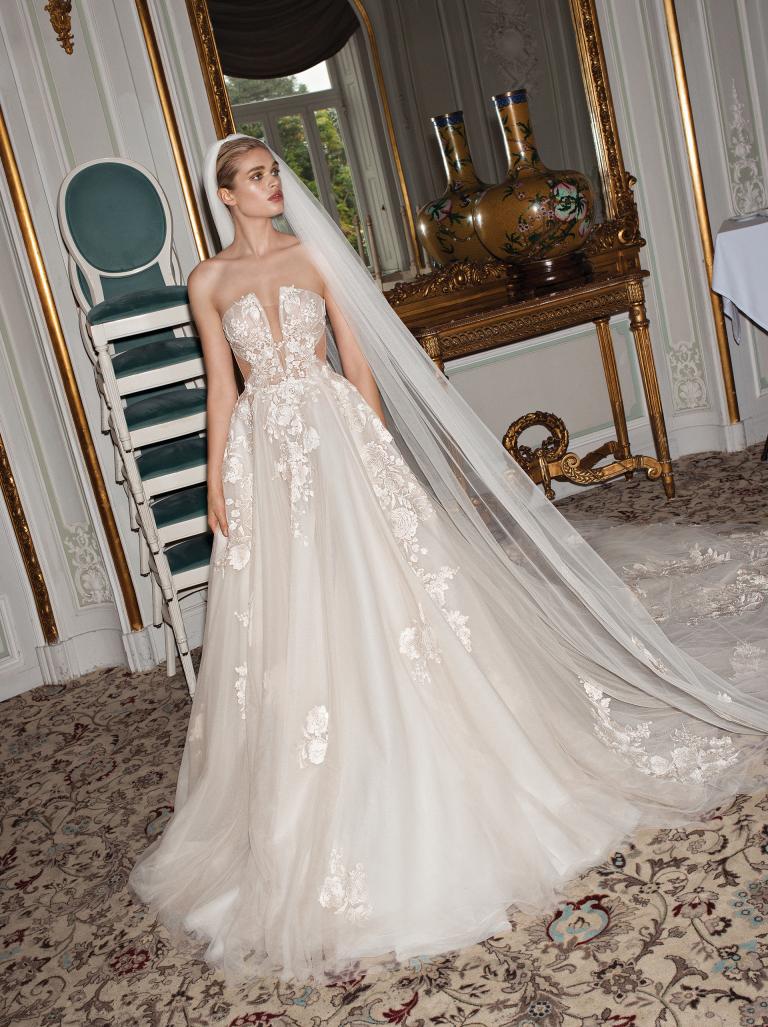 Hint at the embroidered embellishments and subtle sheer details of your couture wedding dress without spoiling the surprise. Gala 605 lets you go seriously sexy (and sparkly) for your pre-wedding party, all while throwing clues to the majestic Querida ballgown—a sexy wedding dress in its own right.
Camilla + Bergmans Casablanca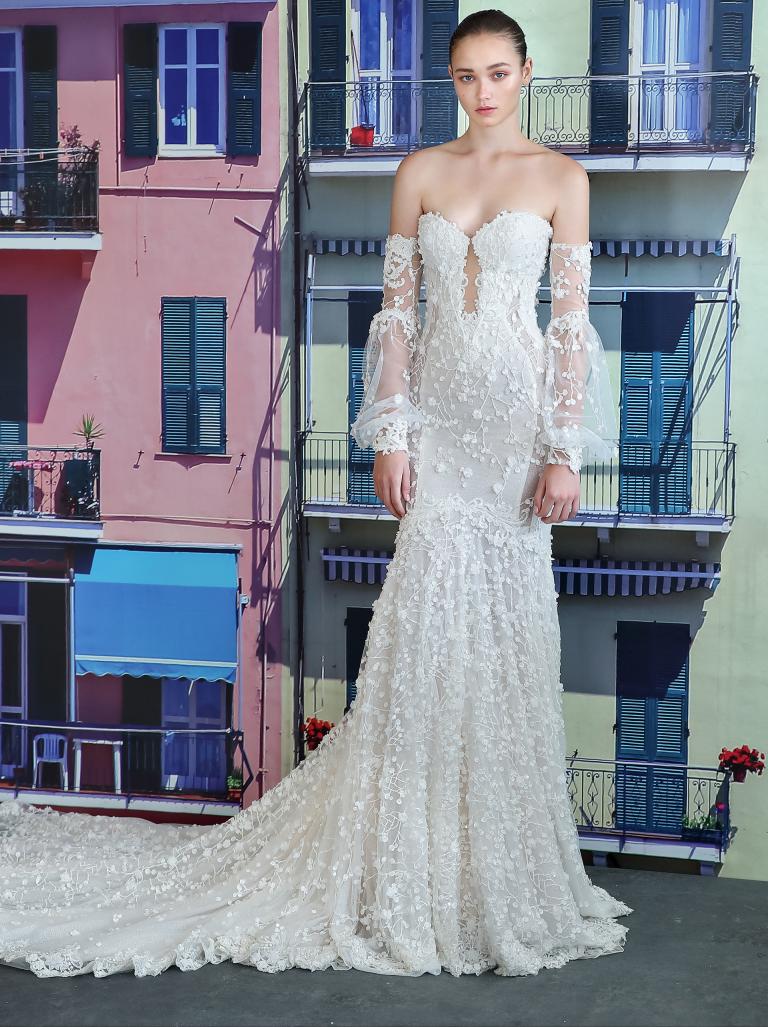 Going ultra-romantic with your wedding dress? Keep the theme going by opting for a rehearsal dress that has similar feminine details like a strapless corset bodice, billowy off the shoulder sleeves, and 3D floral detail. In striking black (who says rehearsal dinner dresses need to be white?) Bergmans Casablanca is an edgy, sexy prelude to your Camilla couture wedding dress.
Magdalena + Gala G211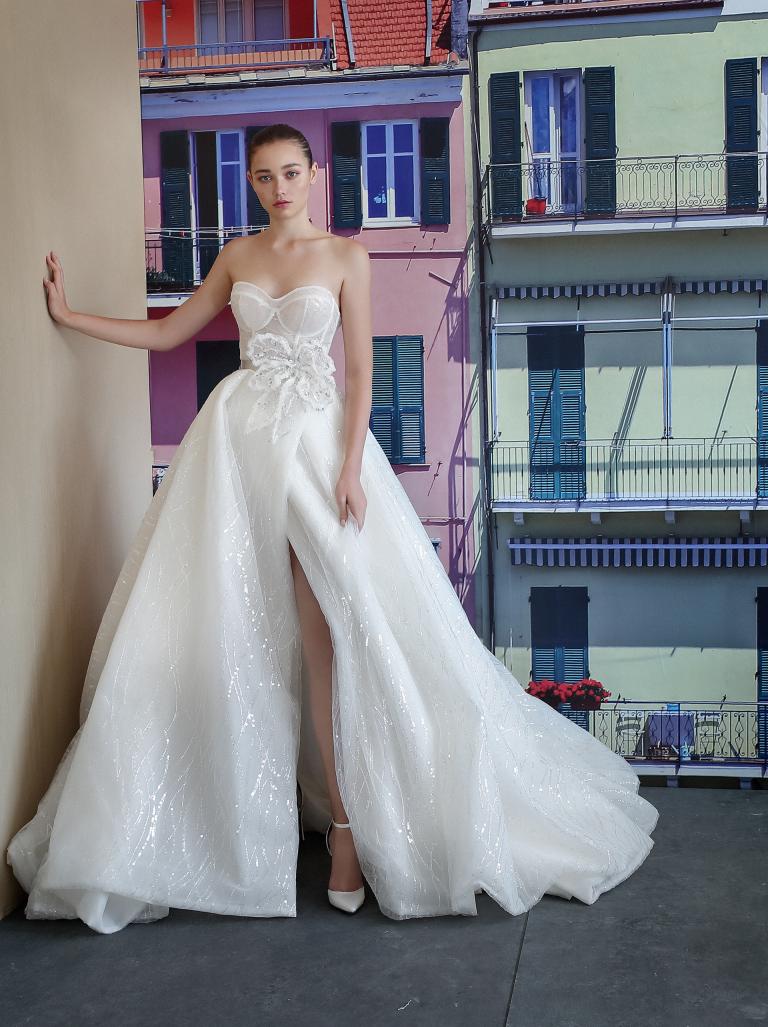 Belted corset bodice? Check. Dramatic full skirt and floral embellishment? Check. The Magdalena couture gown and Gala 211 have several stunning details in common—and complement each other beautifully. Think of the Gala G211 pantsuit as Magdalena's more playful younger sister: The perfect fashion-forward piece for your rehearsal dinner.
Estelle + Stella Max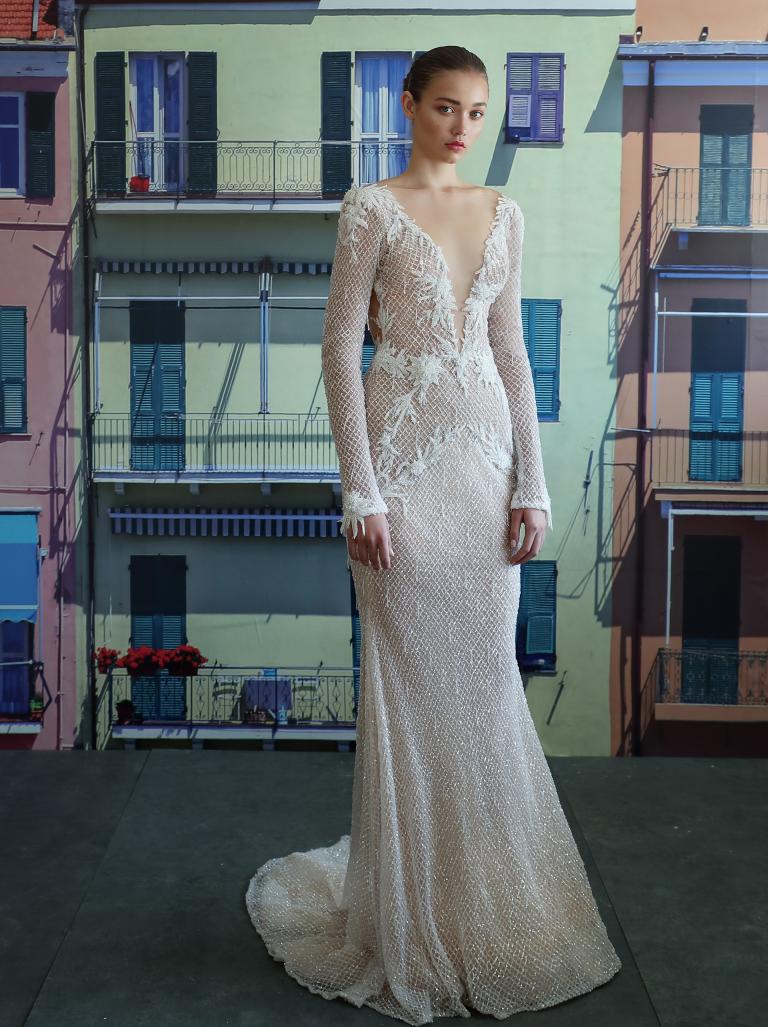 If you know the silhouette that works for you, stick with it. You can find the same long sleeves and plunging neckline of our super sexy wedding dress, Estelle, in the metallic Stella Max–a party-perfect number that shows off your legs and some gorgeous rehearsal dinner heels.
Bellina + Dreamy Novak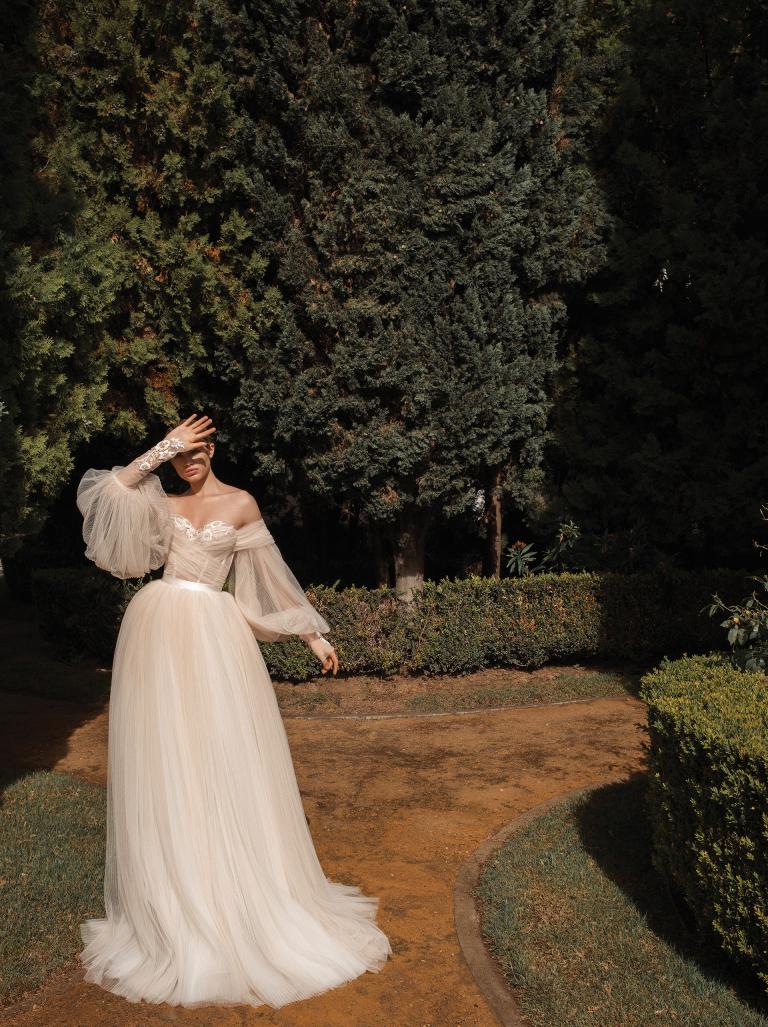 Just like rehearsal dinner dresses, bridal gowns don't have to be stark white, either. Our Bellina couture wedding dress in shades of ivory and blush is regal and romantic at the same time—just like our Dreamy Novak gown in nude. Both looks mix intricate pleats with feminine details and flowing silhouettes. The result: Dramatic coordinating dresses for the rehearsal and the main event.
Fabiana + The Monroe Bloom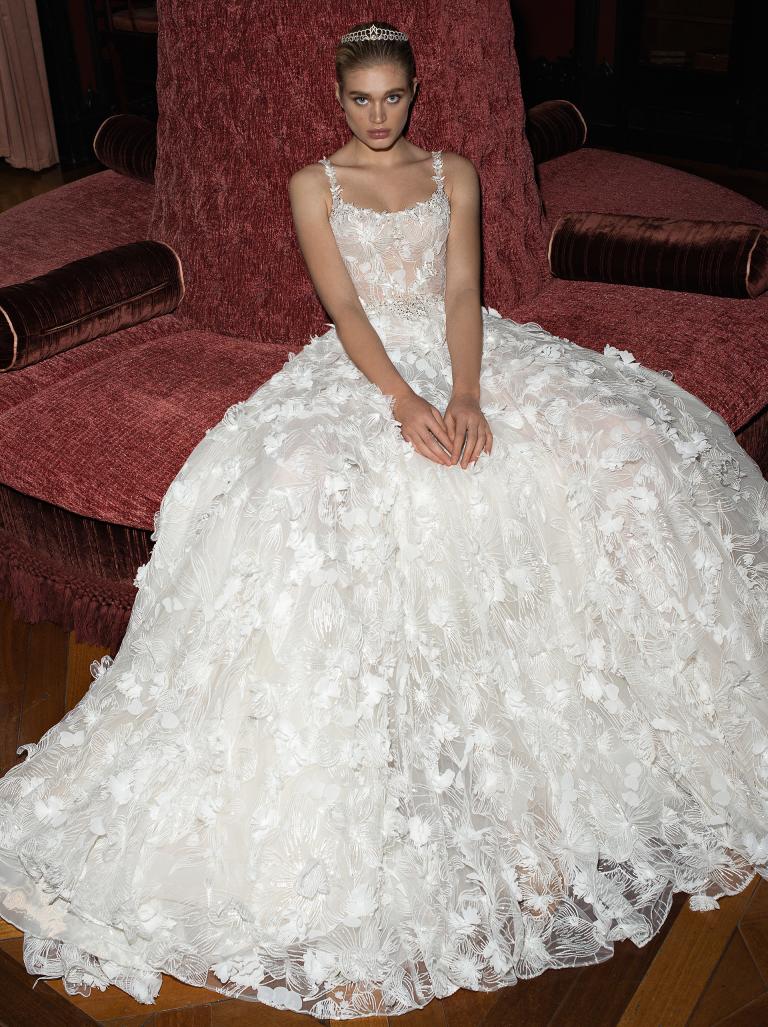 Love 3D floral details? So do we. With the Fabiana gown, you get them in the form of a classic scoop-neck ballgown silhouette. The Monroe Bloom features pretty petal texture, as well, with its oversized flower balanced out by the strapless neckline and mini length. Think of the Monroe Bloom as the yin to the Fabiana's yang.  
Nissa + Gala 611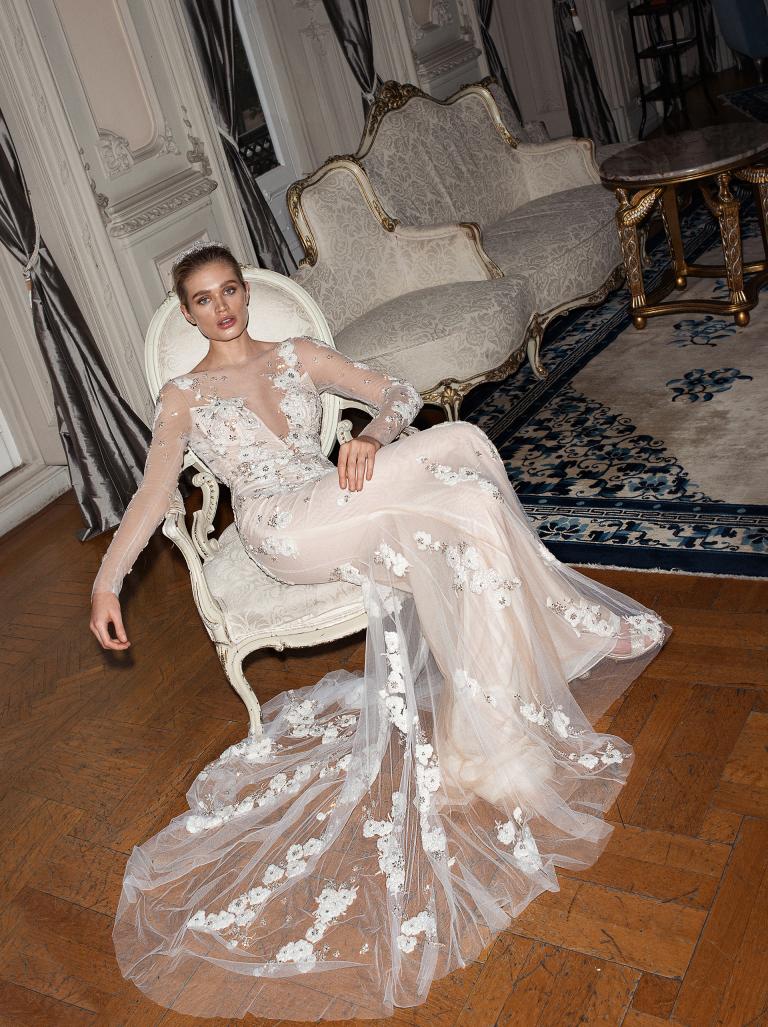 The semi-sheer details and organic 3D floral embellishments make the Nissa gown and Gala 611 combination dress an unexpectedly complementary pair. Their different silhouettes set them apart as rehearsal dinner and wedding options but their shared romantic, vintage-inspired vibe brings them together as the perfect bridal combo.
Aida + Gala 810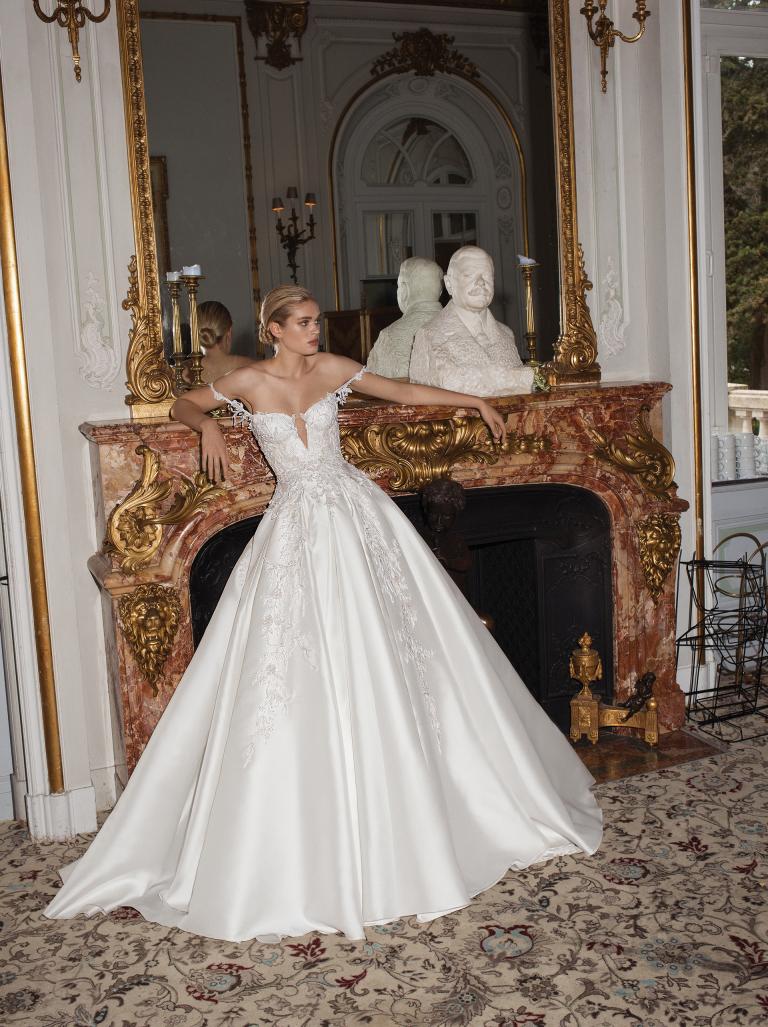 Want to surprise your guests (and your soon-to-be-spouse) with a regal ballgown like the Aida? Throw them off the night before by donning a soft a-line silhouette. The ethereal Gala 810 is mostly solid with a touch of embroidery, just like your couture wedding dress, but the uniquely distinct vibes set these two dresses apart—and ensure your bridal gown elicits gasps when you make your entrance.
Finish your registration for {City} Trunk Show