FREE SHIPPING & RETURNS WORLDWIDE!

DUTIES & TAXES COVERED WORLDWIDE
Find your nearest boutique
Weddings are often compared to fairy tales, and a dress with a train can add some extra magic to your big day. The train is the part of your dress that trails along the floor behind you. Trains can be long or short and can help any bride feel like a princess, no matter what style dress you choose.
There are seemingly endless types of trains available for wedding gowns, which can make it challenging to choose the perfect one. Some brides may opt-out of a wedding train altogether, whereas others dream of the flowy look it adds to their dress. From floor-sweeping styles to statement-making lengths, couture wedding dress trains are incredibly popular for brides-to-be. 
What is a Wedding Dress Train?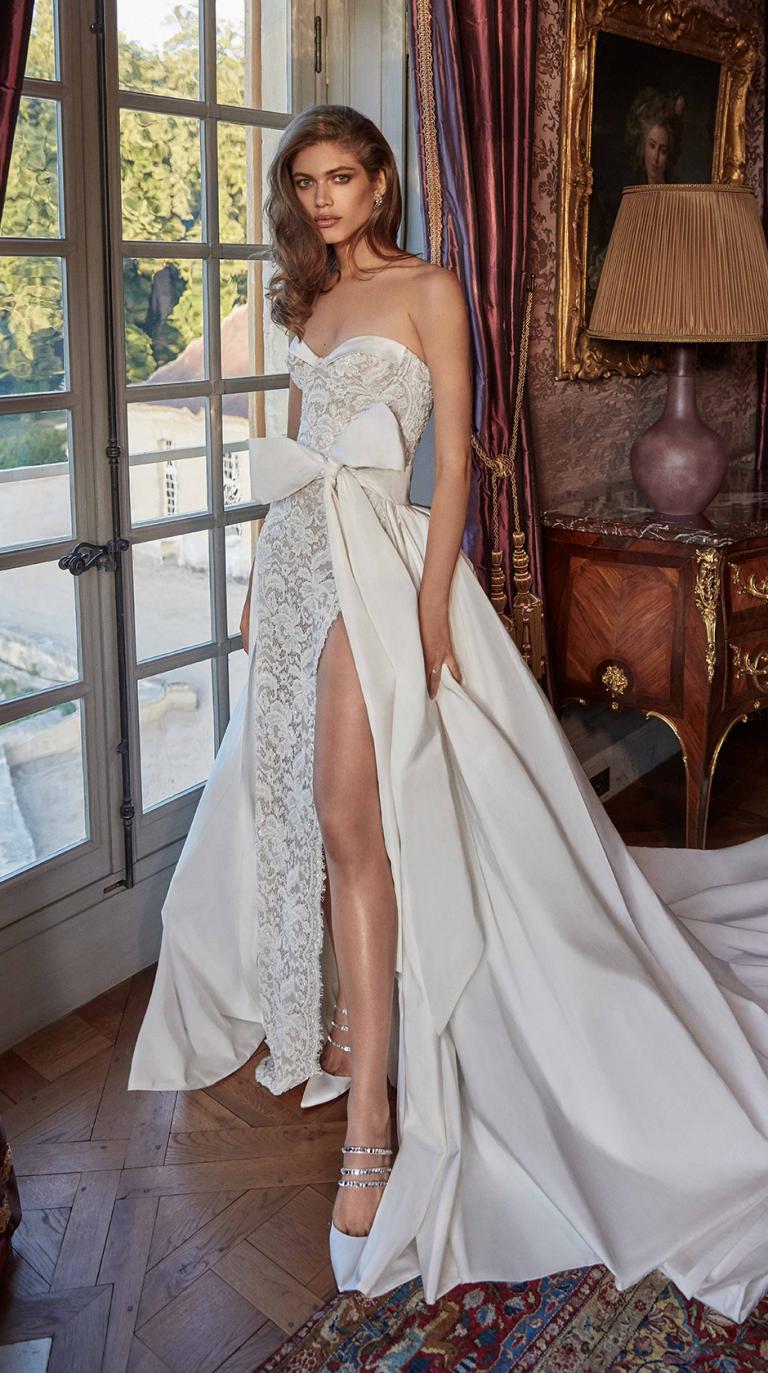 The train is the extra fabric that extends from the back of your wedding gown. It is meant to trail behind you as you walk down the aisle and can be a part of your skirt, a detachable piece, or even attach to your shoulders like a cape. You may already have an idea of what type of train you want, but there are a few things to consider before shopping.
Where are you getting married?

The setting of your wedding has a significant impact on what type of train you should choose. Indoor weddings can get away with much longer train lengths. However, you may want to opt for a shorter style, so it doesn't drag on the ground at an outdoor ceremony.

Will it need to be bustled?

If you are choosing a long train, you may need to bustle it to keep it out of the way for the reception. You want to research which type of bustle works best for your dress, and determine who will help you create the bustle on your big day.
Does it work with your body type? Though most trains will look great no matter what, some are more flattering on certain body types than others. Watteau, or cape trains, for example, look best on brides with small shoulders.
Common Wedding Dress Train Styles

There are many wedding train styles available, ranging from super short to incredibly long. Depending on what you envision for your big day, some styles may be better for you than others.
A sweep train is about six inches longer than the skirt of your gown and is a subtle way to add some extra flair to your dress. This style is perfect for outdoor weddings and looks beautiful on trumpet and mermaid-style dresses. As the shortest of all wedding dress trains, the sweeping style is a great way to create a relaxed, breezy look.
A court train is very similar to sweep trains, but it extends from the waist instead of the hem of your gown. This offers a slightly more formal and sophisticated look to your dress's silhouette. Court trains also look stunning with mermaid and trumpet dresses, as well as A-line or sheath gowns.
A Watteau train is a more unconventional take on the traditional wedding train. Often considered a combination of a veil and a train, it attaches to the shoulders to create a whimsical look without committing to a full train. It is detachable, can be measured to any length, and is ideal for outdoor or destination weddings.
A chapel train is usually between 12 and 18 inches in length and is the most common wedding dress train. It adds plenty of drama to A-line gowns without being too much of a hassle and looks stunning in a ballroom. If you want a noticeable train, but nothing too over-the-top, the chapel length might be for you.
A semi-cathedral train measures about halfway between a chapel and cathedral length train. Measured approximately five feet from the waist, it makes an excellent option for brides who don't want a full cathedral gown. The semi-cathedral length offers an elegant look without too much extravagance.
A cathedral train measures at 22 inches or longer, and is ideally suited for formal and black-tie weddings. They look incredible on ball gowns and A-line wedding dresses and are perfect for creating a statement as you walk down the aisle. One thing to note is that due to their length, they will require some attention from your bridesmaids to keep it looking flawless.
A royal, or monarch, train is the longest of all wedding gown trains, extending a yard or more on the floor. These trains are often reserved for the most extravagant of affairs and are not for a low-key bride. Seen often in royal weddings, Kate Middleton wore a royal train at nine feet in length, and Princess Diana's train was an incredible 25 feet in length.
The right wedding dress train will enhance the elegance of your gown. When the time comes to decide on your train length and style, be sure to consult your bridal boutique for guidance. Galia Lahav has a variety of wedding dress train options to choose from in our boutique locations all across the world. Visit us online today to browse our extensive collection of bridal wear and accessories.
Finish your registration for {City} Trunk Show