FREE SHIPPING & RETURNS WORLDWIDE!

DUTIES & TAXES COVERED WORLDWIDE
Find your nearest boutique
There are so many details to consider when making sure your dress is the perfect fit. But while peppering your tailor with questions about hem length and waist measurements, don't forget about a bra. Seriously.
Sure, some gowns have built-in cups or corsets (while others can have those pieces sewn in), but you're probably going to want to make sure your girls are supported on your big day, even if you're wearing a dress with a complicated halter neck. Ah, there's so much to consider…which is why we pulled together this handy guide to keeping your bridal gown looking lump- and bump-free, while keeping you feeling beautifully supported.
Deep V x Estelle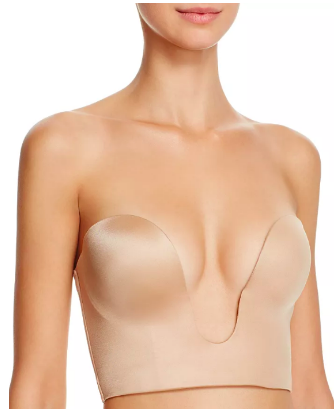 If tasteful cleavage with just a hint of support is your goal, look for a plunge bra. These smart pieces of lingerie feature a gore (the center fabric that connects the two cups) that sits very low on your ribcage. The shape of the gore should mimic your dress' neckline—either a sharp V or a softer U-curve—so that you minimize the chance of a peek-a-boo moment. These bras are usually convertible, meaning they can work with all types of straps, from halter to tank and even racerback.
Fashion Forms ($34), Fine Lines ($54), Va Bien ($85), La Perla ($195)
Low Back x Rhiannon
Show off that back (and the tan you got in Italy) with a bra that hooks much lower than you're used to. There are a few options here: you can opt for a style with a closure that lengthens down towards your lower back and usually wraps around the front of your torso before coming to a hook and eye closure or you can take your all-time favorite bra and hook on an extension that does the same exact thing. Make sure to try this bra out before wearing it on your wedding day, as the closure can be tricky to figure out.
Fashion Forms ($9), Va Bien ($64), Scarlett Blue ($68), Simone Perele ($120)
A Little Too Flowy x Fabiana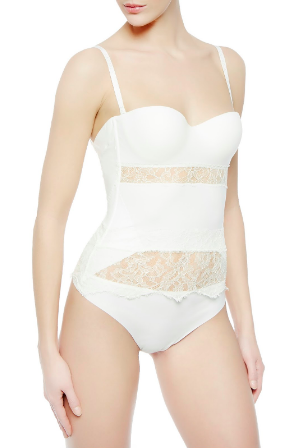 A corset might look like an ancient form of torture, but it's also a tried and true method for smoothing out your curves under a delicate fabric. Plus, not all of these undergarments are fitted with boning (some have more modern options for creating the illusion of a taut tummy). Try out a few different styles and find the one that provides the best shape—and allows you to still take deep breaths!
Totally Backless x Martha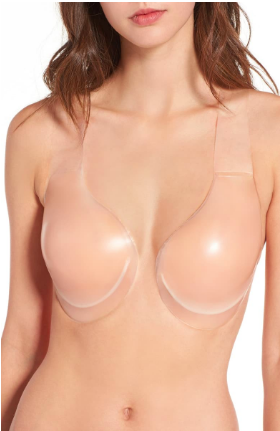 No bride should have to duct tape her boobs on her big day! For super thin straps or totally backless dresses, opt for one of these modern sticky bras that provide shape without covering too much skin. By the way, Nordstrom's in-house lingerie has plenty of options for dresses that dip all the way to your lower back. They have creative bra styles that mimic the support of straps and those that won't interfere with even the most creative neckline out there.
Cleavage Couture ($24), Nordstrom Lingerie ($36) NuBra ($40), Nordstrom Lingerie ($54),
Strapless x Alexa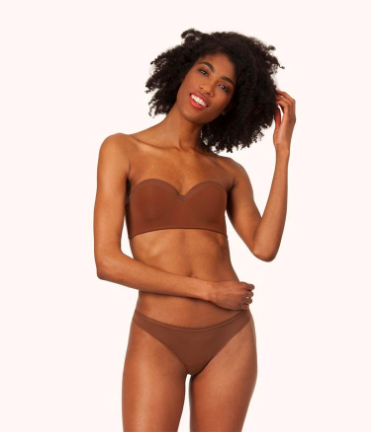 There is a strapless bra that works for you, the kind that won't slip down and end up being a belt. You just have to find the right one! Plus, you don't want to have to worry about tugging your bra up between vows, during speeches or through the first bites of cake. Read the reviews and trust that these cult-favorite strapless bras have a loyal following for a reason (that reason is that they're really good at doing what they need to do!).
Barely There x Miranda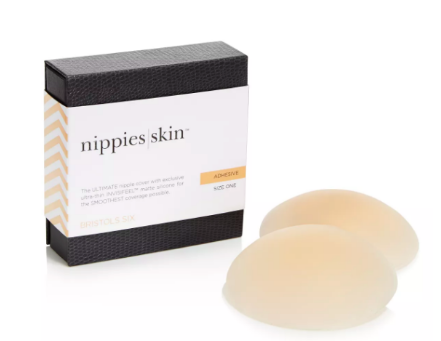 A barely-there dress calls for, well, a barely-there bra. But rather than seeking out cups for a dress that is cut super low in the front, back…and side, it's time to get creative. This is when you should reach for bra tape, nipple petals and so on. Definitely take these options for a test run before your big day and make sure you'll feel comfortable walking, dancing, kissing and hugging in them. Basically, make sure you can move and feel like you, even with little-to-no support.
The Natural ($15), Bristols Six ($26), Bring It Up ($40), Commando ($48),
Finish your registration for {City} Trunk Show