FREE SHIPPING & RETURNS WORLDWIDE!

DUTIES & TAXES COVERED WORLDWIDE
Find your nearest boutique
By Sydney Miller
The vision of walking down the aisle to the love of your life is quickly approaching the day that will become a reality. After months of finalizing details and coordinating with vendors, you're finally ready. Most importantly you're feeling great about your wedding day look.
The hairstyle has been tested, the makeup is planned out, and the dress is ready to go. These are our tips for keeping your look perfect throughout the ceremony and the reception:
Be prepared in advance
During the week before your wedding book your beauty treatments well in advance to ensure you can fit them in on time. Anything that affects your skin such as waxings or facials should be done with enough time that if your skin reacts, the redness will have time to calm down.
Avoid biting your nails or clipping them too short before getting your wedding manicure so they will highlight your rings best. Also, no increases in your workout routine that week as to not overdo it and walk down the aisle in pain.
Make yourself comfortable
When choosing what you're going to wear for the morning of your wedding, make sure that you're prepared for your hair and makeup appointments that day. It's important to wear something that can be easily removed without touching your hair or makeup. Similarly, you should have all your undergarments on already such as a nude strapless bra and any shaping wear that you'll want to have on under the dress for a proper fit. Keep your dress hanging up in the area where you'll be getting ready. Not only does this help to avoid wrinkles, but it makes a great picture for your photographer to take.
Put together an emergency kit
Prepare yourself with a bridal emergency kit for that day that will be filled with items necessary to get through any mishap that occurs along the way. Here are a few suggestions: Wardrobe Malfunctions – Although, unnerving to think about, rips, tears, and spills are all
possible. Bring along a mini sewing kit and a stain remover stick so that you or trusted confidant can help fix the issue quickly. Safety pins and fashion tape are good to have in that instance as well.
Beauty Items
Packing tweezers, clear nail polish, and tissues can help with any touch ups that may be needed. Similarly, concealer, waterproof mascara, and lipstick are essential makeup items you'll want to have on hand in between events. Finish it off with a finishing spray to help your makeup stay on longer. As for the hair, a stronghold hairspray and bobby pins should be just what you need to keep loose strands and frizz in place.
Personal items
After the ceremony and pictures, brides will often want to take a quick break to freshen up. This is where it's important to have some toiletry items on hand. Deodorant, perfume, and a toothbrush/toothpaste are the best for a quick refresh. Tampons and common over the counter medications are also good to throw in the bag for any unforeseen events.
Extras
There's often a limited time for eating during the day, so snacks and water are important for when you get hungry, and water will keep you hydrated. Make sure that your purse has the important things as well; you'll want your ID, phone charger, and some extra cash or your checkbook just in case.
These items are just tips and suggestions, so feel free to personalize your emergency kit to fit
your needs for that day. Once you've done all of the above, it's time to say "I do!"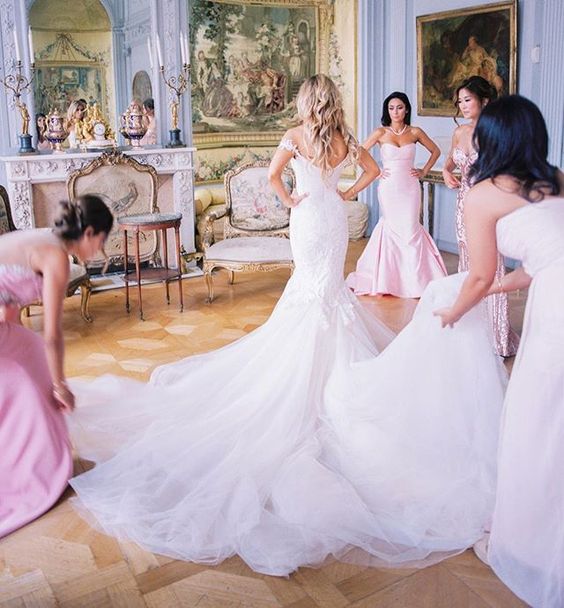 Finish your registration for {City} Trunk Show