FREE SHIPPING & RETURNS WORLDWIDE!

DUTIES & TAXES COVERED WORLDWIDE
Find your nearest boutique
And the bride wore white – or so tradition dictates. In fact it was Queen Victoria who set the trend when she wore white lace to her nuptials in 1840. Since then a white wedding dress has become a bridal mainstay and a shade that's believed to signify innocence and purity. But in modern times it's not the only colour available to brides. In fact coloured wedding dresses are becoming a more common choice for the modern bride, especially as an option for a second reception dress. So if white, ivory and cream aren't part of your big day dream look, these are the alternative shades to consider.
"My colours are blush and bashful" exclaims Julia Roberts in a southern drawl as she describes her wedding day colours in the iconic chick flick Steel Magnolias. While the film is the epitome of eighties wedding style, blush pink has endured as a favoured shade for a wedding or more specifically, a wedding dress. Sweet, feminine and also timeless, famous brides such as Portia De Rossi, Mandy Moore and Jessica Beil have opted to wear blush on their big day. To embrace the shade in all its glory, team it with a blush bouquet to match.
For the bride who wants to shine on their wedding day, silver is the standout choice. Whether in sparkling showgirl sequins, Studio 54 disco lamé or intricate beads, silver wedding dresses are not for the faint hearted. Instead, look to starlets like Lady Gaga, Jennifer Lopez and Beyonce who have stolen the show in the metallic shade. Embrace your inner diva, done your biggest jewels and be prepared for all eyes on you.
For The Sexy Bride: Nude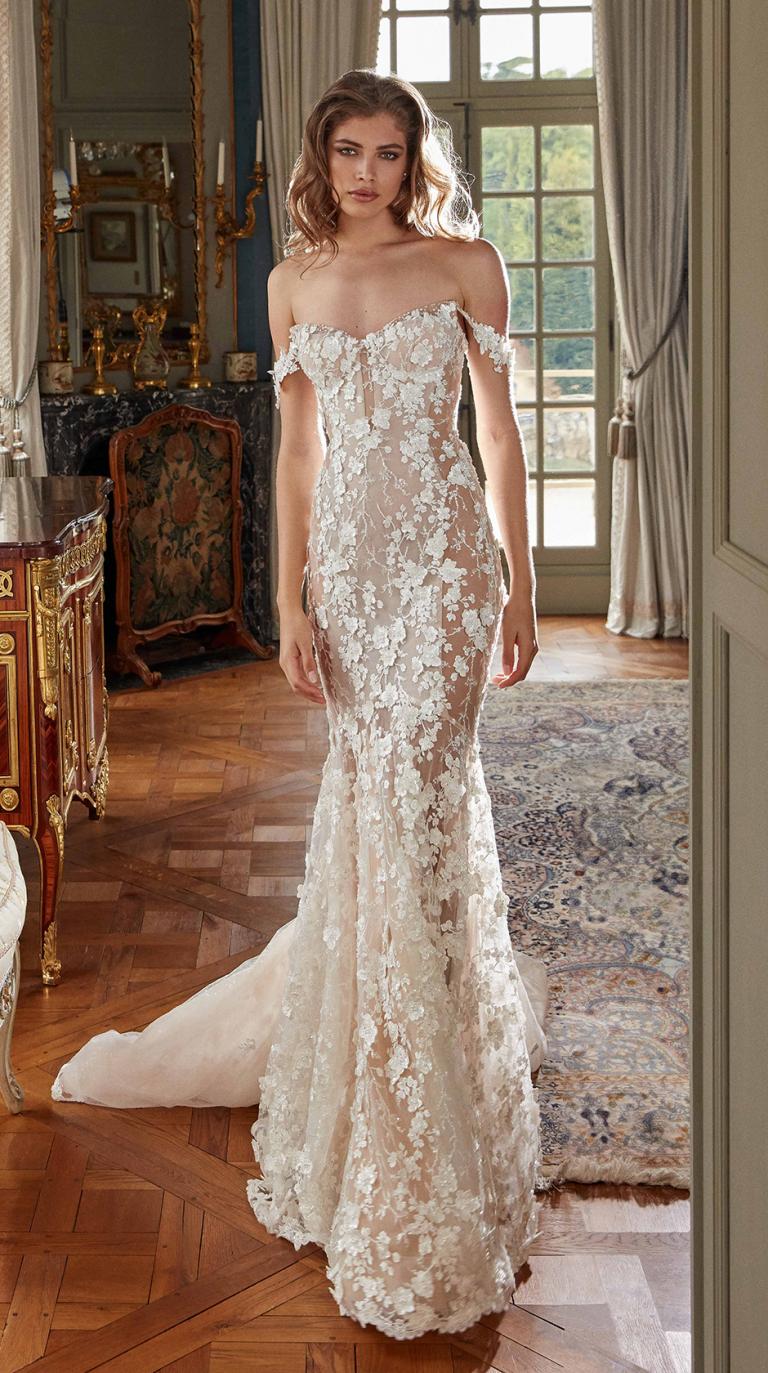 It's not just about how you look on your wedding day. It's also about how you feel, and we don't blame you if you want to feel sexy as you walk down the aisle or take to the dancefloor for your first dance. A sexy bride doesn't have to mean showing off a lot of skin either, you can still feel it and fake it with the help of a little nude fabric. Whether as a hint of nude under sheer lace or all over, nude gowns are not only a red carpet favourite, but a stunning wedding day choice too.
If blush, metallics and nudes are the classic go-to shades for coloured wedding dresses, then lavender is the unexpected alternative. Ideal for a spring wedding, lavender wedding dresses are best approached with a sense of romance and whimsy- think sheer ruffles, feathers, voluminous sleeves and sculptural bows. "I love lavender. I love the color; I love how it sounds, I love the scent, I love the flower, and it's symbolism," says Sharon Sever of the subtle use of the hue in the latest Galia Lahav collection. In fact, so true is Sever's love to Lavender he actually wore it on his own wedding day.
Finish your registration for {City} Trunk Show