FREE SHIPPING & RETURNS WORLDWIDE!

DUTIES & TAXES COVERED WORLDWIDE
Find your nearest boutique
It's one of the first and biggest decisions newly engaged couples typically make. Your wedding venue is not only the literal scene of your big day, but it also sets the scene for the overall look and feel of your wedding, from a grand fairytale castle to a romantic sun-soaked beach. Choose the right wedding venue, and your wedding dress should follow suit and further compliment the setting. To help guide you to the right gown, see our favourite wedding dresses for each venue.
A City Wedding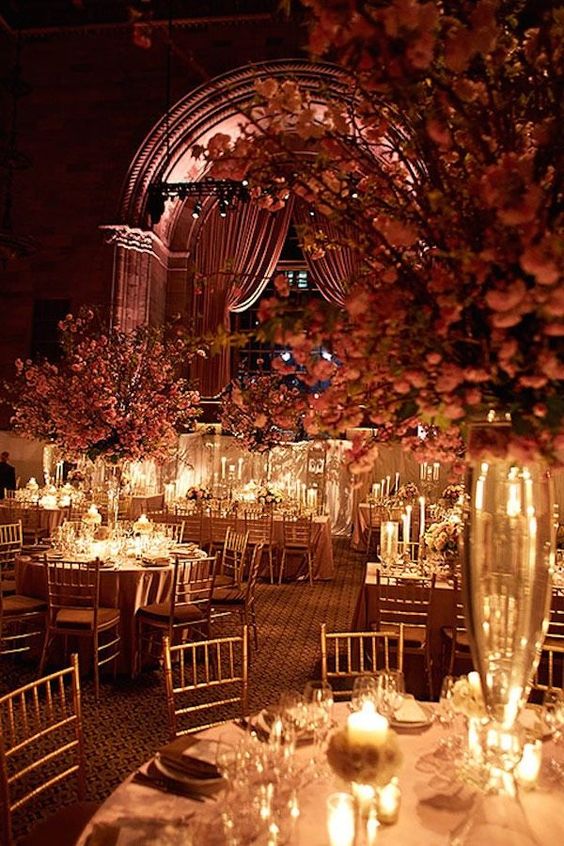 Equal parts classic and modern, a city wedding is always a sophisticated affair, whether it takes place at an iconic hotel or a buzzing restaurant. Take inspiration from the energy of the city and embrace a chic aesthetic with a black tie dress code, white flowers and gold accents. With your guests all dressed up and sipping out of Gatsby-esque Champagne saucers, you're going to want to steal in the scene in something truly special and fashion forward. Enter the Anna dress, a silk-satin column gown with a sexy thigh-high split that reveals a fabulous designer statement heel. Start the day with an elegant cape gracing your shoulders before slipping it off for the evening to reveal flattering off-the-shoulder straps. 
A Garden Wedding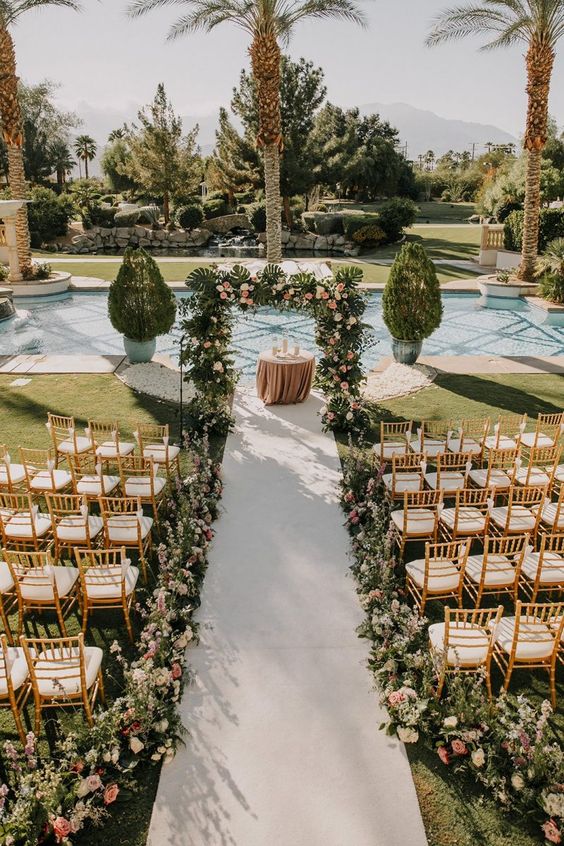 We can picture it now; it's a balmy afternoon in spring or summer and you're guests are gathering on the grass surrounded by beautiful blooms and majestic trees. A marquee is set up nearby for dinner and dancing, while the ceremony is set to take place under a floral archway. A string quartet begins to play as your bridesmaids walk down the aisle in bright cheery colours, carrying big bouquets of peonies, roses and ranunculus. And then it's your turn. To match the floral filled setting, it's got to be an equally floral gown like the Priyanka dress, an A-line gown covered in romantic 3D organza and tulle petals, with layers of lace, shimming tulle and silk tulle embellishments.
A Castle Wedding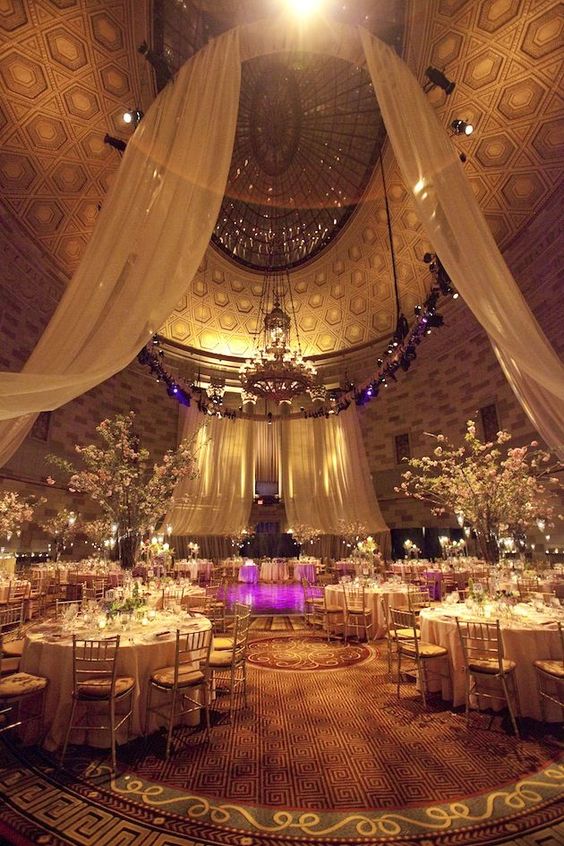 We all love a royal wedding, and now that you've met your own prince why not opt for a royal venue to match? A castle or chateau wedding venue sets the scene for a day of elegance and opulence. Embrace tradition and keep thinks classic with white table cloths, long-stemmed candles, roses and lily of the valley. When it comes to your dress, the grandeur of a castle is perfectly suited to the Estee gown. With long lace illusion sleeves, high neckline and full skirt, the Estee is a modern homage to the traditional gowns from past royal weddings.
A Beach Wedding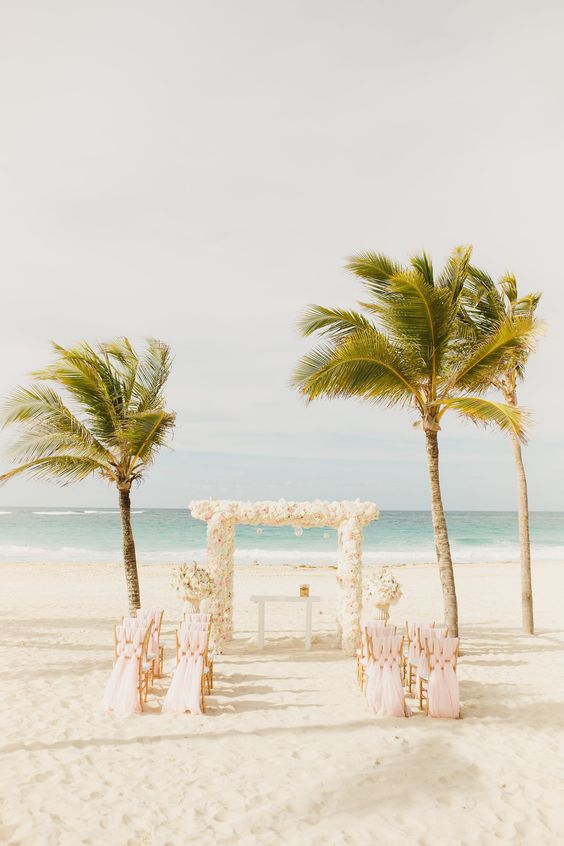 If ever there was a wedding venue that requires a certain amount of provisions from your dress, it's a beach wedding. Saying your nuptials while barefoot on the sand and in front of a majestic ocean backdrop is truly magical. To make sure it feels as good as it looks, you're going to want to choose a wedding dress that is light and ethereal, allowing you to look and move effortlessly on the sand. To be the ultimate bohemian beach bride, we love the Maya dress with it's semi-sheer fabric, off-the-shoulder straps and mermaid silhouette. Compliment the look with loose mermaid waves, bronzed skin and a bouquet of pampas grass.
A Vineyard Wedding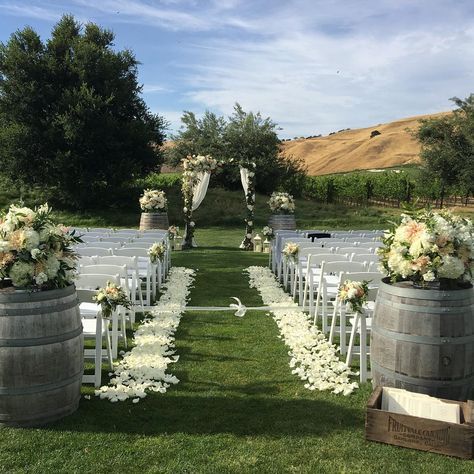 A common option for wine-loving couples is to tie the knot at a sophisticated winery set within bucolic countryside. Extra points if it takes place in autumn with changing foliage outside and a cosy atmosphere inside. With a cultured venue, the wedding theme should be equally refined. We envision long banquet tables with a focus on foliage centrepieces, rustic wooden touches and plenty of golden fairy lights to add a warming glow well into the evening. To match that glow, look to the Simone gown, which shimmers in the light thanks to the embroidered pearls and sequins. But it's the sheer cape that gives drama to the softly draped mermaid silhouette, perfect for the grown up glamour of a vineyard wedding.
Finish your registration for {City} Trunk Show