FREE SHIPPING & RETURNS WORLDWIDE!

DUTIES & TAXES COVERED WORLDWIDE
Find your nearest boutique
The back is the new front.
In today's bridal world, there's a dress out there to suit every style, taste, and shape. As styles evolve, modern brides are trading in the traditional for sexier, bolder and unique designs.  But one trend sticks out in particular.
The Backless Bride, usually a summer bride, self-assuredly opts to add a touch of sensuality to her bridal look, without compromising dress length traditions. The Backless Bride is sexy, fashion-forward and effortlessly elegant. She will confidently own that aisle, backless and proud, usually with an exquisite veil cascading down her enhanced shape. She enchants the room by flaunting her best feature.
Regardless of whether a dress has a bohemian, simple or sophisticated air, if it is backless, it is sexy. In the bridal world, backless wedding dresses vary from U to V shapes, from 2 straps to a halter neck, from a drape to a scoop style, each one carefully designed to accentuate the spinal curve of the female body.
Allegra from our Queen of Hearts Collection
A low V style is perhaps the most daring on the backless menu nowadays, but if it fits right, it can be the most flattering too. The low V creates a streamline illusion and brings the focal point inwards to the back of a bride's waist, which then exaggerates the curve of the hip. This, when combined with a voluminous fishtail train, creates the perfect, sexy silhouette of the female figure.
With the back as a new focus, designers have started to use the female back as a canvas upon which they can create the most exquisite embroidery or embellishment. The bride could go plain and simple or could have her back framed by floral artistry, scalloped lace or sumptuous jewels.
Harlow from our Queen of Hearts Collection
But why didn't brides think about this before the 21st Century? Why has the front of the dress been the focus for so long? Surely that moment of union, of saying 'I Do' with your back to your guests and your face to your spouse, that's the most important moment of the day. The Backless Bride has selected her attire to make a statement precisely at this moment.
The first backless dresses first appeared on the scene in the 1920s for the sensualized generation to show off their suntans. That seems like a typical reason for skimpy dresses today, right? However, general acceptance towards a woman's freedom to dress boldly and individually was still low: in 1937 Micheline Patton caused controversy and outrage for her backless number worn during BBC's fashion documentary, Clothes-Line. Also, no matter how much high-fashion was evolving for more liberal women back then, wedding dresses remained sacred and traditional.  Today, a bride has the freedom to have all eyes on her, and on her back if she so wishes.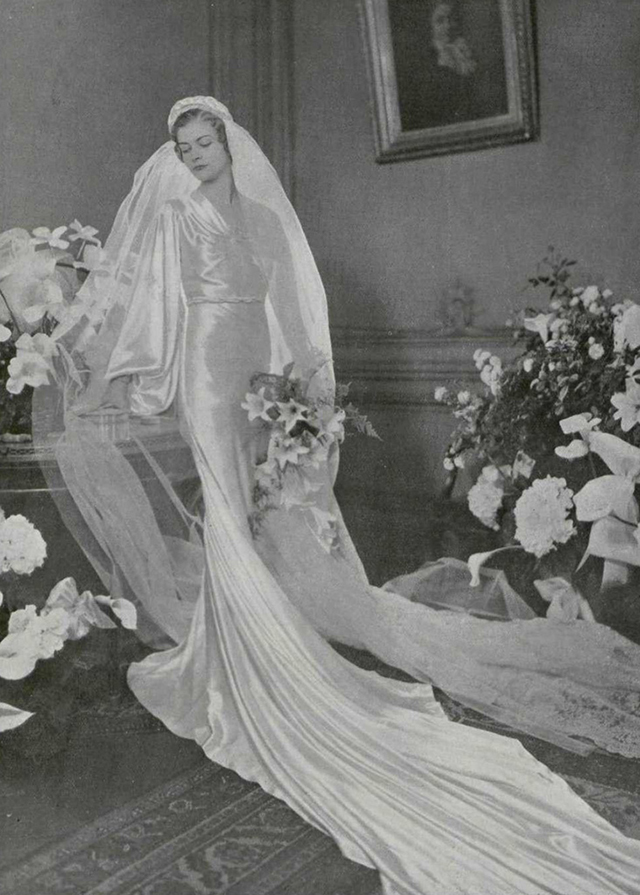 Traditionally, wedding photography followed the usual guidelines: the bride stands front-facing, either with her husband or her bridesmaids, and gradually more guests join the photo from both sides of the family. Then everyone flashes their cheesy grin. Now, as wedding photography becomes more artistic, the modern bride thinks about dazzling from more angles. A romantic photograph of the back of the bridal couple when taking their vows says more about their wedding day than a posed, smiling photo.
So the backless trend is here to stay, and we can only expect an even greater plethora of backless styles in seasons to come. Since the attention has always been, and always will be, on the bride, a backless dress ensures an empowered, confident and sexy focal point of any wedding day.
When you see The Backless Bride, you won't be able to take your eyes off her.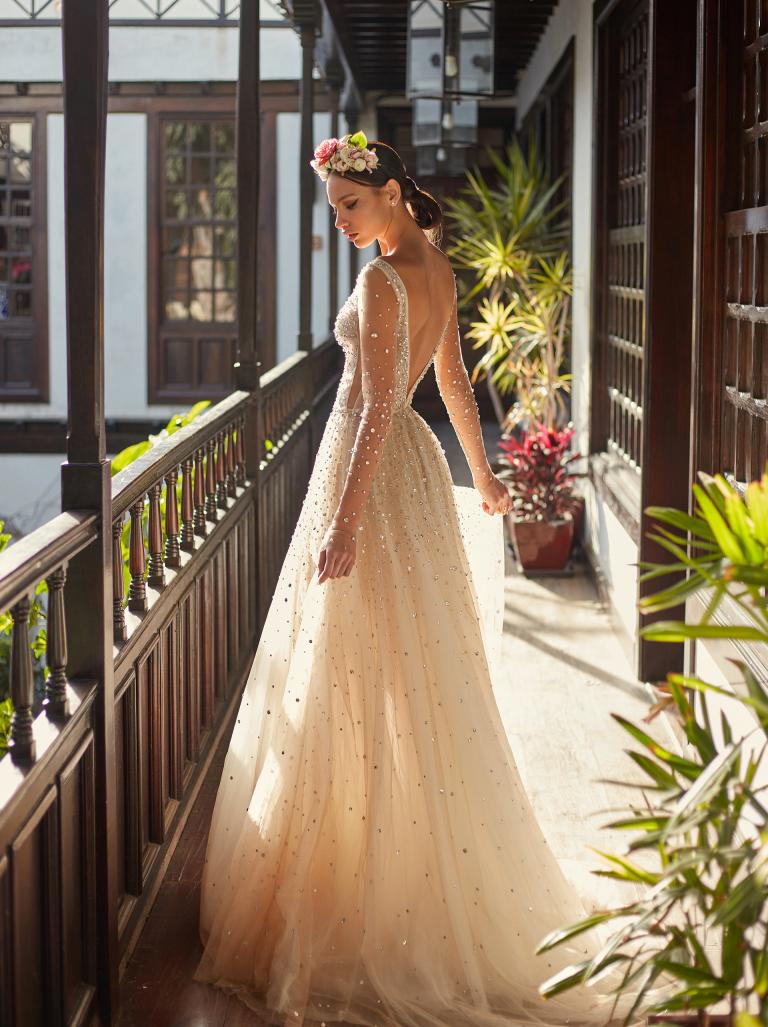 Amaya from our Florence by Night Collection
Featured Dress: Marleigh from our Queen of Hearts Collection
This article was written by Rosie Dowsing for Zankyou Magazine.
Rosie Dowsing is a freelance writer and aspiring journalist with a passion for art, style, culture and events. Rosie's interest in the wedding world took her from London to Madrid: from being part of a wedding events team at home to pursuing bridal fashion journalism abroad. Writing for Zankyou Weddings and now Galia Lahav, Rosie aims to inspire future brides by picking out current trends, with a keen eye for how international bridal traditions are evolving.
Since emerging in 2007, Zankyou Weddings has become the most visited wedding portal in the world. In 23 countries, it provides couples with all the tools necessary to plan the perfect wedding: a website and gift list service, a magazine for inspiration, and a directory for local information. Zankyou Weddings USA has combined influences from its sites in other countries to establish a destination wedding magazine, here you will find inspiration for getting hitched abroad and choosing the right honeymoon, without forgetting the all-important bits at home, such as wedding dress trends, photography and event planners.
Finish your registration for {City} Trunk Show