FREE SHIPPING & RETURNS WORLDWIDE!

DUTIES & TAXES COVERED WORLDWIDE
Sign up now
We will contact you and schedule an appointment for that special day.
Galia Lahav LA is the Flagship boutique in the West Coast of the United States. It is adored by customers for the team's flawless and friendly service. With clients that include a number of celebrity names, it's safe to say this boutique's a favourite with many brides-to-be.
LA is pretty hot throughout most of the year. Tell us about the typical style of dress that's popular here?

As the flagship we have brides from all over the state and country coming to try on and buy our gowns, so we sell everything from long sleeve sleek gowns, to full strapless or backless ball gowns. We layer our detail through much handwork and embroidery so the gowns can be intricate and multi-dimensional without being heavy or too hot with layers and layers of fabric. Our brides are loving the more unique laces with hand beading or applique placed on top of lace. Simple is not our style!
Who is the Galia Lahav LA bride? What are her tastes, demands and aspirations for her wedding day?

I love Galia brides because they are women who have a defined style, know what they want and not afraid to make a statement. These women are iconic when it comes to being a confident woman who embraces her body and femininity. They want to wow their groom, and their guests and wear something that will be remembered.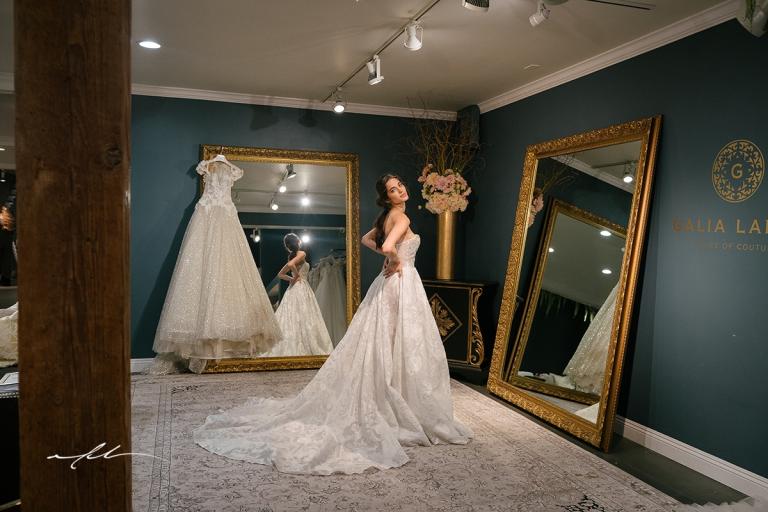 What's the best thing about being a part of the GL international family?

Even before working for Galia Lahav I had been such a fan. I have felt like family since the day I met Sharon, Galia and team. It is a family-run business. I love being a part of the GL family because no matter who the bride is, we all truly have the intention to help the woman feel as beautiful, confident and sexy on the most important day of her life. This intention is seen on a daily basis because the whole team will work together to listen to a bride's wishes and make custom changes to give her the one-of-a-kind gown she's always dreamt of.
What advice would you give to bridesmaids to help the bride have the best day possible?

Make it easy on your girl: be her cheerleader and a magnifier for her needs, while keeping a relaxed, positive attitude. She's balancing many things leading up to her wedding and on the day of, so a consistent support group is a must!
How did you go about forming the members of your team, keeping your ideal customer in mind?

I have an amazing team currently in the flagship and I –and our brides– are very blessed to have them! First and foremost, I look for people who want to be an advocate for the bride rather than dictate her needs –charismatic people who brides can trust and feel a bond with. Then I look for people who are creative problem solvers to meet and exceed our brides' vision. I think this is very obvious from our receptionist to our head seamstress, they take such care for each of our brides as if she were a sister or close friend.  
Tell us about what the Galia Lahav LA boutique experience is like for a customer. (Please walk us through how you'd make your customer feel a million dollars from the first time they set foot in the boutique to the special day itself.)

We want to create a very exclusive and luxury experience for each and every one of our brides. She is paired with a personal stylist and private, living-room style appointment space. Our brides get 100% individualized attention, and works with her stylist from the moment she walks in our doors, through ordering and creation, even in-house alterations, up until she is walking down the aisle! It is a multiple-month long experience and service our brides get from her own stylist.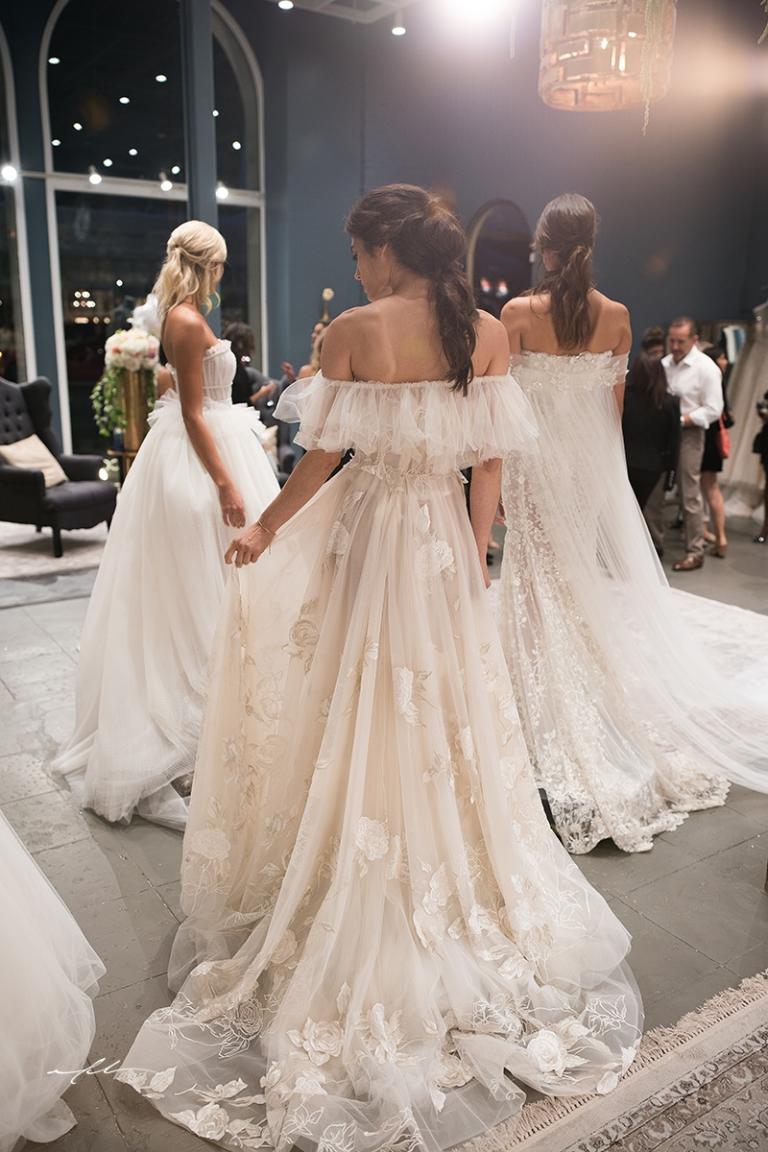 Obviously, you're the flagship in LA. Is there pressure to represent the brand to the highest possible standards? How do you ensure you do that?

Of course, there is! Our brides are investing a lot on the biggest day of their life. The gown's quality and detail speak for itself once a bride tries them on or feels the fabric in her hands, then I follow the golden rule of customer service: treat clients how I would like to be treated while providing information that may help take a little worry or stress off her plate. This is the most fun part of planning a wedding, so I want to make sure my brides enjoy it and don't stress!
How does the LA team like to kick back after work? What's good in your local area (favourite coffee shops, galleries etc)?

We are lucky to work on a very up-and-coming street, La Brea, so we are within walking distance of many great new restaurants we can meet at for happy hour. There are also tonnes of vintage and pop up shops we like to go explore. We are close to K-town, so the occasional karaoke outing is a great time to laugh and have fun with the team!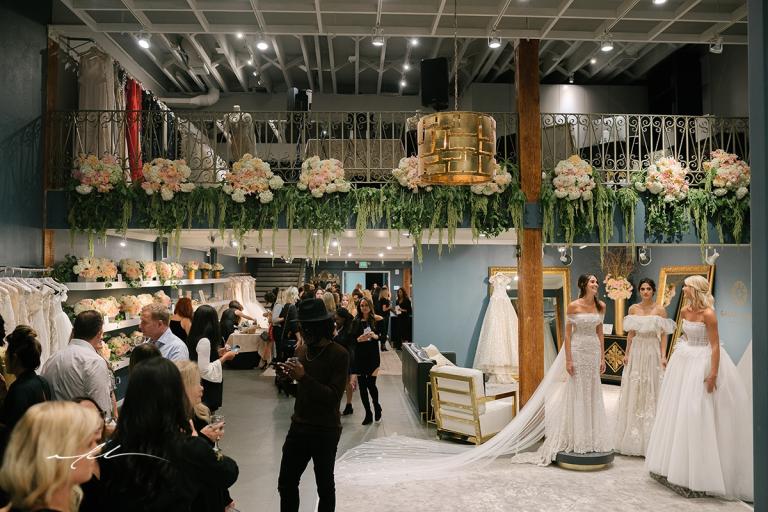 What's the epitome of a dream wedding to you?

If you work in bridal, there is a good chance you are the 'hopeless romantic' type. So I LOVE when I hear personalized details in a wedding that honours a memory the couple shares or really represents their uniqueness! I feel like this generation of brides really has a "no rules" approach to planning their wedding and wants to include details that represent the special connections the couple and families share – either conventional or not! A stunning outdoor, romantic setting certainly helps set the mood as well :).
What is currently the most popular Galia style, judging from your customers' preferences?

There is one corseted-ball gown silhouette that brides can't get enough of. I think brides love the mixture of ornate beaded applique with light ethereal skirts and floaty fabrics. It really creates a romantic, dreamy look.
Can you share a touching moment you experienced with a bride in your boutique?

I have been in bridal for years and I still cherish the moment a woman admires herself in the mirror and she is truly in awe of how good she looks. I love this job every day because I get to witness a woman put herself first and feel beautiful in her own skin, as she is. AND it just so happens to also be the biggest day of her life!
Galia Lahav has dressed countless high profile clients over the years. Can you tell us about any celebrities who've recently shopped the LA boutique?

We have been lucky to dress many stunning celebs on the red carpet or on their wedding day. To name a few, Beyonce and Tori Kelly can be spotted wearing our bridal gowns, and

Halsey, Sarah Silverman, Sarah Hyland and Tiffany Haddish have all sported our evening wear on the red carpet.
Finish your registration for {City} Trunk Show