FREE SHIPPING & RETURNS WORLDWIDE!

DUTIES & TAXES COVERED WORLDWIDE
Find your nearest boutique
Wedding Dresses for the Fearless and Fiery Sagittarius

It's your time to shine, intrepid archers. Welcome to Sagittarius season! With Jupiter looking over you, enjoy financial rewards, nurture close friendships, treasure the romantic bond with your soul mate — and build your future together. In other words, it's also an optimal time to lean into your fierce, spirited and, of course, irresistible, fire sign traits to guide you in finding your dream wedding dress to express your honest, beautiful and unfiltered self on your big day. Like a true Sagittarius, right?
EDNA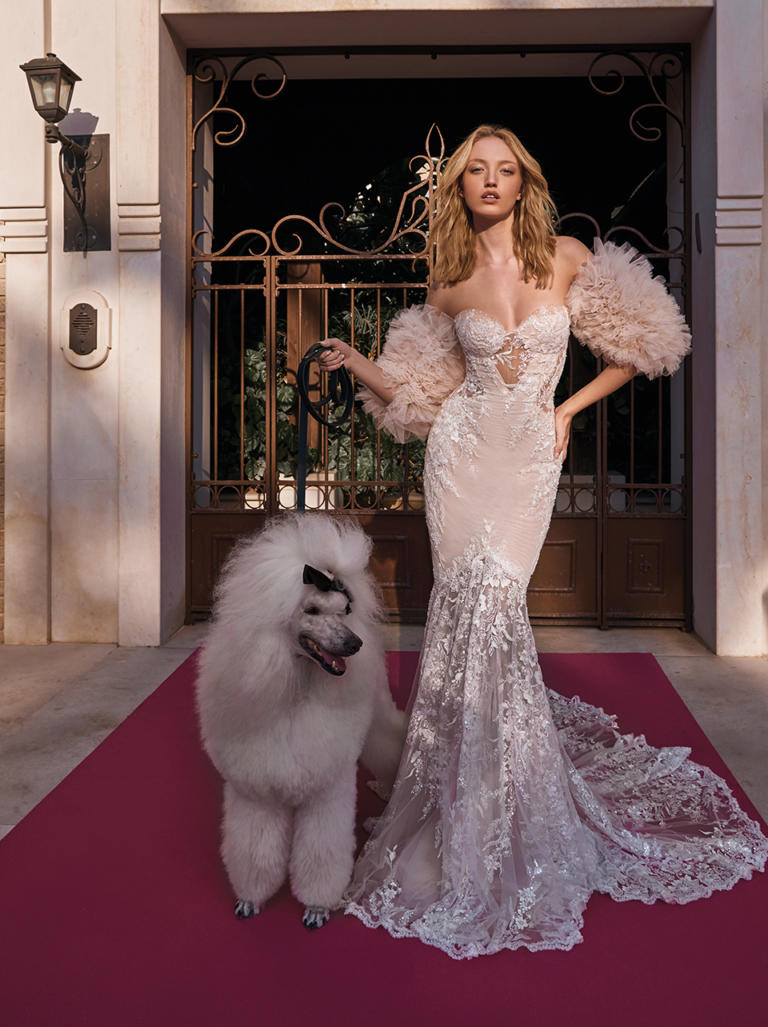 Also represented by the centaur boldly drawing a bow and arrow, the Sagittarius is spirited, energetic and spontaneous. When you find your passions, you pursue them 1500% and you're bound by absolutely no rules. So radiate your limitless, impassioned force into a sumptuous blush hue and a mélange of lavish, distinct details: geometric cut-outs, intricate beading, sultry corsetry and a flouncy explosion of tulle ruffles on detachable sleeves. Because vivacious archers also appreciate versatility for your varied pursuits, from the ceremony to after-party karaoke solos into the wee hours of the morning.
CALI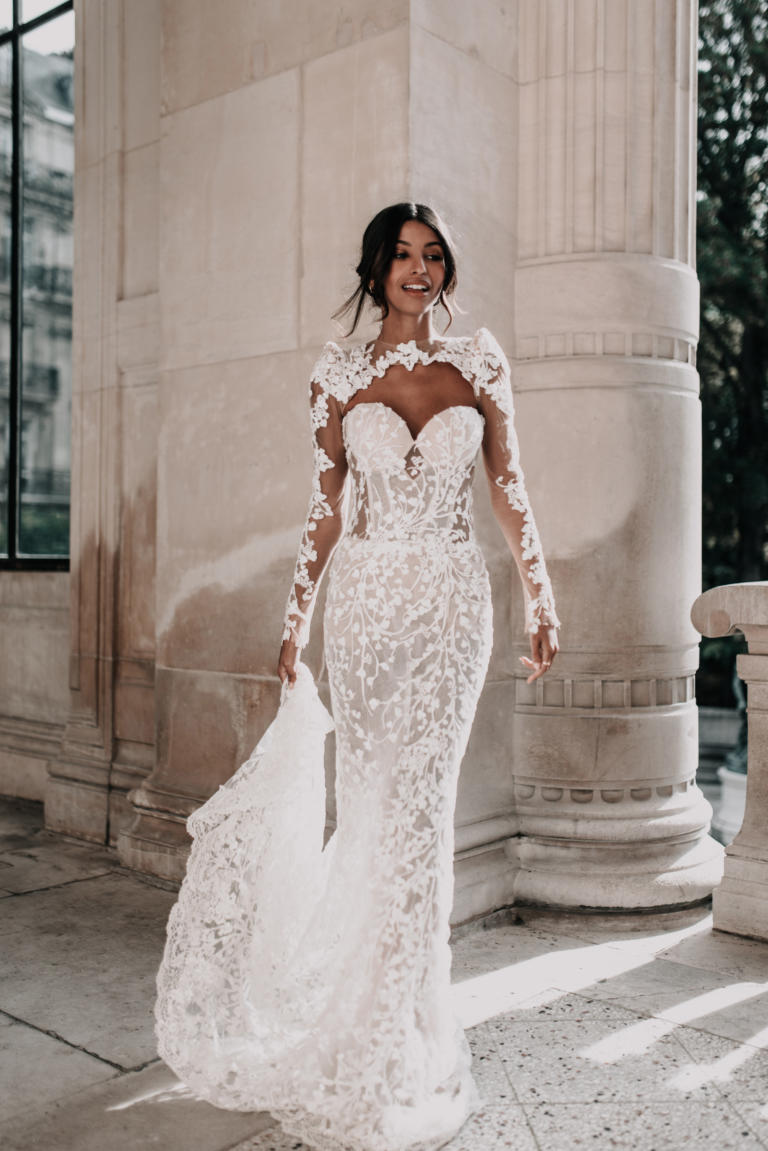 There's no holding back the adventurous, fearless and forever curious Sagittarius. Of course, you already have your wishlist of far-flung honeymoon locales ready to conquer along with your partner, ranging from ultra-glamorous cityscapes to undiscovered territories. (But, of course, you don't want to be too scheduled while you're there to be open to unlimited exploration and once-in-a-lifetime surprises to experience together.) But on your wedding day, you want a dress that celebrates the romantic adventurer that you are with a body-celebrating mermaid silhouette, exquisite — and dare we say, complicated — beaded lace embroidery, ethereal illusion effects and strong power-shoulders to take over the world.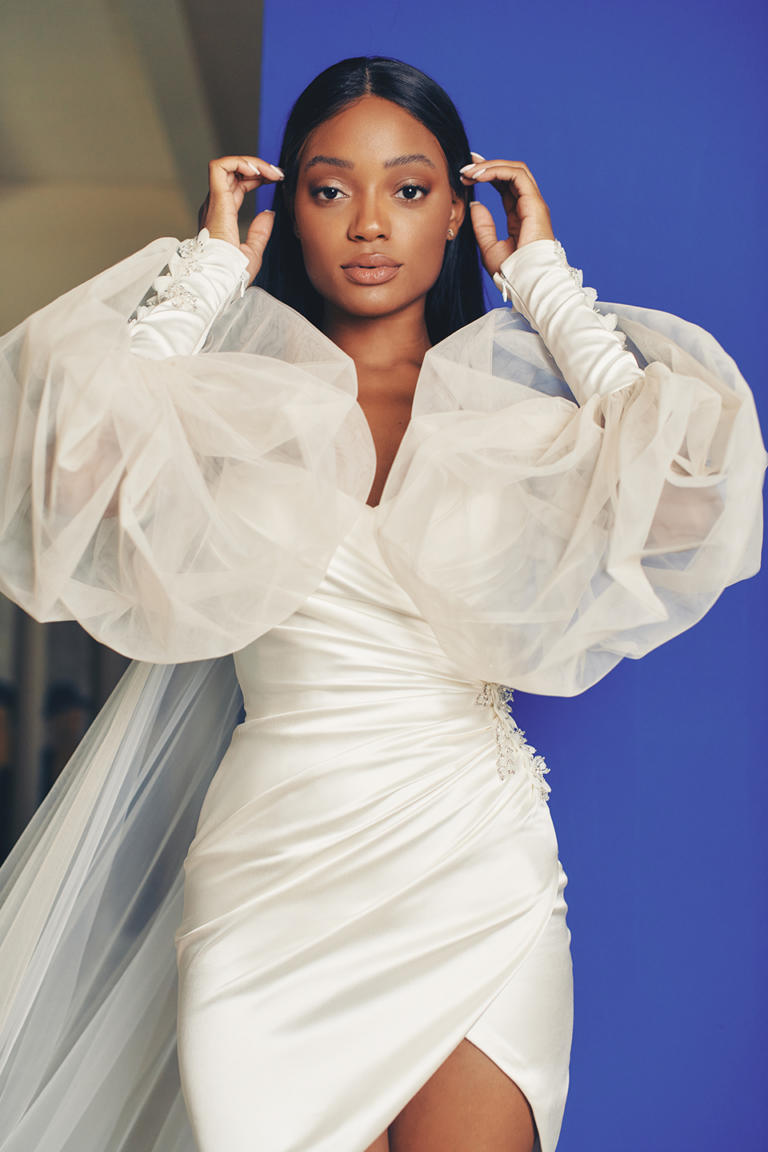 Fun, social and incredibly chatty archers are always the most popular guests at the party — especially when the spotlight is already on you. This innate talent also means you're going to throw the most spectacular extravaganza to celebrate your future with your soul mate — and have the most raucous reception (and after, and after-after parties). So, you'll need the most exuberantly chic dress to match the high festivity levels and work the crowd gathered there for you. Try a party-ready, but ultra-elegant mini-dress with ravishing ruching and lush draping at the waistline, an alluring sweetheart neckline and a convertible puff-sleeve cape, which will definitely be a conversation starter. (But as if you need one.)
VIV
Your friends, family and life partner value your quick wit, clever sense of humor and infectious laugh, which always brighten up any moment. (Although, watch out when you're shooting off your ultra-spicy zingers, you unfiltered Sagittarius.) Exude that playfulness and unexpected charm through a classic silhouette with playfully modern twists. Behold: an A-line, chapel-trained gown with a saucy high leg-slit, '90s-referential square neckline and adorable bows adorning draped off-the-shoulder straps.
Finish your registration for {City} Trunk Show