FREE SHIPPING & RETURNS WORLDWIDE!

DUTIES & TAXES COVERED WORLDWIDE
Find your nearest boutique
This week's GL Bride is the gorgeous Rom Mizrahi, who wore our Amani gown as she tied the knot with her fiance. After difficulties and delays, the two finally exchanged vows in beautiful Miami at the Nautilus Hotel in South Beach. Rom shares with us how she planned the wedding of her dreams and found the gown to match in this following interview. As told by Rom:
How did you meet your husband? Tell us a little bit about your relationship.

J-swipe! We are true Millenials after all. It was love at first "swipe." We went on our first date and it just never ended. We've been together ever since!
How did he propose?

He took me out to the beach, and when I arrived, there were flower petals and an entire beach picnic set up. Once he proposed and I said yes, I suddenly heard cheering, clapping, whistling – ALL of our friends and family were overlooking the entire thing from a rooftop across from the beach! I had no idea. It was so important to me that the people I love most were a part of such a big day, and Ben made sure that everyone was included in a way where we still got to enjoy a special moment just us two. I laughed and cried when I saw my whole family there. We joined them on the rooftop and partied all night. We got engaged on April 20, 2019.
How did you start planning your wedding? What were the first steps?

The first stop was the venue search, second stop – the dress! I knew from the moment we got engaged that I wanted to get married in a Galia Lahav gown.
What was your wedding theme?

Modern and tropical. We didn't have a "theme" or "color" per se, but our entire wedding was outdoors in Miami beach so we used lots of ivory, splashes of muted greens, and tropical florals.
How did you choose your location?

We always knew we wanted to get married in Miami, it's one of the greatest cities in the US! We loved the idea of an outdoor wedding and wanted to find a venue that accommodated that. When we got to the Nautilus Hotel in South Beach, I walked through the bamboo walkway to the outdoor area and just knew. After visiting the Nautilus we stopped our search.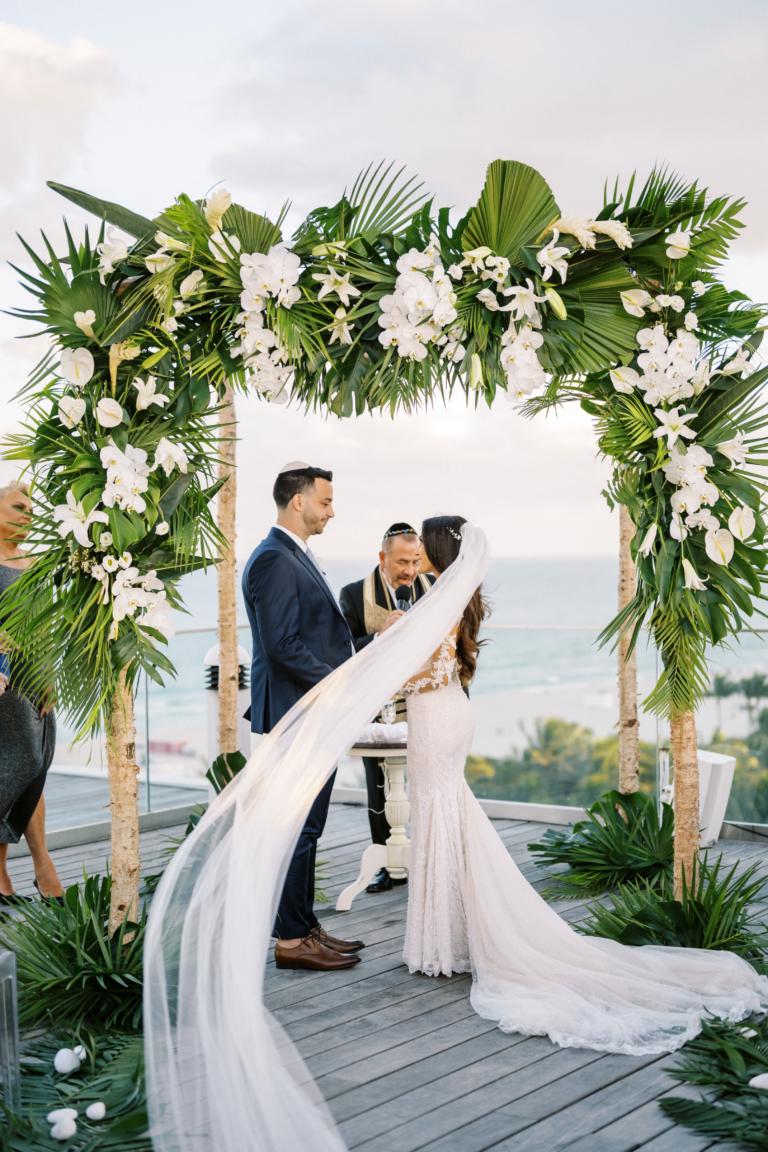 How did you decide on your bridesmaid style?

I wanted something fitted, sexy, elegant, affordable, but above all, I wanted something my girlfriends would feel beautiful in! There's nothing worse than being asked to wear something you hate for an entire evening. When I found two dresses I liked, I had each bridesmaid try them on and let me know which one they loved. Everyone looked incredible and felt most confident in navy, so navy off-the-shoulder gown with a slit it was!

When it came to hairstyle – it was totally up to them. No one knows your hair better than you, and I wanted my girlfriends to choose whatever hairstyle they felt best in.

They all looked incredible!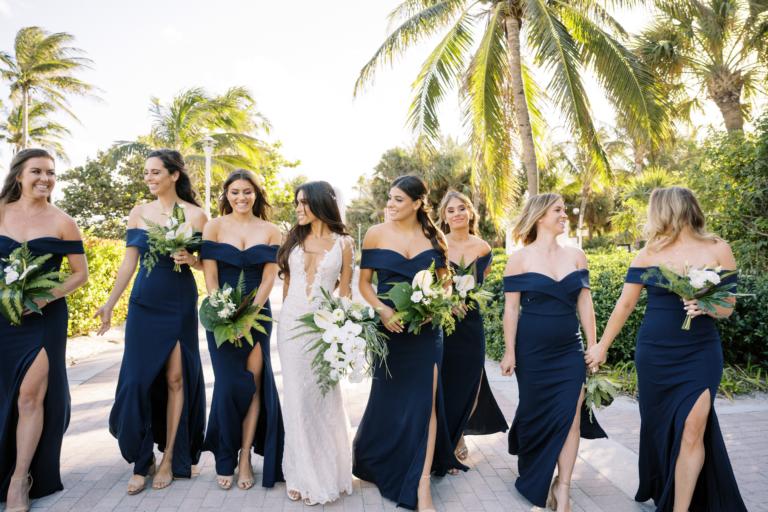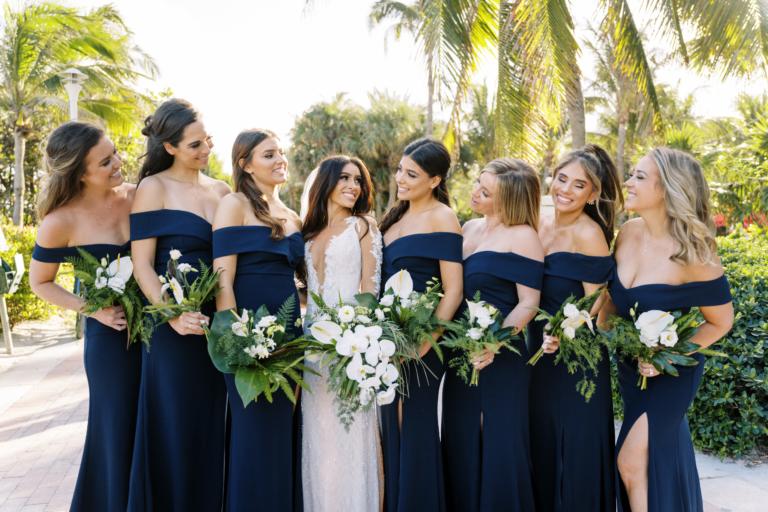 How did you find your perfect dress?

I specifically chose (and flew to) Bridal Reflections NY from Florida in August 2019. I came into the boutique thinking I wanted one specific gown, but when I tried it on, it just wasn't the right fit for me. I remember feeling a bit nervous – "Will any gown look right on me? Am I 'wedding gown' material?"

The expert team at Bridal Reflections didn't skip a beat. They knew exactly which GL options to bring out for me, for my shape and body. When the Amani gown was brought out on the hanger I was a bit hesitant. It was something I would have never picked out for myself. But then I put it on – and the moment I did, I knew (and cried).

I returned to NY on March 3, 2020, for my final express fitting. This is where the gown really came together. I had the pleasure of working with an amazing seamstress (more accurately artist) where we worked together to create the custom sleeves of my DREAMS, and she custom fit this gown to every single curve of my body. I was incredibly particular and this team effortlessly turned my vision into a reality. After the express fitting, this already perfect gown was totally transformed into the perfect gown for me.

I have never felt more beautiful than I did when I wore my gown. I rarely speak of myself this way, but I felt like a vision that day – I truly felt that this gown was made for me.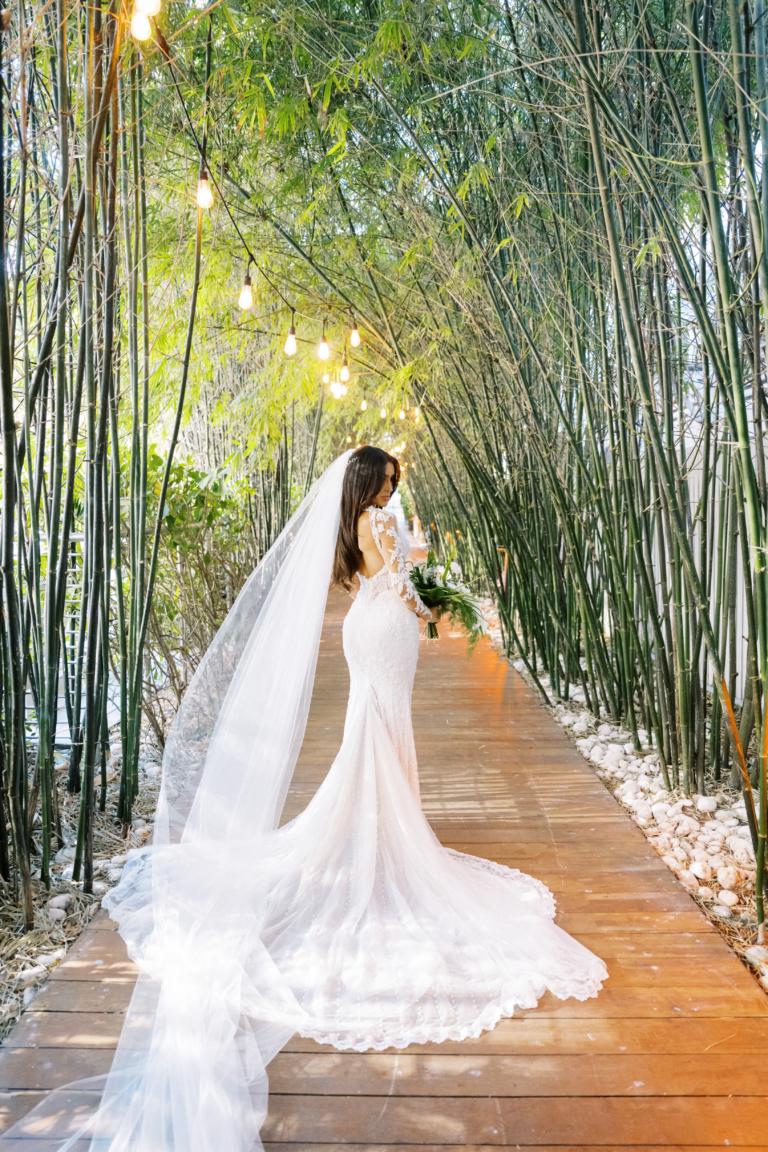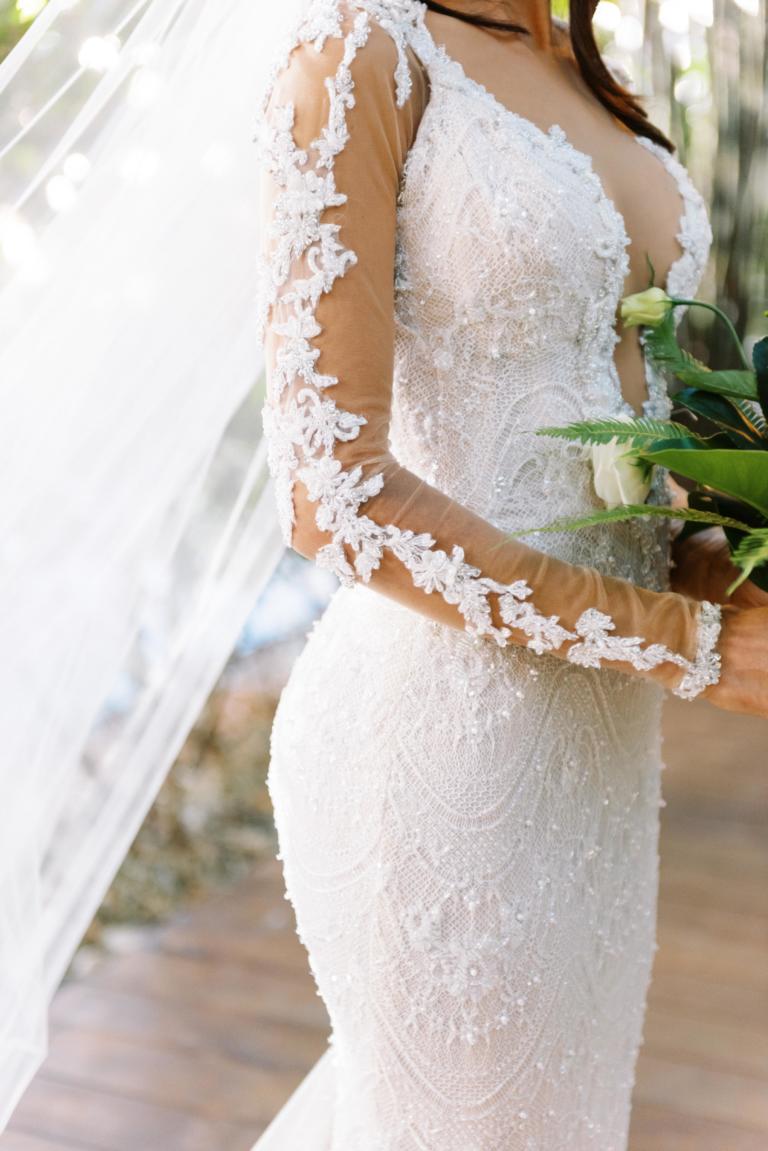 How was your experience with the Galia Lahav brand?

Incredible. Every gown is truly a work of art. During my visit to Bridal Reflections NY, I had the opportunity to meet Galia Lahav! It was such an amazing experience (and honor) to try on gowns in presence of the queen herself – I was a bit star-struck, to say the least.

Galia and the rest of the team were patient and truly listened to what my vision was. They gave me the time and space I needed to make this decision. No rushing and no pressure.

I returned home from my express fitting in early March 2020, only to come back to a new normal of quarantine, lockdowns, and postponements. And on March 18, 2020, I officially had to postpone my wedding – 10 days before my original date. I immediately reached out to Galia Lahav in a panic. While I can't remember what was exactly said, the team managed to calm me down, and Galia even made herself available for me to reach out to her personally. The team told me how to store and protect my gown to ensure it was still perfect – no matter when my big day actually took place.

After 3 postponements and nearly a year of this gown hanging in my closet, I finally married the man of my dreams in the gown of my dreams.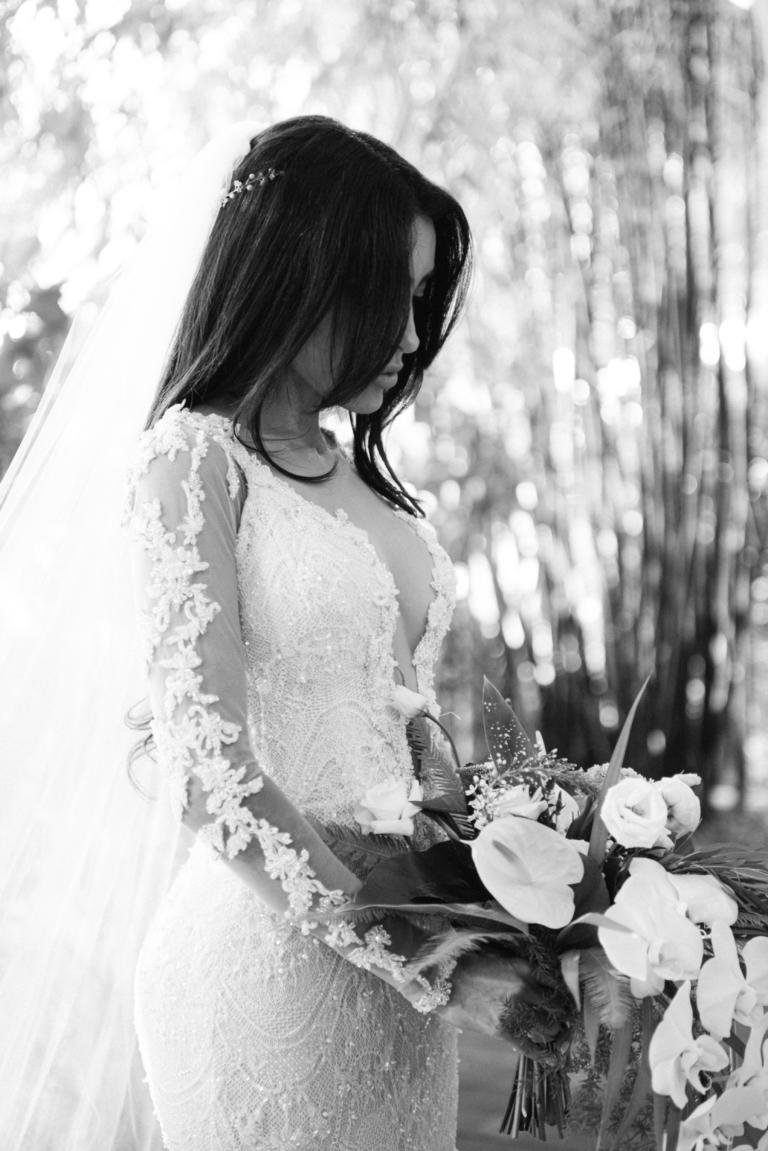 What was the most important thing for you and your husband when planning your wedding?

The most important thing for us was to plan a weekend that was above all, FUN! Anything that didn't bring us joy or good vibes was eliminated. Our original wedding date was supposed to be March 28, 2020. Needless to say, about 10 days from our original date, the entire world changed and we had to postpone. After 3 (three!) postponements, all we wanted to do was celebrate our love and have the absolute best time with the people we love most. On January 29, 2021 (almost a year later) we did exactly that.
What was your first wedding song?

"Can't Take My Eyes Off You" – Frankie Valli
What did you enjoy the most about planning your wedding?

How much I got to bond with my mom. She helped me find my dream gown, was a sounding board for all of my crazy wedding ideas and was my rock through all of the postponements and the craziness that followed. She always brought such good vibes and fun energy to whatever we were doing, and was always ready to party. Having her by my side while planning the wedding was the best adventure.
What advice would you give to all our future brides?

Have fun! And remember, there are NO rules! Do whatever is best for you and your fiance. When you do that, good vibes will always follow, and everything will fall into place. Also, be kind to your vendors. They are your biggest allies when it comes to planning. I was blessed to work with so many incredible creatives, it was truly a team effort when it came to putting together our dream wedding.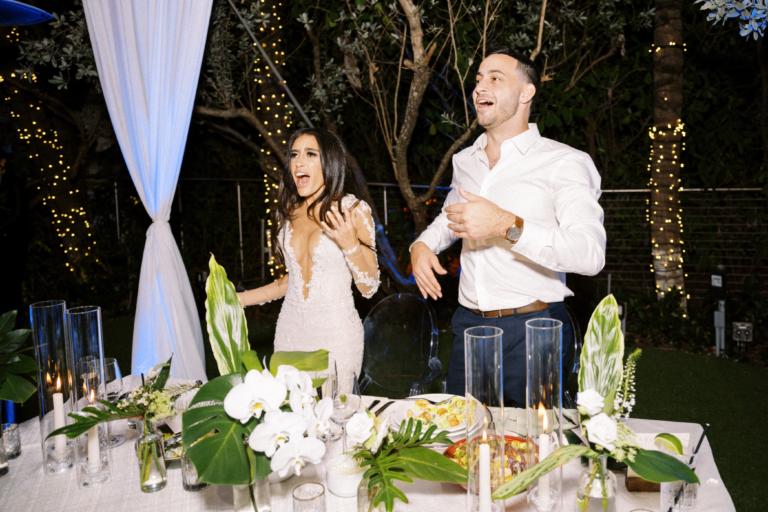 What moment from your wedding will you never forget?

So many it's hard to choose! Probably my sisters' maid of honor speech. They completely surprised us, and instead of a regular speech, they both got onto the middle of the dance floor and rapped a parody about Ben and me to "ice ice baby." I was floored! My married name is now Eiss, pronounced like "ice," so it was absolutely perfect. I don't think we sat down once during their performance. I had planned, and replanned, and replanned our wedding so many times that I didn't think there was any detail I didn't know about. It was so nice to have something special on our wedding day that Ben and I didn't put together ourselves.
Finish your registration for {City} Trunk Show