Rossi
<$6,700 USD
An asymmetrical long sleeve wrap dress in jet black velvet with a deep v neckline and high leg slit. The dress is accentuated with padded shoulders and a dramatic indian pink Swarovski crystal-encrusted bow at the focal. Crystals can be changed to any color, or removal of the crystals in entirety; velvet color can be changed to pine green or deep purple, or any other color by demand.
Rossi
Size:
Exquisite gowns made to order from Galia Lahav's House of Couture
Please leave your details, one of our specialists will contact you shortly!
Shipping and Returns
- Free shipping worldwide!
- Available to return and exchange within the 14-day delivery period.
- Shipping costs for returns are $50. You will be refunded for the sum of the product, minus the shipping fee.
- First exchanges are free, we will charge $50 for shipping costs for any additional exchanges after the first.
- For more information on our return and exchange policy, click here.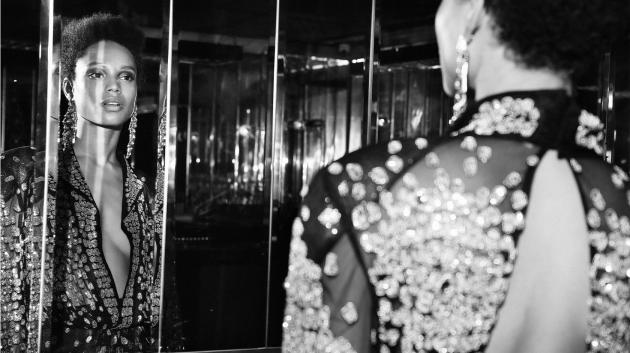 news
Introducing The Newest Luxury Collection: There She Goes Again
The concept of over-the-top glamour surely existed long before the 1970s and 1980s, but it was during those two decades when dressing in the glorious excess of sparkle, glitter, and steamy sex appeal reached its pinnacle. Well, to be fair, the teetering height of glitz might have had something to do with Bianca Jagger, Cher, and Jerry Hall strutting into Studio 54 wearing a slinky silk dress and their tallest platform heels. For Galia Lahav designer Sharon Sever, the closing night at the iconic New York City club actually informed the brand's newest luxury apparel collection, There She Goes Again.