FREE SHIPPING & RETURNS WORLDWIDE!

DUTIES & TAXES COVERED WORLDWIDE
Find your nearest boutique
Wedding planning may involve a dizzying amount of tasks and steps worthy of a complicated spreadsheet, which you've probably already created: securing a venue, finding a photographer, shopping for your dream wedding dress and so on. But don't forget to take time for yourself — and your partner — to focus on a healthy body and, most importantly, mind with a fitness option that's right for you. After all, exercise is scientifically proven to reduce stress levels, which can spike during the lead up to your big day.
Whether you're already a dedicated gym rat or are reluctantly dragging yourself to barre class, you may find it hard to fit yet another obligation into your hectic schedule. So we sought out pre-wedding workout advice from pros who've been through it all: husband and wife team, Joseph and Nada Foley, co-founders and co-owners of Punch Pedal House HIIT indoor cycling and boxing boot camp studio in ultra-chic Dumbo, Brooklyn.
A former ballerina and model, Nada trained as a dancer at the Ballet School Lujo Davicho Belgrade and earned a bachelor's degree in computer science and graphic design. She now combines her skills as a fitness entrepreneur, alongside her college athlete-turned-finance and real estate exec husband Joey, who is also the Head Instructor of Workout Design at Punch Pedal House.
"This is a once and a lifetime moment, you really want to be in your best shape every both physically and mentally," says Nada. "Wedding prep shouldn't be stressful, and when it is, use fitness as a way to escape. From there, embrace the fun and joy of the moment and keep encouraging and supporting each other."
Nada and Joey are partners in life, work and workouts, so who better to advise us what routine to start, why it's best to exercise as a couple and how to integrate fitness into your future together — way past your wedding day.
Think ahead.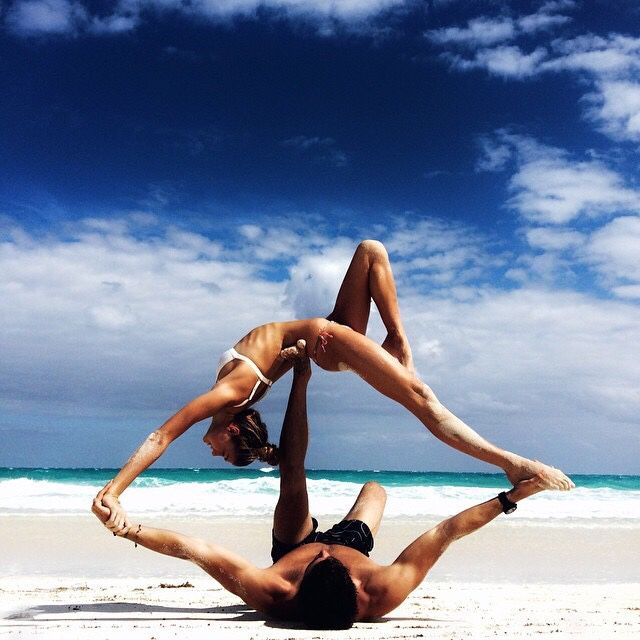 "Start the second you set your date," suggests Nada. "You'll be able to plan and organize your workout schedule to fit what's best for you. Seeing how much time, what time of day, what classes and workout methods are best for you. It's all about planning."
But, also remember, it's never too late to start a routine, either. We know you've been busy! Whenever you incorporate fitness into your day-to-day, you'll feel the benefits right away.
Mix it up.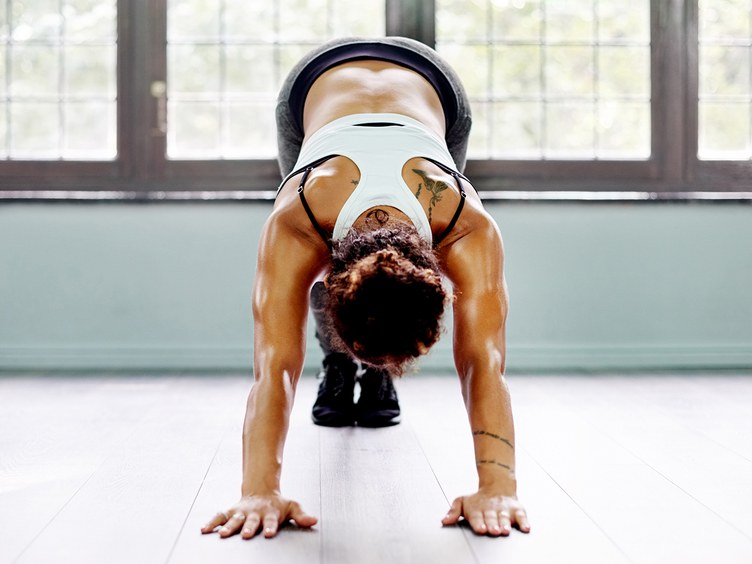 Joey recommends three cardio sessions and two strength and toning plans a week, similar to programs offered at Punch Pedal House. The other two days, incorporate yoga or pilates for alignment, core training and flexibility and — you earned it — active rest. Nadas recommends "taking a walk in nature" and treating yourself to a massage and facial every two weeks for self-care.
"If you are at a gym independently, we would suggest cardio mixed with weights routine in circuits," adds Joey.
High intensity interval training — affectionately referred to as HIIT — workouts involve short bursts of cardio and strength exercises. Benefits include burning calories in a brief amount of time, keeping the metabolism levels high even after the workout ends, building muscle and lowering blood pressure. But also, with such a wealth of different exercises to incorporate — whether on your own, in a class or with a trainer — HIIT routines can also be fun and not a huge time commitment.
Here's a quick routine to take anywhere: for 30 to 45 minutes, alternate back and forth between 5 to 10 minute blocks of cardio (i.e., the elliptical, running, jumping jacks, butt kicks, mountain climbers, etc.) and 5 minutes of strength training (free weights, machines, pushups, planks, squats, lunges, etc.). You don't even need equipment, so take your run in the park to the next level or even do it in your living room.
Work out as a team.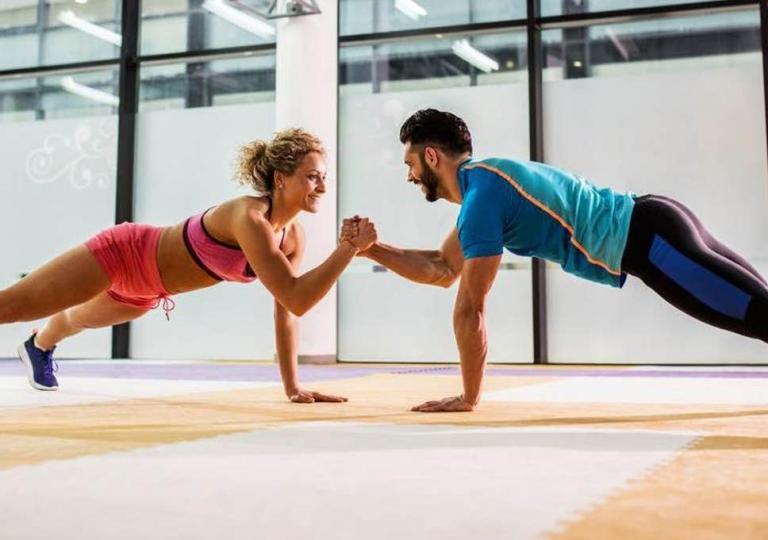 The more the merrier, as they say. "Join others in your fitness journey," advises Joey. Together, take a class or exercise in a group setting for the motivational "team-like vibe." It's always more comfortable to enter a new setting together, plus support and challenge each other — and enjoy it.
"We love to workout together! It fuses together commitment and encouragement," says Nada. "We also cook and making healthy meals at home to help us stay on track and have a little at-home fun."
Start your big day strong.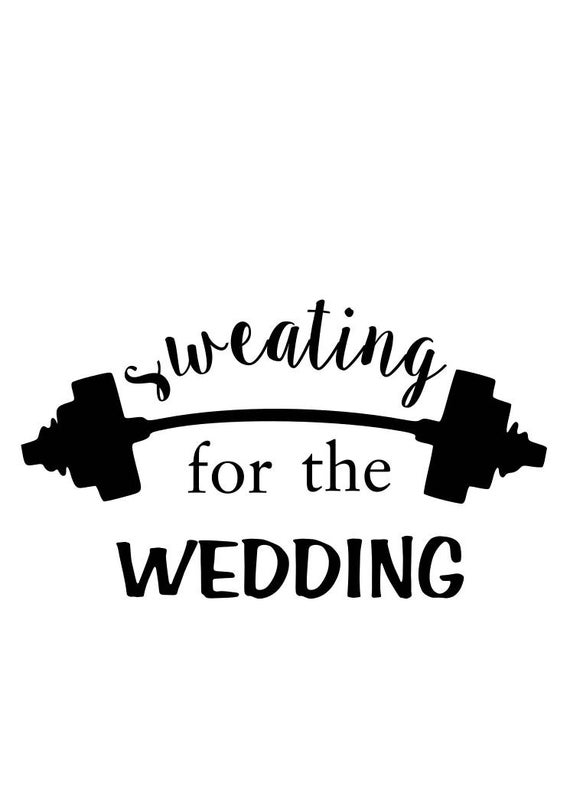 The big day is here, so kick off your day with an endorphin-rush — either with your partner (superstitions be damned), by yourself or with bridal party members you've rallied. Even better: You don't need to wake up at the crack of dawn for a full-hour gym sesh.
"There's no such thing as a mini-workout. A workout can be 15 minutes or 5 hours. It's all about doing the proper exercises for what you're looking to achieve," says Joey. "A quick cardio blast in the morning, fused with some strength moves, will make you feel great."
Then you can head into your pre-ceremony glam (and perhaps champagne-quaffing) session in a positive and excited headspace. You'll be ready to put out any little fires that hopefully won't pop up and show off all your hard work in your perfect wedding gown. Plus, you'll be energized for a full day of enjoying time with your loved ones and dancing well into the after-party.
Keep the fitness going!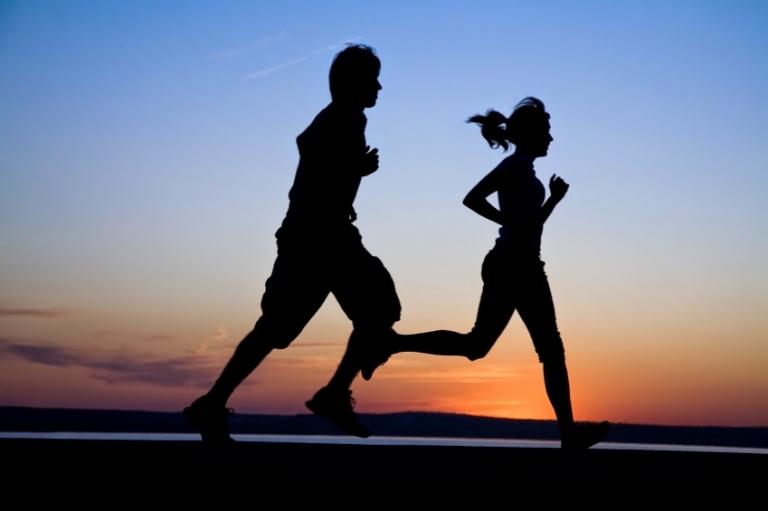 "Don't stop just because your big day is over — the honeymoon is next!" says Nada. "But seriously, making a commitment to workout at least twice a week together, even if it's just a run in the park or a quick swim, will make a huge difference." And then, afterwards, go enjoy that drink or nice dinner together.
Finish your registration for {City} Trunk Show