FREE SHIPPING & RETURNS WORLDWIDE!

DUTIES & TAXES COVERED WORLDWIDE
Find your nearest boutique
Shopping for your wedding gown is one of the most, if not the most, exciting and memorable details of planning your big day. Every bride has a special story in her journey to finding her dress. The goal is choosing the gown that's uniquely you—the one that makes you feel confident and beautiful. Here, we've gathered tips to help you say yes to the perfect dress for your magical day.
Get Inspiration

Whether you've been imagining what you'll wear on your big day for years or aren't sure what your dream dress is yet, look at different wedding dresses that inspire you. With so many gorgeous gowns to consider—from A-line and mermaid silhouettes to ballgowns and sheaths—it can get a little overwhelming, but beginning your search before you even make your boutique appointment can help you narrow down your wedding day look. "Before you start shopping for your wedding dress, it's helpful to do a little research and find photos of gowns that speak to you," says bridal stylist Gabrielle Hurwitz, based in New York City and Los Angeles. "Compile photos of styles and silhouettes you love on a Pinterest board or in a saved Instagram folder to organize your thoughts." And follow our Instagram and go to our website to choose from looks in our current collections of Couture and GALA bridal gowns.
Compliment Your Wedding Theme

Creating a mood or vision board for your wedding dress will not only give you inspiration for finding your gown, but will also help set and compliment the style of your celebration. "Think about your dress within the overall wedding day and design," says Hurwitz. "Keep in mind the season, time of day, venue, and your event's theme." For example, if you're hosting a spring or summer garden-themed wedding, look for a dress with floral accents in 3D appliqué or romantic lace, such our Nirvana A-line gown hand-embroidered with delicate lace flowers or our Fantasia dress with whimsical petal details on its corseted bodice and voluminous skirt. If you're planning a super glam fall or winter affair, consider a dress with shimmery beading and a sultry silhouette that lets you shine all day like our Glitter mermaid dress with sparkly allover sequin or our Nelli beaded-lace gown with a curve-hugging trumpet silhouette.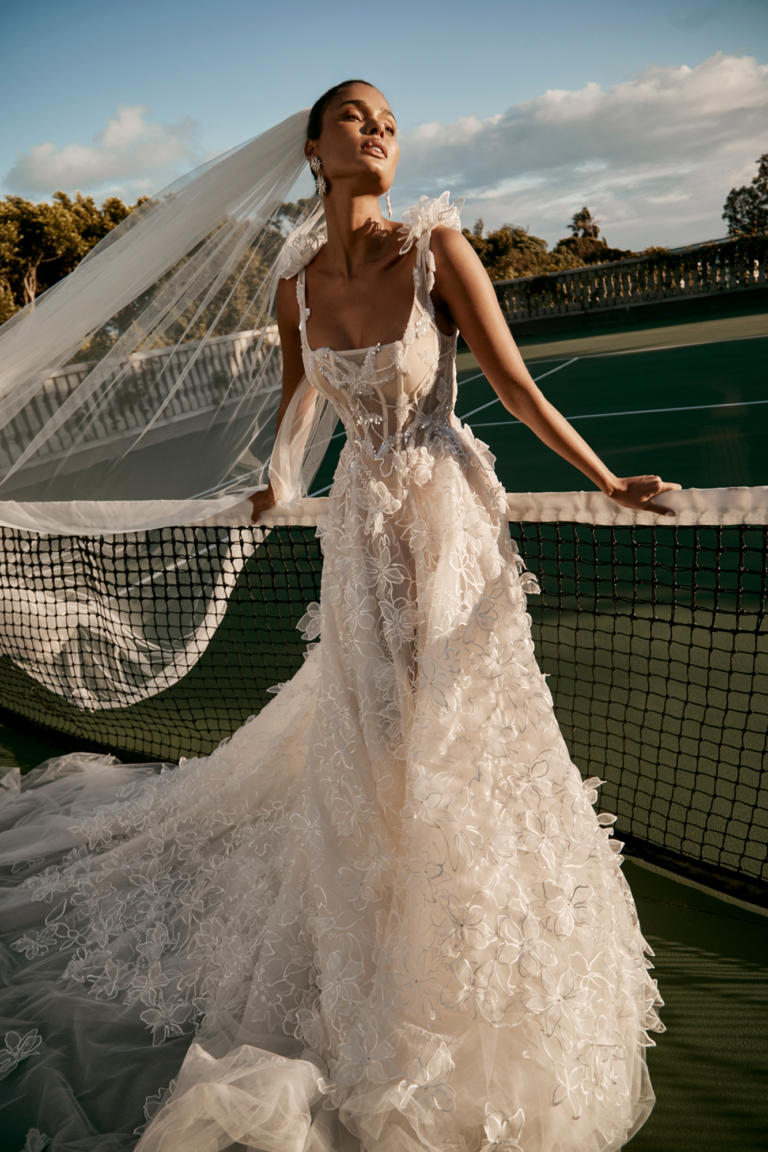 Also consider what type of bride you are. Do you favor tailored, yet edgy styles like our slim-fitting Aspen gown with sexy lace-up cutouts? Are you a classic bride who wants a princess ballgown like our dreamy, silk tulle Almaz dress? Or do you love Gatsby-worthy looks, such as our glimmery Lima fitted gown featuring our signature constructed sweetheart neckline?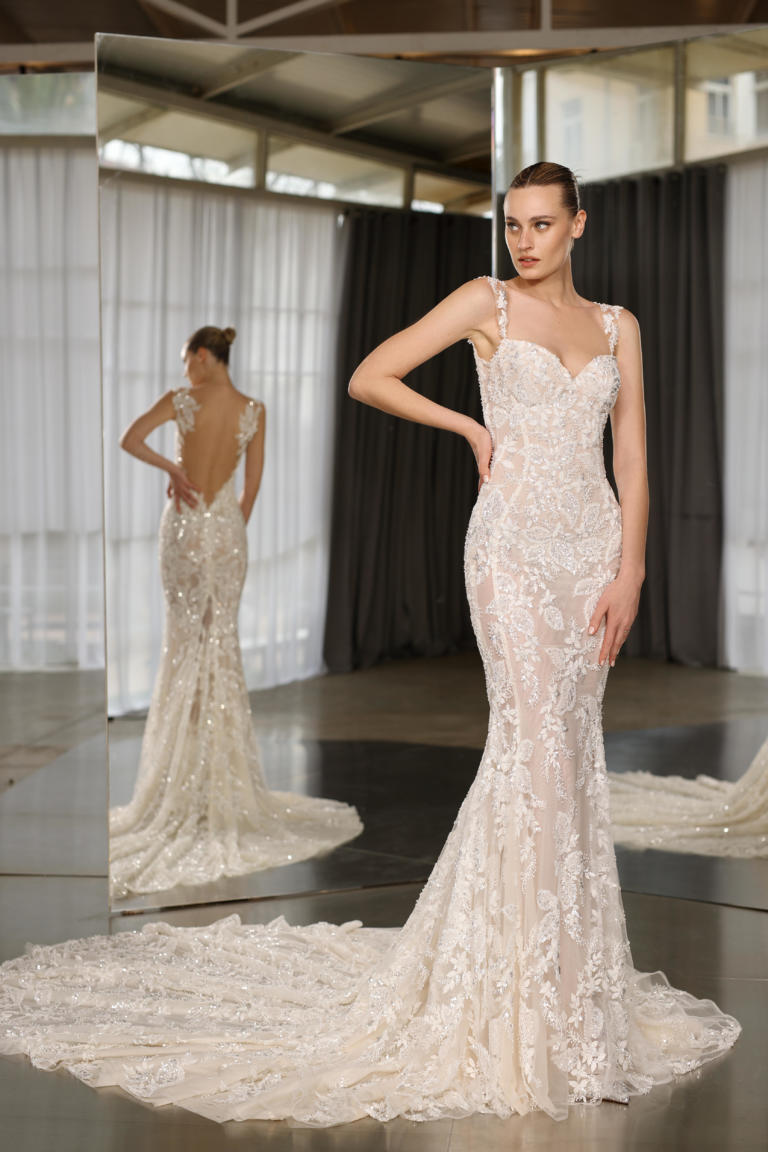 Accentuate Your Assets

Every bride has a part of her body that she loves, look for styles that will play up your best feature. And don't get caught up with being a specific size to get into your dream dress. "Shop for the body you have now, not the one you hope to have by your wedding date," says Hurwitz. "If you love the gown today, you'll love it even more on the wedding day." The one rule to picking the right wedding dress is that there are no rules to what silhouette you can wear because of your body shape or size. Brides can wear any silhouette as long as it makes you feel comfortable and beautiful. Your big day is all about how amazing you feel.
See What's Trending

Bridal fashion is influencing what we see on the fashion runways and red carpet, and most importantly setting trends that are becoming timeless looks. When choosing your wedding dress, consider the styles that are trending, but also keep in mind what you'll still love when you look at your photos years after the big day. Allover lace embroidery is not only always on trend, but also an ageless look. Our Fleur mermaid gown takes this style up a notch with stunning 3D-lace appliqué, a plunging neckline, and over-the-top sheer point d'esprit tulle sleeves.

Weddings trains are getting more unique and dramatic—from sophisticated shorter trains to showstopping cathedral length, this dress detail helps complete your bridal look. Shorter trains, such as on our elegant Spark V-neck mermaid gown, are perfect if you want to comfortably work the room in
your glamorous gown. And grander, cathedral-length trains are for the bride who wants a big moment, such as with our Denise sheer-side inset mermaid gown featuring a spectacular train that's unforgettable. Tulle streamers attached to the shoulders and floor-length, fairy-like illusion sleeves that give the look of a train are also trending, such as on our Shimmer fitted trumpet gown. You can also go for a detachable train or overskirt to change your look throughout the day. And of course, you can modify the train on your chosen Galia Lahav Couture or GALA bridal gown.

Statement-making sleeves are also a big trend for the upcoming seasons, think flirty, ruffled detachable sleeves on our Edna sweetheart-neckline trumpet gown; romantic tulle poet sleeves on our Pipa A-line dress; and billowy, off-the-shoulder sheer sleeves on our Glory strapless ballgown.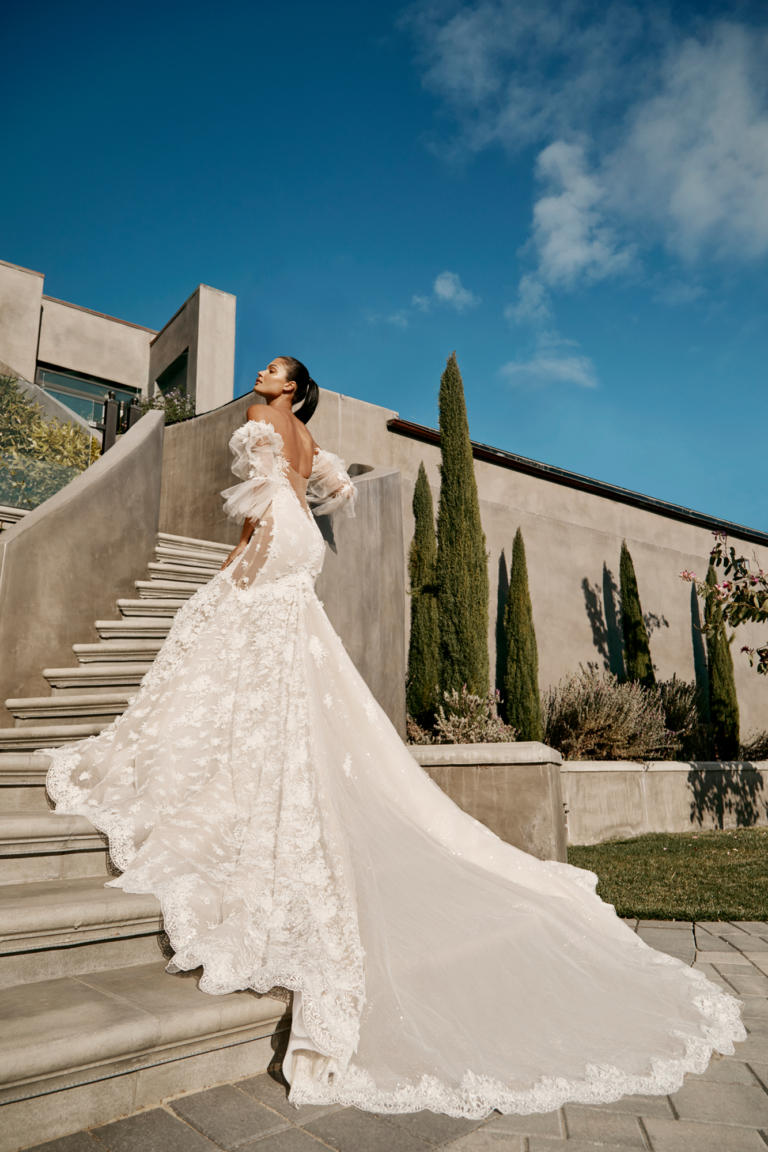 Notice Fabrics and Silhouettes You Favor

Pay attention to the photos you're saving on your Pinterest or Instagram, you'll probably notice some recurring themes. "Maybe you're loving sexy, sheer details or perhaps you find yourself drawn to dramatic trains," says Hurwitz. "Once you get to the bridal boutique, share your inspiration photos and key words, such as the type of fabrics and silhouettes you're thinking of with your stylist. Let your stylist know if you like lace, tulle, or satin gowns. Are you interested in trying on dresses with beading and embellishment or do you want a gown that's minimalistic and plain? Also, go in with an idea of the styles you're favoring. Do you see yourself in a vintage-inspired silk gown; a simple, but glamorous dress; or a sparkly tulle ballgown?
When to Book Your Appointment

Start shopping for your gown at least six months before your wedding date and reach out to your bridal boutique at least four weeks in advance to book your appointment. Insider's Tip: "Weekends are prime appointment days and your boutique may be busy, but weekdays tend to offer a more relaxing experience," says Hurwitz. You can easily book your Galia Lahav appointment at one of our flagship or authorized boutiques worldwide online.
Who to Bring to Your Appointment

The fewer people you bring to your bridal appointment, the better. "The more opinions you have to hear, the more confusing and frustrating your decision can be, especially when you love a certain dress and your entourage feels differently," says Hurwitz. "I encourage brides to invite the two people closest to them, whether that be friends or family members. Of course, bring whoever you need to have with you in order to make a decision, but less is more." Taking your mom and maid of honor dress shopping with you, for example, not only helps make this pre-wedding experience more special, but will also allow them to learn how to help you get ready in your dress, such as with securing the overskirt or pinning up the train for the reception.

Once you've found the dress of your dreams, invite a few more friends and family to a fitting, so they can feel included in the experience.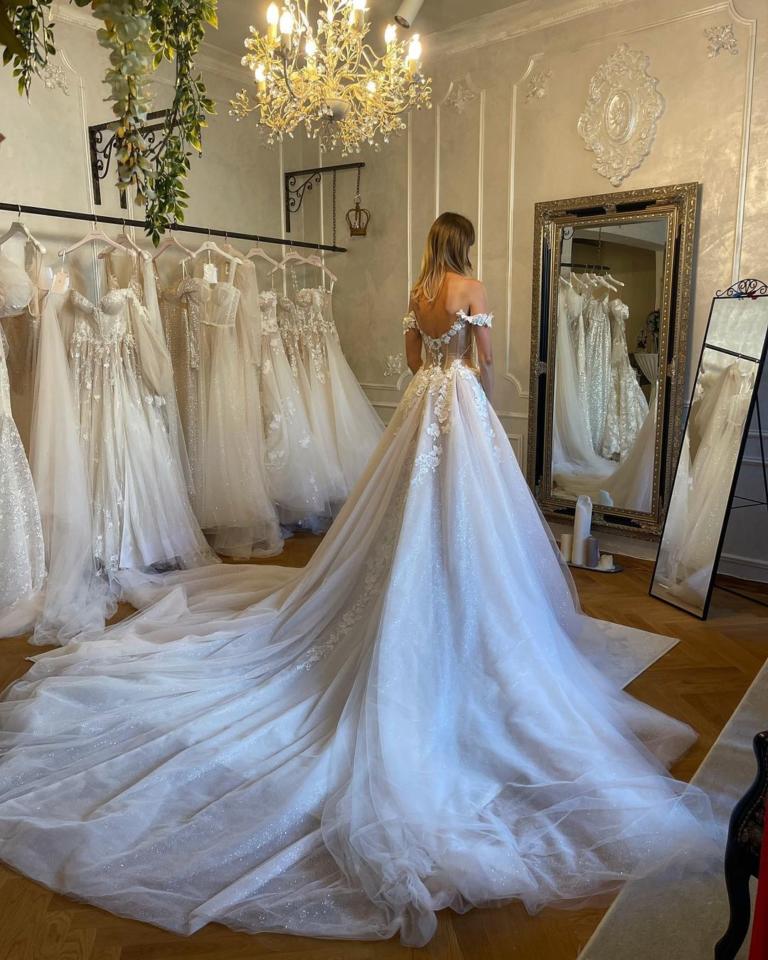 What to Bring to Your Appointment

Your bridal appointment will be an exciting occasion and going prepared will help make it go smoothly. Wear seamless, skin-color undergarments that will allow you to try on different tones and silhouettes of gowns. A strapless bustier is usually an ideal choice, as it universally suits almost every dress silhouette and can give you a good idea of what you'll need to wear under your gown and how you'll look on your wedding day.

Bring shoes that have the same heel height you anticipate wearing on your big day. Your bridal boutique should also have a selection of shoes you can try on with your dress choices to help you better envision your wedding day look. It can also be helpful to bring a hair tie or clip, so you can visualize the dress with your hair up.

"Also take a charged phone and charger to your appointments, so that you can take lots of photos and videos of yourself in each gown," says Hurwitz. "And don't forget to pack a bottle of water and a snack in your bag in case you get hungry during or between appointments."
What to Wear Under Wedding Dress

For many Galia Lahav bridal gowns, you won't need to wear a bra underneath because of its built-in corset or cups that can be sewn in, but it's a good idea to bring a nude-toned bra or bustier just in case. Speak with your stylist about the best underpinnings for the dress you're considering or chose.

"If you're interested in a form-fitting gown like a mermaid or trumpet, it's worth wearing or bringing shapewear, as well, so you can get a sense of how the dress will fit," says Hurwitz. Don't forget that comfort level is important when choosing your underpinnings. You'll be in your shapewear and dress for several hours and you'll want to be able to enjoy the eating, dancing, and celebrating.
Try On As Many Gowns As Possible

Be open-minded when shopping for your wedding dress and be prepared to go in a completely different direction once you start trying on gowns. Try on your ideas, but also other designs and silhouettes that you hadn't considered or are outside of your comfort zone. "Your perfect dress may not be what you initially imagined it would be," says Hurwitz. "You may be surprised by what you eventually fall in love with."

Trying on a variety of styles and silhouettes, including some unexpected ones, will help you determine what you really love on your body. You may think that you want a certain style or silhouette for your big day, but once you try it on you may decide it's not quite right. That said, trust your gut. "If you have your heart set on a fitted gown, don't feel like you need to try on dozens of ballgowns or A-lines," says Hurwitz. "One or two is great, but once you've narrowed down the style and silhouette, stick to it to keep yourself from getting overwhelmed."

Also be open to trying on different tones of dresses. You may originally think that you can only wear a pure white gown, but then try on dresses in blush, nude, and champagne hues that flatter your complexion better.

And while trying on the dresses, be sure to look at yourself in each gown from every angle and move around paying attention to how it feels on. "If you're not completely happy or comfortable at any point, let your seamstress know your concerns," says Hurwitz.
Choosing the Right Shoes for Your Dress

Comfort is also the most important detail when it comes to your bridal shoes. "Even if you wear your standout heels for the ceremony or photos, you can change into a more comfortable pair for dinner and dancing, but be sure they have the same heel height to avoid issues with the hem of your dress," says Hurwitz. "From a comfort standpoint, a block heel or platform is often best."
Written by Ivette Manners.
Finish your registration for {City} Trunk Show