FREE SHIPPING & RETURNS WORLDWIDE!

DUTIES & TAXES COVERED WORLDWIDE
Find your nearest boutique
Galia Lahav's bride of the day is Dr. Essie Yates, an intelligent lady who took our breath away! Her chic, elegance, intellect, and beauty made her an amazing Galia Lahav bride wearing the Patchouli gown.
Our amazing bride had her wedding in Santorini, Greece, making everything about the ceremony even more spectacular! Congrats to our Dr. Essie Yates and Jordan Yates on their wedding day!
Being a Plastic & Reconstructive Surgeon, I have true knowledge and love for aesthetics, as well as an appreciation for meticulous attention to detail. That is why I chose Galia Lahav…. The couture dress made with love. For our blush and pearl themed Santorini wedding the Patchouli was the ONLY choice. Floating down the aisle in my stunning dress the sun glistened off the pearl encrusted bodice. As I walked amidst huge vases of blush florals with the ocean breeze on my skin, and the breathtaking views of the Caldera, I had never felt more beautiful. When I saw my husbands face as he saw my dress for the first time, I knew that was a priceless memory I would never forget.
Dr. Essie Yates, was all about the attention to detail, so she chose the Patchouli gown, with its backless silhouette and pearl strands for a truly one-of-a-kind look.

Bridal Musing
I met Jordan 3 years ago at a holiday party in Chicago. He is a consultant born in Chicago, and raised in Iowa who is a senior partner for the logistics company Louis Holdings. I am a Plastic Surgeon from London, England, who currently works for the Atlantic center of Aesthetic & Reconstructive Surgery in Fort Lauderdale. When we met in 2013, I was halfway through a grueling surgical residency at the University of Chicago Medical Center. From the moment we met for the first time, we talked, laughed and connected in the most special and unique way. Jordan is the most intelligent, loving, thoughtful and spiritual person I have ever met. He happens to be particularly athletic and handsome in addition. People say when you know, you know, and we are the proof. 7 months into dating Jordan got down on one knee and proposed to me on what was the most romantic day of my life…only to be topped by our gorgeous wedding.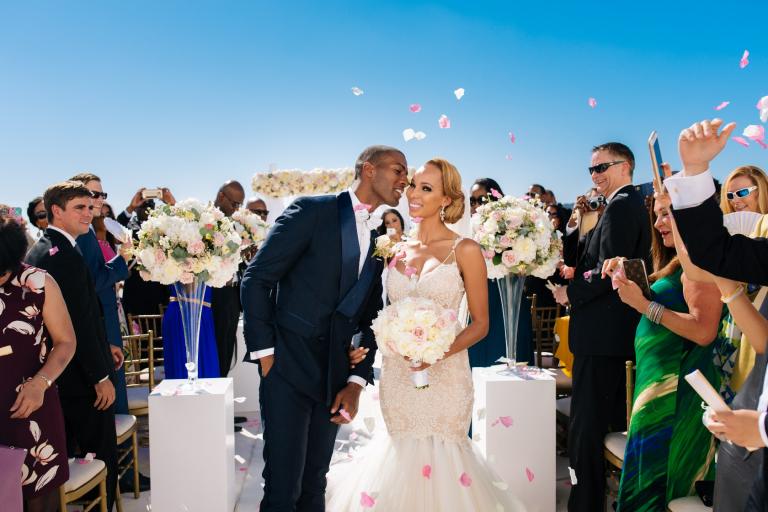 The bride said one of her favorite wedding day memories is the look in the groom's eyes as she walked to him at the altar. He hadn't seen her dress and his face as she appeared was priceless!

Essence
We chose Santorini because it is truly one of the most beautiful places on earth. Well located for our family and friends in Europe, and well worth the trip for our guests from the US and afar. The most special thing about our wedding was the people. Our nearest and dearest from all across the globe, together for 3 days. Many of our family members had never met before our wedding, and what a connection it was. Love, Laughter, and happiness was in abundance throughout.
Some guests have already requested an encore…. The only question is: which Lahav dress should I wear for the renewal of vows?
Finish your registration for {City} Trunk Show