FREE SHIPPING & RETURNS WORLDWIDE!

DUTIES & TAXES COVERED WORLDWIDE
Find your nearest boutique
Our #OnlineGLBride of the Week is the gorgeous Tasha Vaca Turner, who wore our GALA-805 as she married the love of her life. With previous wedding plans abruptly canceled due to the pandemic, the couple made it official with an outdoor ceremony in downtown Phoenix, Arizona. In the following interview, Tasha shares a behind-the-scenes look of her special day along with the details of her online GL bridal experience. As told by Tasha: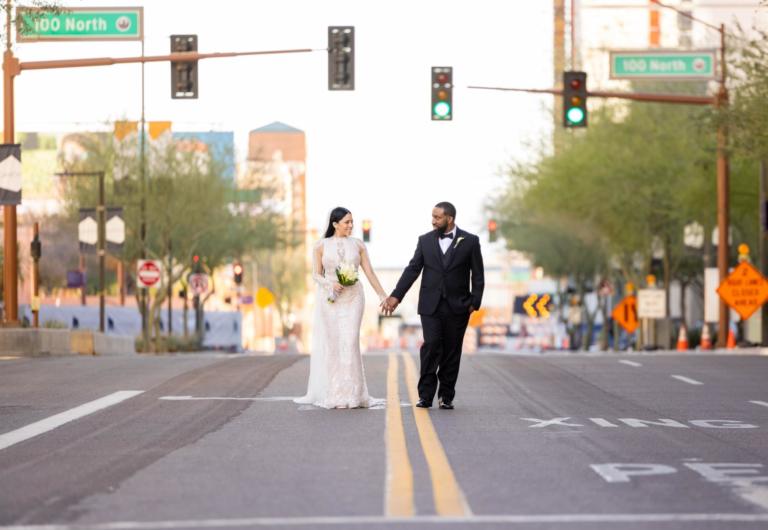 How did you meet your husband? Tell us a little bit about your relationship.

Masai and I met at a happy hour. He was hosting an event that my best friend knew about and invited me too. I did not want to go. Last-minute I decided to go. As my BFF and I walked in, she saw her friend who was sitting with Masai. We walked right into the VIP and my BFF greeted her friend. We made introductions and for the next 3 hours Masai and I talked like there was no one else in the room.  We exchanged numbers and as soon as I got in my car I called him and we literally talked 40 out of the next 48 hours.

Our wedding date was December 27th, 2020. February 1st, 2021 will be our 8-year meetaversary. We are building a house right now that will be ready by April 15th.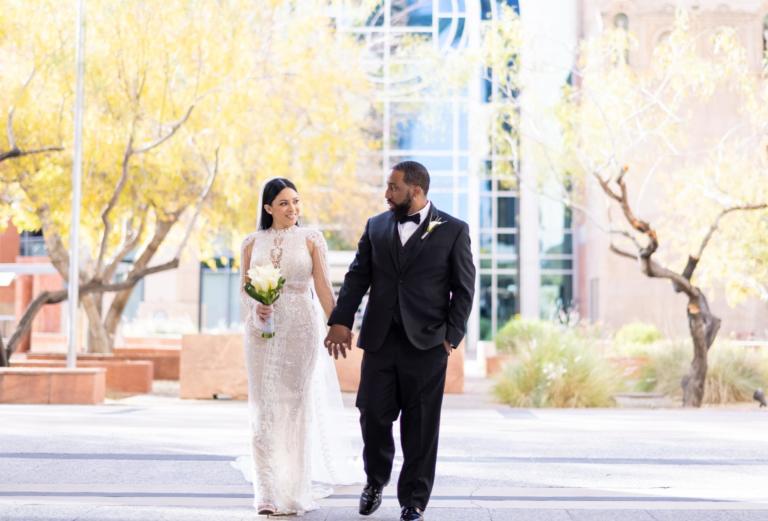 How did he propose?

Masai is not a planner. He usually has other people take care of things. However, he decided to do this on his own on January 31st, 2020. He told me we were going to dinner (our 7-year meetaversary was on February 1st, 2020).

He made reservations at Mastro's City Grill (our favorite restaurant and a place you need reservations for on a Friday night). We walked in and it was packed. He told me to wait at the door and he would check in. He was at the hostess stand for a while and I wasn't sure what was going on. He started walking towards me and was like "let's go." He grabbed my hand and we walked out. He told me he made the reservations for the wrong night. He said, "where else do you want to eat?"  I think we sat in the parking lot for 30 minutes thinking of a place as most places need a reservation. I suggested Elements at Sanctuary on Camelback resort since it was close by and we were both hungry.

He laughed and said that's where I was going to take you for our first date. We had a moment then drove off to Elements. It was absolutely freezing in there. I kept my coat on the entire time. Everything else was beautiful, even our conversation.  He said, "do you want to order dessert (Hot chocolate) and go and turn on the fireplace at home.?" I said: "sure." We get home and we are talking and freezing outside next to the fireplace. He said, "I never got to see your dress." He said, "let me help you take off your coat."

So as I am turning to let him help me take off my coat, as I complete the turn to face him, he is on one knee. I was in shock. As I was grasping what was happening and trying to take in the moment, he said some kind words and then proposed. Apparently, I took a while to answer because he always teases me about it. It was not that I needed time to think, I just was in shock.

 While the evening didn't go as planned, it ended perfectly.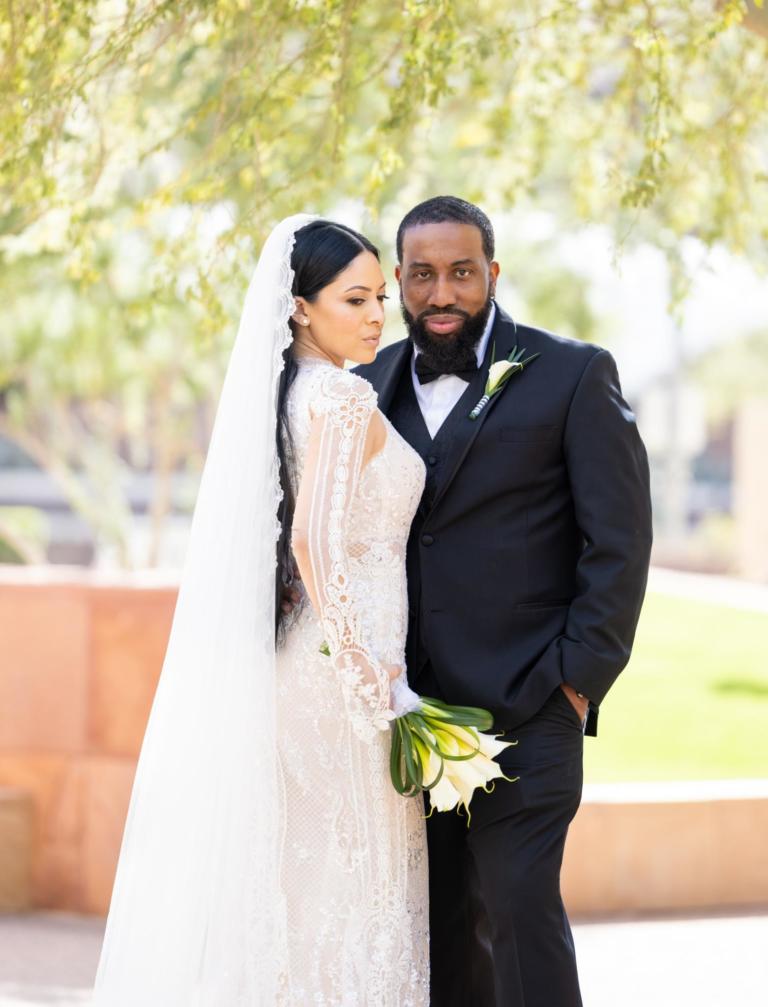 How did you start planning your wedding? What were the first steps?

At this point, we had been together for seven years.  So we knew we wanted to get married in Maui. We didn't wait to plan. The next day we started looking into resorts in Maui. By February 25th all contracts were signed at the Waldorf Astoria and I asked my brother to officiate our wedding. On February 1st, we sent out invites for our wedding date of October 3rd. In July we canceled our wedding after Maui extended their flight and COVID-19 restrictions. Saddened, we didn't know what to do next. Elope? Wait? Finally, we found a perfect spot in downtown Phoenix with a tall staircase to have a beautiful ceremony and my brother officiated.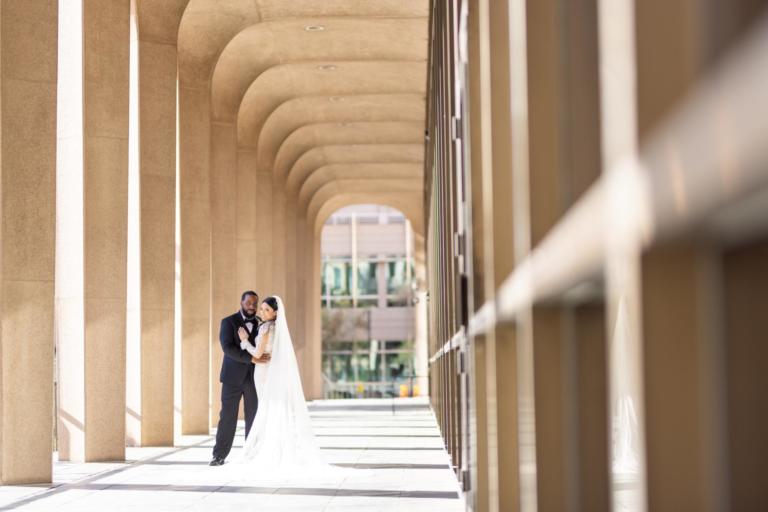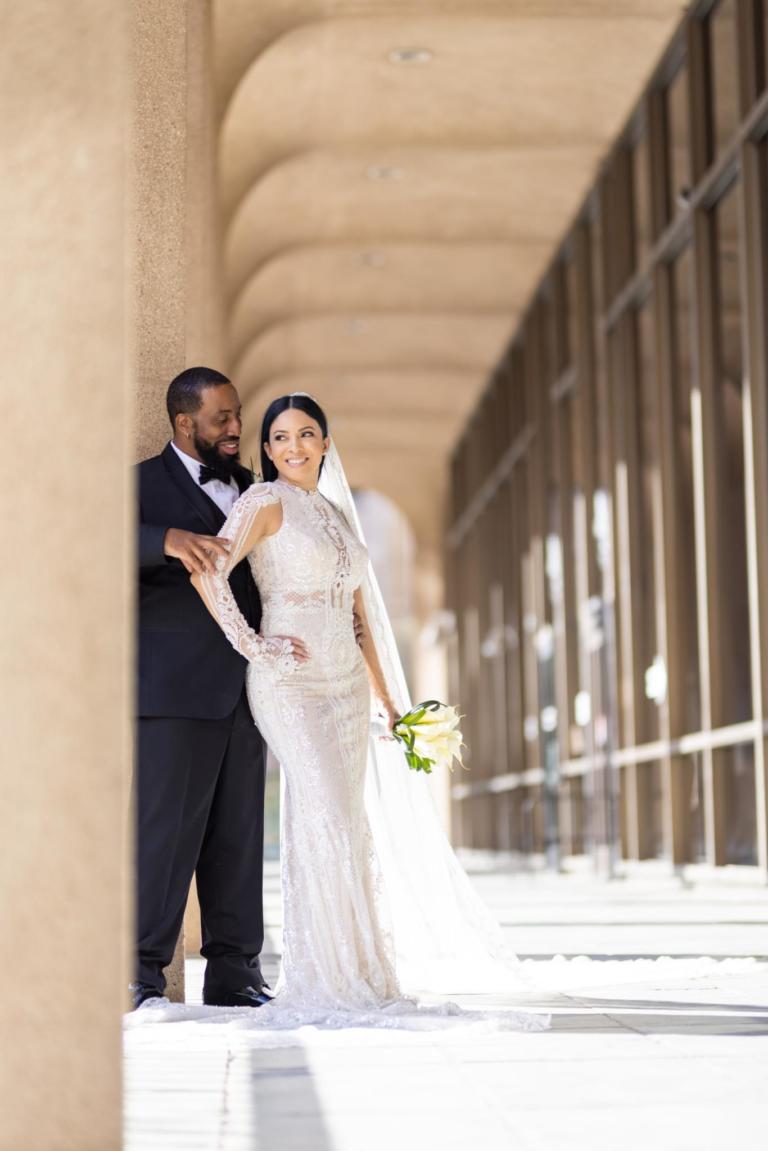 Did you do any beauty or fitness prep for your big day?

In September I hurt my back (bulging disc between L5 and S1). I couldn't work out and I was in so much pain. I couldn't even sit. The only way I could work was by standing. Since I could not work out anymore I had to completely change what I ate and spent the next three months in physical therapy determined to be able to walk down the aisle.
What was your wedding theme?

Originally we were getting married on the ocean as I love the ocean. Then we had to switch to the downtown vibe in Phoenix Arizona.

 
How did you choose your location?

The first location we chose was in Maui because we love to travel. So a destination wedding was the way to do it. I had always wanted a three-day wedding with events each day for our guests.

Our second location was in downtown Phoenix because I love the buildings. They were the perfect backdrop to our ceremony.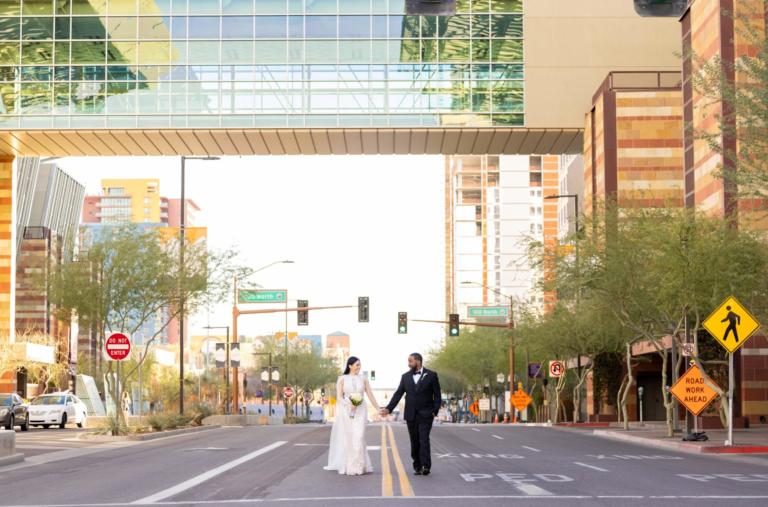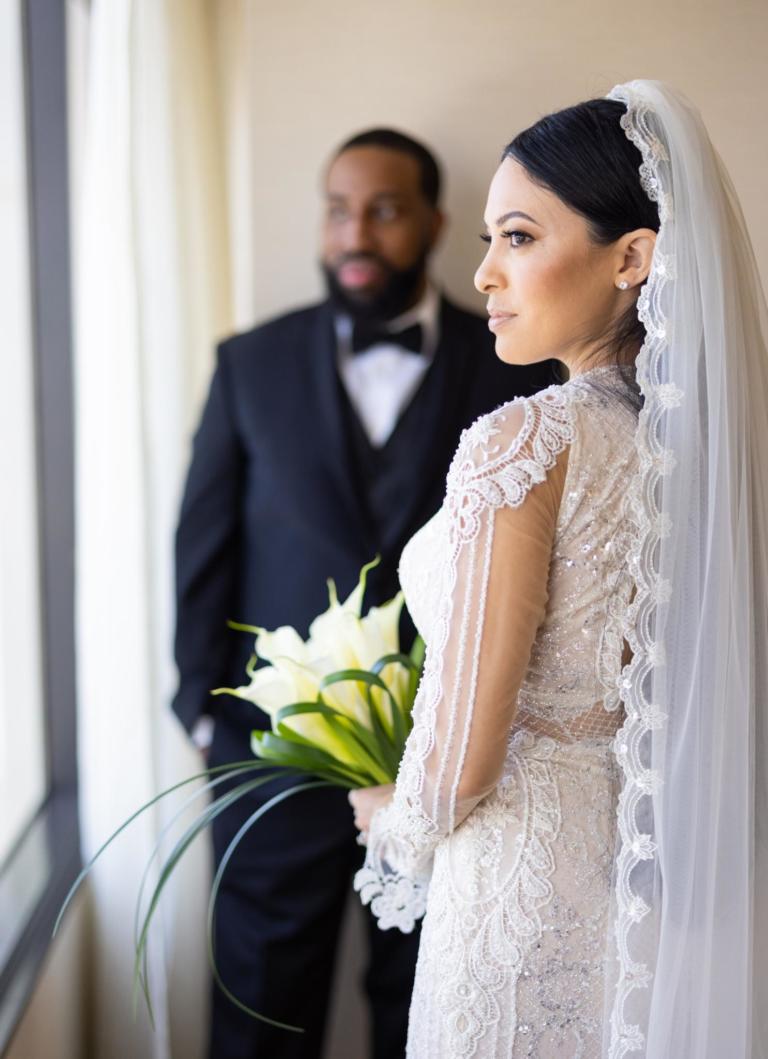 How did you decide on your bridesmaid style?

We had decided when we first met that when we got married we would only have our kids as our maid of honor and best man. Picking a dress appropriate for my 22-year-old daughter was hard. We didn't want anything revealing and most dresses are. Also, it had to complement my Gala-805. In addition, she is very tiny at 85 pounds so we had to find a dress she could wear. 

We found a perfect Vera Wang dress that was meant for her. For Maui, we picked a blush dress. The alterations ruined it and six days before the wedding I had to order another one but they didn't have blush so we got wine. It was the only size zero. We still had to get it altered and found a place that did it in four hours on December 23rd!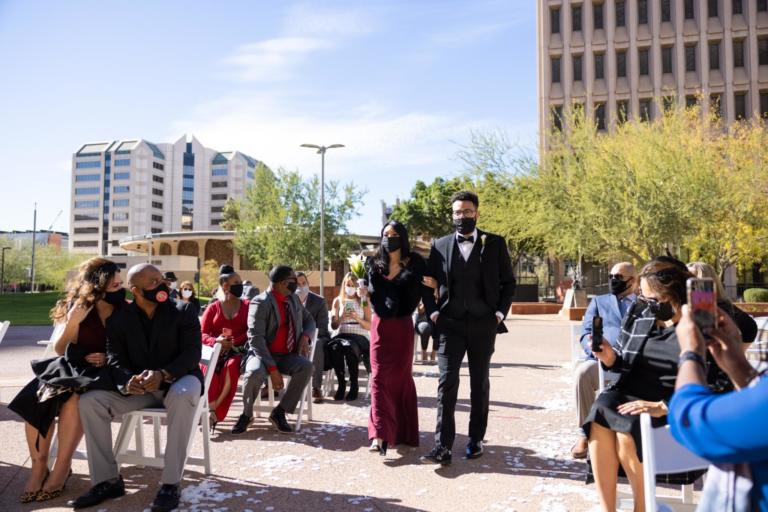 How did you find your perfect dress?

My favorite question. It started on Pinterest. Looking for dresses when you are not engaged is completely different to looking when you are. I didn't know the difference between a mermaid dress and an A-line. 

I started looking online for a dress in February. After looking at at least a billion dresses I found Gala-805 on Pinterest. It did not have a link. It was only a picture. I was so in love. But it had no link. I didn't even know where to begin. So I kept searching for other dresses. But there was no dress that even came close to my Gala-805. So now I was on a mission to find it, I had to learn what style the dress was etc. After a few weeks of searching, I found it all the way in Tel Aviv! 

While there were flagship stores in the states, everything was closed now due to Covid-19.  I emailed Galia Lahav and got a response from Michelle, I was so excited. We scheduled a Zoom Fitting where Masai would need to measure me. While I was sad I didn't get to experience the true bridal experience of going into an actual store and trying on dresses, the ladies made it special for me. Because of the time difference, my appointment was at 6 am (I couldn't sleep the night before I was so excited and didn't want to oversleep).

We got on the call and Michelle introduced everyone. She had someone try on the actual dress which I didn't expect and thought it was a nice touch. It was nice to see it on someone. They walked Masai step by step on how to measure me and it was hilarious. Michelle and I stayed in contact the entire time and anytime I had a question, she was there for me.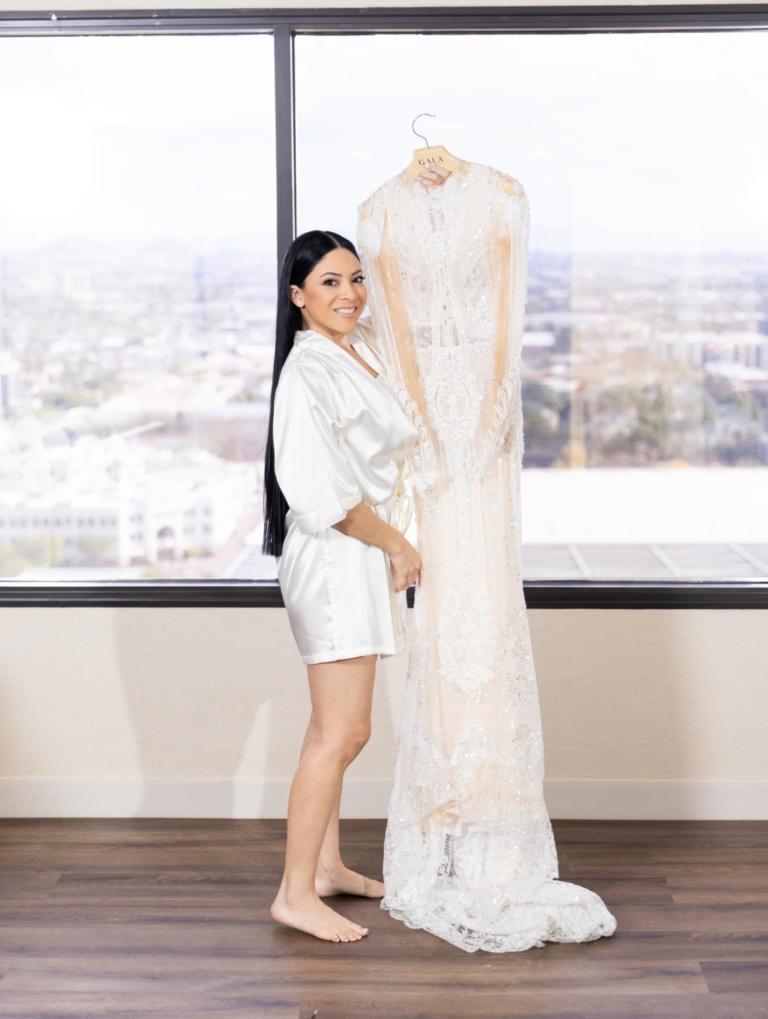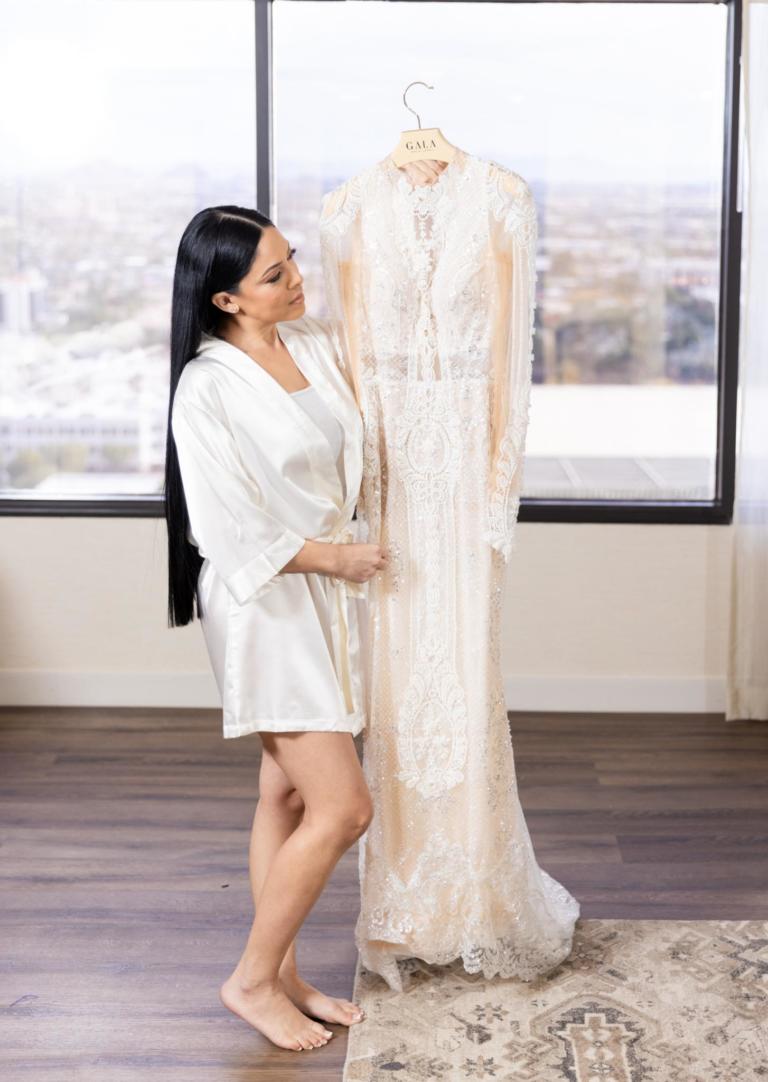 How was your experience with the Galia Lahav brand online?

 100% perfect. Although it wasn't the traditional bridal experience, it was my special experience and Galia Lahav filled that void.
What was the most important thing for you and your husband when planning your wedding?

We made a vow on day one when we got engaged that we would not stress about anything when it came to the wedding. That was thankful because each month in 2020 we had different obstacles to overcome, from the pandemic to my daughter's dress getting ruined a week before the wedding. But all along we stayed positive.
What was your first wedding song?

Due to COVID-19 and many family and friends at high risk, we decided not to do a reception for their safety and we would have a reception for our one-year anniversary, as long as it was safe. Our friends and family health was a priority for us. For our ceremony, Masai created an amazing playlist for our guests while they arrived at the ceremony and another for after the ceremony.
What did you enjoy the most about planning your wedding?

 Planning it with Masai. He was so hands-on and involved and made every step feel so easy and enjoyable. Sometimes I did feel a little stress or pressure. He was right there to remind me what was important.
What advice would you give to all our future online brides?

Cherish every moment of the planning. Things will be forgotten and will not quite go according to plan. Relax. Know that if anything goes wrong you are the only one that will know. LET IT GO. 
What moment from your wedding will you never forget?

I have two special moments.  The first one is Masai and I's special moments throughout the day.

The second moment was walking down the aisle with my Dad. The entire year I stayed six feet away from my parents. This was the first time I had touched him since March. Up until the day of the wedding, I was not sure how we were going to walk down the aisle.
Finish your registration for {City} Trunk Show