FREE SHIPPING & RETURNS WORLDWIDE!

DUTIES & TAXES COVERED WORLDWIDE
Find your nearest boutique
When it comes to shopping for the ideal wedding dress, Chicago-based boutique Bella Bianca are passionate about making every moment of a bride's journey count. Equipped with a stylish showroom, personal stylist and seamstresses to tailor finishing touches for each bride, every part of the service is expertly delivered. Founders, Melissa and Natalie, share their secret to success and how they stay on top of their game with us.

Please walk us through the Bella Bianca experience. How does your boutique differ from others?

The Bella Bianca experience for brides these days starts long before they walk in our doors. Our clients often start following us on social media before wedding planning is even on their radar. From there they get a feel for our designers, our boutiques, and our company vibe.

By the time they arrive for their appointment, they already know some of our stylists by name through the reviews they have read about our service, and they can recognize gowns from Instagram, taking away some of the nervous anticipations that brides often feel. Our boutiques are big, beautiful, and bright which sets the tone from the start that they are in good hands. We keep a large amount of gowns out on the showroom floor for brides to walk through with their stylist. Of course, this gives brides the ability to pick dresses out for themselves, but it also gives our stylists the opportunity to visually see what the bride gravitates towards. This is helpful as brides tend to come in describing one interest, but end up drawn to something completely different.

From there the bride and her party settle into their private seating area where they can enjoy the experience. Our team of bridal stylists are the best in the business. Fashion is their full-time career and they are well versed in the appropriate details, silhouettes, and customizations needed to ensure the best match for each body type. On top of that knowledge, our team brings something even more important to their clients…Fun!

Shopping for their wedding gown should be an exciting time filled with memorable moments and so much of that comes from the trust and connection they have with their stylist. Once the bride has found the gown, she and her party toast with Champagne and celebrate…but that is just the beginning of the journey with our clients! From there we move through Bridesmaids and Accessories appointments to ensure that the entire party is styled from head to toe. Once the gown arrives from the designer, it is on to alterations with our team of amazing seamstresses. These gowns are works of art, so it takes a true artist to be able to properly contour them to each individual body. We have an entire alterations wing in our Oakbrook location so that we can service brides in the best way possible during that important portion of the process. We are so fortunate that it is rarely goodbye to our brides when they finally get married, but rather "see you soon," through the referrals they bring down the road. As a family business, our clients and staff are an extension of our family and each such an important piece of Bella Bianca's success!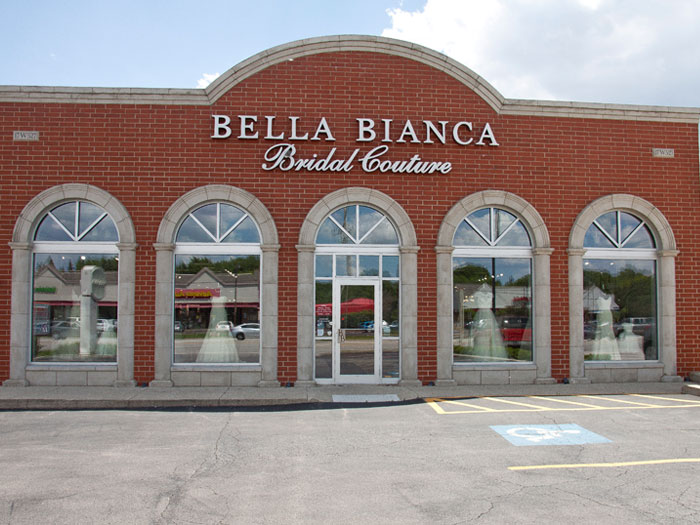 How does the Chicago weather affect a bride's attire on her special day? 

Luckily, Chicago weather is far more dramatic on TV and Movies than it is in real life! Because we can have such drastic swings in our weather, brides typically accept it as a factor that can't be controlled and therefore don't pay too close attention when it comes to the impact on their gown. That said, we do see brides who want to avoid heavy fabrications during the summer or those who choose to incorporate a sleeve for their winter wedding or wear a high fashion cape or fur jacket. We encourage our brides to focus on what makes them feel the most beautiful no matter what the weather may Bring!
With wedding dresses now available at high street prices online, why do you think made-to-order and couture dresses are still so relevant in the bridal industry? 

It's true that today's woman can purchase almost anything she needs online, but when we work one-on-one with our clients it is clear to see that the high expectation brides have for the most important gown they will ever wear can't be fulfilled online. While women may take risks on day to day clothing that they find online based on bargain or convenience, risking their bridal look is not a gamble worth taking. As it should be, there is a demand for the gown to be special, for it to evoke the exact persona she has envisioned and for it to be meticulously tailored to her body. These are things that can only be accomplished in a made-to-order, couture gown that the bride has had the opportunity to try on, feel moved by and customize to be exactly what she wants. With that also comes an expectation for the experience of finding the gown. This is where the couture designer and the luxury salon work together to create a once in a lifetime memory.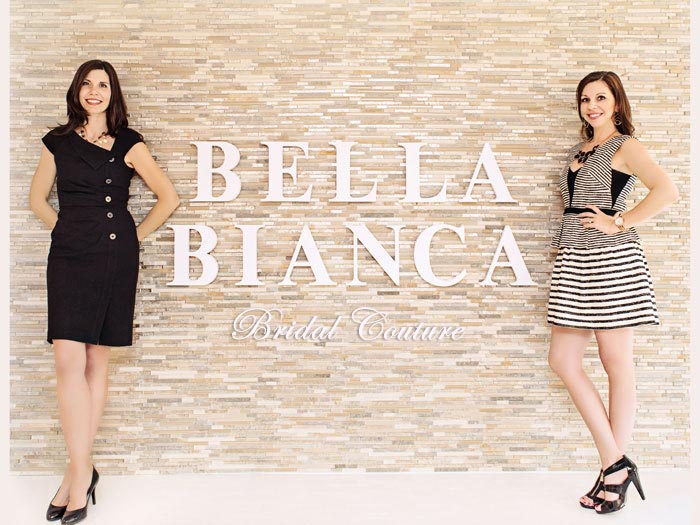 What does a discerning bride typically look for in a dream dress?

Our brides are in search of the perfect balance between unique yet timeless while flattering in all the right places. Every bride wants to feel like the most beautiful version of themselves on their wedding day, so it is important that they don't feel as though they are wearing a costume. The gown needs to help her walk the fine balance of reflecting their true personality while also fitting the image they want to exude on the big day. Details can come in so many forms; from clean lines to fully embellished, Our brides are also looking for quality construction that will enhance their bodies and look perfectly tailored to suit them.
As well as the downtown Chicago location, you have an expansion at Oak Brook Terrace. Why the addition and how do they differ?

We actually began with our suburban location in Oak Brook 11 years ago, and then expanded into Chicago 4 years later. We sought out to bring couture bridal to the suburbs while elevating the level of service and experience available to brides. Expanding into the downtown Chicago area was the natural progression of that plan. Chicago sees a large amount of brides who travel in from all over the country to shop for their gowns, so the downtown location allows us to cater to them. The two locations offer different price points and designer collections, with some overlap. Both have a very luxe yet warm atmosphere where each bride has her own comfortable viewing area where she can enjoy the moment with her entourage!

 
You also (helpfully!) provide services for bridesmaids. What advice would you give bridesmaids when shopping for their dresses with the bride? 

Our best advice for bridesmaids is to focus on the bride. We find that brides often have more anxiety about selecting the dresses for their bridesmaids than they do for their own wedding gown. They feel so much pressure to select the color, fit, and price point that will make their bridal party happy. In the end, the bride is the one putting these photos on her wall and the gowns should suit the vision she has for the day. Luckily there are so many amazing options for bridesmaids dresses these days. From velvet to crepe, there are so many flattering options. We love being able to work with the entire party and put the whole look together, whether that means coordinating similar styles or keeping everything uniform. This is another purchase that is best made with a reputable boutique rather than online. Having one store manage all of the dresses, whether they are the same or mix-and-match, is the best way to ensure that there will be no issues come time for the big day!

 
What's the one piece of advice you like to give your brides in the lead up to their special day? 

We are fortunate to work with our brides during the whole duration of their planning because we are with them during the alterations process in the weeks right before the wedding. It is in those weeks that we tend to see the stressors of wedding planning come front and center! We feel that our job during that critical time is not only to alter the gown to complete perfection, but also to be a listening board for our brides. Our biggest piece of advice in those weeks is to take a few moments each day to step back from the planning, trust that they've done everything to make the day perfect and to think about the day after the wedding, when they will wake up and realize that this is the beginning of a next beautiful chapter in their lives, because ultimately, THAT is the focus! We also tell brides to make sure there is someone at the wedding who has the job of making sure the bride and groom get to spend time together that night! It is so easy to get pulled apart into conversations with the guests, and the night goes by so quickly. Having someone that can steal the bride and groom out of those chats and connect them throughout the night is key!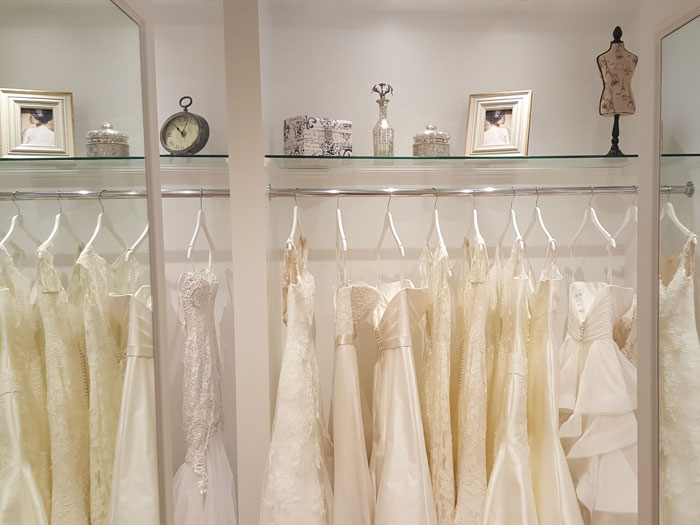 What do you typically look for in a bridal collection? 

Our goal in creating Bella Bianca has always been to offer the most diverse collection of bridal fashion. When we see a new collection we ask ourselves a series of questions, for example: Does the collection move us emotionally? Does it offer something unique for our brides? Does it represent an aesthetic that our brides will respond to? Can we see ourselves connecting with the designer and company? Does the collection further what we currently offer? There is a significant investment in introducing a new collection to our brides so it goes far beyond beautiful gowns, the collection has to represent quality, consistency and the opportunity for brides to make minor customization to make it their own. We also have to feel good about the people behind the brand because it is a true partnership and having a good working relationship makes all the difference in the success of a collection in the salon.
How does Galia Lahav's main and GALA collections fulfill these expectations?

The team at Galia Lahav literally wrote the book on how to be excellent partners! Of course what drew us to the Galia Lahav collection initially was the unbelievable response we were noticing on social media from brides to the campaign images. The gowns speak for themselves, they offer a design aesthetic and evoke a personality that simply cannot be replicated. Their construction is done with clear intention to flatter the woman's body and because of that they truly give brides a confidence and undeniable feeling of beauty when they wear them. But what drew us in just as much as the fashion happened within minutes of our first meeting with the team several years ago. We were immediately impressed with their kindness, warm nature and unwavering desire to satisfy the bride as well as our internal team. We knew very quickly that the working relationship would be enjoyable, and it truly has been one of our greatest joys in this business. As a retailer for Galia Lahav we know that we are supported by their production team and the service level is unparallel. And, each season we know that the Galia Lahav and GALA collections will blow us away with their design evolution.
What does the future hold for Bella Bianca as a company? 

We have spent the past 11 years creating the Bella Bianca brand and establishing it as a mainstay in Chicago's luxury bridal market as well as a destination to those outside of Chicago. Now, in the coming years, our focus will be on furthering the level of service to truly reflect the changing needs and expectations of brides in today's world of technology, social media, etc. With a move and expansion of our Chicago salon in the coming year we will be keeping our brides' expectations for the shopping experience top of mind as we design a unique store environment. We will also continue to be laser-focused on deepening our commitment to the brands we serve and always exploring what new collections may bring something unique to the Chicago market. We pride ourselves on realizing that in order to stay relevant to each new generation of brides, we must constantly evolve what we offer and the way in which we present it to our clients. No matter how much we grow, our number one priority of providing the very best shopping experience for brides remains the same. With every new decision, collection, policy, etc; we always ask ourselves the same question – How would I feel if I was the bride? Keeping true to that is what put us on the map and we look forward to keeping that mindset for decades to come!
Finish your registration for {City} Trunk Show