FREE SHIPPING & RETURNS WORLDWIDE!

DUTIES & TAXES COVERED WORLDWIDE
Find your nearest boutique
A Wedding For The Ages: Marie Fe and Jake Snow's Breathtaking Destination Ceremony

Everyone's favorite travel influencer couple, Marie and Jake, were married this past week in a stunning ceremony that truly embodied their beautiful romance. Filled with wanderlust, wonder, and a perfect mix of classical romance and modernity, we can't take our eyes off of these pictures! With Marie wearing custom Galia Lahav, the two embarked on a matrimonial odyssey that redefined the very essence of a modern-day love story.
Marie wore three wedding dresses on her wedding day.

How do you find the perfect wedding dress when you've already tried on countless dream dresses for Instagram productions? For Marie, the search for the dress was a challenge. "Jake has probably seen me in 30 wedding dresses. I was worried that it wouldn't be anything special for him anymore." Marie found what she was looking for at the Bridal Fashion Week in New York. There, she visited several showrooms and had the best feeling at the Couture label Galia Lahav, whose fans also include Beyoncé, Jennifer Lopez, and Paris Hilton. The design team provided her with three white dresses: a fairytale dress with floral appliqués, a lace dress with oversized sleeves, and a short classic dress for dancing.
Marie's ceremony look, the GALE gown personalized with a bespoke cape, read like a modern-day sonnet composed in silk and tulle. A sheer corset with lacing details along with a pannier petticoat and silk tulle skirt exuded elegance in every stitch. Embellished cuffs and contemporary floral appliqués infused the gown with a dose of avant-garde charm, setting a tone that is anything but traditional.
Chasing Dreams: Marie and Jake's Amazing Love Story

If you don't already know them, let us introduce you: Marie Fe and Jake Snow – two adventurous hearts rewriting the book on love and exploration. It all started on a sunny beach in Thailand – a chance encounter bringing them together. Immediately, however, they felt as though they weren't strangers; they were puzzle pieces that perfectly into each other's worlds.

Their love doesn't wait around; it bloomed from the beginning, and their commitment shone like a bright light right from day one. With their passports guiding the way, Marie and Jake began to explore the globe, becoming each other's constant in a world that's always changing. Luckily for us, they decided to bring us all along on their incredible travels and love story.
Idillia - Marie's Second Dreamy Gown
The party's momentum - Dreamy Wedding Dinner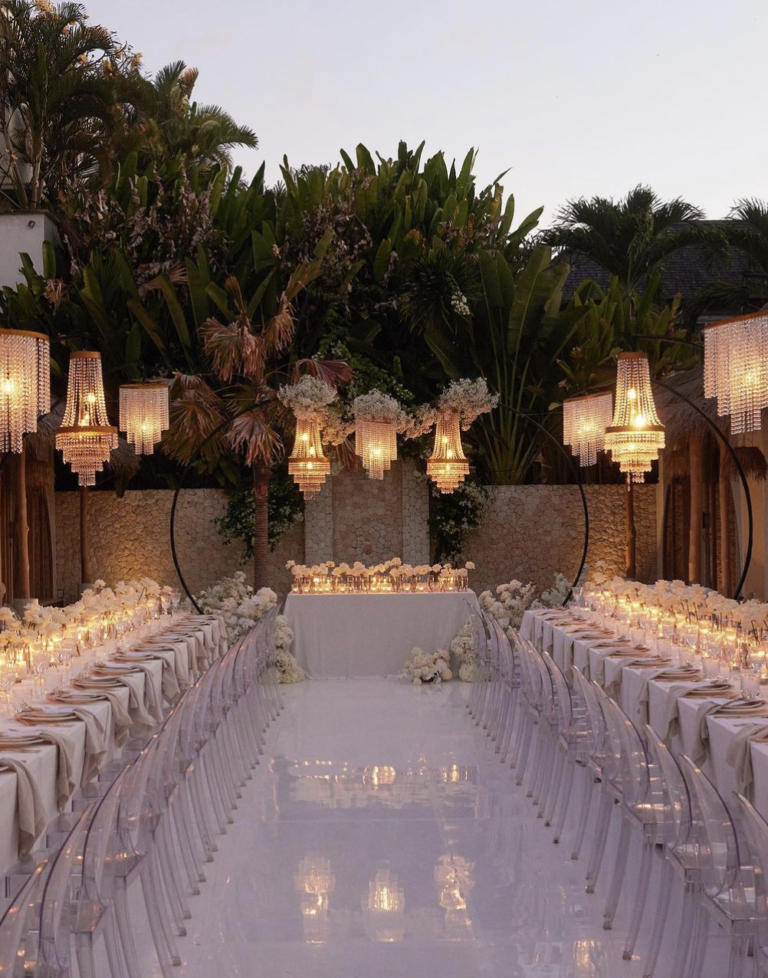 Loulou - The Party Gown

For her third look Marie decided to show some leg in a fierce and stylish, fitted, strapless mini dress, highlighted by embroidery and a corset, which drapes into a wraparound skirt made of lustrous stretch satin. She paired it with a removable statement cape for a look that is chic and sophisticated.
More Insights Coming Soon, Stay Tuned

Get ready to keep up with this event, as it's far from over, and we are, for one, sitting on the edge of our seats.

Instagram: @mariefeandjakesnow
Finish your registration for {City} Trunk Show