FREE SHIPPING & RETURNS WORLDWIDE!

DUTIES & TAXES COVERED WORLDWIDE
Find your nearest boutique
"Galia used to always say, 'ahh, I want to design a dress for Jennifer Lopez to wear," says Galia Lahav's head designer Sharon Sever, recalling how back in the day, people would ask himself and the house's founder to share their "dream celebrity" client.  Well, like a Hollywood epic, dreams really can come true. Because Galia Lahav created not one, but 28 wedding dresses — in collaboration with costume designer Mitchell Travers — for Lopez's new movie, Shotgun Wedding, which streams on Prime Video on Friday, January 27.
"We were just blown away. I couldn't believe it was happening," says Sever. But, Sever, Lahav and the entire Tel Aviv team — from atelier house manager to crackerjack seamstresses — didn't have time to sit around and marvel. Due to the usual lightning fast pace of Hollywood film shoots, and challenged by unprecedented pandemic restrictions, Sever and co. had to pull-off the near-impossible project in just one month — and in the early days of COVID.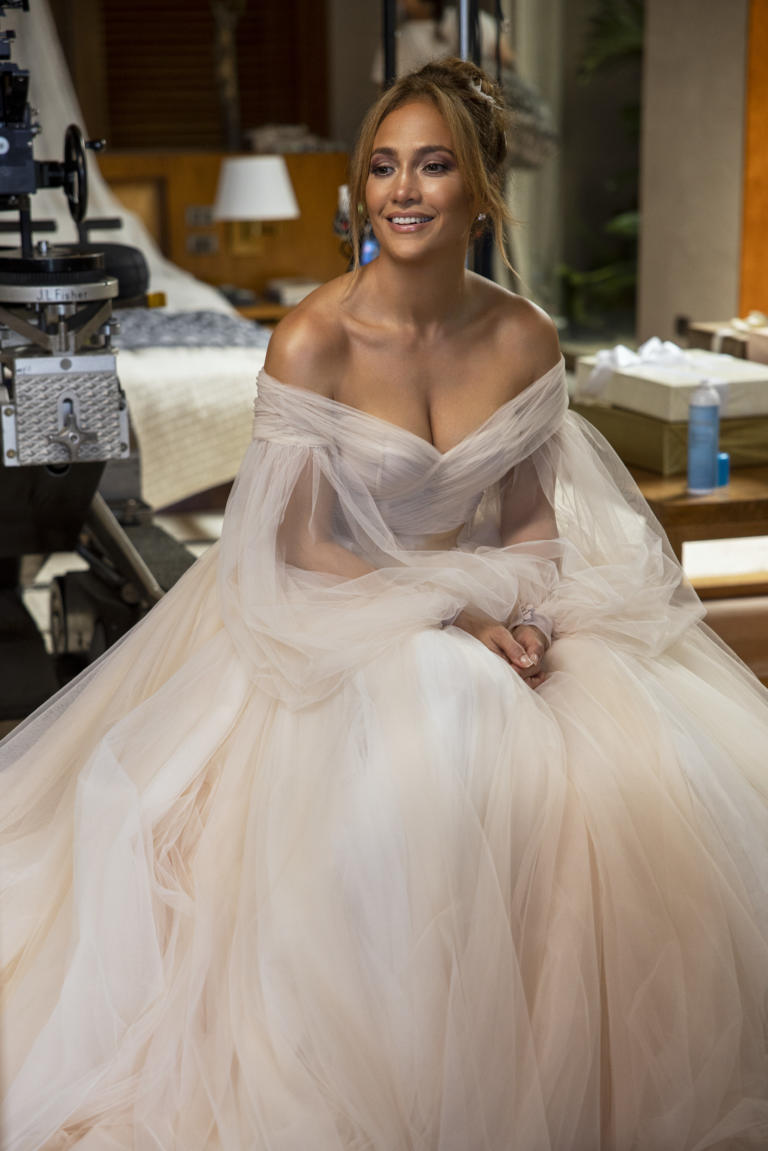 The destination wedding-set action rom-com stars Lopez as Darcy, who's about to marry Tom (Josh Duhamel). They must save their loved ones after pirates take the wedding party and guests hostage. In a supporting role, Darcy's wedding dress evolves (or devolves), from a voluminous puff-sleeve ballgown into a ruffled, leg-baring halter look, as the intense action picks up over the course of the high-stakes day — hence the need for nearly 30 iterations. "Since the dress had to be demolished, it was a very big task," says Sever.
The tremendous design process began with Zoom meetings with Travers "several times a day," says Sever. "Mitchell would text me and send me videos and pictures."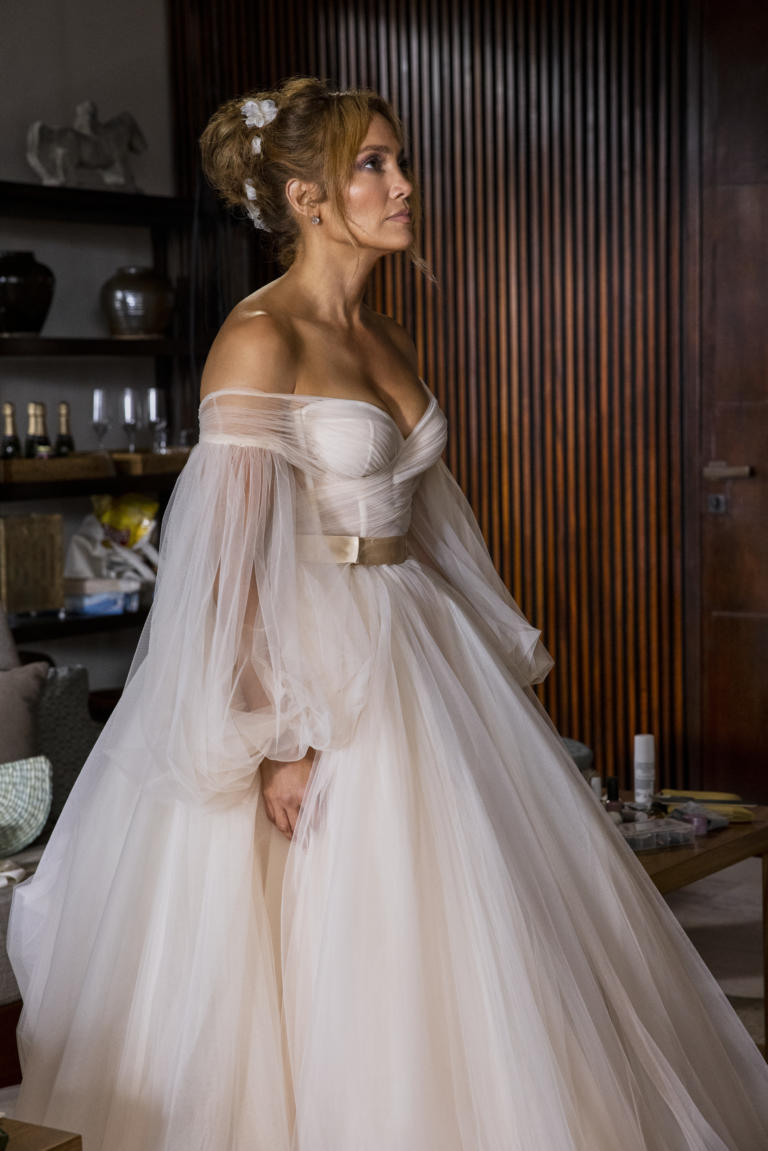 First, Sever knew that landing on an exact nuptials-appropriate champagne hue was key. "I've always loved shades of blush and nude tones," he says. "So I wanted to incorporate that in the dress. The effect of the lavish tulle and the layering was very important to me, because our work [at Galia Lahav] is always known for that. The personal touch that's in every dress."
Researching materials, Sever and the team found that a "fine silk tulle," and its resistant fabrication, completed the necessary goals for aesthetics and storytelling. "We have to layer it, so it will get the depth of the effect when it catches the light. "The sheerness and lightness of it is very important," explains Sever. "But it would have to be layered in a way that would look impressive, and yet allow enough movement for Darcy. Because there's a lot of action in the movie."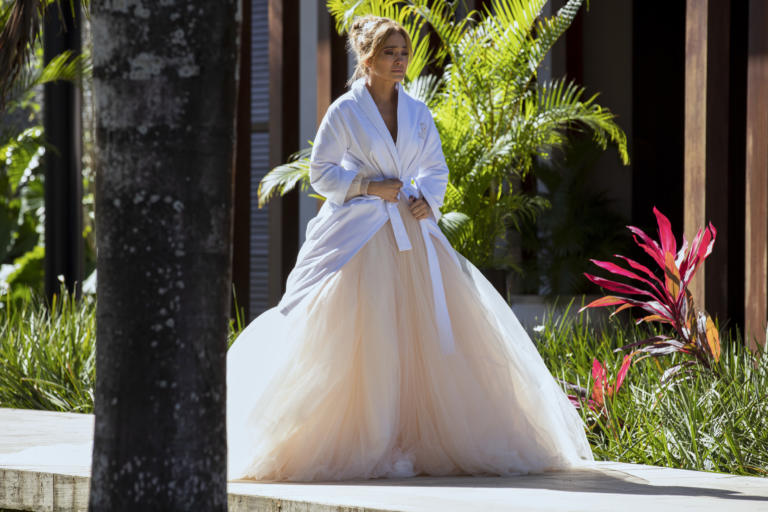 Sever and the team then experimented to find the ideal way to engineer the silk tulle for Darcy to tear the dress in a realistic manner. "The ripping part had to look natural and not too forced," he says, realizing that the usual tricks of velcro and snap buttons wouldn't work. So, Sever worked with the atelier's manager to determine a genius solution: "a special stitch that allowed it to be torn and maneuvered it in that way."
As Darcy and Tom attempt to outrun the kidnappers and rescue the hostages, the gown gradually breaks down, requiring the prototype dress to be built in three stages. "A petticoat with a skirt, and then an over-skirt that was worn on top of everything," says Sever. The entire atelier staff dedicated their time to the project, happily staying late to painstakingly complete each of the 28 dresses. "Everything is handmade," says Sever. "All these tiny little drapes on each corset, and each strap and each sleeve, everything was made by hand."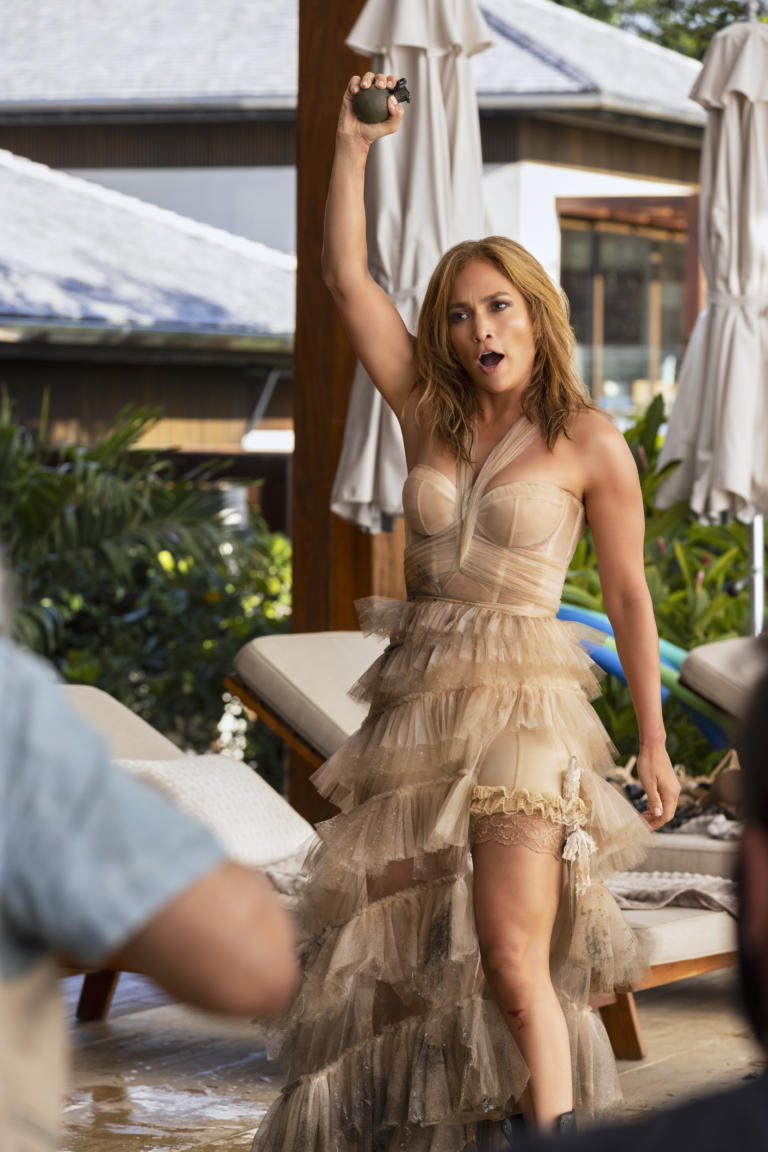 At the height of the action, Darcy tears off the over-skirting and the sleeves with gusto and quickly reconfigures it into a halter-topped, corset dress with tiers of ruffles and an asymmetrical hemline — also making it easier to run from the kidnappers. The edgy-tough, but still romantic silhouette is also one that may kick off new wedding dress trends — although maybe not the kind you may have in mind.
"I'm often asked about trends and what's fashionable, but I always say that the most important trend is comfort," he says. "When you feel good in a garment, then it allows you to be yourself. So in spite of the drama and the volume and everything, the dress still had to be light and airy and comfortable — and with enough flexibility for Jennifer's character Darcy to do whatever she wanted and how she felt it should be done in the dress."
Finish your registration for {City} Trunk Show