FREE SHIPPING & RETURNS WORLDWIDE!

DUTIES & TAXES COVERED WORLDWIDE
Find your nearest boutique
This week's GLBride is the stunning Jessica Forchione Diede, who celebrated her nuptials in our MAYA gown from the 'Fancy White' Couture Collection. She and her fiancé said 'I do' at the beachfront Ritz-Carlton Bacara resort in Santa Barbara, California. In the following interview, Jessica shares some moments she will forever cherish and her journey to becoming a GLBride! As told by Jessica:
A moment of your wedding day will you never forget?

The first look. Grant was crying before I even tapped him on the shoulder, so much so that when I tapped him the first time he didn't turn around because he was crying so hard. When he did finally turn around it was the most special moment and I'll never forget the look in his eyes.
One thing you wish you knew as a new bride? What advice would you give to future brides?

Your wedding day will feel like a blur. I think because you're getting pulled in every direction and your brain is just on overdrive. It's just so crazy, you look forward to this day for so long, and then it comes and goes and you're like "Wait, what happened?!". Try to take a moment for yourself in the morning before the chaos begins. I watched the sunrise by myself at the beach and tried to soak it all in. I felt such an immense amount of gratitude for my life at that moment. All of my favorite people in my favorite place…about to wear my favorite dress and marry my favorite person.
A detail that made your wedding special/unique?

We released 100 butterflies in honor of Grant's Grandpa who's no longer with us. The year he passed away a bunch of yellow butterflies swarmed his mom and ever since then, butterflies have always been a symbol of Grandpa Joe. When we released the butterflies at our wedding they didn't all fly away and some landed on Grant and me. Later during the ceremony, two butterflies were flying around the altar as we were saying "I do". I like to think that it was Grandpa Joe giving us his blessing.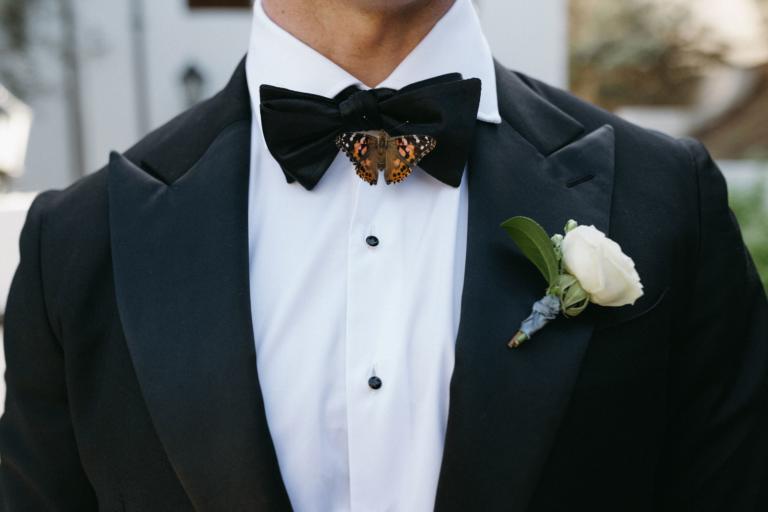 How did you know your dress was 'the one'?

I had seen the

Maya

a few times on social media and knew I had to try it on. The first boutique I went to had Galia Lahav dresses and I immediately asked if they had the Maya. When we went back to the fitting room the associate asked me which dress I wanted to try on first and I said "the Maya". She warned me it's a hard dress to follow-up, and if I was sure I wanted to try it on first because I probably wouldn't like any of the other dresses I had picked out. She was right. Maya was the first dress I tried on and I knew it was the one, it literally fit my body like a glove and it made me feel like an absolute goddess.
How did it feel when you put on your dress the day of the wedding? What was everyone's reaction to the dress?

I was happy that it fit, haha! We had been celebrating all week with fun dinners and drinks so I was a little worried. But it fit perfectly and was truly the most amazing dress and was above and beyond anything I ever dreamed of. Everyone continues to talk about the dress and how it was made for me. I'm sad I won't be able to wear it again!
Would you have done anything differently?

Grant and I were set on taking beach photos at sunset while our cocktail hour was going on but we had still planned on going to the last half of cocktail hour. My dress got covered in sand and was so heavy that we weren't able to bustle it. My planner came up with the idea of filling up the bathtub with a few inches of water and having me stand in it while we swished my dress around to get all of the sand out. Then my husband and his sister had to blowdry the train while my planner bustled the dress. We ended up missing the last half of cocktail hour. So I don't know if I would recommend going to the beach in your wedding dress, but it did make for some amazing photos. Anything to get the shot, right?
What was your favourite part of the wedding to plan/you were most looking forward to?

My favorite part to plan for the wedding was cocktail hour.  A lot of our guests had never been to Santa Barbara before and we wanted them to see the beauty of it through our eyes. I kept going back to this feeling "magical and ethereal" and that's exactly what it was. It was a balmy 67 degrees, and our cocktail hour was set on the bluff overlooking the Pacific Ocean at sunset. We had a violinist walking around and playing to our DJ who was playing music like Rufus Du Sol and Kygo. We had tons of white flowers, candles, and twinkle lights. My dad the next day described it as "magical" and it made me so happy knowing that the feeling I was going for was felt.
How did you meet your husband? How did he propose?

We met at Outside Lands Music Festival in San Francisco through mutual friends and it was truly love at first sight. It was like some cosmic force had us meet that day. We both locked eyes with one another and became pretty much inseparable after that. Two years later he proposed at his family's cabin in Lake Tahoe. Grant suggested we go out and take some photos on the dock before we headed to dinner. That should've been my first clue because Grant hates taking pictures. Once we were out there it looked like a thunderstorm was rolling in and I wanted to go inside, but Grant kept stalling me. After a few minutes, I turned around and saw our Golden Retriever Ace running down the dock wearing a bandana that said "Will you marry my dad?" I was so in shock I don't even think I said yes. After he proposed, all of my closest friends and family walked out of the cabin and surprised me. It was so special being able to share that moment with them. I remember laying in bed that night and I actually pinched myself to see if I was dreaming.
How did you find working with the team at Galia Lahav?

Great! They recommended the most amazing seamstress to me just North of Los Angeles. Her name is Suzy Abouchian and she is one of those special people who instantly become like family when you meet her. Every fitting I had with her I looked forward to, she would make me Armenian coffee, feed me cookies, and show me her photo albums of all of the dresses she's worked on over the years. She's just the absolute best.
How many dresses did you try on before you found it?

Oh! I tried on a few after the Maya for good measure but nothing compared to this dress.
Finish your registration for {City} Trunk Show