FREE SHIPPING & RETURNS WORLDWIDE!

DUTIES & TAXES COVERED WORLDWIDE
Find your nearest boutique
The trend in colorful bridal attire isn't limited to the bride. Grooms today are just as into their
wedding day look as brides are and many are forgoing the traditional black or gray tuxedo.
Wearing a well-tailored, colorful suit is one way for a husband-to-be to express his personal
style on the big day. The key to flawlessly pulling off this look is making sure that his suit and
your wedding dress balance and flatter each other. Here, we've rounded up our favorite
colorful suit shade-and-wedding dress combinations with expert tips on how to be perfectly
matched.
BLUE

From a soft sky hue to navy, a blue groom's suit is as classic as the standard black tux, but with a bit more personality. This traditional shade is a favorite because it spotlights the handsome groom while allowing the bride to shine in her showstopping dress. "If you're wearing a gown with a lot of details, you want your groom to wear something streamlined and crisp so not to compete with your look," says Levis. When paired with a dramatic, tulle ball gown, like the Seraphina, a blue suit gallantly compliments the dress' whimsical side. "This classic groom's look is very regal and balances out the airiness of a voluminous ball gown, letting the bride be the star," says Levis.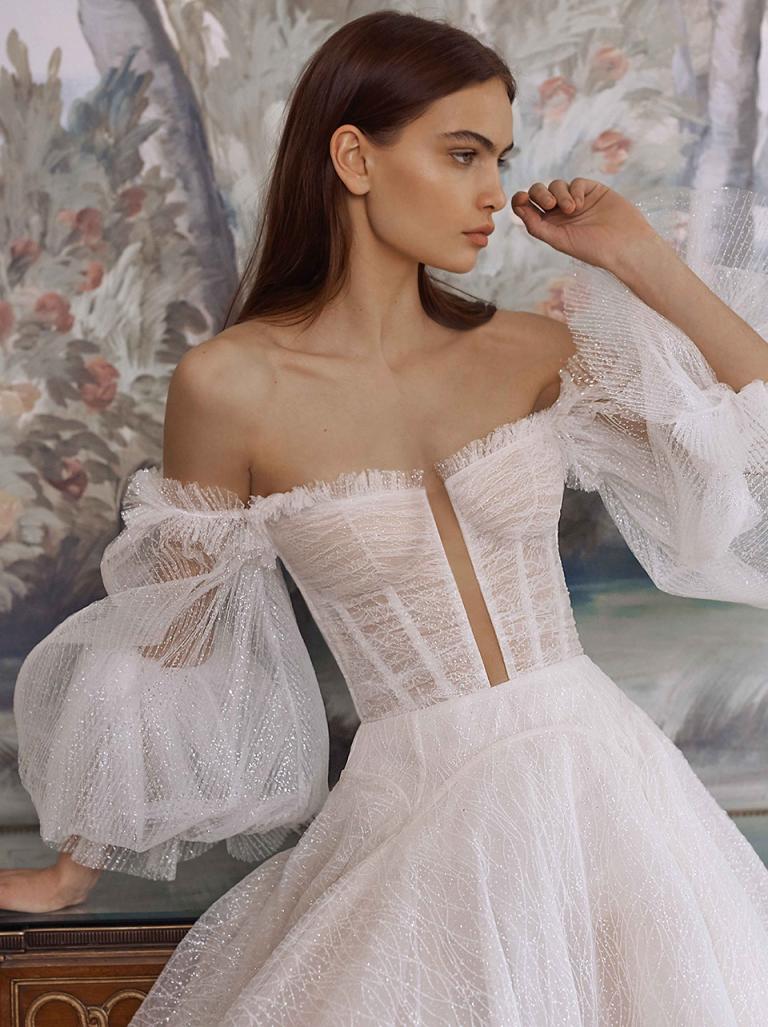 GREEN

Another stylish alternative to the black tuxedo is a green suit. This jewel-toned shade works really well with ivory and champagne-hued wedding dresses. "A suit in any shade of green looks elegant next to a gown with a cream tone or nude lining," says Levis. "It's not as harsh as black and plays up the soft shade of the dress." This dapper wedding day attire makes a beautiful match with our Carla ivory-and-blush trumpet dress of embroidered net and sheer side panels.
RED

Grooms' suits in warm tones of red and burgundy make a great match with wedding gowns in
pink hues. "A red colored suit will bring out the sheeny blush lining or overlay in a bridal gown,"
says Levis. You and your groom will make quite the romantic pair with him in his dashing suit
and you in the Celeste blush-and-nude, tulle A-line gown with a gentle shimmer and
embroidered glass bead embellishment.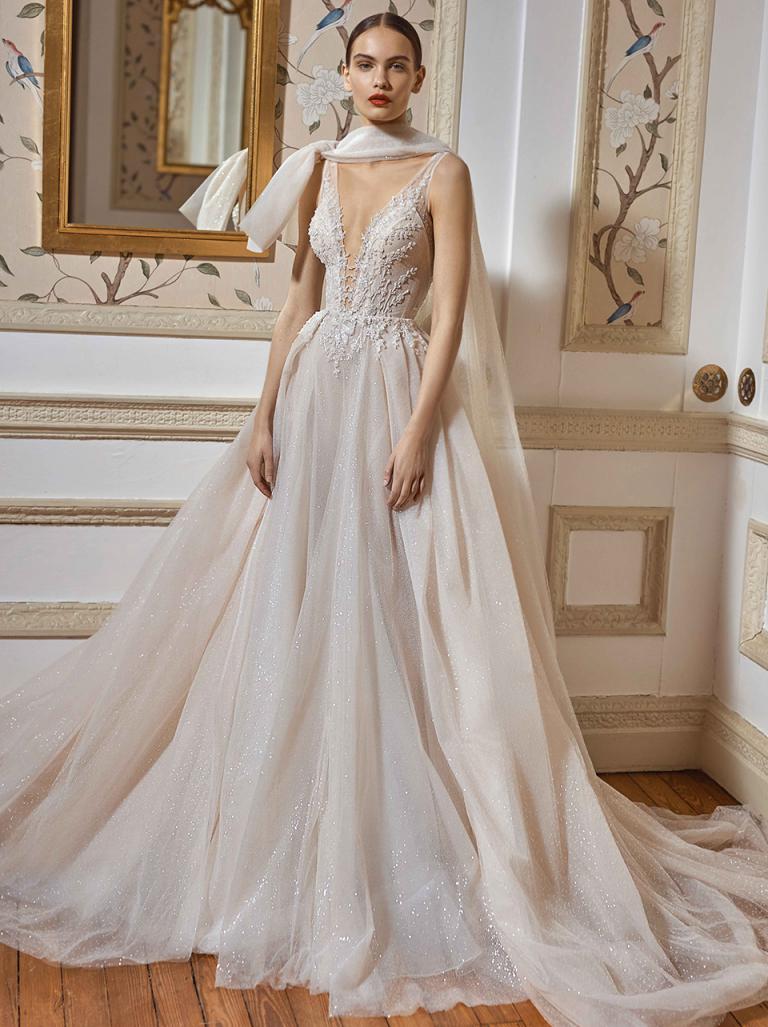 YELLOW

If you'll be wearing a bright white gown and your groom is going for a yellow suit, steer him
towards a golden hue like ochre, mustard, or deep beige. "A suit in a yellow shade that's too
creamy might make your white gown look dingy," says Levis. A contemporary groom's look
deserves to be paired with an equally modern wedding dress like the Giovanna ball gown
featuring a celestial embroidered design with silver crystals and beads.

If you're more of a boho bride, a pale yellow or linen suit looks effortlessly chic alongside a
bohemian-inspired dress like the Idilliya beaded-lace mermaid gown with dramatic wing

sleeves. "Keep your groom's look simple, yet playful and interesting with a subtle shade of
yellow," says Levis.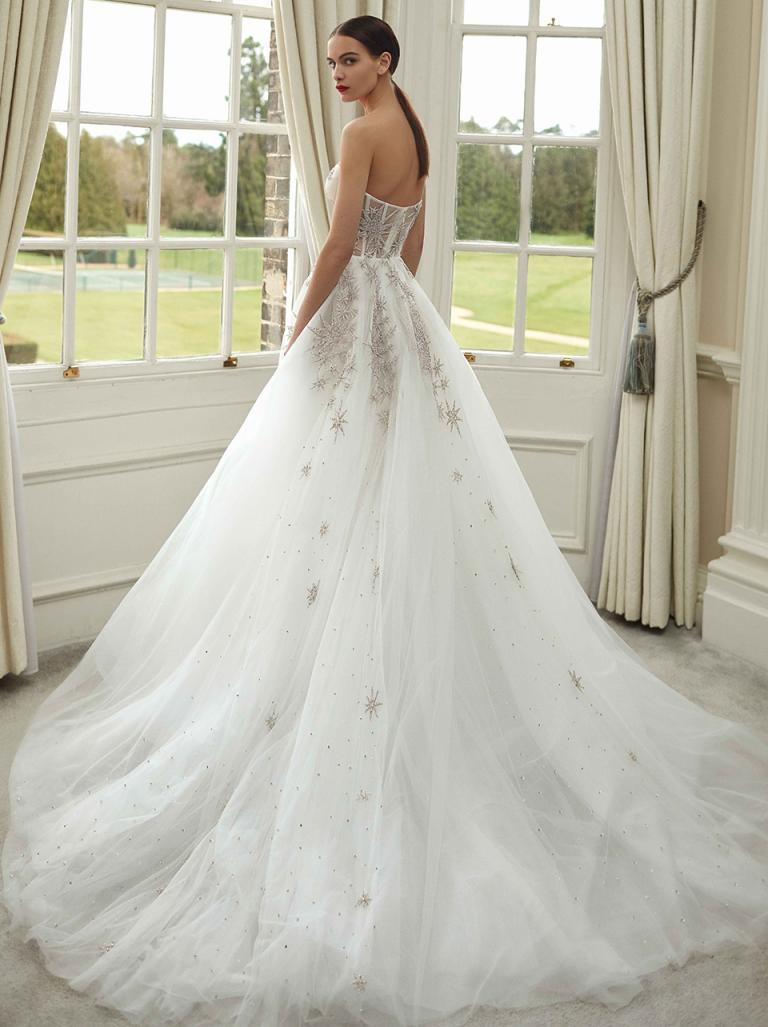 PINK OR PURPLE

A favorite look for many fashion-forward grooms, a pink or purple suit always compliments a
delicate blush or cream-toned bridal gown. Match with your groom by wearing a soft blush or
cream-lined dress to allow his colored suit its own moment. "A bridal gown with a soft-colored
lining rather than a full-on blush dress looks best, otherwise it's too much pink in your overall
wedding day look," says Levis. "A dress with a lining two shades lighter than your groom's suit
would melt in perfectly." Your gown should also be without applique, pattern, or lace, so that
your matching look isn't too girlie, but more sophisticated like the G-501 ethereal, tulle-and-
organza A-line gown with a corseted bodice and thigh-high slit.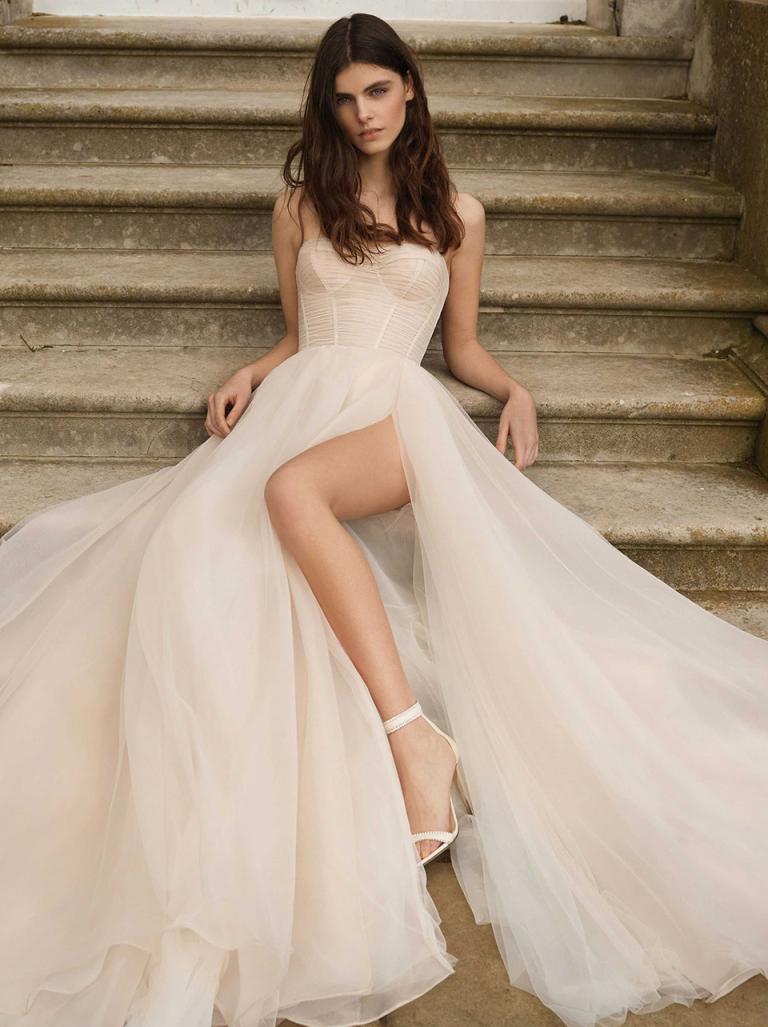 PATTERNED

Even if your groom goes for a bold patterned suit, you can still choose a dress that pops. "Have
fun with your gown's silhouette by choosing a style with dimension or a playful cut; but go for a
whiter shade and keep it without elaborate appliqué, 3D embellishment, or patterns," says
Levis. "This way there won't be anything competing with the pattern of your groom's suit."
Totally own your look in the G-511 sequined fit-to-flare gown with a sexy corset bodice and
glamorous silhouette.
Finish your registration for {City} Trunk Show