FREE SHIPPING & RETURNS WORLDWIDE!

DUTIES & TAXES COVERED WORLDWIDE
Find your nearest boutique
So, you had to cut your guest list in half, cancel the wedding band and downsize to a smaller venue? That doesn't mean you still can't have a picturesque wedding reception—including a dreamy table decorated to the nines. Whether your wedding theme is boho chic, super minimal or an actual winter wonderland, here are 12 ways to decorate your table for an intimate (but oh-so-memorable) wedding.

Boho Vibes

Investing in fine china for a party of 200? That can be tough. But when you're planning a more intimate gathering, you can spring for whatever luxe dinnerware you want—without busting your budget. This tasteful bird print plate with gold edging is obviously the star of this boho chic tableau, but its vintage vibes are a welcome juxtaposition against those decidedly contemporary flowers (look closely to spot the trendy bunny tails grass). Gold touches tie the rest of the table together, while subtly detailed glassware adds a hint of timeless charm. Ah, just imagine how dreamy this dinner will look once those candlesticks are lit…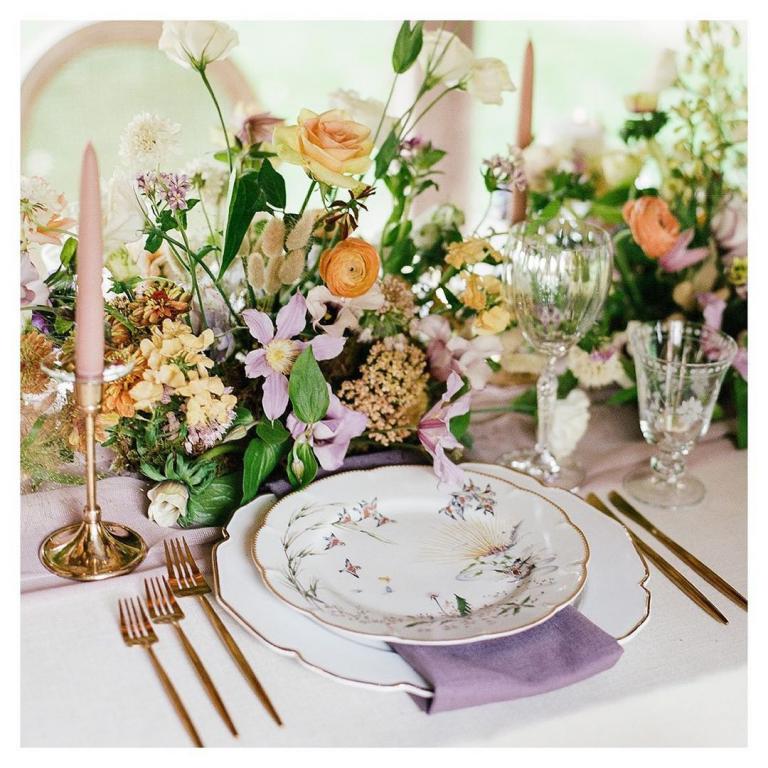 Winter Wonderland

While snow isn't always a given for a winter wedding, you can still create some ice cold magic after saying "I do." Focusing on icy tones of grey and slate blue offers a great opportunity to play with the dried flower trend in shades of off-white. Opt for pampas grass, a brunia bundle or even dried star flower to create a textured masterpiece. Plus, you can even encourage guests to take the arrangements home as gifts at the end of the night.
Rustic Chic

We love how the focal point of this gorgeous table is that dark woodgrain; it's the perfect backdrop for a rustic look, especially with the accent of those charming wood chargers. It could be easy to go over-the-top with this theme, but the addition of non-traditional plaid throws tossed over each chair and the clean, bright flowers (in tones of warm red, burnt orange and pops of fresh cream) ties everything together in a way that feels just right.
Full-On Glam

On the other hand, there's nothing wrong with going for all-out glam in shades of white…including garlands, beads and chandeliers hanging from the ceiling. But adding one detail that really stands out from those hues of ecru and eggshell will make photos of your party even more memorable. In this case, it was oil slick stemware in dramatic shades of black, which serves as a welcome reminder to drink up!
Modern and Minimal

Minimal brides (and grooms), this one's for you. Mostly because the tablescape by wedding planner Jove Meyer is all about clean lines and simple themes—but it's far from boring. The carefully selected flower arrangements, each in a single color of the rainbow, adds a hint of warmth and personality to an otherwise color-free table. FYI, if there was ever time for matte white silverware, this is it. 
Truly Romantic

There's no better way to honor your dreamy love story than with a dinner table that is the epitome true romance. Focusing on dark tones with pops of sultry pinks and reds—plus a glimmer of gold thanks to the flatware—this is one way to remind your closest friends and family that love truly does conquer all. Okay, and that a dramatic, sculptural candelabra should never be underestimated.
Cottagecore

Bring on the linen and sheer gauze—and definitely don't skimp on the farmhouse table. The cottagecore trend extends far beyond dreamy dresses you'd want to run around in a field in. It can actually serve as a really tasteful theme for your big day. That's because it allows details to be much more relaxed, like the loosely knotted napkins, the seemingly effortless placement of hurricane lamps and, of course, a single bouquet that's been carefully placed in a ceramic bowl. Flower crows are totally optional, FYI.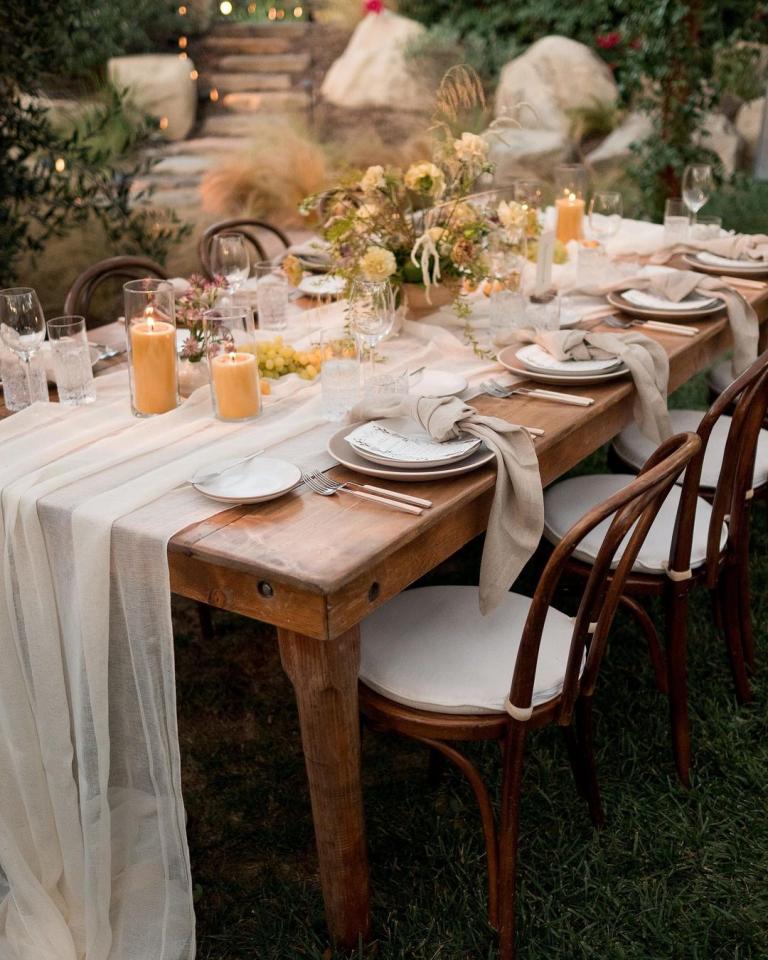 Garden Party (But Make It Green)

See, sometimes a smaller party is proof that simple is the way to go. Not to mention, it makes it way easier to stick to your earth-friendly goals. If you're planning your nuptials for spring or summer, opt for a picnic-inspired aesthetic that will let you pull decor from what you already have on hand (or give you an excuse to buy some new pieces that you'll have forever, like those amazing woven chargers). Choose to cover the table in local flowers and tuck a few in the easy knotted napkins. It's easy, breezy and eco-chic, just like you.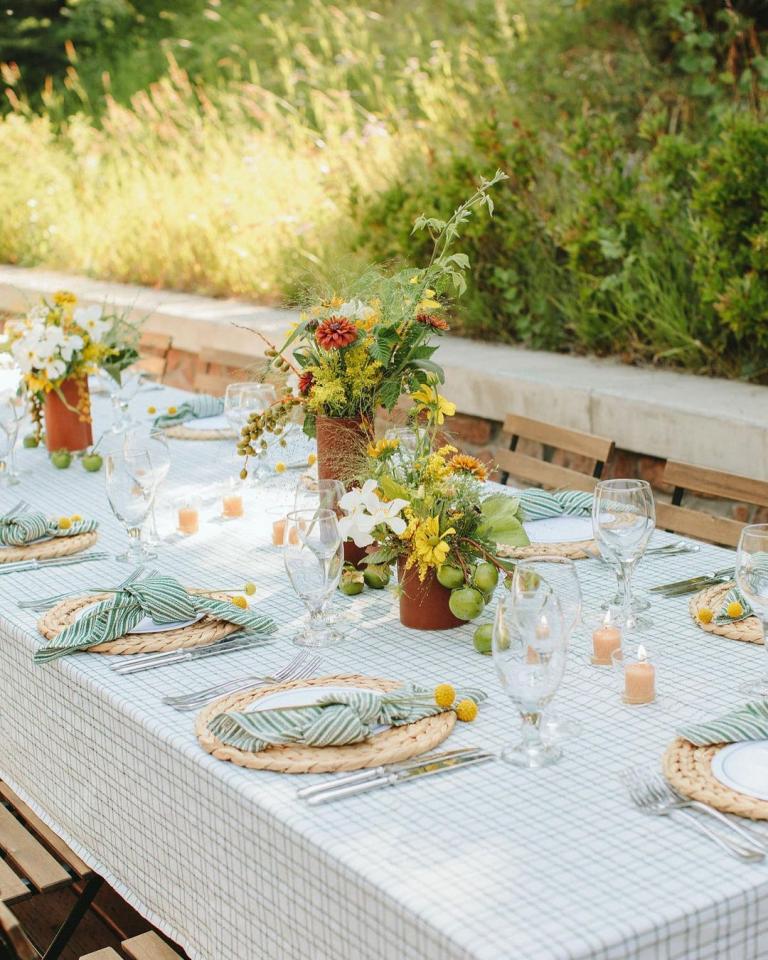 Autumn Dreams

Flowers aren't your thing? No stress, because a garland of greenery is just as striking—especially if you're planning a September, October or November affair. This no-frills table is an easy one to recreate, although we give you full permission to swap those apples for pumpkins, if you so please. This is one table where the details really make it all happen, from those light pink wine glasses, the matte gold silverware and those rattan chargers.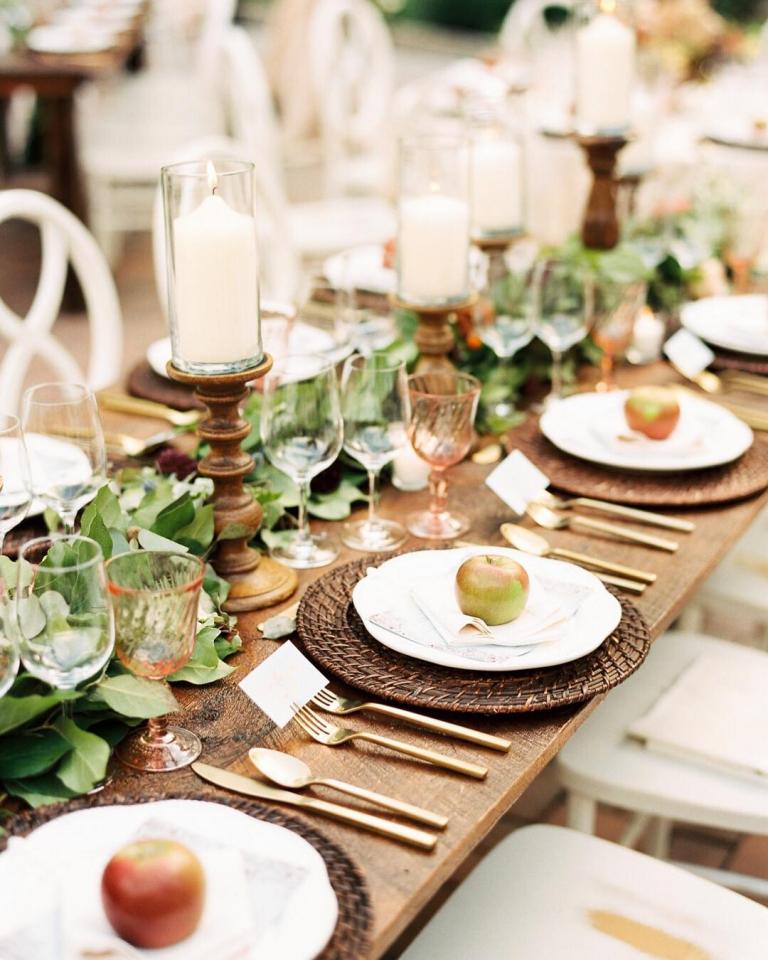 California Poolside

A sweetheart table doesn't exactly make sense if your guestlist maxes out at 20 people. However, that doesn't mean you can't go for a sweetheart chair, which will let you and your new spouse hold court at one side of the table, while making a backyard party feel that much more special. This California glam table is situated right next to a pool, but you wouldn't know that from the setting of this glam table that features velvet chairs, the punchy black napkins and that breathtaking combo of baby's breath and pampas grass.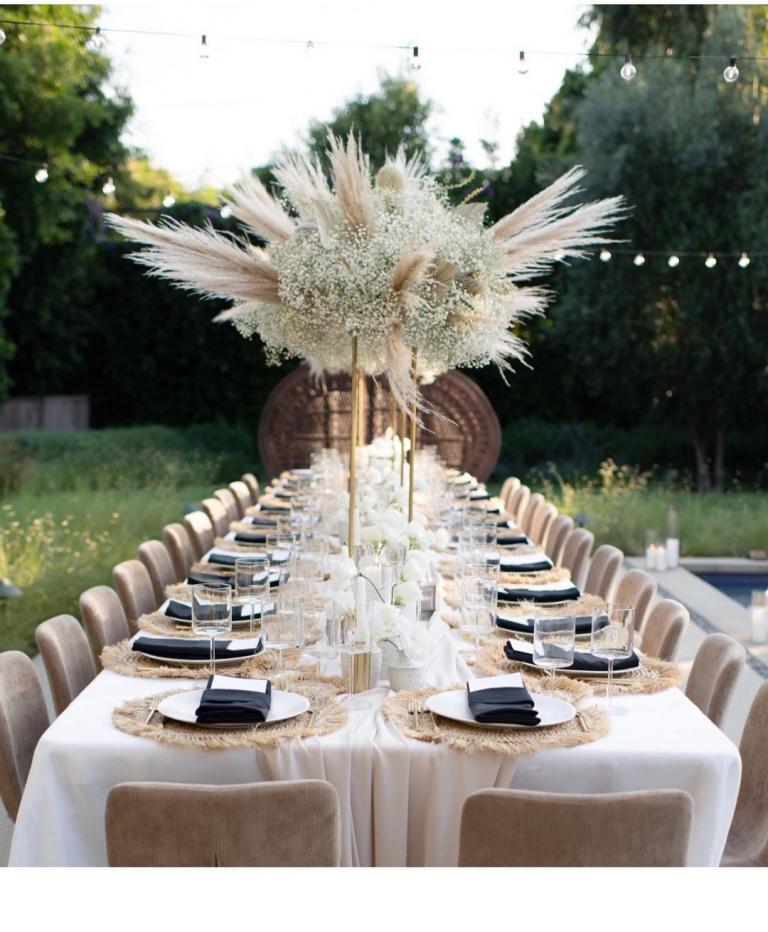 Mountainside Charm

We've said it before and we'll say it again: A smaller party is the ideal opportunity to really get personal with your party's decor. For example, this festive table that's made for a slopeside wedding and a couple that loves the adventurous outdoors. The unexpected touches—which in this case are the addition of wild bird feathers, sculptural wooden vases and a plaid runner—allow for a maximum expression of your partnership. Pick the details that mean the most to you and your beau and go ahead, spring for fringed napkins if you so please. 
Summertime Ease

This one's for the "less-is-more" couple, who's planning to wed on the hottest day of the year probably wants to keep things unfussy but still striking. Especially if a midday reception is taking place. Crisp white linens look so soothing against soft blue touches (which you can definitely consider to be your "something blue), while bowls of fresh fruit scattered throughout make the whole table feel both interactive and totally delicious.
Finish your registration for {City} Trunk Show