FREE SHIPPING & RETURNS WORLDWIDE!

DUTIES & TAXES COVERED WORLDWIDE
Find your nearest boutique
Choosing your perfect wedding dress is now easier than ever with beautiful designer gowns trending on social media and the accessibility of online shopping. With our Pret-a-Porter bridal collection and experienced stylists, you can order your dress online while receiving special attention and detail for saying yes to the dress. Our collection of glamorously sleek wedding day styles—from slip dresses and pant suits to mini dresses and dramatic gowns—is perfect for the contemporary bride who wants a red carpet-worthy look. And our hands-on team makes the process of choosing and purchasing your dress online seamless, personalized, and stress-free. Here's how to purchase your dream Galia Lahav dress from home.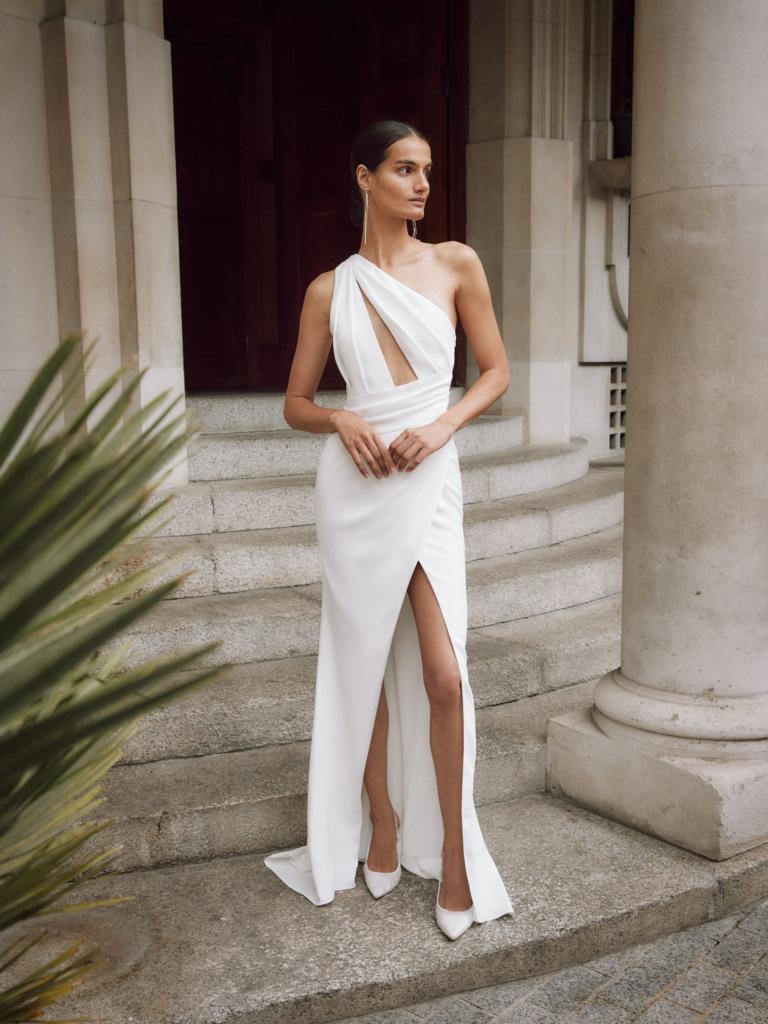 Prep for Your Search

Before you start shopping for your wedding day look online, do some research on bridal styles that you're interested in. Our Instagram is a great place to see other real brides in our dresses you love. It's also a good idea to think about the type of styles that you like to wear and gravitate to.  "These should be the dresses that you feel the most beautiful and confident in whenever you wear them," says Jamie Chang, destination wedding planner and owner of Mango Muse Events. "Think about what it is about the pieces that flatters you. Is it a certain neckline, cut, or fabric? Oftentimes these details are why you like to wear them." Another great tip if you're buying your dress online is to try on some formal styles in person. While it might not be the exact dress you want or will end up with, you can become familiar with the way different bodices and styles fit you. And do have your budget in mind beforehand. Once that is set, you can start shopping for your dress with a clearer vision of what you want to purchase.
Schedule a Consultation

As with purchasing any Galia Lahav gown, our stylists are available to help you every step of the way to choosing your perfect wedding day look. When you've narrowed down your choices, book a virtual appointment with one of our stylists who can answer any questions you have, consult and guide you through selecting your final choice, and assist you with taking your measurements. You can also contact us at any time through our chatbot or by email for additional information or guidance you may need. 

Ask your stylist about the fit and fabrication of the styles you're interested in. Details like the silhouette, sleeves, and feel of your dress are all key things to know since you're ordering it online.  "Keep in mind how much you'll be moving around on your wedding day. You want to be sure that you'll feel comfortable and confident all day while sitting, dancing, and taking photos," says Kiernan Michelle of Kiernan Michelle Photography. And because our pieces are made of luxurious, quality fabrics you'll look flawless throughout your entire event.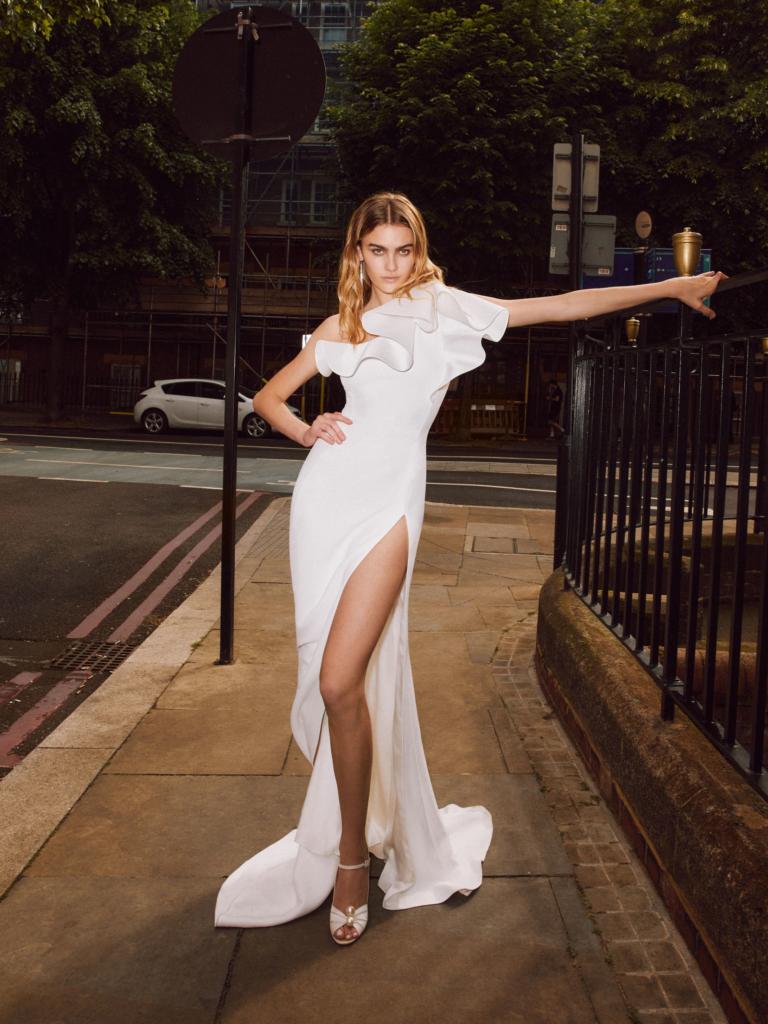 Get the Perfect Fit

Know your measurements before selecting any of the styles you love. You'll find information on sizing, fit, and care for each Pret-a-Porter style along with the descriptions. Consult with one of our stylists who will help you take your measurements and recommend the best size for you. You can also have a local tailor take your measurements and write them down for you, so that you can compare them to our size chart. Having your exact measurements will ensure that you get the best fit, as well as minimize the extent of alterations you may need.  But be assured that all of our styles are easy to alter, so you can have a trusted tailor make any alterations you want for the perfect fit.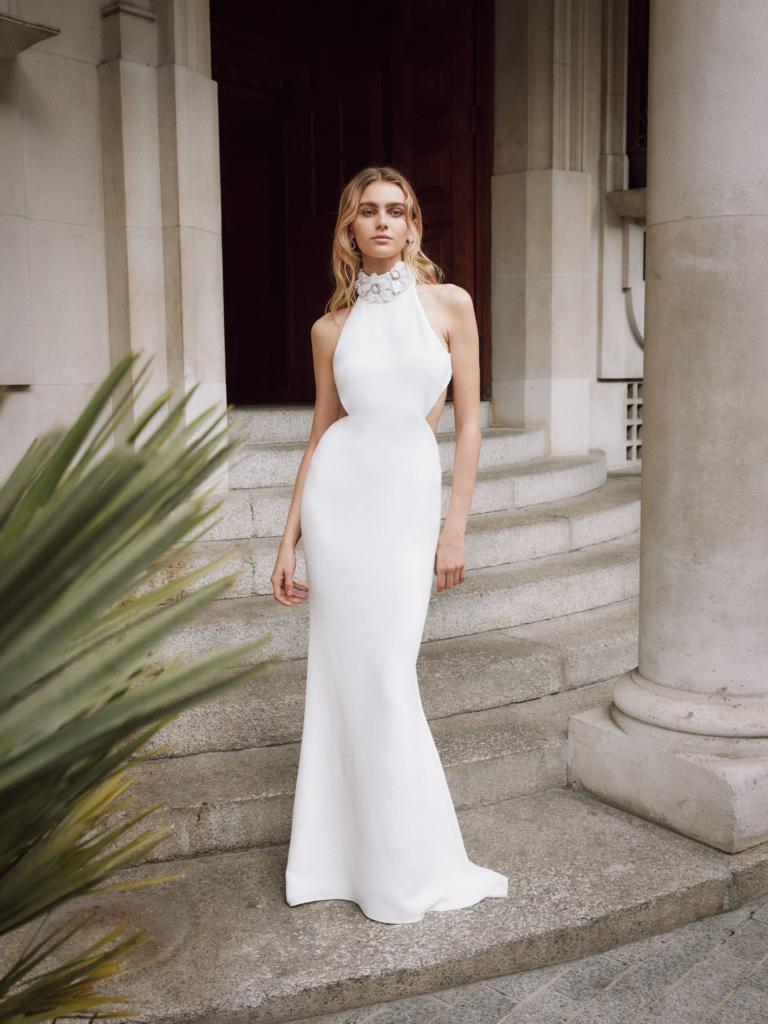 Say Yes to the Dress

Once you've found the dress you're going to wear on your big day, you can simply add it to your cart and go to checkout.

All of our styles are made to order and most take between 4-6 weeks from placing your order to you receiving the dress. If your event is quickly approaching and you're concerned that the dress may not arrive on time, contact us and we'll do everything possible to ensure that your dress gets to you before your wedding day. 

You can find all the information regarding our policies on production, shipping, and returns online, but if you have any questions, concerns, or aren't completely happy with your dress please contact us. We're here to make sure you have your perfect dress for your special day. 

Written by Ivette Manners.
Finish your registration for {City} Trunk Show