FREE SHIPPING & RETURNS WORLDWIDE!

DUTIES & TAXES COVERED WORLDWIDE
Find your nearest boutique
PARIS COUTURE FASHION WEEK
A five act article of how we 'couture'd' it again.
Paris, July 2018.
For this new RTW collection, we have brought you a modern version of the female embodiment and the variety of her representations and 'facades'. And so, in this article, we want to present to you how we created our own play, 'a creation of a woman', in five acts.
And, God, no. We did not try to recreate the birth of the woman and do not give credit to God, either. We mean, the idea of the biblical god might have created or provoked the idea of a woman, but, a woman is an 'ongoing' theme and it's always updating its version. We have to understand that. It's a hard task to become a woman or create women's clothing, nonetheless in the year 2K18.
Walk of fame.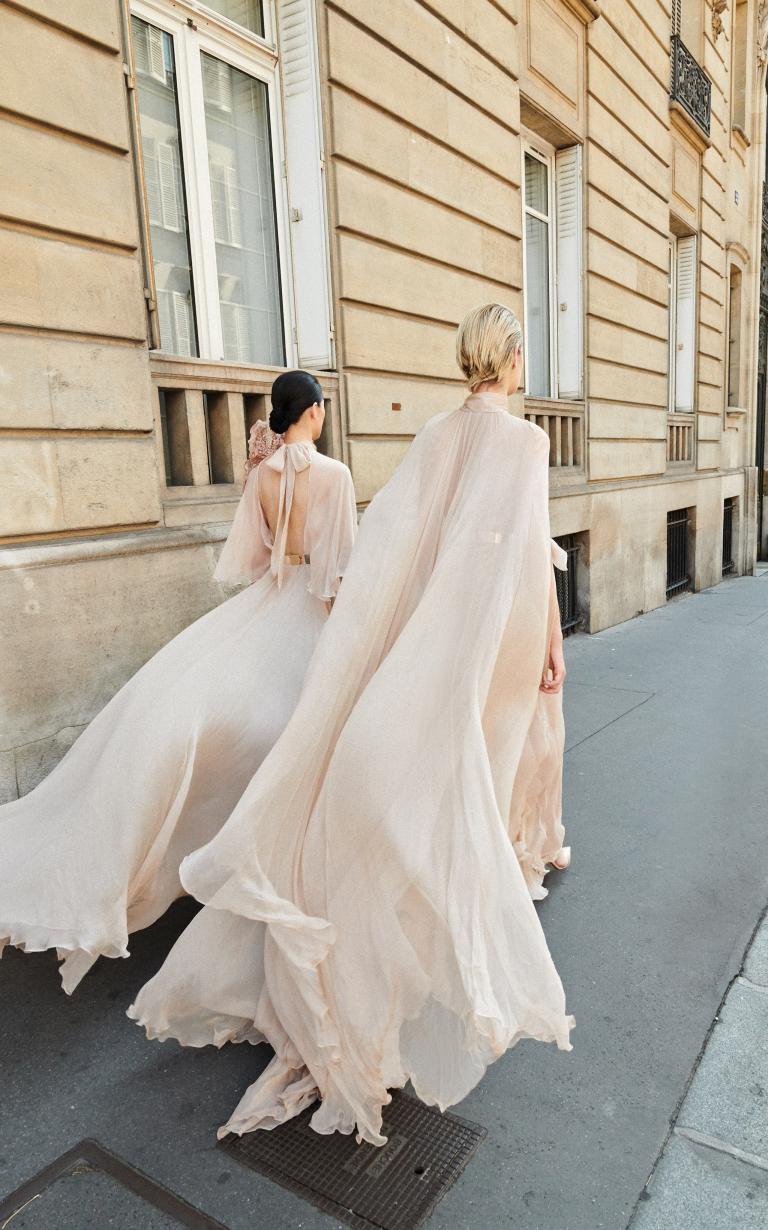 First act - exposition or Drama. Drama. Drama.

Tel-Aviv. January 2018. Late evening at the atelier. 6 months before the show.

Galia (Lahav), Sharon (Sever) and a world-renowned creative stylist, Mr. Simon Ellmalem, are all sitting and staring at Sharon's sketches and illustrations hanging on a 6 feet high mood board. Head of production, Mrs. Bella, enters the room impatiently, asking for a 'go', while they all sit and stare at the board among a mountainous space of silky fabrics, endless chiffon shades and gorgeous embroideries, leaving them all in an even deeper silence. What??? Yes! For the first time in 30 years, all are silent. And the tension is high.

"This time it'll be different," Galia mumbles to herself.

Well, will it be so? Hopefully. Because this time they took the process of creation to one level further – deconstructing the feminine image, the womanly theme, which has brought this house of fashion to it's respectable reputation, in order to construct and lay a new light of the "her" or the "she" in all its complexity. Redefining, if not refute, a mainstream sexuality and determine an innovative and creative event.
Our story

We created 32 looks which are all combined with the finest fabrics and all pretty much layered, at times with chiffon and then with some silk tulle. You'll notice of many ruffles, intentional excess of fabric, huge embroideries-on-demand, skirts, t's, silk cigar trousers, robes and cuts designed to beautify the woman's boundaries. From the heels, through the waist, to the shoulders, the neck and the back – the main thing is that it can all be adapted quite easily when it should all seem fragile and soft. But is the feminine creation really that fragile? Perhaps it's just supposed to look as if.
And the colors?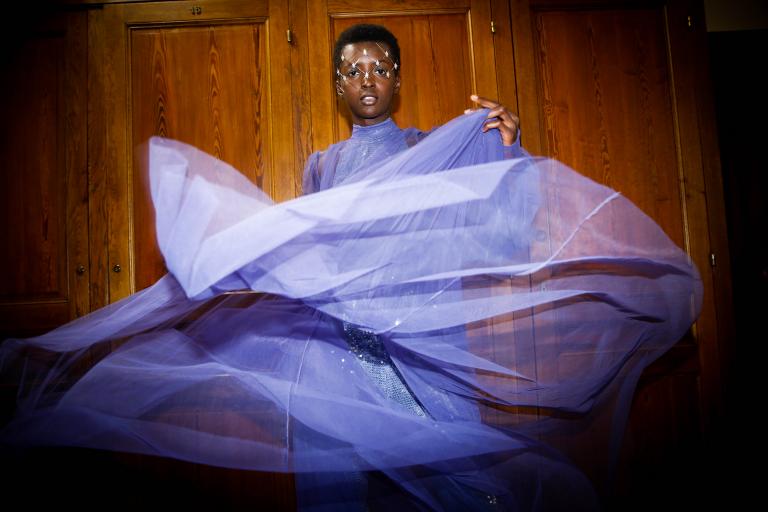 Most of them are light pastels, with metallic elements such as golden belts and glistening fabrics, alongside very deep shades like emerald green, blue denim and black.
In this collection, you can not only give a glimpse – you must dive in to relate. But will you relate? We'll have to move on to the second act to find out.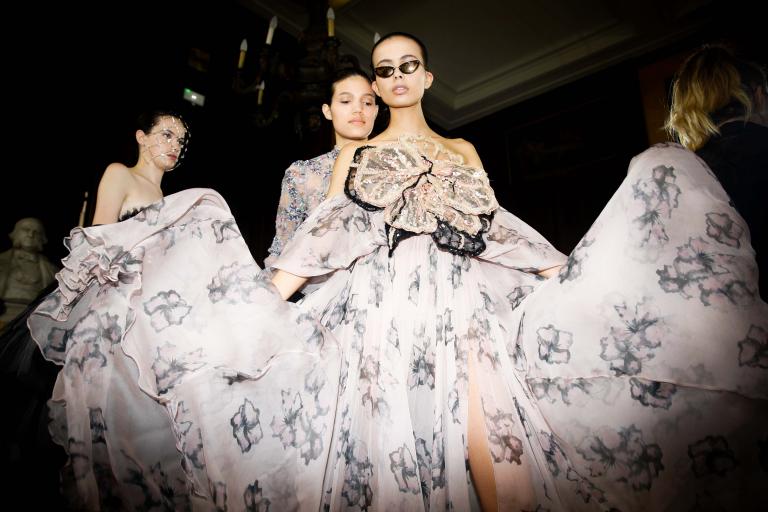 Location 
An element that is suppose to provide the same sense of galore to the clothes at first glance. We were lucky enough to find this exquisite set; it's oh-so-high ceilings and the infinite marble glazing, would be almost a perfectly divine fit.
Sound
Like in a movie, show or any other amazing event, music has its own role. We decided that this time the sound will be different – that it should be the voice of a process and tell a story rather than complete exactly the act on the runway. It was supposed to contradict it and allow another angle. The rhythm was invisible, but it existed, the melody was built gradually and a well-known song was inserted as a chapter in the whole story. The violins at the end expressed the calling. We called her, and she came. Our woman was alive.
Casting 
One of the most important things in a fashion show. So when all the big brands are casting big names and familiar faces, we decided to go the other way around and cast models whose face wasn't their game and whom gender did not define them, but they had to have strong eyes and confidence, alongside beautiful skin and above all – to be professional. This way, the garments didn't overcome them nor did they overcome the garment they were wearing. It was just another layer in this play. They created the movement live. And we are all still wondering if it worked or were we judged again by generic commenters.
Guests
There are few kinds of guests you'd have to consider when preparing a fashion show; friends, family, loyal clients, fans, colleagues and one must add as well – the social media influencers or 'fashionistas'. It goes without saying, right? Everyone needs a tad of glam in their front row seats. Fortunately we had a great list of potential attendees, but did they show up? That is never 100% sure, until you see them there.
The clothes, the location, the music, the guest list with all the creative minds managing this show, altogether express the diversity and the decisions made by the head of the fashion house in an attempt to present a new collection, between an infinite number of brands and retailers.
Have we failed our mission?
Act three - climax - we did it!

Half an hour before the show. Backstage. Everyone are behind the scenes. Nuts and berries being constantly snacked.

The whole ensemble is looking at the backstage cameras, checking who has already arrived and who's being seated. We realize that the set is filling up with our favorite faces and our loved ones. One mission was already accomplished when our front row evolved to be so 'extra': from Kimberley Garner to astonishing Paola Turani, our love Pauline Baly, best friend 4ever Juliana Mizon and the oh-so-fine ladies Erika Santos, Johanna Olssen and Camila Quintao, ending with THE lovely Olivia Palermo. 
Olivia Palermo wearing Galia Lahav couture.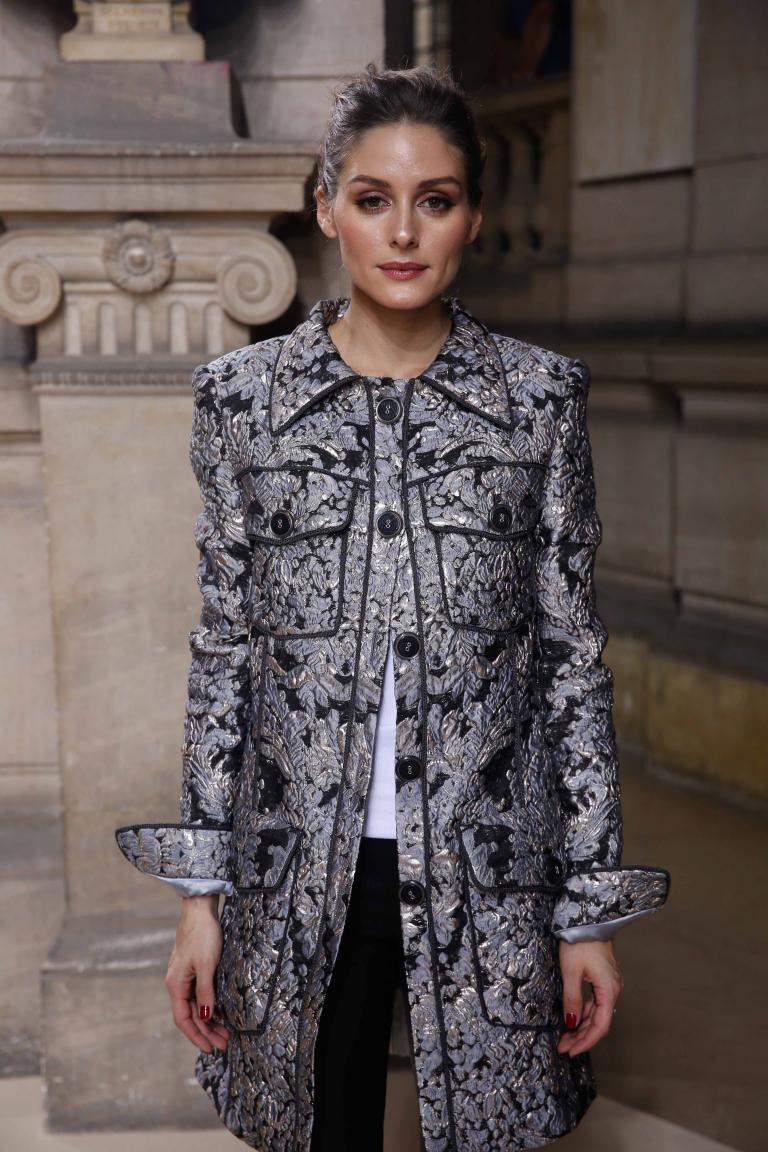 And yet, several team members are hectically running around giving a final touch to the garments, checking that each thread stands in place.
The tension can kill.
Silence.
The D.J. hits the music and, slowly the models begin to enter the runway, as if they didn't do it a hundred times earlier. But this time, the reverberation of the audience increases the drama.
Galia and Sharon are looking at each model, with much satisfaction, waiting for their sign to go and bow down. But now, they are not the same as they were 6 months ago. Today, they breathe differently. They have grown and this is their show.
So, if there there is someone who knows how to create drama – it's us.
Do you have any doubt, now?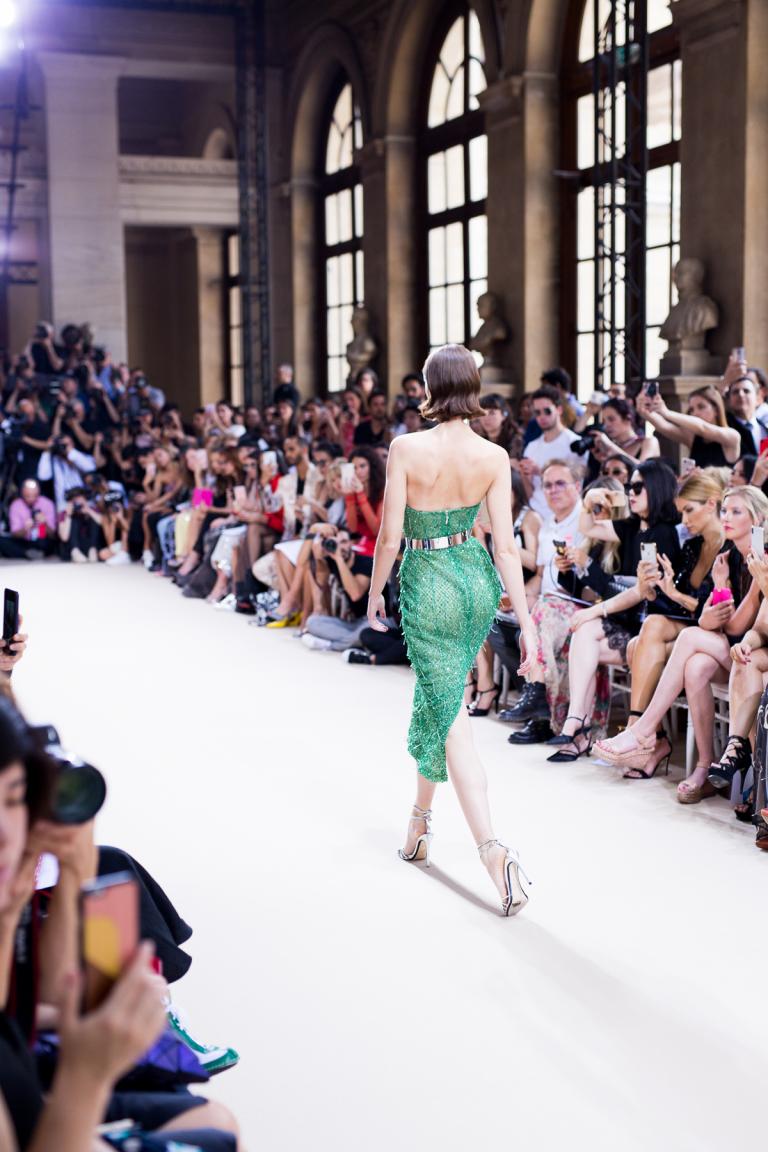 "I feel pretty, oh so pretty I feel pretty and witty and bright! And I pity any girl who isn't me tonight. I feel charming, oh so charming It's alarming how charming I feel And so pretty that I hardly can believe I'm real..."

Maria, West Side Story, written by Leonard Bernstein
Act four - everything falls into place

1.5 mins after the show. Galia and Sharon are backstage kissing everyone.

The models are already dressed and ready to go to another show, but, we're all there, with a sweet and sourish after taste, some blurry images thrown from our waking consciousness. The thrill, the high paced heart rate, the friends who come backstage to hug us and spare a compliment. We smile. They take a selfie or post a story. And that is just right. We're in awe and it is time for us to be grateful and pay many thanks.
Act five - denouement. Finally.

It's all over.

The cloths have been shown. The story was told. High-res images have been transferred to PR all over the world and everything rests.

Until the next show.
With, love.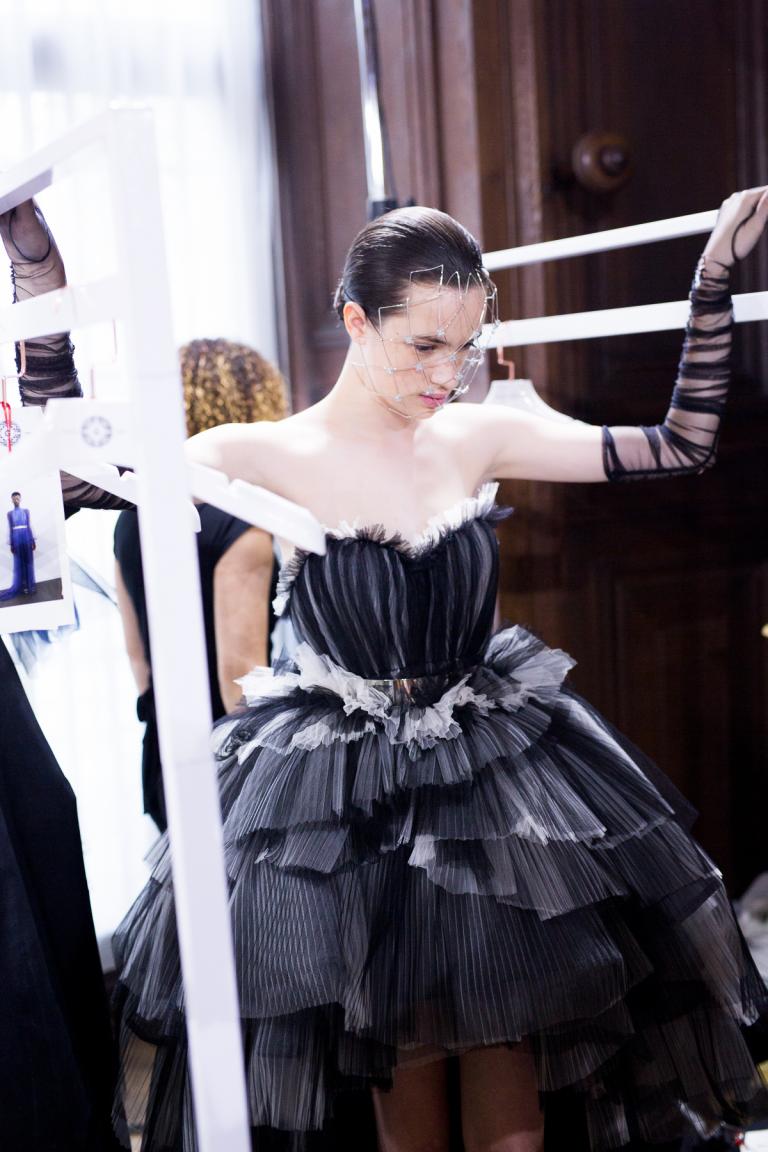 Finish your registration for {City} Trunk Show