FREE SHIPPING & RETURNS WORLDWIDE!

DUTIES & TAXES COVERED WORLDWIDE
Find your nearest boutique
With exquisite attention to detail, Lisa Lafferty is the queen of events planning that features beauty, extravagance, and drama! With 10 amazing years in the industry, Lisa understands every necessary detail from romance to entertainment providing her own personal touch of glam to each event she is involved in. Lafferty who was a GL Bridal herself has planned many celebrities weddings, including our recent GL Bride, Christine Quinn. We talked to Lisa about her personal journey and what it was like planning Christine Quinn's wedding . As told by Lisa:
Hey Lisa, tell us a little bit about yourself and your background in wedding planning?

I started in the event industry about 10 years ago, after working in hospitality, and then took the leap and founded my own company, Beverly Hills Premier Catering, in 2014.

One of my main goals, as a luxury catering outfit, was to create highly custom/bespoke culinary experiences with a refined aesthetic.

While learning the ropes of event planning through my hospitality experience, I started getting called upon by A-list celebrities, as well as Rodeo Drive fashion and fine jewelry boutiques, to create custom menus and cater for their lavish events. That then quickly translated into me taking the role of planning the entire event.

Due to the overwhelming demand from my clients, in 2018, I expanded my hospitality empire beyond catering and created Lisa Lafferty Events.

I would say my planning style could best be described as "refined elegance." I take pride in creating highly detailed, one-of-a-kind luxury experiences that are truly unique and that really channel the client's own personal style.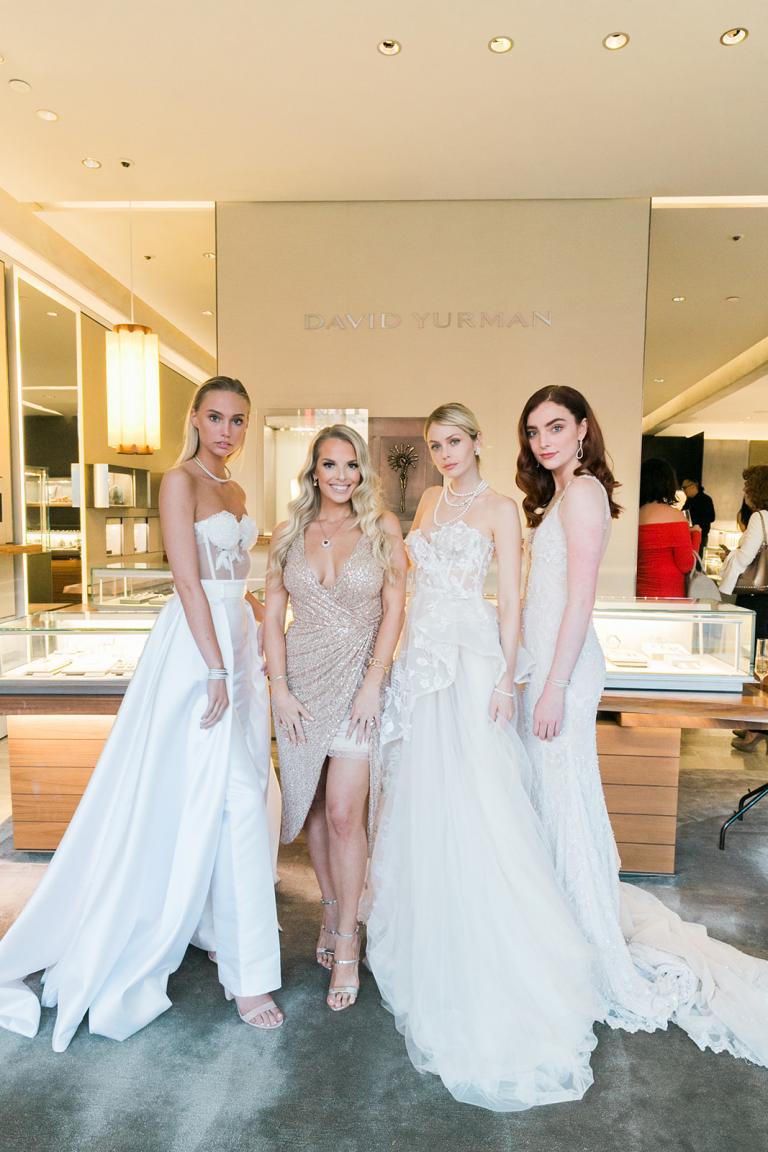 When did you know you wanted to be a wedding planner?

I knew I wanted to be a wedding planner the minute that I catered my first wedding. We have created some really spectacular, highly thought-out food displays and couture style menu items and I found that once I was doing the food, I wanted to curate the whole experience.

I typically bond quite quickly with my clients and more often than not, they really lean on me as a sounding board and ask my opinion on creative ideas. Sometimes they would even tell me that they wished I could just plan their whole event. There was something that they really trusted in me and my vision, so it was a natural extension for me to get into wedding planning.
What is the hardest part of your job?

Actually, and this may sound funny, since one of my main tasks as an event planner is to make big decisions, but, believe it or not, I am a really indecisive person. The silver lining in this is that so many amazing & creative ideas run through my head, so the challenge is to think through these thoroughly and finally select the one that I want the most.
What is your favourite thing about your job?

My favorite part of my job is really being able to create. There is something about building an idea from scratch and putting all of the pieces together to create an experience for clients and guests to enjoy. That's really a personal win for me.

My other favorite part, and the most important part, is seeing my clients and their guests having the best time of their lives at the event. When I see that, I know that my job is done.
What was your vision for Christine's wedding to begin with?

Being that we were planning a December wedding, a holiday spin was a must. Then, when initially meeting with Christine and Christian, they made some specific requests, like snow and ice sculptures, so it was pretty clear that we were going for a winter wonderland-themed wedding. As the requests came in from the couple for unique elements, like a black wedding cake that bleeds when cut into, I knew that we needed to amp it up in an edgy way, in true Christine Quinn style, so that was the impetus of us transforming the space into a wicked wonderland with a gothic spin.
How long did Christine's wedding take to plan?

About 2 months, which for anyone who knows about weddings or has planned one, it's a really short window of time. It was quite the production, and to do something so highly detailed, during the busiest season of the year was difficult, but I always love a good challenge.
What is it like working on a celebrity wedding?

It's so exciting! It's rare to have the opportunity to work on something that gets so much press attention, like celebrity weddings do.
What is the most extravagant wedding you have ever planned and what did it entail?

I would say Christine's wedding takes the cake on wedding extravagance, for me. There were just so many theatrics and so many flourishes of opulence. From the over-the-top special effects, like faux thunder and lightning, down to the finest detail, like a mini edible rose inside of an ice cube in every guest's water glass, this wedding truly had it all.
What was the most special detail about Christine's wedding?

The most special detail about Christine's wedding was the snow. She was really adamant that she wanted it to snow, so I had to make sure that her wish came true. When I sent her down the aisle and the snow began to fall, the entire room gasped as the snow fell on her gorgeous black gown. It was truly a magical, winter wonderland fairytale moment.
What is it like for you being a GL Bride yourself and working with other GL Brides?

I absolutely love my GL gown and I felt like a princess wearing it. The gowns are just so lovely and the fabrics are luxurious. The team at GL was absolutely incredible to work with and as such, I recommend GL to all of my brides. A GL bride is a specific type of woman. She is someone who appreciates the finest in luxury and she is also someone who wants to be noticed.
What was your favourite part about working with Christine?

Christine is such a risk taker and I just love that because I am, as well. She has very different and specific requests that make her so unique and special. I think that being different is the key to standing out and honestly, who wants to be like everyone else?

She wanted to create beauty, excitement, drama and theatrics and that's exactly what we did. I always say "it's not extra, it's Christine!"
Finish your registration for {City} Trunk Show