FREE SHIPPING & RETURNS WORLDWIDE!

DUTIES & TAXES COVERED WORLDWIDE
Find your nearest boutique
Basking in the spotlight of her big day, wearing the most gorgeous dress she's ever put on, every bride is like a best-dressed star at the Met Gala. Such was the inspiration behind Gala Girls, the Fall/Winter 2022 Couture Collection from our designers Galia Lahav and Sharon Sever. They were enamored by the spirit of the night, which allows for icons of all sorts—from popstars to cultural figures—to step out in show-stopping gowns that translate modern fashion to serve as a stylish extension of their personality.

This alluring collection embodies that exact sensation, allowing brides to have their own moment in front of the camera, with romantic gowns in elegant silhouettes and trend-forward creations that allow her genuine spirit to shine. 
"A league of strong and determined women have an immense impact on this season's Gala collection, which is rooted deep in our hearts and minds as seen on screen of course," says Sharon. 
Who, specifically, did our designers have in mind during the design process? The ambitious Zoey Johnson from Black-ish, the mischevious Serena van der Woodsen of Gossip Girl, the whipsmart Olivia Pope in Scandal, the effortlessly stylish Sex and the City star, Carrie Bradshaw. That's in addition to Sansa Stark from Game of Thrones, Claire Underwood from House of Cards, Rue from Euphoria, and Hannah Horvath from Girls. For many women, these characters taught them lessons, grew up alongside them and contributed to their perspective today; suffice it to say, they were endlessly influential.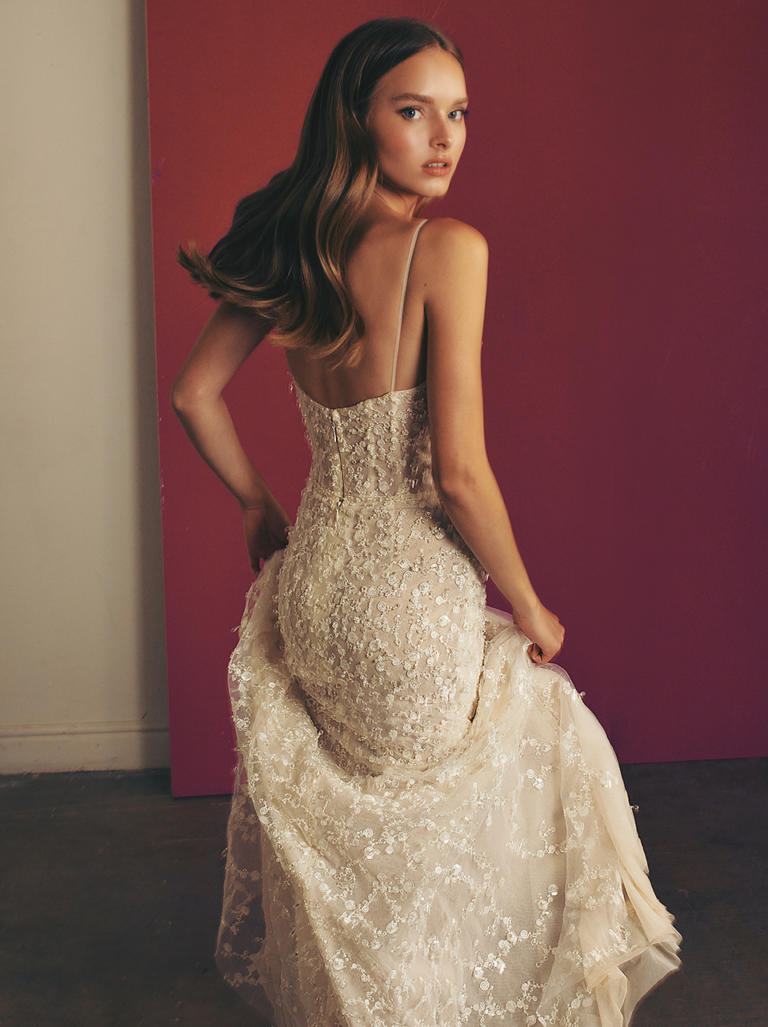 The Gala Girls collection pays homage to those leading ladies with dramatic flourishes. Similar to a tulle bow tied at each elbow or a glimmer of sparkle on lush tulle. And there's no doubt that a drama series heroine would be found in these wide, sweeping skirts, romantic sweetheart necklines and statement shoulders. But it's not all for show; each gown is designed to make the bride feel comfortable, giving her the freedom to dance, move and be her truest self. 
Much like the magic of television, the dresses in this collection transform with ease, ready for a scene change at any moment. Sleeves can be removed, overskirts can be detached and bows are easily added. Elongated trains will make an entrance that is truly unforgettable…but can be separated when it's time to hit the dance floor. For the modern bride who uses fashion as a way to express herself, each Gala Girls design provides an opportunity to do just that.
As always with the design duo of Galia and Sharon, attention to detail is everything. Shades of white are presented in tones of light ivory, while blushy nudes are absolutely dream-like. Corsets are finished off with intricate laces. Fabrics include tulle, lace and regal satin, sometimes whispered with elegant detail but elsewhere standing out with gorgeous texture and vibrant glamour. These dresses will certainly start the party. 
A dress from the Gala Girls collection is the perfect way to toast to a finale and gleefully celebrate the arrival of a new season, right alongside the cast of characters we all know and love. 
Finish your registration for {City} Trunk Show