FREE SHIPPING & RETURNS WORLDWIDE!

DUTIES & TAXES COVERED WORLDWIDE
Find your nearest boutique
"Once you walk in there, you're in your new home," says Galia Lahav creative director Sharon Sever. He welcomes brides and their loved ones to join the "GL family" during their wedding dress shopping journey at the New York City flagship.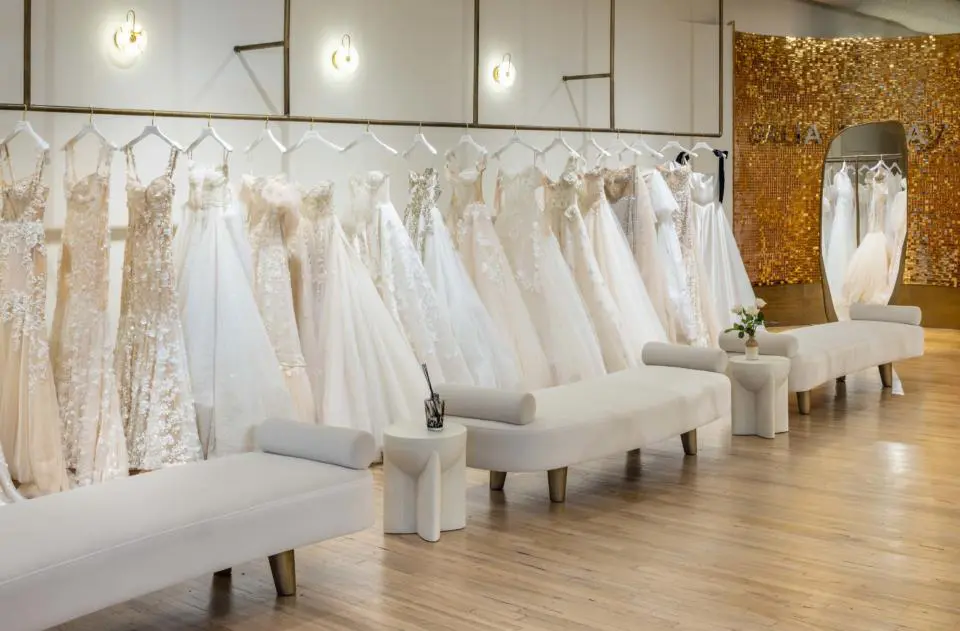 Following Los Angeles and Miami, the gleaming Soho location offers the ultimate U.S. destination to discover, shop and even design the perfect wedding dress in New York City — and luxuriate in an unmatched, personalized experience for your most memorable life event. Sever proudly emphasizes that the sprawling Galia Lahav New York City flagship — covering two floors and 8,000 square feet — is more than just a "bridal shop" or wedding dress store." It's an ongoing relationship that makes brides, and their families, feel cherished and special.
"It is very glamorous. It's not 'Old World.' It's very modern, very contemporary. The design itself is like our dresses: very contemporary and nothing that says 'tradition,'" says Sever. "We're not your 'store' with the chandeliers and the glitz on the walls. We believe that the background is what puts you in the center. So the main ornament is the bride and not the walls."
The interior, by Amsterdam-based Saar Zafrir, celebrates treasured clientele with smooth, captivating curves inspired by the shape of a woman's body. The alluring concept also illustrates Galia Lahav's signature, high-touch couture process dedicated to each and every bride. Against a wedding dress palette of ivory and blush, the minimalist, yet opulent  décor also creates an elegantly cool and welcoming vibe: velvet curtains, natural hardwood floors, travertine tile work and gilded accoutréments. Not to mention, lovely brides (and friends) will flock to the "Selfie Wall," gloriously detailed with Insta- and TikTok-appropriate Florentine muted gold.
"The walls are covered with mirrors, so you could see yourself from every angle," says Sever. The main floor fitting rooms were also specially designed for optimum lighting and generous space, "so you're not cramped in a little room." Not to mention, clients who prefer "more privacy and TLC" can tuck themselves away, with a dedicated team, of course, in one of two VIP suites on the second floor.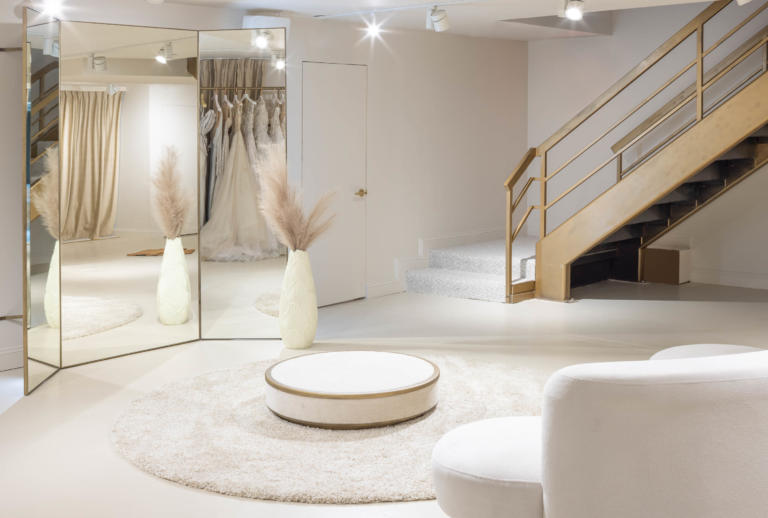 The upper level also boasts an open skylight, so brides may assess their looks in natural lighting. The floor also boasts the workroom, where the magic happens, and cozy meeting spaces for Sever to meet with clients one-on-one to discuss concepts, vision boards, design and just life. "It's where I can really sit calmly with a bride and make her a sketch," he says.
Clients looking for their dream wedding dress have a wealth of options at the Galia Lahav New York City flagship, starting with shopping for a ready-to-wear option from the Pret-a-Porter collection.
Unique to the trendy downtown Manhattan location, wedding dresses from current and past Couture and Gala collections available for brides to comprehensively assess their choices. With Sever, dedicated and seasoned stylists and expert seamstresses, brides may also customize existing looks to their preferences. For instance, they can change sleeves, modify a neckline and alter train lengths and/or select preferred fabrics and embellishments. "The opportunities are endless," says Sever.
Clients may also collaborate with the Galia Lahav team — or family  — for a bespoke wedding gown designed especially for the bride and to her measurements. "There is a full creation that goes into the process. With personalized fabrics, embroideries, everything's created for you," says Sever. 'We can do basically anything." The Galia Lahav family will also be there as emotional support, every step of the way, from determining the basics of how to get married to the possibly arduous marriage license process.
"The proof is that I have so many former brides that have become very personal friends," says Sever. "Because it's very personal for me, as well."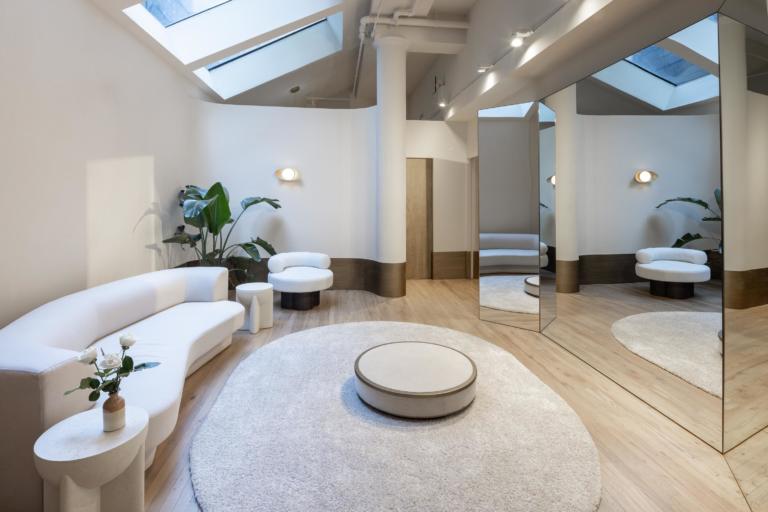 The complete Galia Lahav experience also extends to family and wedding parties, who will enjoy perusing and fitting all the dazzling evening wear offerings on-hand. Plus, all visitors to the flagship can savor the inner workings of the buzzy atelier, which is fully transparent behind floor-to-ceiling glass — similar to taking in the open kitchen action at a Michelin-starred restaurant. And, a full-service bar, located on the ground floor, keeps the festivities — and joy — going during the entire visit.
The chic Galia Lahav flagship also doubles as a New York City venue for all-things wedding-related, starting with exclusive trunk shows and meet-and-greets with Galia Lahav herself, and Sever, who promises to visit the Big Apple often. Intimate mixers with industry insiders allow brides the opportunity to discover more inspiration for their ideal wedding, and connect with vendors essential to their big days — like an extended family celebration.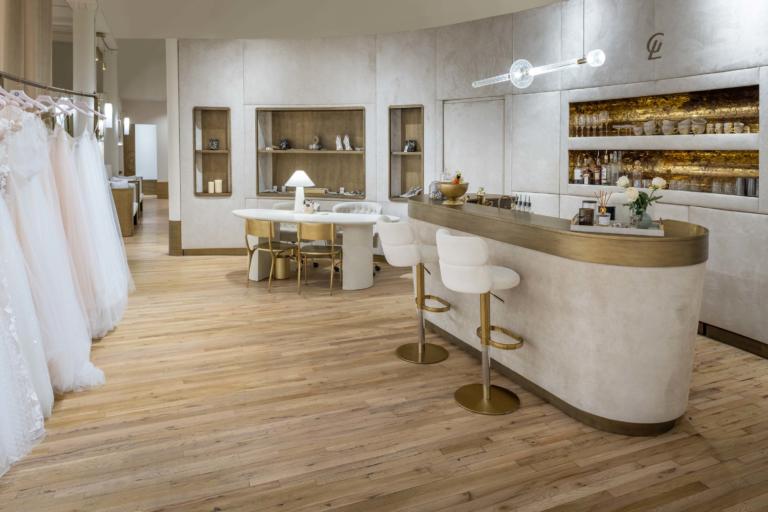 "We're your family 'til you walk down the aisle. Also, afterwards, the experience continues," says Sever. "There's a very different approach in how we treat our customers. There's a lot of emotion on our part."
Finish your registration for {City} Trunk Show