FREE SHIPPING & RETURNS WORLDWIDE!

DUTIES & TAXES COVERED WORLDWIDE
Find your nearest boutique
By Ani Hovhannisyan
At Galia Lahav, we have two main collections that indulge a variety of different personalities and commitments. Our Couture Collection embodies a royal, strong queen who wants to feel powerful and extravagant on her big day.
For the bride that wants to feel a little more soft and gentle, we have the Gala Collection that epitomizes a magical princess fantasy with an enchanted sensuality. Our custom-made gowns have been graced on the likes of Jennifer Lopez, Halsey, Serena Williams, and Kelly Rowland.
Many of our gowns are custom made to order and run the gamut from glamorous to Hollywood chic – there is something for everyone, and we can customize any part of the gowns. We're here to help you realize your fairytale wedding and create the custom gown of your dreams. No matter your personality or need, we have a dress for you. Below are some of our favorite pieces from the Queen of Hearts and No. 6 collections for brides who want a customized dress.
The Classic Bride
For the bride who channels sophistication and class above all else. She loves old Hollywood movies and vintage cars and wants to feel luxurious without the fuss. Our Imperia Gown from the Queen of Hearts collection is simple in detail and stunning in cut and shape
The Princess Bride
Layers of tulle are draped to create the Gala 111 dress from our Gala Collection, which features a nude bodice with floral appliques and embroidery. This chiffon wedding dress begins at the mid-waist and billows down to the floor with a slightly longer train. For maximum princess effect, pair this with the cape that extends the train and trails behind you as you walk down the aisle or check out our makeup tips and styles for the princess bride. 
The Glamorous Bride
Another great addition to our Queen of Hearts collection is our Aelin gown. The transparent ribbed bodice is complemented with white floral appliques that trail down softly midway through the skirt. The fullness and sparkle of the skirt personifies Old Hollywood Glamour and an enchanted fantasy. This bride is fun, sexy and dramatic with a slightly daring edge.
Unconventional Bride
For the bride who doesn't want to wear a conventional dress, we have our beautiful lace jumpsuit from the Gala collection. The Gala 109 is all lace with sequins and pearls sewn into the entire body. It's a masterpiece that needs to be seen up close to admire all the detail and handwork. It comes with a detachable silk satin bow that is placed in the back and drapes onto the floor like a long train. This is for a very special bride, one who is confident and edgy yet wants to be beautiful and romantic on her wedding day.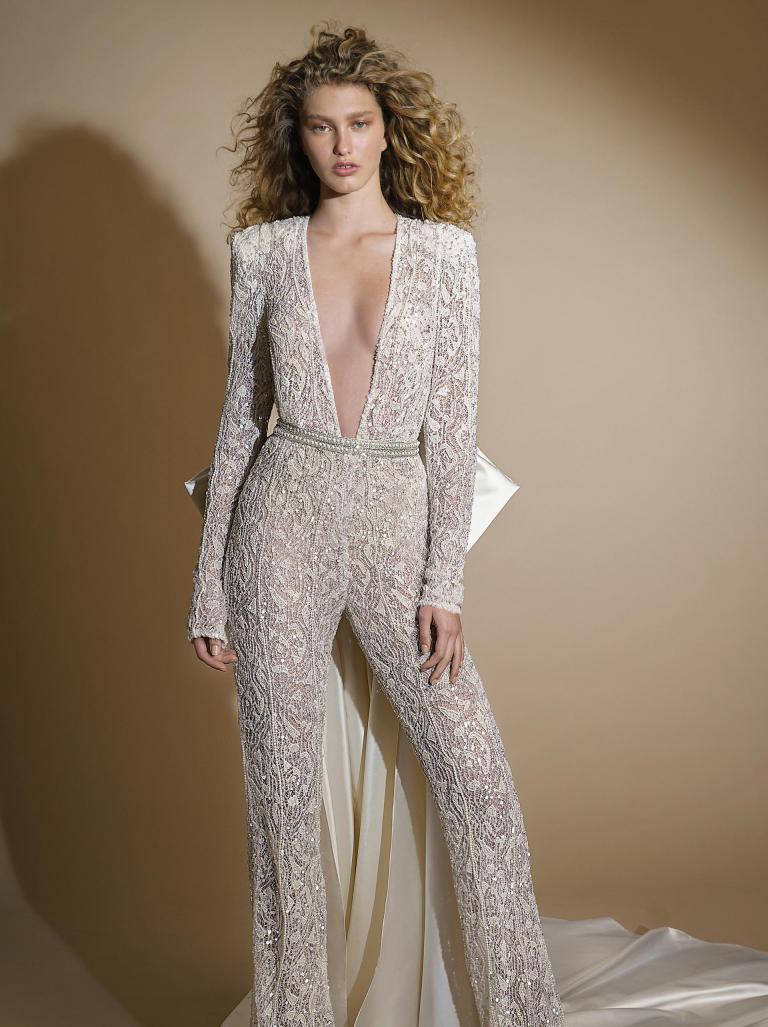 Laid Back Bride 
Our "105" dress from the Gala Collection is ideal for the laid-back bride who still wants to look sexy and glamorous. The handmade lace and netting details on this dress are delicate and stunning, yet simple and inconspicuous. A beach wedding in Mykonos is the perfect location for this enchanted sheath dress – the train is slightly long but can be customized to your favor. You may also request less embellishments – think of this dress as a blank palette that you can personalize and make into your dream dress.
Bohemian Bride
Our Gala 102 gown is a modified A-line with a sweeping neckline – which can be customized based on your needs – and an incredible amount of embellishments and beading in a non-conventional pattern. This dress is ideal for the bohemian bride because of the silhouette and unique design pattern that mimics off-beat individuals. This dress from our Gala Collection brings your fairytale fantasy wedding to life.
Finish your registration for {City} Trunk Show