FREE SHIPPING & RETURNS WORLDWIDE!

DUTIES & TAXES COVERED WORLDWIDE
Find your nearest boutique
Our #GLBride of the week is Victoria Jones, who wed her fiancé David in our Aelin gown from the Queen of Hearts collection. The couple held an extravagant, yet elegantly themed wedding in their hometown of New Orleans. In the following interview, Victoria shares with us the details of her NOLA wedding and the moment she said "This is it!" to our Aelin gown. As told by Victoria:

How did you meet your husband? Tell us a little bit about your relationship.

David and I met when we started pharmacy school together. We were in the same class and saw each other everyday but we officially became friends at a Halloween party! I was dressed as a witch and he took someone's witch hat and put it on and we danced together. After that night we started talking more and studying together and everything fell into place.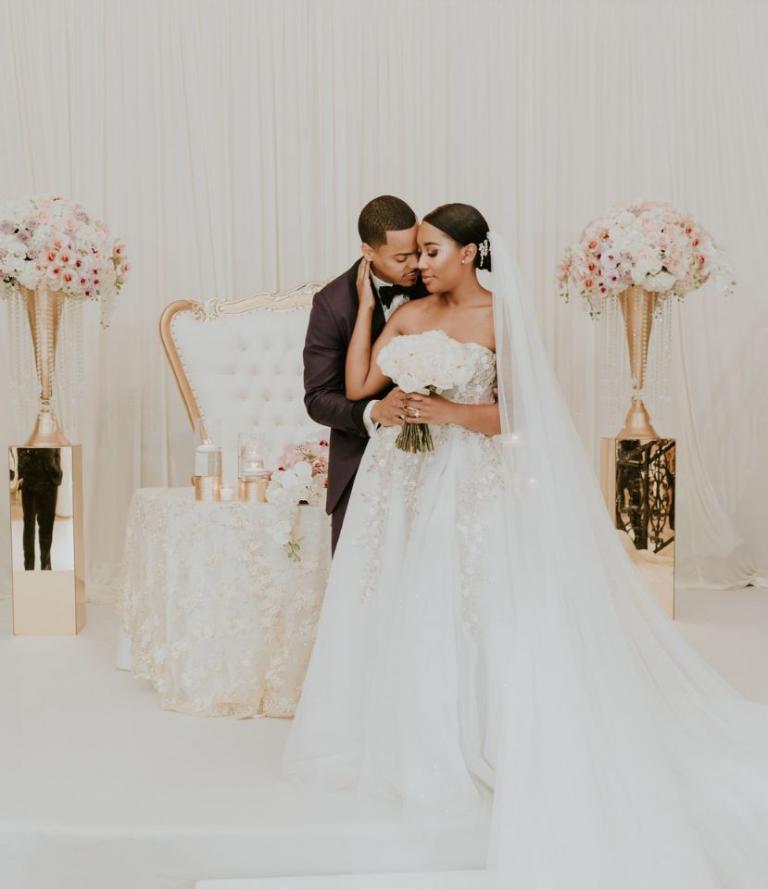 How did he propose?

This is actually still the craziest story to me because I still can't believe he ended up surprising me! It started when his mom called me and said she wanted to throw a big surprise party for his 25th birthday and needed my help. So, I helped plan and invite people to this party and I just knew he had NO idea! It was finally my chance to really surprise him! He always figures out everything I try to plan but I knew I was careful and didn't let anything slip this time. So, we are on this rooftop bar and his mom tells everyone "he's coming out now!" I remember this part so vividly because I was standing with my hands up ready to shout "SURPRISE!"  But, instead of him coming out a video starts to play on the screen. A video of him talking about our relationship while a slideshow of pictures of us is playing. The entire crowd including myself was shocked. After the video played, David walked out with a huge bouquet of roses and a saxophone player and asked me to marry him!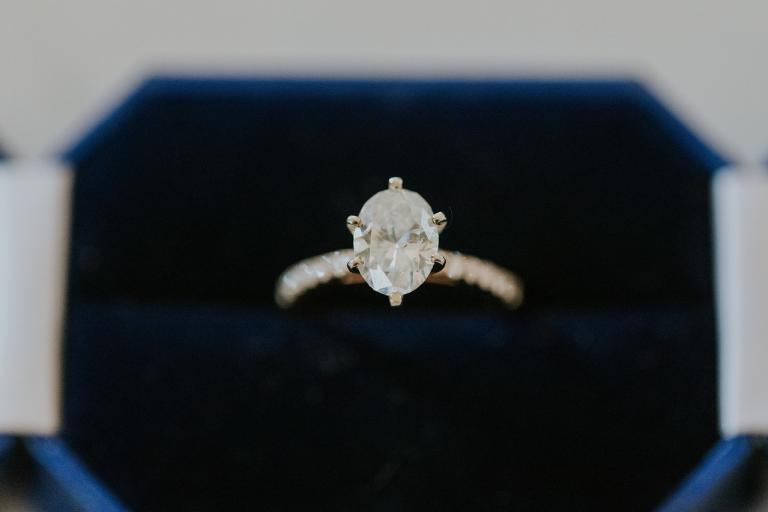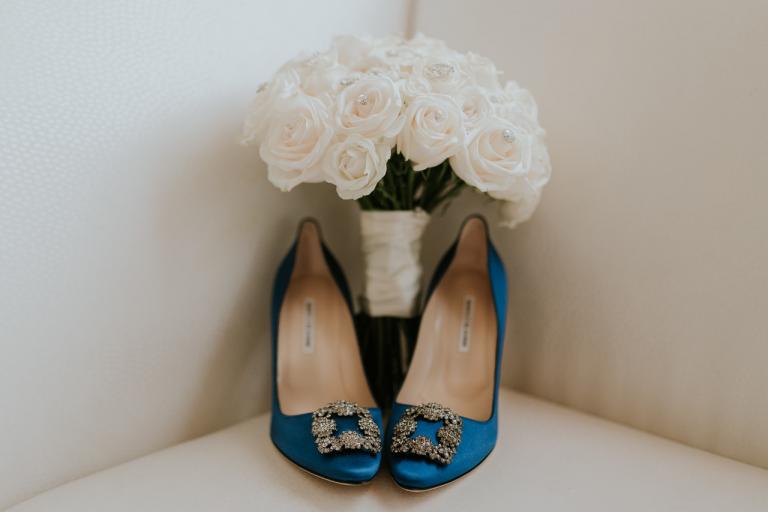 How did you start planning your wedding? What were the first steps?

We knew the style of wedding we were going for so we went to look at a few different venues to decide which one best suited our needs and our budget. We also knew that we wanted a venue where we didn't have to hire a lot of different vendors to come and do decor and florals. We ended up choosing a venue where the owners also had a floral and decor shop as well. That saved us so much time and really made the planning process so stress free.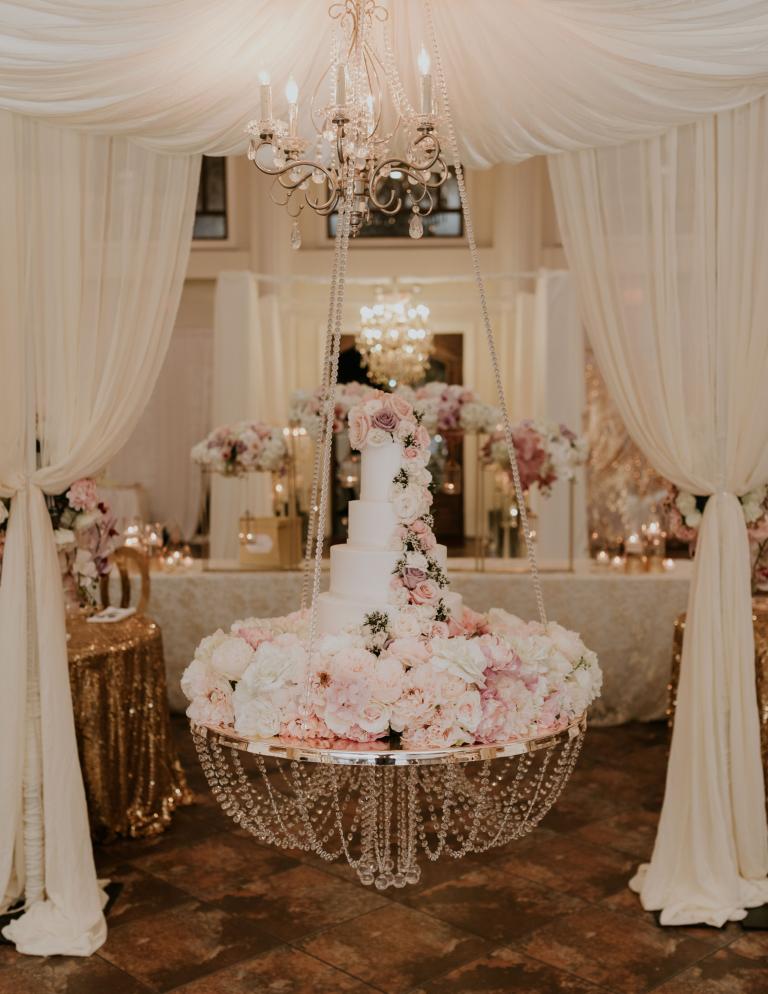 Did you do any beauty or fitness prep for your big day?

I decided that I wanted to lose some weight so I joined a group with some girls who were all looking for motivation and unity in fitness. We did a 100 day challenge. During this challenge we worked out every day, ate healthy meals, and allowed ourselves one cheat meal per week. Being in this group message and constantly sending pictures of us working out and what we were eating definitely made me more accountable and I ended up losing 20 pounds!
What was your wedding theme?
How did you choose your location?

There's no place like home! We got married in New Orleans and we wouldn't have had it any other way. There's no wedding like a New Orleans wedding and that's a fact!
How did you decide on your bridesmaid style?

I knew that I wanted my bridesmaids to look amazing! I didn't want them to be in big poofy dresses and I didn't want them to have light, natural makeup. Nothing against those looks but I knew I wanted my bridesmaids makeup to be fierce and I wanted the dresses to be fitted so that they felt beautiful and confident walking down that aisle too!
How did you find your perfect dress?

I saw my perfect dress on the Galia Lahav Instagram page. When I went to check for bridal shops that sold the brand I was disappointed to see that there were none in New Orleans. I planned to go to Houston to visit a bridal shop there but then I ended up finding out there would be a trunk show in Baton Rouge which was just an hour away so I was ecstatic! When I went in to the shop I was just hoping that the one I wanted would be included and I looked through the racks and when I spotted it I said, "This is it!"
What was the most important thing for you and your husband when planning your wedding?

We wanted the wedding to be true to us! We knew what we wanted and it was important to make sure that vision came to life. This was the most important day for the both of us and we didn't want to have any regrets. Also, we really wanted it to be fun for guests and we wanted every guest to truly enjoy themselves.
What was your first wedding song?

We had a singer at the ceremony who sang "For you- Kenny Latimore" and "Why I Love You – Major"

Our first dance was a transition from "I Wanna Luv You – Donnell Jones" to "You (New Orleans Bounce Version) – Jesse Powell"
What did you enjoy the most about planning your wedding?

I loved that my husband had such a clear vision for this day and knowing how much it meant to him for everything to be perfect. I loved watching him devote so much time to making sure it was the most memorable day of our lives.
What advice would you give to all our future brides?

It does not have to be stressful planning a wedding! People would constantly tell me that I was the calmest bride they ever saw. If you know exactly what you want and you list out all your must-haves that is the biggest step. We didn't have a wedding planner because our vision was clear but if you need one to help take some weight off of your shoulders then definitely try that out! I think the whole wedding planning process should be a time where you can bond with your future spouse and enjoy that time planning your dream day together!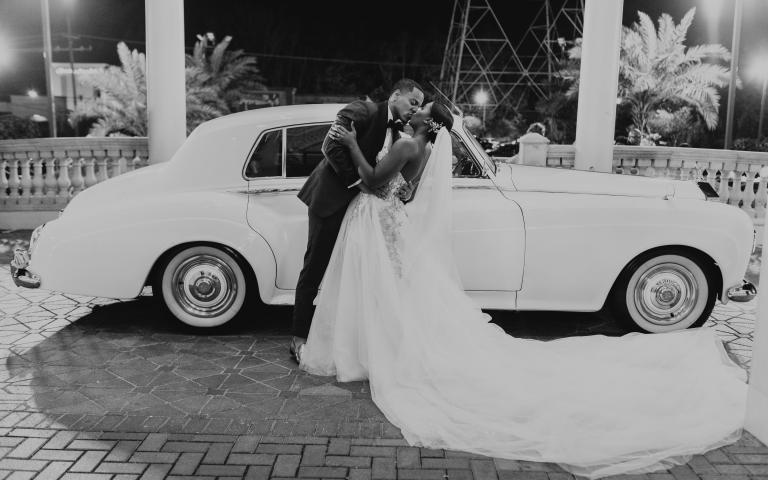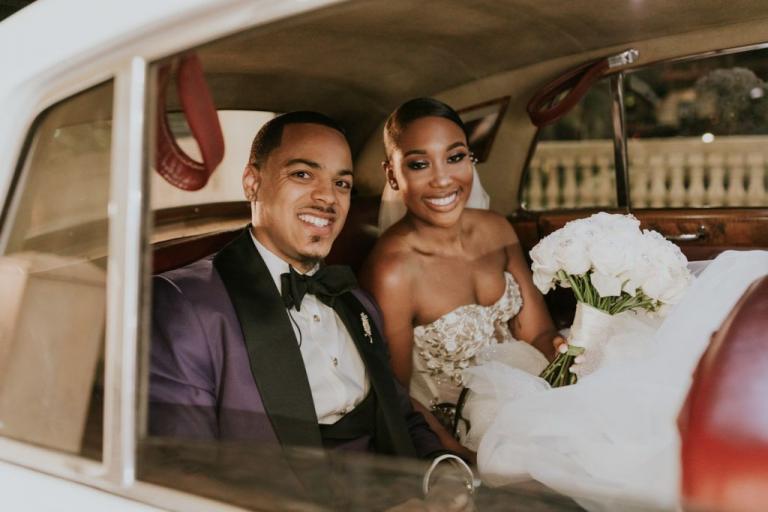 What moment from your wedding will you never forget?

I will never forget the moment when I was about to walk into the church. I was calm the entire day but it really hit me at that moment when I grabbed my father's arm and started walking in. I remember walking in the church and seeing the most handsome man standing there waiting for me. Hearing the singer, seeing all my loved ones, and seeing the man I loved more than life itself. I'll never forget those butterflies, ever!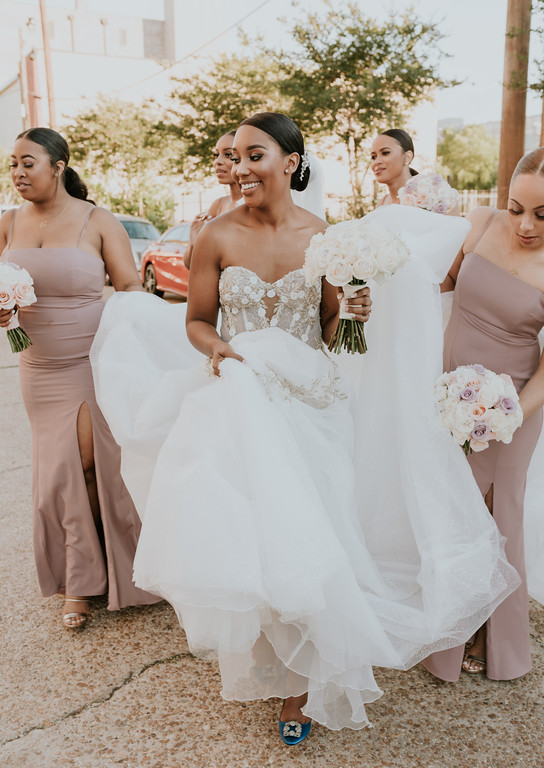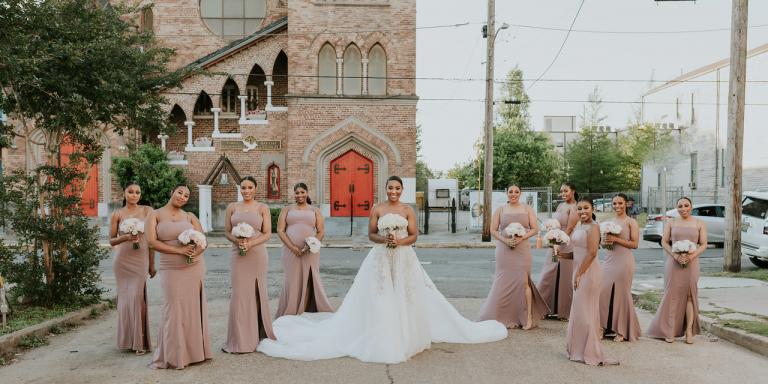 Ceremony Venue – Fifth African Baptist Church @fifthontheave
Reception Venue – Crystal Palace @crystal_new_orleans
Decor/Florals – Crystal Floral
Photography – Calvin Galvion @cjjrphoto
Videography – Lonely Eskimo Films @eskimolovestories
Wedding Cake – The Royal Cakery @theroyalcakery
Grooms Cake – Ashley Wynn @cake_been_baked
Makeup – Chantelle McDonald @belle.ame.artistry
Hair Stylist – Christina Michelle @nolabeauty_la
Photobooth – Pho Dat Booths – @phodat.booths
Brassband – The Soul Rebels @thesoulrebels
Balloon design – Sean Isaac @seanisaaceventdesign
DJ – DJ Snipe @50k_sniper
Groom Tuxedo – @lfsuits
Wedding Coordinator – Brianna Roussell @_brianna.roussell
Ceremony Dress – @idobridalcouture
Finish your registration for {City} Trunk Show