FREE SHIPPING & RETURNS WORLDWIDE!

DUTIES & TAXES COVERED WORLDWIDE
Find your nearest boutique
Our #GLBride of the week is Veronica Royal, who married her fiancé Matthew in our GALA 803. The couple had a relaxed and modern all-white wedding surrounded by family and friends on a yacht. In the following interview, Veronica shares with us the details of her nautical wedding and when she knew our GALA 803 was the one. As told by Veronica:

How did you meet your husband? Tell us a little bit about your relationship.

Matthew and I actually found each other online. He is the first person I ever met in person. Once the day came for us to actually meet though, I tried absolutely every excuse to cancel because I became so nervous. Luckily he wouldn't let me cancel because, as ridiculous as it sounds, from the second I first saw him walking towards me in the restaurant, I knew we would be together forever. 

When we met, Matthew had 3 children and I had a 1 year old daughter. 3.5 years later we are a family with our combined 4 children, have a business together and are so happy. I hope that our story might help even one mum going it alone who still dreams about happily ever after. I found my dream man (and was married in my dream Galia Lahav wedding dress!) and you will too.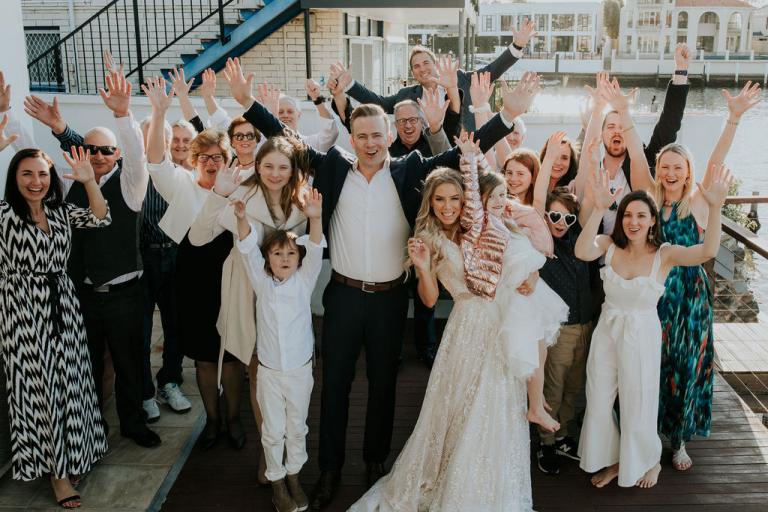 How did he propose?

Matthew organised for us to fly from the Gold Coast to South Stradbroke Island on a seaplane. It was something I had been bugging him about us doing together for a while, so I didn't suspect a proposal or anything. When we arrived on the island, we hired mountain bikes and road across the island to a deserted beach. While we were admiring the place we had found, Matthew dropped to one knee and asked me to marry him.

After I had said yes, stopped crying and finally came to my senses, I asked him where he had been hiding the ring as we didnt take any bags with us. He had put the (truly incredible) engagement ring in a sock in his pocket the whole time… The man's crazy.
How did you start planning your wedding? What were the first steps?

The first thing I did was choose my dress. Once I knew what I would be wearing, the rest just started to fall into place. We wanted to stay true to ourselves and what was important to us, so the wedding was always going to be on or near the water. Initially we booked a very large wedding however in the end we opted for an intimate wedding on a yacht with just very close family and friends. 
Did you do any beauty or fitness prep for your big day?

To be honest, no. We were just so busy with work and family leading up to the wedding. I kept telling myself I would do a pre-wedding health kick, but kept on delaying it until eventually it just didn't happen. In the end I took half a day off work to get my hair, nails and tan done. Although, that half day completely to myself did feel like heaven – I'm sure all the mum out there completely understand.
What was your wedding theme?

We wanted a relaxed and modern version of a "traditional white wedding". Matthew is quite traditional and I'm a bit of a minimalist. So everything was white, traditional and relaxed.
How did you choose your location?

Matthew and I live for the water, so the wedding was always going to be on or near the water. Once we decided to go for a more intimate wedding, we immediately decided on having the ceremony and reception on a yacht on the water.
How did you decide on your bridesmaid style?

All of my bridesmaids are so different and I love each of them for exactly who they are. So we decided on all-white and I went shopping with each of them to find something all white that suited their own personal style. 
How did you find your perfect dress?

I tried on many, many dresses but actually was feeling a bit disheartened. There were many nice dresses but none of them made me feel the way I had hoped to feel when I found my wedding dress. 

When I saw that Galia Lahav would be having a trunk show with Eternal Bridal at Versace Hotel on the Gold Coast, I booked immediately. I took my mum and one of my bridesmaids with me – both of whom had watched me try on many dresses that just weren't right. 

As soon as I put on my wedding dress (Gala 803), we all knew it was the one. It was everything I wanted to find and so much more. I looked beautiful in it, and more importantly, it was the first dress I really felt beautiful in.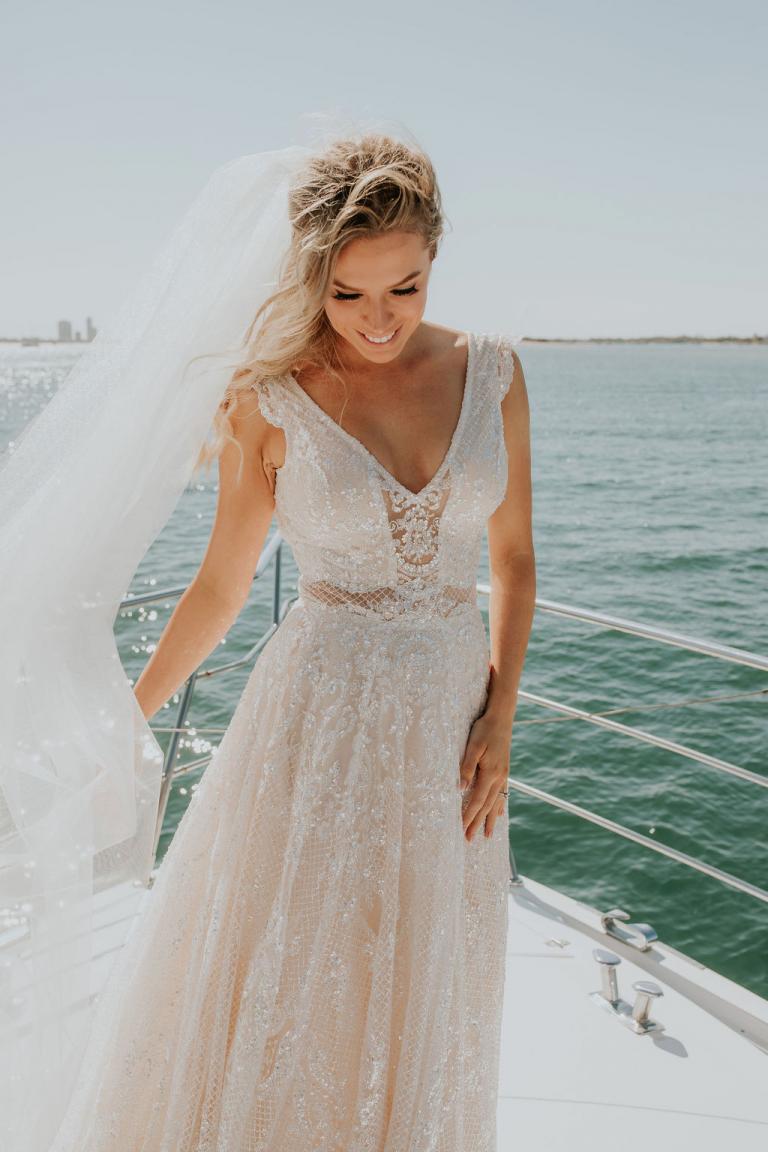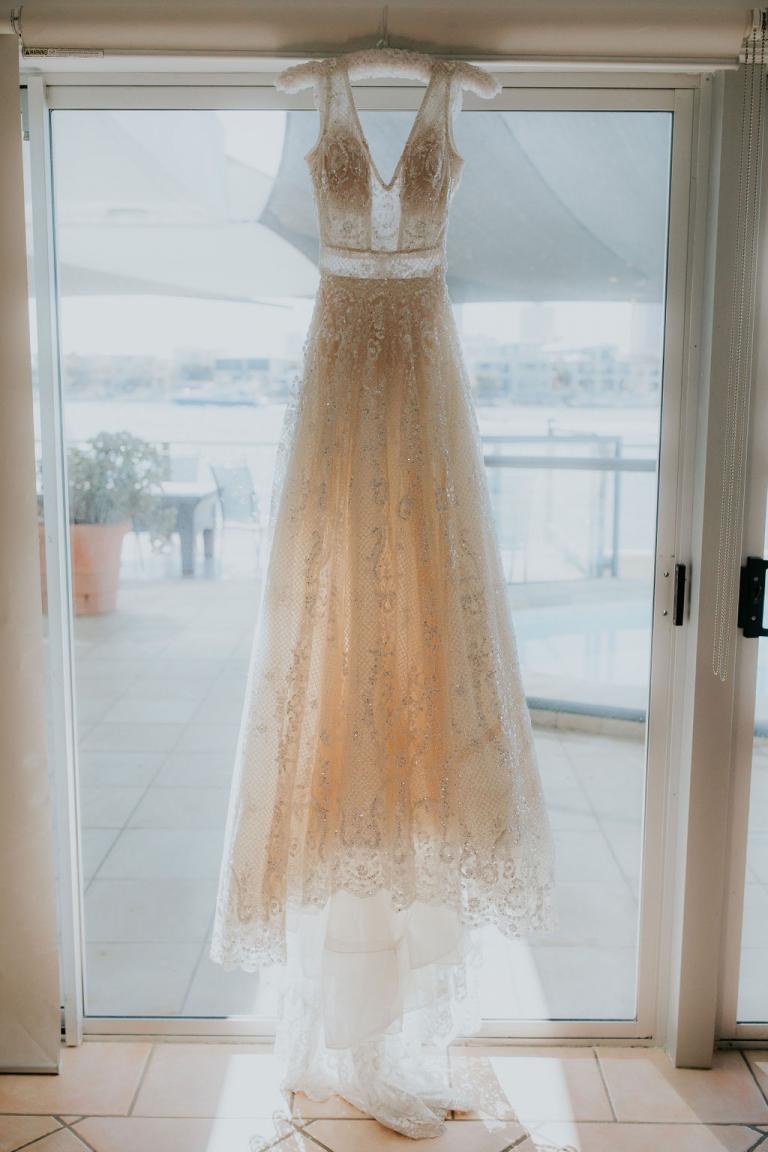 How was your experience with the Galia Lahav brand?

I cannot speak highly enough of Galia Lahav. I fell in love with my dress, however I asked permission to change the neckline. Galia Lahav was so accommodating that they sent extra elastic and lace appliques to assist the dressmaker in making the alterations. When my dress arrived and my daughter saw it for the first time, she asked if she could possibly wear the same for the wedding. Thanks to Galia Lahav's generosity we had some spare lace to apply to my daughter's flower girl dress and she felt like a real princess on the day. 
What was the most important thing for you and your husband when planning your wedding?

Staying true to who we are and the day we wanted to share with everyone was very important. And I think sticking to that is one of the reasons every single person had so much fun.
What was your first wedding song?

Can't help falling in love, by Elvis Presley
What did you enjoy the most about planning your wedding?

100% the trunk show experience with Galia Lahav.
What advice would you give to all our future brides?

I would suggest focusing on the things you definitely want and will mean the most to you and then letting the rest fall into place around that. Weddings often don't go exactly to plan so if you can be relaxed and find the humor in things that don't quite go to plan, it makes for a really fun day and even better photos.
What moment from your wedding will you never forget?

My fiance's face when he first saw me walking down the jetty to him waiting by the yacht. I think that is the way every woman hopes her husband-to-be will look at her when he first sees her on their wedding day. It was so magical to me and will stay clear in my mind forever. When your fiance looks at you like that, all nerves go away because you know that your bond forever is a completely sure thing.
Vendors list:
Dress: Galia Lahav, GALA from Eternal Bridal in Sydney
Photography: Danielle Webster Photographer
Cake: I Heart Cakes By Casey
Flowers: Flowers On Chevron
Make up: Natalie Lucas MUA
Hair: Heartfelt Bridal Hair – Erinne; and Blondee Salon – Faith Williams
Wedding rings: Starfire Diamond Jewellery
Celebrant: Emma Turvey Celebrant
Finish your registration for {City} Trunk Show