FREE SHIPPING & RETURNS WORLDWIDE!

DUTIES & TAXES COVERED WORLDWIDE
Find your nearest boutique
This week's GL bride is the beautiful Sydney who wore our Harper gown with an attached regal skirt for her ceremony. Sydney and Nate got married in a beautiful classic wedding with a clean and romantic theme after Nate pulled a ring during a family vacation in dreamy Hawaii. We bring you their full wedding story. As told by Sydney:
How did you meet your husband?

Nate and I met at our mutual friends' BBQ. A few months later we went out on our first date and moved in together shortly after.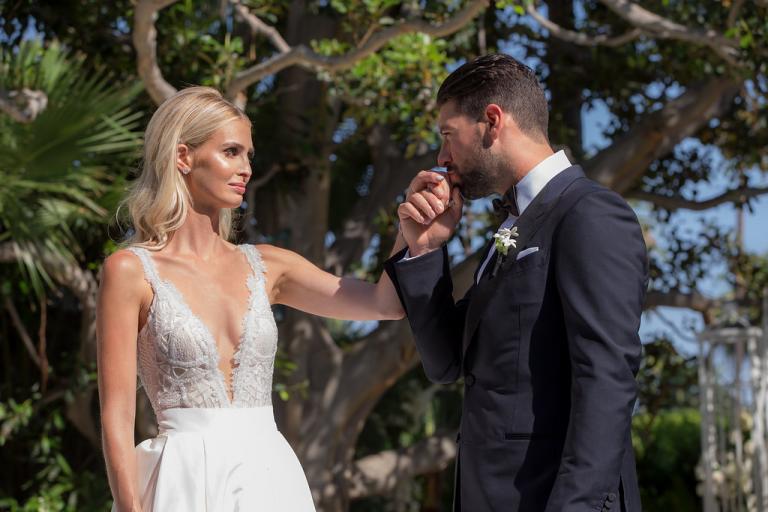 How did you he propose?

He proposed while we were in Hawaii with family. Nate said we were going to have our own dinner that night since everyone was tired. We walked down to the lobby lounge but the host said there was a wait so,  in the meantime, there was a complimentary photo shoot. We went from the lobby to the pool to overlooking the ocean then down to what looked like a romantic dinner for two people. I asked the photographer to hurry so we wouldn't impose on another couple׳s plan! We took the photo and before I knew it he turned around and pulled the ring out! The dinner was set up for us and the photographer was as well. He had a small microphone in his shirt and the entire thing was captured by photographers in the bushes as well as a drone capturing the entire thing. It was amazing. Our family joined us for dessert afterward.
How did you find your perfect dress? And how did you decide to buy it?

Maradee Wahl, my bridal stylist, had been helping me search for dresses. We had been all over the place and went to Galia earlier in the day before I found my dress. I had a gut feeling to go back later that day after seeing dresses somewhere else. We walked back into Galia Lahav and it was the first dress I tried on. Then we added the skirt and it was perfect. I had chills and then tears. It was everything I dreamed of. Later on, my mom, aunt, and sisters went back with both of my grandmothers to pick my veil. The entire experience was full of love.
Where was your wedding?

Our wedding was at the Beverly Hills Hotel in the Crystal Ballroom where my parents were married as well.
What was the theme? Did it require special planning? Share with us.

I wanted something clean but romantic so we went with tons of white and very pale pink flowers. Our wedding planners at International Event Coordinators and Marks Garden really captured everything I was thinking.
Which was your favorite part?

My favorite part was seeing Nate for our first look. I couldn't wait.
How was your experience with the Galia Lahav brand?

My experience with the Galia Lahav brand was great from the second we walked in the door. Candy and a sparkling water while trying on dresses is pretty fantastic. All of the girls who helped me through the process really made it so much more enjoyable. I met Galia as well the day I picked my veil and we made a customization to my dress together. She was so great.
Where did you purchase the dress?

I purchased the dress from the Flagship store on La Brea in Los Angeles.
What did you enjoy the most about planning your wedding?

The best part of wedding planning was getting my dress and how amazing our wedding planners were. Every fitting made me more and more excited for the day and our planners made it stress free, which I thought was not possible.
Was your wedding the way you dreamed it?

Our wedding was more than I could have imagined it would be! It was a dream. My mom surprised us with performance.  Performers dressed up as waiters for the first hour of the evening. She stood up to give a speech and then all of the sudden they start performing " I say a little prayer for you." It was amazing! I was trying to make the night last as long as possible to stay in my dress! I loved it so much and always will!
Finish your registration for {City} Trunk Show